SPRING VALLEY – After a close first half, La Salle-Peru coach Jim Cherveny and Fieldcrest coach Matt Winkler knew the first three minutes of the third quarter would be crucial.
The Cavaliers turned up their defensive pressure and won those first three minutes.
L-P pushed its seven-point halftime lead to double digits in the first three minutes of the second half and pulled away for a 63-40 victory on the first day of the Colmone Classic at Hall High School.
Also on Saturday, Rock Falls beat Putnam County, 52-37, Stillman Valley topped Princeton, 60-47, and Pontiac defeated Hall, 70-54.
"I thought we played really well the second half," Cherveny said. "The guys came out and really executed. We turned up the heat on the defensive end. We got some deflections, got some turnovers and got some easy hoops early. The first three minutes of then third quarter were really important to us. I thought we had good energy in the second half."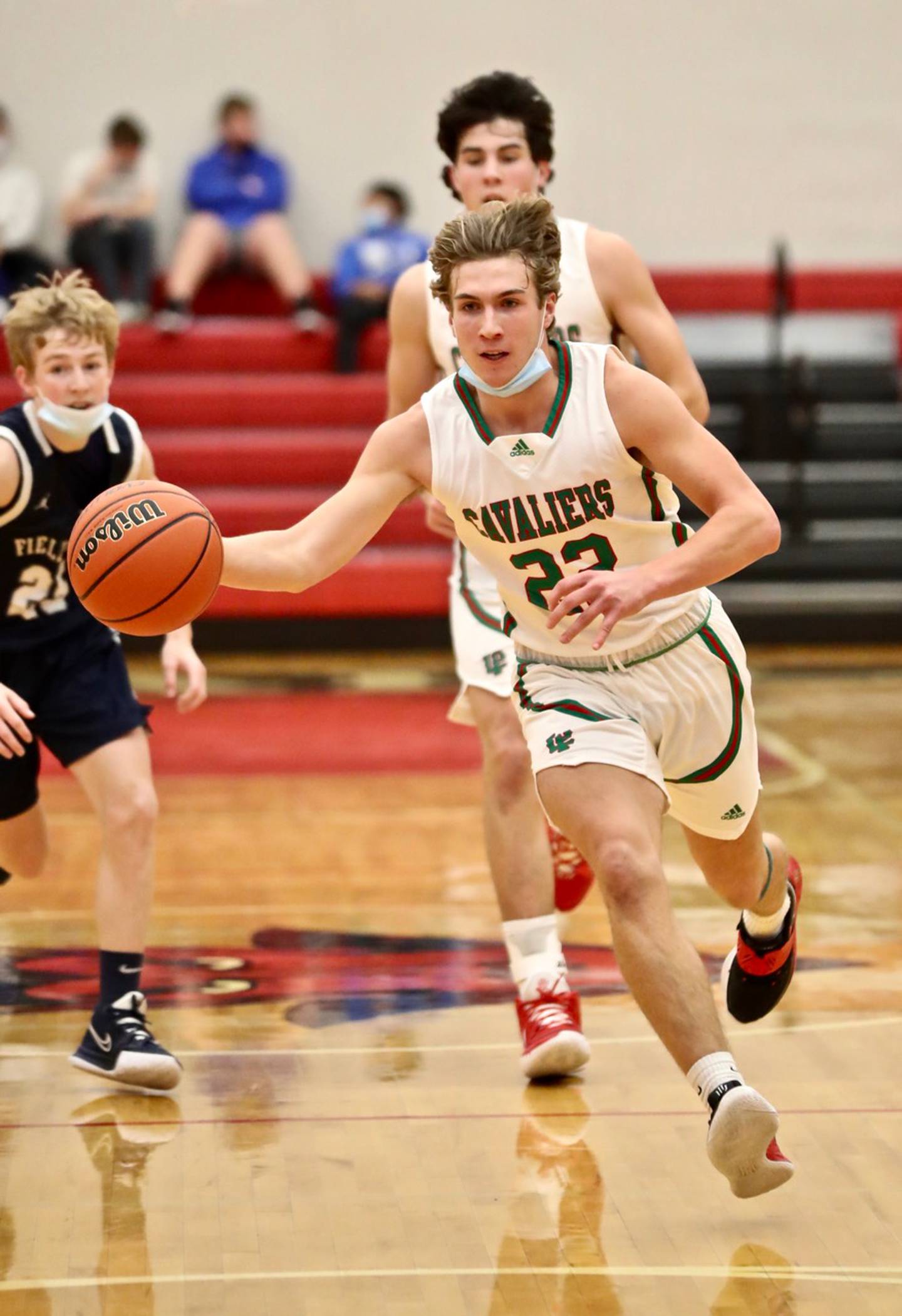 The Cavs forced turnovers on Fieldcrest's first three possessions of the third quarter and scored off two of them to push their lead to 11.
"We just got a little bit more active," Cherveny said. "We had our feet moving. We made them throw some long passes and some high passes, things we could intercept or at least deflect. We started playing full-court defense and put pressure on their guards."
L-P extended its lead to 54-35 by the end of the third quarter.
"We played hard," Winkler said. "It was a very physical game. "L-P imposed their will more on us in the second half with their defensive pressure. We just turned the ball over too many times. They sped us up where we needed to control the tempo. Their pressure really took hold. We have to get better handling the basketball.
"We didn't do a good enough job rotating middle, attacking and getting some easy baskets off it where I thought we had a chance. If you're not going to get any easy baskets off pressure, they're just going to keep pressuring you. It's a great learning experience for our guys. It's why we come here. It's a loaded tournament with a lot of quality teams. It will challenge us to get better every night."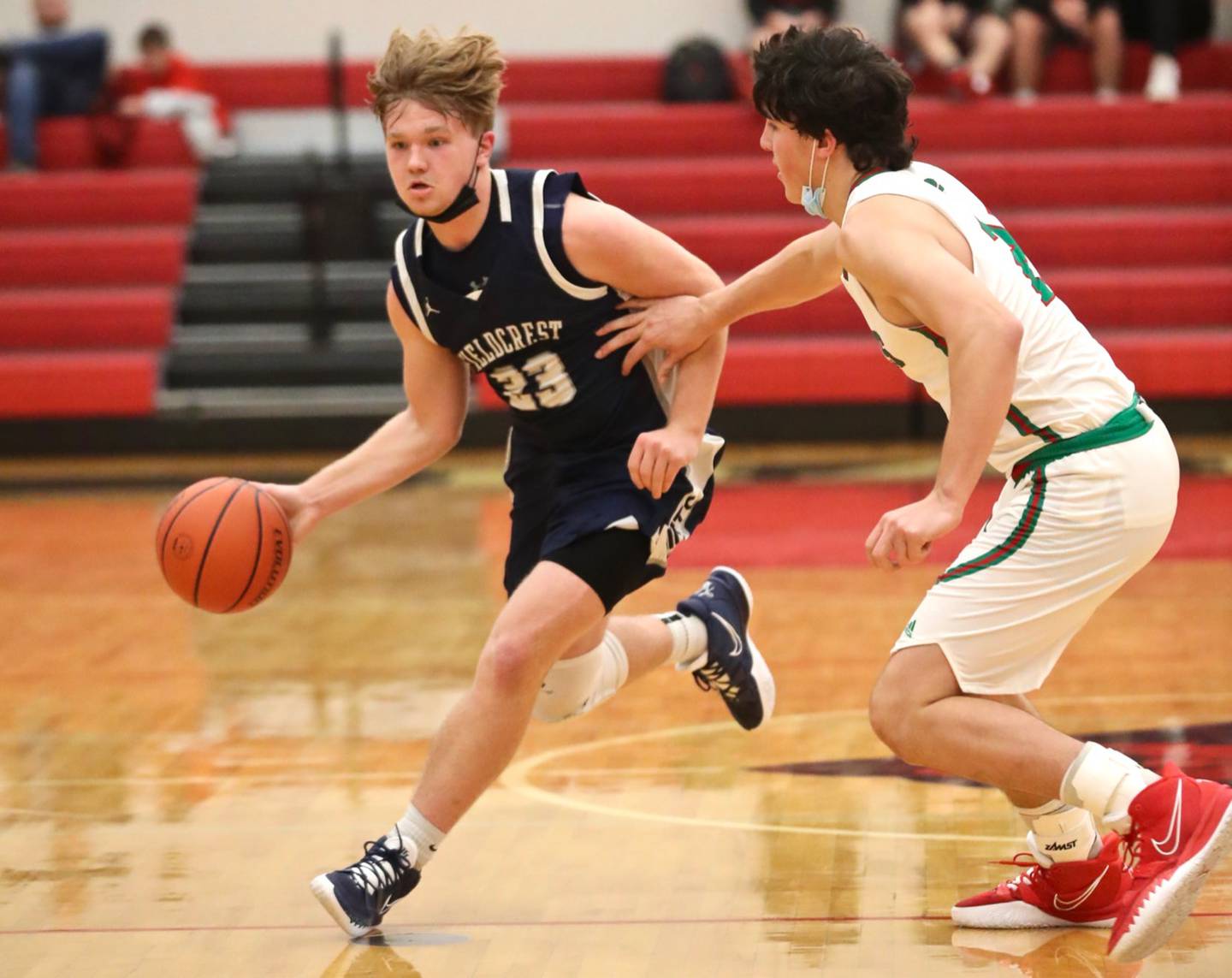 The first half was close throughout despite the Cavs threatening to pull away a couple times.
L-P scored then first five points of the game and led, 17-9, late in the first quarter before the Knights closed the gap to 17-14 after the first eight minutes.
The Cavs extended their lead to six points on a couple occasions in the second quarter, but Fieldcrest pulled within 24-22 with 2:11 left. A late L-P surge put the Cavs ahead, 32-25, at the break.
"I think they were ready to play," Cherveny said. "You can't underestimate coach Winkler's teams. He's been doing this a long time. He knows how to prepare his teams. [Kade Buchanan] his some big shots from the corner. [Ed Lorton] banked one in. They were hungry and well prepared."
The Knights sank seven 3-pointers in the first half, including four from Buchanan, who finished with 14 points.
"We did a good job finding him and when he was open he knocked them down," Winkler said. "I'm really pleased with his defense as well."
John Riva led the Cavaliers (5-2) with 12 points, while Josh Senica scored 11 points and grabbed six rebounds and Tyler Wrobleski added nine points and six boards.
L-P wraps up pool play at 5 p.m. Tuesday against Mendota, while Fieldcrest (0-3) takes on Mendota at 8 p.m. Wednesday.
Rock Falls 52, Putnam County 37
Chad Olson scored 11 points as the Panthers fell in the first varsity game of the tournament.
Jackson McDonald had 10 points and five rebounds for Putnam County, which faced a 30-25 halftime deficit.
The Panthers play Bureau Valley in their final pool game at 5:30 p.m. Monday, while Rock Falls plays Bureau Valley at 6:30 p.m. Wednesday.
Stillman Valley 60, Princeton 47
Teegan Davis scored 15 points as the Tigers lost to the Cardinals.
Grady Thompson contributed nine points and seven rebounds for Princeton, which trailed, 35-25, at halftime.
The Tigers play St. Bede at 6:30 p.m. Tuesday, while Stillman Valley faces St. Bede at 5 p.m. Wednesday.
Pontiac 70, Hall 54
Mac Resetich scored a game-high 22 points and grabbed eight rebounds as the hosts dropped their tournament opener.
Ethan Plym and Drake Garland each had 10 points for the Red Devils, who trailed, 41-26, at halftime.
Pontiac plays Marquette at 7 p.m. Monday, while Hall faces Marquette at 8 p.m. Tuesday.