The La Salle-Peru boys basketball team implemented a new offensive look ahead of Thursday's nonconference game with Streator.
"We actually put in a punch offense. It's a continuous pick-and-roll," L-P junior Josh Senica said. "It gets our guys open shots and our bigs nice rolls and open layups, so it works really well."
The offense's debut was a success, as the Cavaliers took the lead late in the first quarter and led throughout before pulling away in the fourth for a 61-46 victory.
"The team played really well tonight," Senica said. "We were hitting 3s and passing the ball well. We played really good defensively.
"It was weird playing on a Thursday, but we were all excited. We played good team ball tonight."
Senica, the Cavs' leading scorer at 19.1 points per game, had to leave early in the first quarter with a cut and missed several minutes, but L-P managed to take a 15-11 lead after the first eight minutes when Jack Jereb scored in transition and Seth Adams hitter a runner with 30.5 seconds left.
"I like being in, but when I'm out, I know my teammates can do their jobs," Senica said.
London Cabrera scored on three consecutive possessions midway through the second quarter to push L-P's lead to 24-15, and the Cavs led 28-22 at halftime.
"It was nice to see other guys step up," L-P coach Jim Cherveny said. "It's a next-man-up mentality. That's what teamwork is all about. I think our guys buy into that. They feed off each other."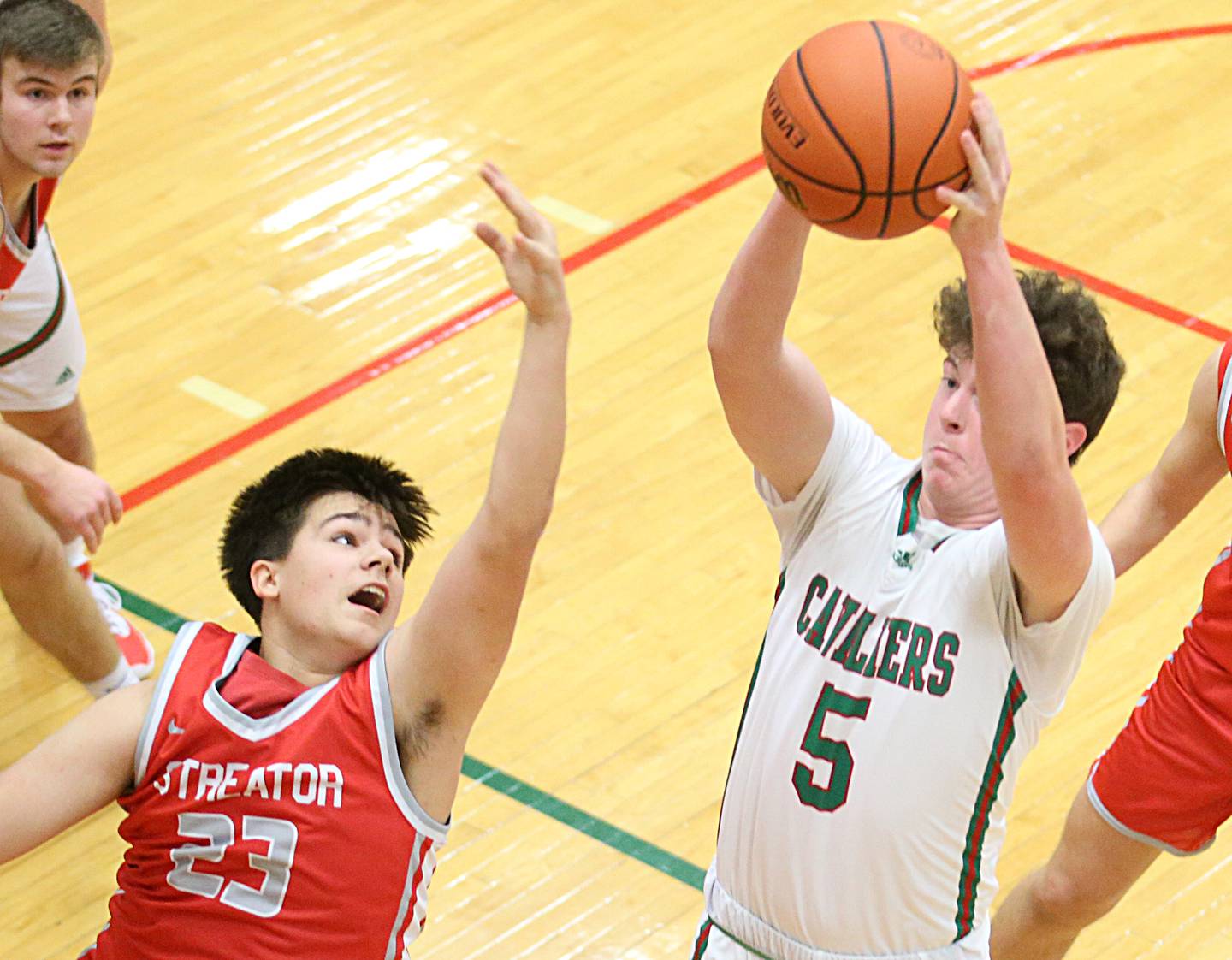 The Cavs opened the second half on a 9-3 run to push their lead to 37-25, but the Bulldogs climbed back into the game with long-range shooting. Logan Aukland drained a pair of 3-pointers, while Landon Muntz and Christian Benning knocked down one each to help Streator close the gap to 43-37 entering the fourth quarter.
"We made enough 3s to keep us in the game," Streator coach Beau Doty said. "For how we played and how L-P dictated the game, we were actually happy for it to be a six-point deficit.
"With our zone and our trap, we just could never get the pressure on the ball we needed."
After Streator closed the gap, the Cavs had another strong start to a quarter as Senica tipped in a missed shot on L-P's first possession to kick off an 11-2 run to extend the lead to 54-39.
"We just came out and played as hard as we could," Senica said. "We actually stepped up in the passing lanes more instead of playing back too much.
"We pushed the ball more. They pressed, and we just pushed the ball and tried breaking their press."
Adams led L-P (14-10) with 12 points, Senica scored 11 — the last two coming on an alley-oop dunk on a lob from Nathan Boudreau — and Cabrera and Jereb added nine points each.
"I thought we did a lot of good things," Cherveny said. "There are a few things here and there we have to clean up, but the kids competed at a very high level tonight."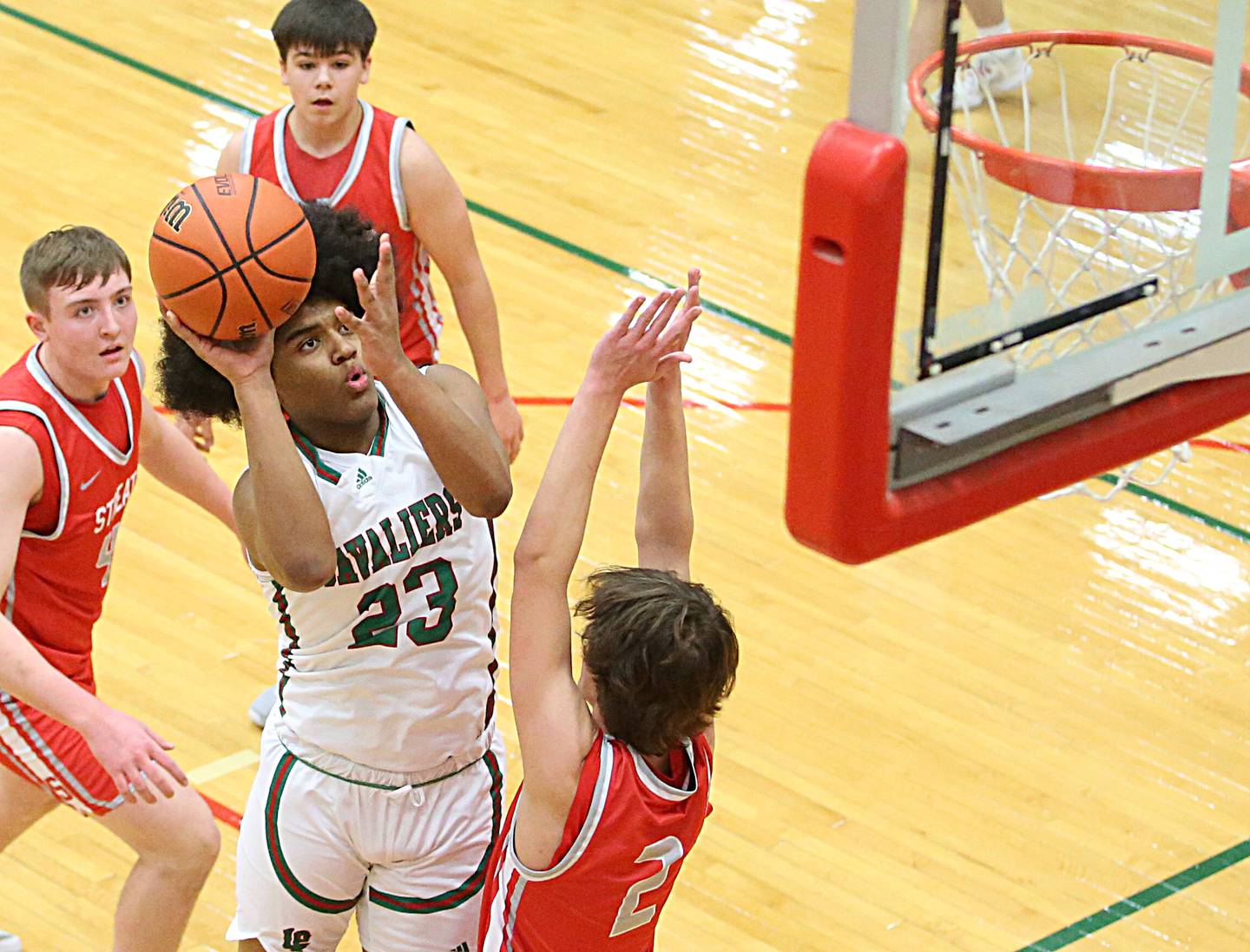 Benning scored a game-high 20 points for the Bulldogs (13-10), while Aukland added 12.
"I thought L-P was able to dictate really every aspect of the game," Doty said. "With Senica getting a bloody lip early, that was a chance for us to really get on top. For them to have a four-point lead at the quarter, I'm sure that was a big emotional boost for them.
"From there, we just weren't able to pressure. Our most success this year has come when we've been able to pressure, turn teams over and make teams make some poor decisions. They did a nice job spreading the floor on us. They've got quick guards, and I thought their guards were really good. We held Senica in check for the most part, but you have to kind of pick your poison, and their perimeter guys burned us.
"At this point in the season, you learn from it what you can, put it in the trash and move on. We're still in a great position to finish the season strong."