Last fall, La Salle-Peru's Ryan Hartman had a sectional performance that in a typical year would have punched his ticket to the IHSA State Cross Country Meet at Detweiller Park in Peoria.
Unfortunately for Hartman, and all other state qualifiers in 2020, the state meet was canceled because of the COVID-19 pandemic.
Hartman was back this season, and the senior earned another state berth by placing 14th at the Class 2A Metamora Sectional.
This year, Hartman will actually get to compete at state.
"It really means a lot," Hartman said. "I'm excited to be able to get the full state experience with all of the people and runners.
"At state, I'm hoping to go out, have fun and enjoy the experience."
Teammate Matt Beard will join Hartman at state after placing 20th at the sectional.
"I feel like a lot of people are going to go twice as hard since this is the first time in a while they are going to be able to run it," Beard said. "I am going to match the energy of every runner and give it all I've got."
In Class 1A, Fieldcrest senior Mason Stoeger and Amboy co-op senior Brock Loftus are looking to bring home hardware.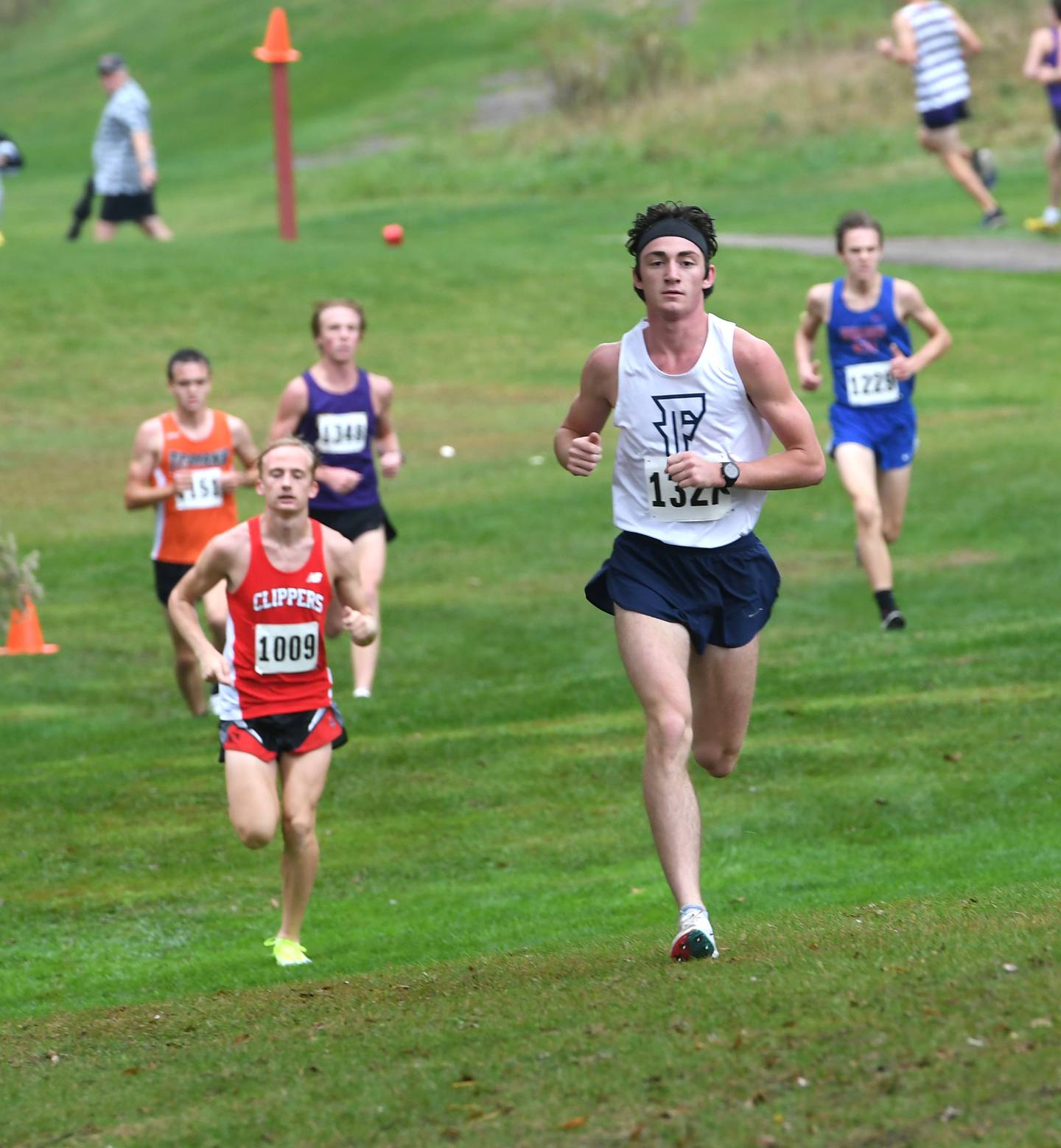 Stoeger will run at a state meet at Detweiller for the first time. Last season, he placed 87th at the ShaZam Championships, an unofficial state meet held at Illinois Valley Central High School.
According to www.athletic.net, Stoeger has run the sixth-best time in Class 1A this season.
Stoeger placed second at the Elmwood Sectional in 15:39.8 and won the Eureka Regional in 15:04.8.
Also this season, Stoeger won the Morris, Amboy, Bureau Valley and Elmwood invitationals along with the Heart of Illinois Conference Meet while finishing second at the Seneca, Peoria Heights and Herscher invitationals.
"This is my first state at Detweiller because I didn't make it my sophomore year and last year [the unofficial state meet] was at IVC, which is a slower course, so it's going to be fun being at Detweiller and racing on probably the fastest course in the state," Stoeger said. "I'm hoping to go under 15 (minutes) and top 10 would be really nice. I'd have to have a perfect race to go top five, especially with the competition this year, so it'd be nice to be top 10."
Loftus ran at state at Detweiller as a sophomore in 2019 and finished 51st at the unofficial state meet last fall.
Loftus, who has the 27th best time this season according to www.athletic.net, won the Oregon Sectional in 16:19 and won the St. Bede Regional in 15:07.
This season, he won the Princeton and Kewanee invitationals, was runner-up at the Bureau Valley and Erie-Prophetstown invitationals, placed third at Seneca's Twilight in the Woods and finished fourth at Amboy's Columbus Day Invitational.
"It was my best race, especially coming on at the end to win," Loftus said about the sectional. "I have a big goal to get top 10 at state."
Loftus won't be competing at state alone as the Clippers qualified for state as a team for the first time in program history.
Amboy's Kyler McNinch and Ian Eller placed seventh and ninth, respectively, at the sectional, while Charlie Dickinson and Wyatt Lundquist rounded out the scoring for the Clippers, who placed third with 100 points behind Rockford Christian (49) and Riverdale (66).
Along with Stoeger, Loftus and the rest of the Clippers, Bureau Valley's Elijah House will run at state after placing 25th at the Oregon Sectional.
Princeton junior Lexi Bohms, who was co-NewsTribune Girls Cross Country Runner of the Year last season, is the only area girl who will compete at state.
Bohms, who placed 18th at the Oregon Sectional, is making her first state appearance.
"Once I finished, I really had no idea where I had placed, but my coach came up to me and told me I had a great shot for state," Bohms said. "This was so unexpected, but I'm so excited."