SERENA – In the game of soccer, a team can dominate ball possession, field position and shots on goal, but if the defending team can keep the score close, only one goal of its own can make things awfully interesting.
That was the case during Tuesday's Class 1A Serena Regional semifinal for top-seeded Mendota in a 3-1 victory against No. 6-seeded Newark-Seneca.
For the match, the Trojans held an eye-popping 45-1 advantage in total shots, including 23-1 on goal, but that sole shot on target by the Norsemen found its way into the net and made it a one-goal game with just under 17 minutes to play.
However, Mendota did not allow another Newark-Seneca chance the rest of the way while Johnathan Cortez added an insurance tally – his second goal of the game – with eight minutes to go to secure the win.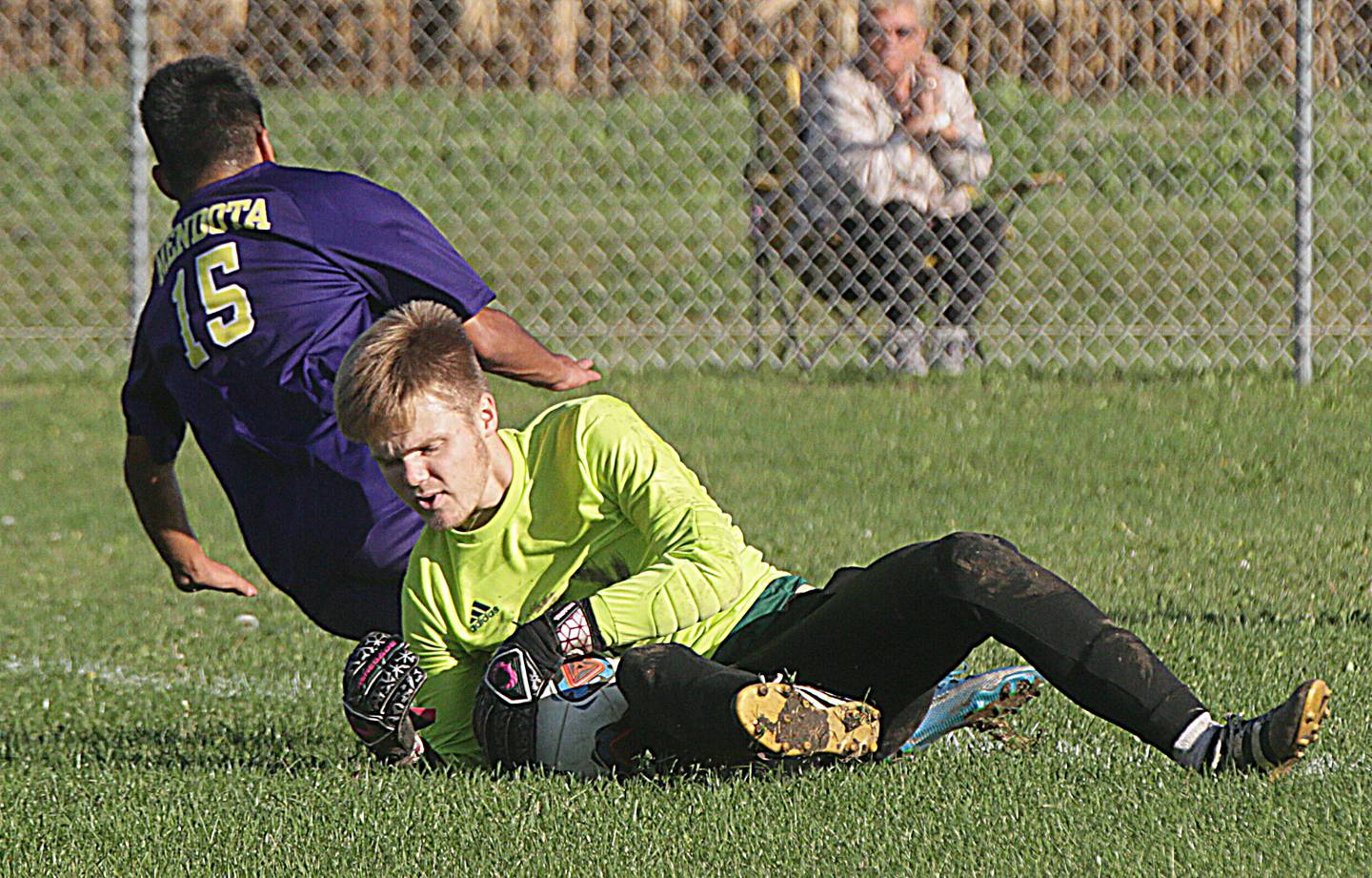 Mendota (20-0) now will look to win a third straight title when it faces the winner of Wednesday's semifinal between Serena and DePue-Hall at 4 p.m. on Friday. Newark-Seneca finishes its season with a 9-10-2 record.
"[Newark-Seneca] came in with a game plan of really packing it in defensivel,y and we struggled with it," Mendota coach Nick Myers said. "We talked over and over about the fact that we can't overlook anyone, but I know as players it's hard not to. We are going to get every opponent's best effort and I'm positive that will be the case like it was today whether we face Serena or DePue(-Hall). That's what happens to any team that is a No. 1 seed and both those teams are solid.
"In a way I'm glad we had the game we had here today. We needed to learn how to fight through adversity a little bit because we just haven't had to do that in a while. We are going to have to bring our A game come Friday for sure and definitely take advantage of scoring opportunities better than we did today. Credit Newark-Seneca though for some of that because they played us pretty tough in their back third."
Mendota had a couple of early chances deflect off the post, but finally broke the ice in the 18th minute.
Senior Yahir Diaz dribbled past his defender on the right wing, and when N-S keeper Logan Pasakarnis came out to challenge, Diaz sent a crossing pass that found junior Johnathan Cortez in stride for a tap-in.
The score remained 1-0 at halftime despite Mendota holding a 20-0 margin in total shots and 11-0 on-target attempts.
"I just told the kids before the game to just play like they have been playing," N-S coach Henry Cheung said. "If you look at our scores this season, we always have played very good against good teams and given them a little trouble. We didn't change anything formation-wise, we just played tough. Mendota just kept attacking and we did a pretty good job of trying to fight them off, but that has been the case for this team the last two years. This is a very tough, young team and they never give up.
"We knew [Mendota's] record coming in and their goal differential ... they are a very good team, but we wanted to give them a game and I think we did. I'm so proud of this team, not just for tonight, but the whole season. They've given it all they had all year and should be proud of what they have accomplished."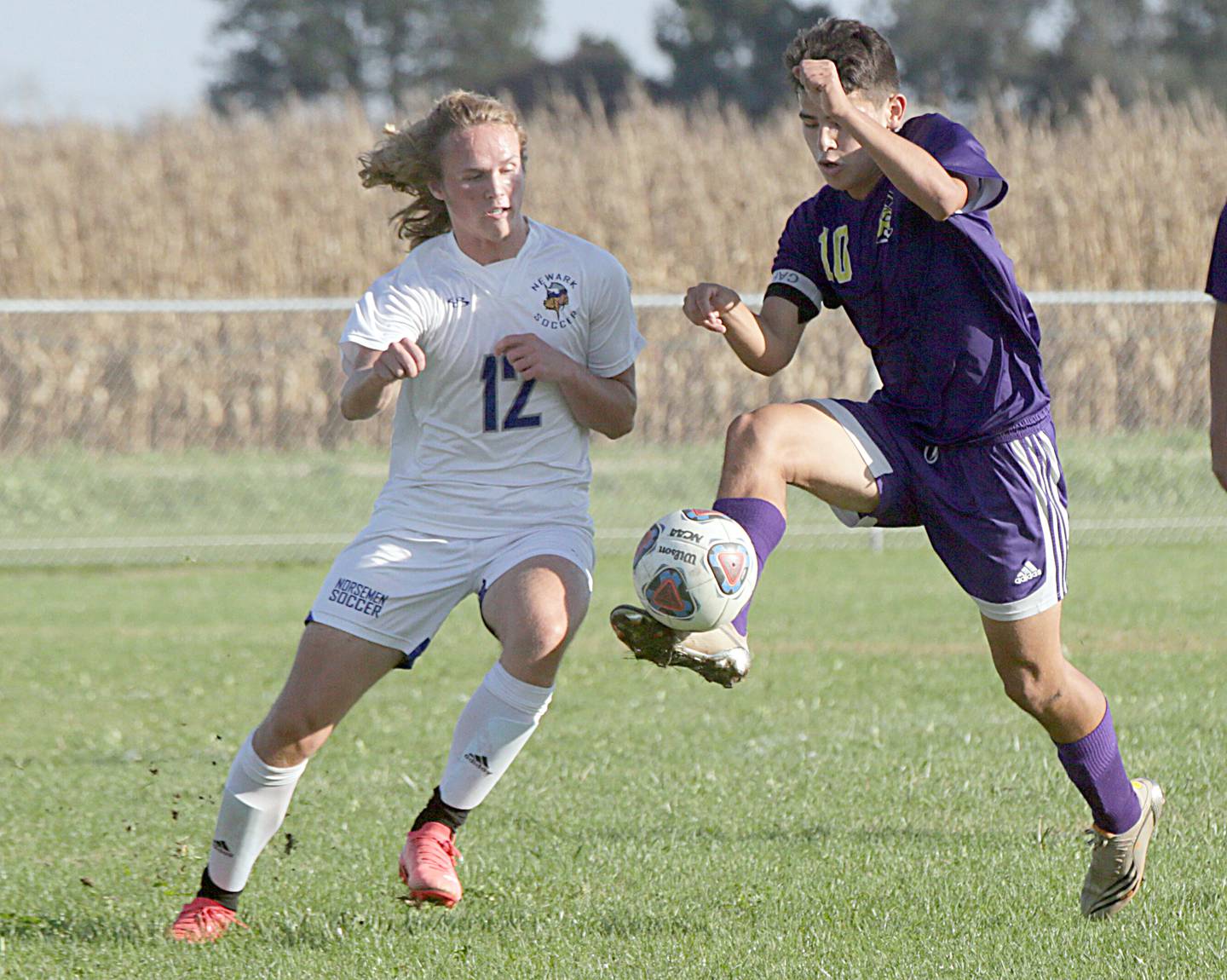 The Trojans continued to pepper the net in the second half and made it a 2-0 game in the 55th minute when junior Ricky Orozco scored off a long lead pass from junior Rafael Romero.
Then with 16:50 to go, the Norsemen's sole corner kick chance of the game was put into the box by Colin Collet, and Angel Fernandez poked it past Mendota keeper Manny Trejo to make it 2-1.
Pasakarnis finished with 20 saves for Newark-Seneca.