In her time at Fieldcrest High School, senior Ashlyn May has been involved with many activities beyond the basketball team.
The three-year hoops captain has been a key contributor to the Knights volleyball and softball teams, is the student council treasurer and also is a part of a number of clubs that strive to make the world a better place.
So, with being involved in so many things, what does May – The Times 2023 Girls Basketball Player of the Year – like to do in her spare time?
"I sometimes like to read or draw, but I always end up back at basketball," May said. "I guess that's my hobby. If I'm not playing it or working on making part of my game better, I'm watching it."
"It's been an honor to play for Fieldcrest. I think that when people think of Fieldcrest basketball now, it isn't just the boys teams that they think of."

—  Ashlyn May, Fieldcrest senior
The 5-foot-9 point guard finished the 2022-23 season averaging 14.1 points, 3.5 rebounds, 4.2 assists and 3.7 steals a game while shooting 58% from the field and 76% from the free-throw line. Her efforts helped her team capture a third Heart of Illinois Conference and Class 2A regional championships – with the spring of 2021 that didn't have a postseason being the lone exception – in the past four seasons, and this past season a second straight sectional title.
In her four years as a varsity player, the Knights went 105-15.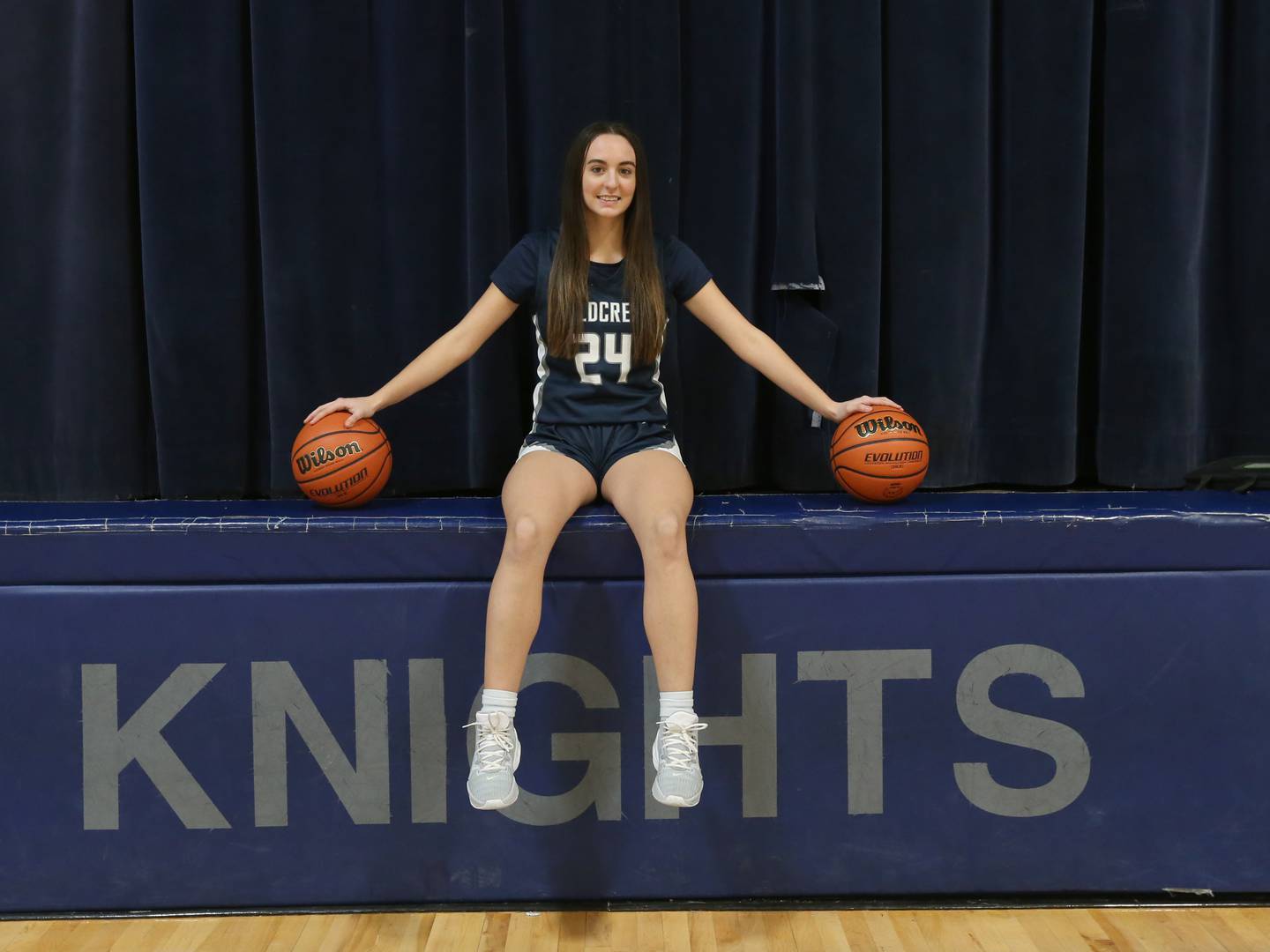 "Opponents would guard Ashlyn in a certain way, but she not only had the ability to understand that and adjust, but to also see how they were guarding her teammates," said Mitch Neally, who resigned as Fieldcrest's head coach at the conclusion of the season. "She used that knowledge to not only put herself in good situations, but also help to do the same for her teammates. She just wants to win and will do whatever it takes to help her team do that.
"I'm confident in saying we had a very talented and solid starting five on the floor that all could hurt you, but even that said, Ashlyn made everyone better. Her basketball IQ is off the charts."
This season brought with it many individual accolades for May, the highest being voted to the Illinois Basketball Coaches Association 2A All-State first team and to The Associated Press second team. She also was an unanimous All-HOIC first team pick, selected to the HOIC all-defensive team and was an all-tournament honoree at both the Falcon-Irish Thanksgiving and St. Bede Academy Lady Bruin Classic Tournaments.
May, who played in 118 career games, leaves as the program's all-time leader in assists (464) and steals (400), as well as the second leading scorer with 1,446 points.
"I hope it's something good, something nice at least," May said with a laugh when asked how she hopes she'll be remembered as a player at Fieldcrest. "I would just hope I'd be remembered as a player that gave it her all while wearing the Fieldcrest uniform. I know I've done that throughout my basketball career, but I've also had teammates that have done the same, and that's why we've had the success we've had.
"Years from now, people probably won't remember the individual accolades or stats, but hopefully they will just remember that I was a pretty good player on a pretty great team that won a lot of games and accomplished a lot of high goals.
"It's been an honor to play for Fieldcrest. I think that when people think of Fieldcrest basketball now, it isn't just the boys teams that they think of."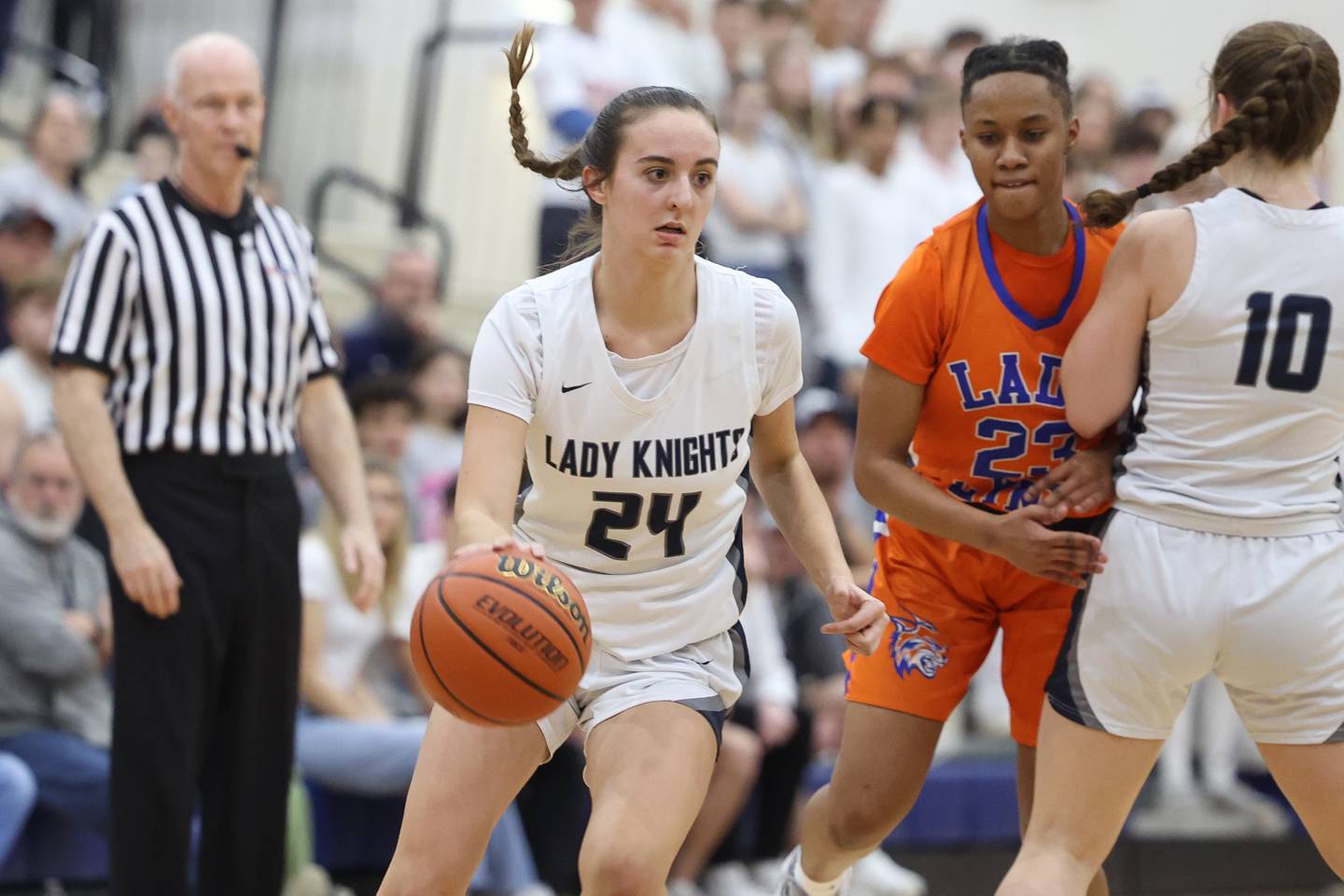 May will continue her education – studying towards major elementary education in hopes of becoming a kindergarten or first-grade teacher – at Illinois Wesleyan University and her basketball career at the NCAA Division III level with the Titans.
"I've already started working on developing a better outside shot, specifically from the 3-point line," May said. "It all starts with my form, and it's something that I feel I've already improved on, but I have a long way to go. I've always been able to do pretty well driving to the basket, but I feel like adding the ability to make shots from the outside is something I'm going to have to be able to do consistently in college."
Neally feels May's influence both on and off the court has been a big part of the building blocks to where the program is now ... and where it's headed in the future.
"I feel Ashlyn's impact on Fieldcrest girls basketball will be seen for quite a while here," Neally said. "The culture has changed in a big way. I see more younger girls playing basketball in their driveways and at the park now. They've seen how she plays, how she handles herself on the court, and they want to be the next Ashlyn May.
"She's been a big part of helping to get this community behind girls athletics."
May said that many of her memories won't be the wins or losses or even championships, but rather the relationships gained with her teammates and coaches. The Knights leave every practice and every break in the action with a collective voice of "always together."
"I think at first it was just something we said after a practice or a timeout," May said. "But over my four years here, I've went through some personal stuff, and I think this shows how sports becomes family. I think it's a reminder to us all that we are all there for each other on and off the court and will be for the rest of our lives.
"If you are a part of a team at Fieldcrest ... it becomes your second family."