STREATOR – The Seneca boys basketball team exploded out of the second-half gate during Tuesday's game against Streator at Pops Dale Gymnasium.
The Fighting Irish broke open a two-point contest at halftime with a game-changing 19-5 run in the opening 4 1/2 minutes of the third quarter and eventually posted a 67-45 victory over the Bulldogs.
Seneca forward Lane Provance had 19 points, nine rebounds, two assists and two blocks to lead Seneca (25-3) to its fifth consecutive win and seventh in its past eight.
"My goal, like every game, is to stay out of foul trouble early, and I was able to do that tonight," said Provance, a 6-foot-6 junior. "We wanted to come out to start the second half strong, and we did that pretty well. I was able to find some openings in their zone, and my teammates did a great job of either finding me or knocking down open shots.
"I felt like the biggest key was in the start of the third quarter. We were able to get out in transition, and much of that was creating turnovers and turning them into quick baskets on the other end."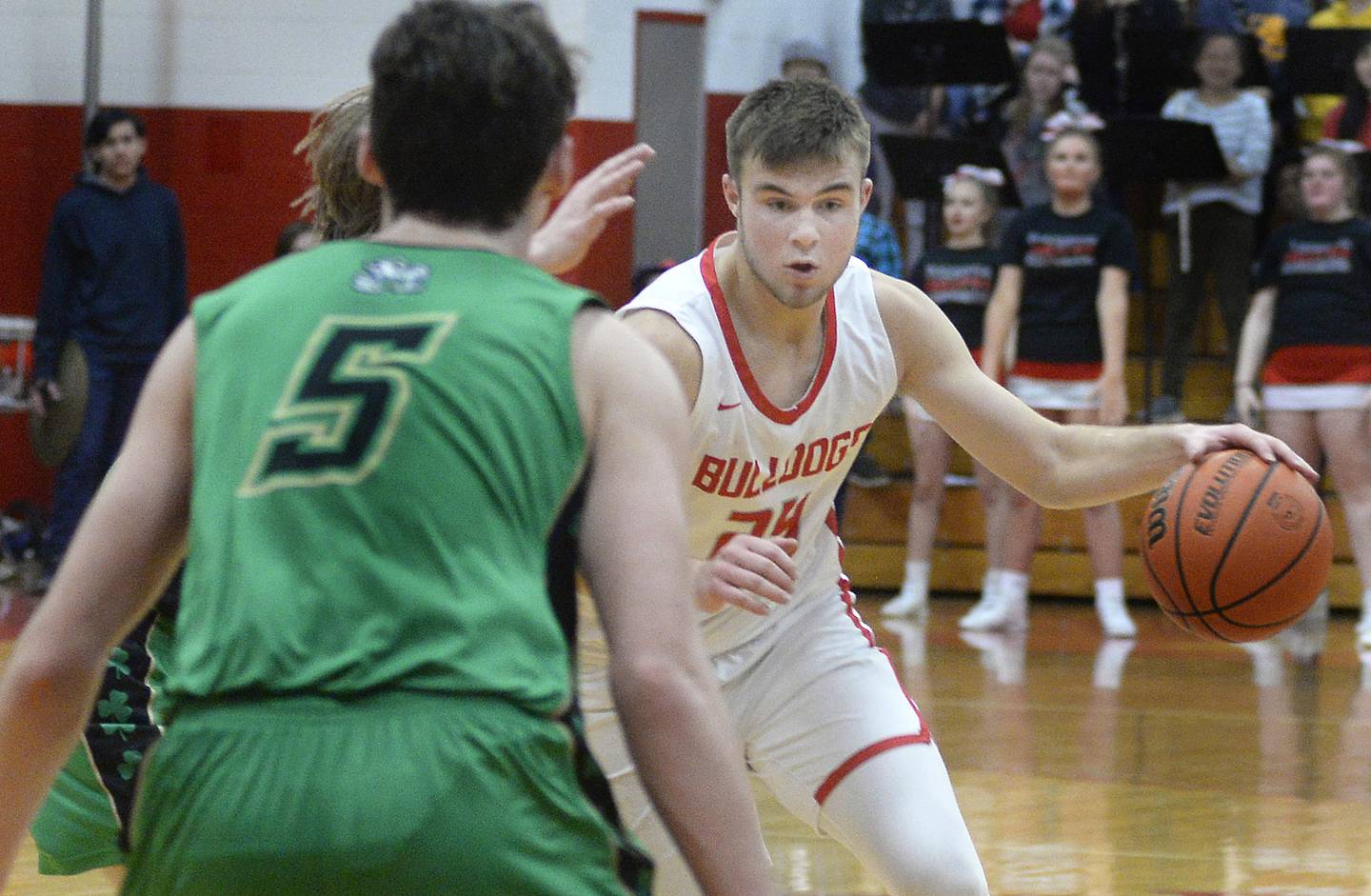 Sophomore Paxton Giertz netted 13 of his 15 points in the second half while adding five rebounds, seven assists and five steals. Senior Calvin Maierhofer scored 11 points, with Braden Ellis adding nine points and five assists and Kysen Klinker seven points and eight rebounds.
Streator junior guard Christian Benning (five rebounds, four assists) scored a game-high 20 points to tie 2022 graduate Jack Haynes for third on the Bulldogs' all-time scoring list, both with 1,110 career points. Logan Aukland added six points, Landon Muntz grabbed six rebounds, and Matt Williamson had five assists for the hosts.
"We really just reemphasized what we had talked about prior to the game," Seneca coach Russ Witte said of any major adjustments at halftime. "In the first half we were chasing Benning way too much. We were OK with him catching the ball on the perimeter, but we didn't want him getting his bread and butter, which is driving into the paint, and that's exactly where he was getting to. We backed off him in the second half, looked to take charges, and that seemed to get Streator out of rhythm a little bit.
"We also talked about wanting to get all five starters in or near double figures. We wanted to be a balanced scoring team tonight, and we were able to do that."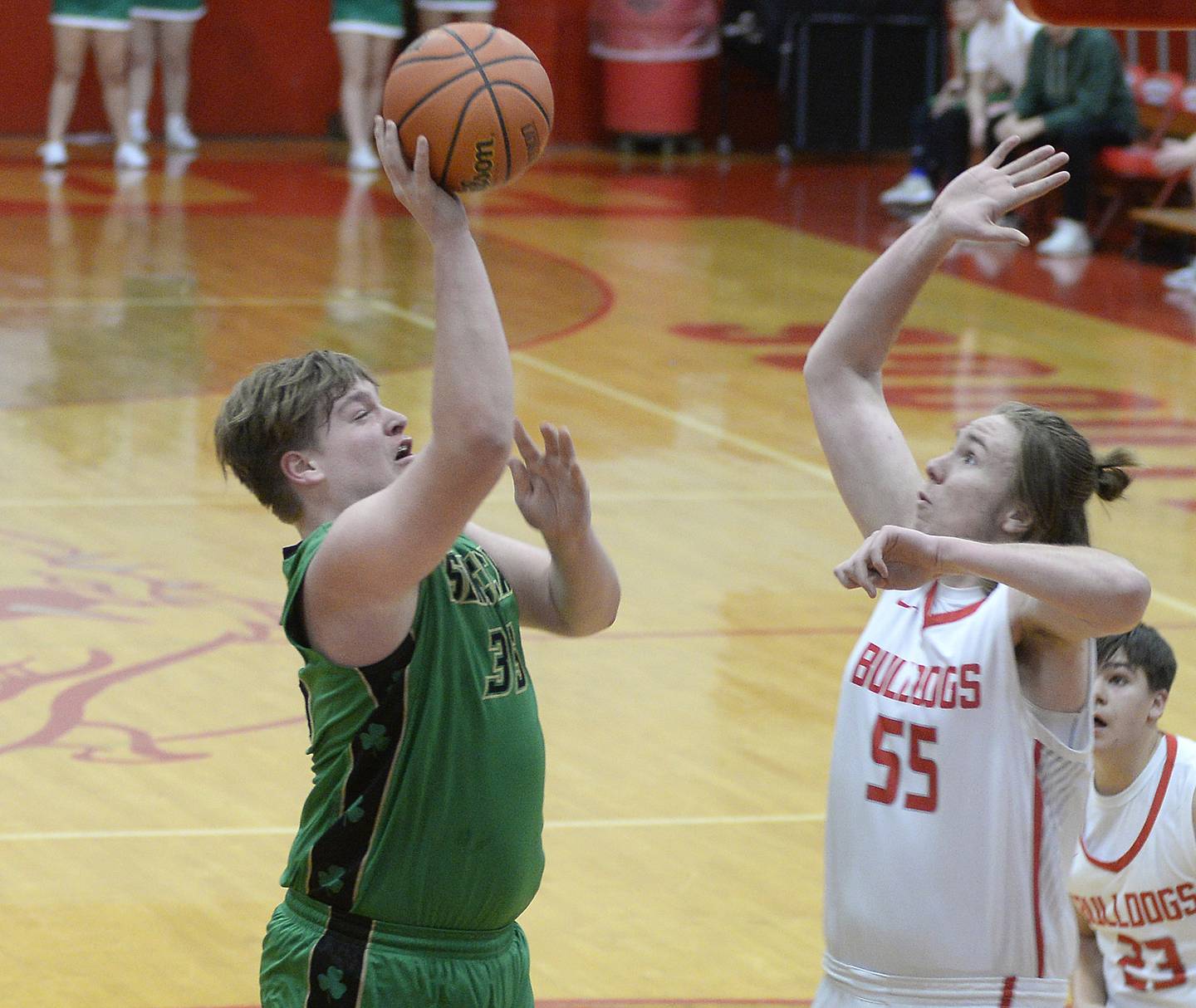 Streator used an 11-1 run at the end of the second quarter to hold a 28-27 lead, but Ellis drained one of his three 3-pointers in the final seconds to give the visitors a 30-28 lead at the intermission.
The Irish then began the third with another Ellis 3, which was followed quickly by a layup by Provance and another 3-pointer by Maierhofer in the opening two minutes. A layup by Nolan Lukach broke the string, but a putback of his own miss by Provance preceded a jumper by Giertz and a back-door hoop by Maierhofer to balloon the lead to 44-30 on the way to a 52-38 cushion heading to the fourth.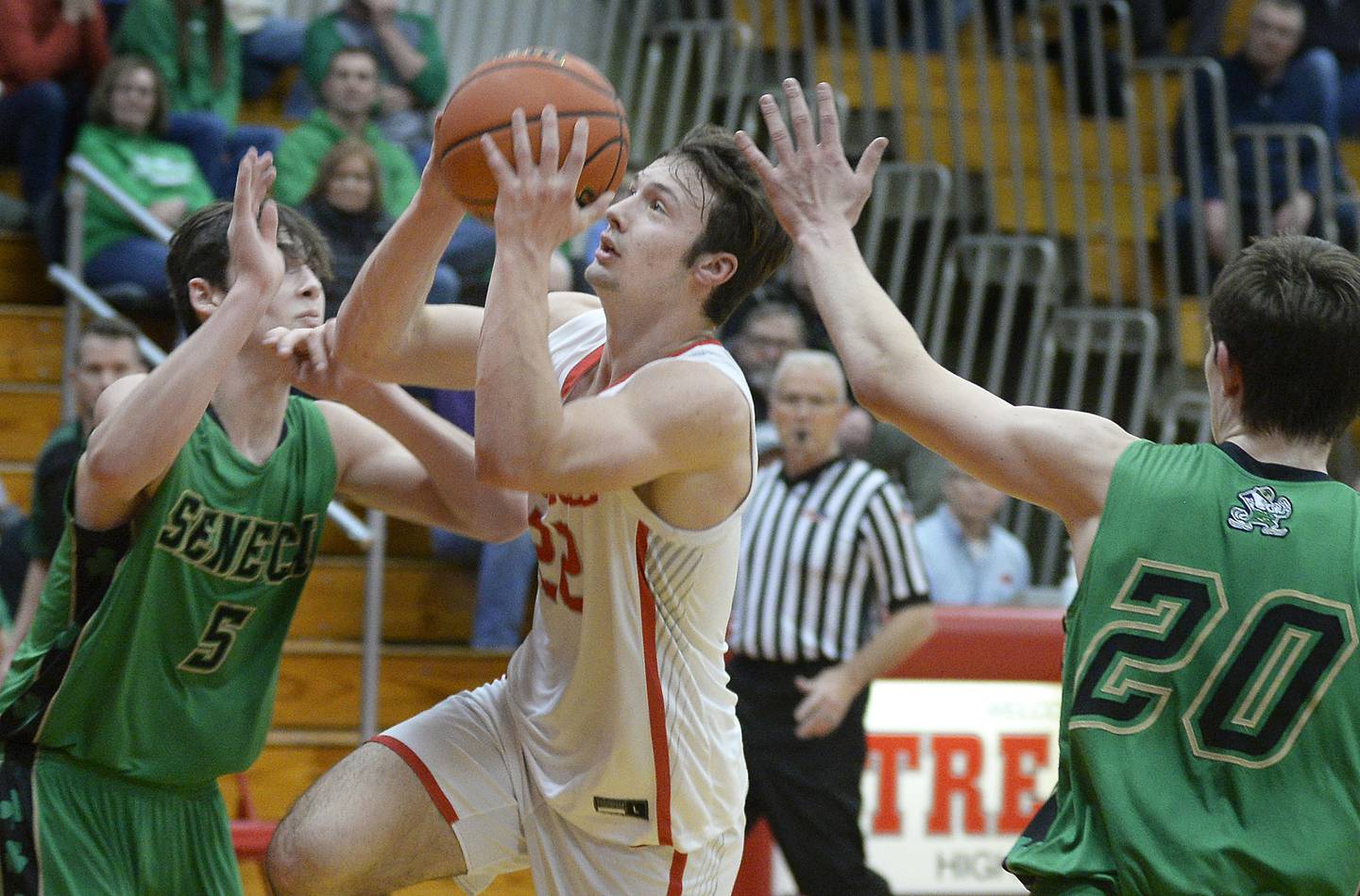 "We had the lead there toward the end of the first half, and one of our last possessions had the ball inside, made an extra pass that we shouldn't have, they came down and hit a 3 to retake the lead," said Streator coach Beau Doty, whose team fell to 14-12. "We wanted to come out in a zone defense to start the second half, but then they scored in transition on three consecutive trips where we didn't get back to even get set up.
"Those opening minutes of the third Seneca really took grasp of the momentum, and we just weren't able to get it back. They converted on every one of our mistakes in that third quarter. We just couldn't convert on our end, and conversely, it didn't seem like they could miss on theirs."
Seneca is back in action Friday, when it hosts Dwight in a Tri-County Conference finale and senior night. Streator is right back in action Wednesday with a trip to Plano.