SOMONAUK – Both top-seeded Serena and No. 2 Hinckley-Big Rock were looking for a spark after playing the opening quarter to a draw during Friday's championship game of the 104th annual Little Ten Conference Boys Basketball Tournament.
The Huskers found it in junior guard Carson Baker.
Baker swished a 3-pointer from the right wing and added a driving layup seconds later to help his club close out the opening half on an 11-2 run and eventually go on to earn a 54-46 triumph over the Royals.
"I hit my first shot in the first quarter, and it really had my confidence high," Baker said as he held the Al Stegman Championship Trophy. "The one in the second quarter was just my teammates finding me in an open area, and fortunately I was able to knock it down."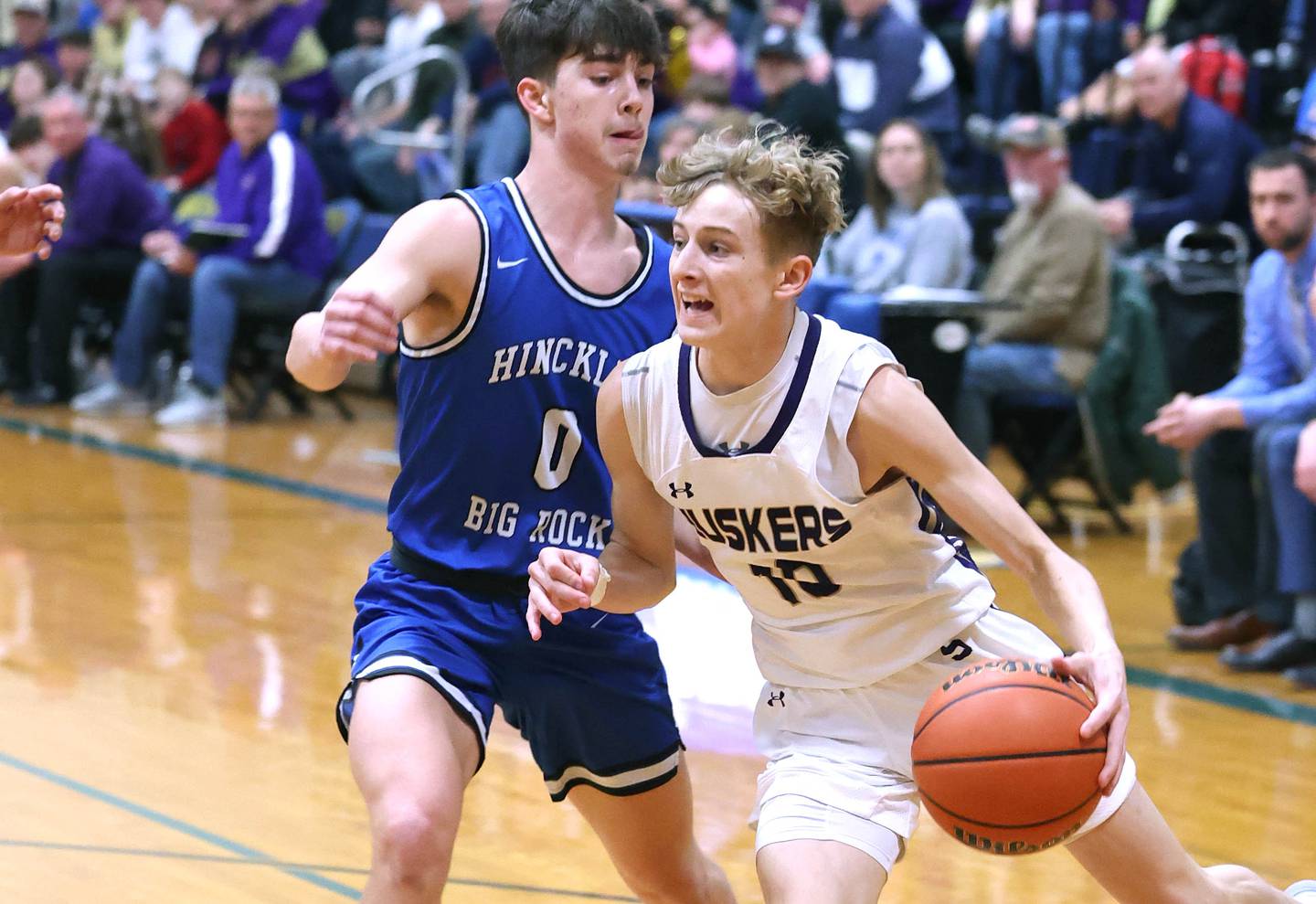 It's the first LTC Tournament championship for Serena since 2007 and 17th in the history of the event for the Huskers.
Camden Figgins (four assists, two steals) led four players in double figures with 11 points. Braxton Hart (five rebounds), Hunter Staton and Baker (three assists) added 10 points apiece. Bradley Armour added nine points, and Richie Armour grabbed a team-best seven rebounds.
"Carson has been a huge spark plug off the bench for us all season," Serena coach Dain Twait said, his club now 21-6 on the season. "He'd be starting on a lot of teams and he could easily be starting on ours, but everyone on this team knows their role. His 3-pointer definitely got us going in the right direction, and Hunter Staton came off the bench to add to the spark in the third.
"Camden played like the two-time all-conference player he is. We brought him up as a freshman just for moments like this. He didn't disappoint tonight; he played really well."
Serena used hoops from Figgins, Bradley Armour and Richie Armour to end the second quarter on a 6-0 run and hold a 30-19 lead.
"I can't describe what I'm feeling right now," Figgins said. "Being a senior, this is a game that I not only always wanted to play in, but also wanted to win. I got my wish.
"I thought the biggest key for us was taking care of the ball and taking good shots. I really can't remember too many bad possessions throughout the whole game. I thought we executed very well. Another key was Carson bringing the energy in that second quarter. He really got us going."
Hinckley-Big Rock (21-7) closed the gap to six in the opening minute of the third quarter on a triple by Max Hintzsche and a layup by Martin Ledbetter, but trailed by eight heading to the fourth.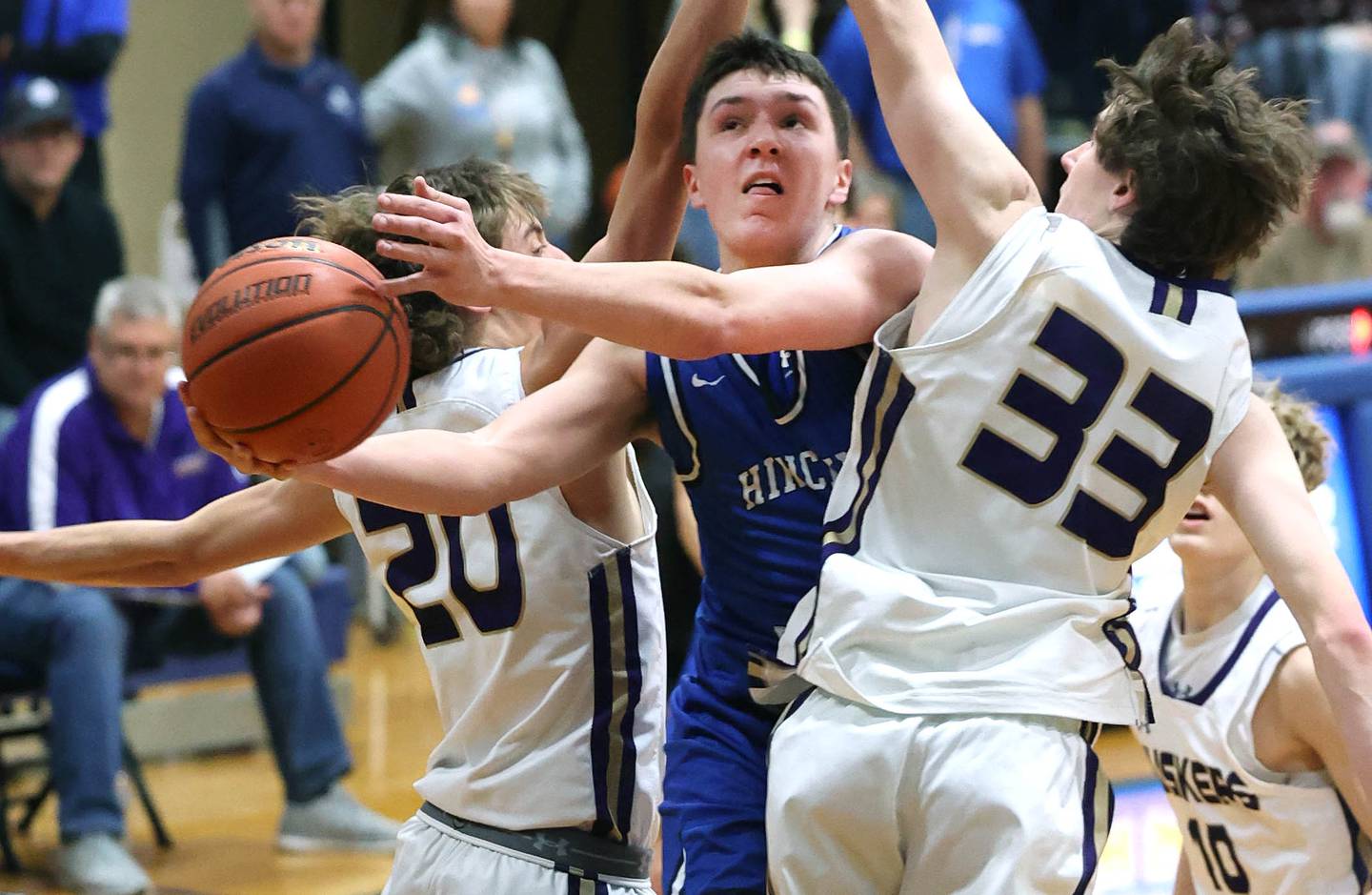 In the final quarter, the Huskers were able keep the Royals at arm's length, never letting them get closer than making it a two-possession game.
Ledbetter, a sophomore, paced H-BR with a game-high double-double of 20 points and 18 rebounds. Ben Hintzsche posted 11 points and six rebounds, while Max Hintzsche had 10 points.
"We were down two there around midway into the second quarter, and then we let a couple of consecutive baskets turn into an 11-2 run to end the half," said H-BR coach Seth Sanderson, his club falling to Serena by a point in last Friday's LTC regular-season contest. "We've been getting better this season at not allowing that to happen or shortening opponents' runs, but that one at the end of the first half got away from us.
"Then in the second half, we were able to cut the lead to five or six, but just couldn't get that next basket or next defensive stop after that. Serena played well and just executed better than we did in key moments, but I'm proud of my team's play and effort."
Serena shot 46% (22 of 48) and H-BR 42% (17 of 41) overall from the field. The Royals held a 31-27 rebound advantage but lost the turnover battle 16-12.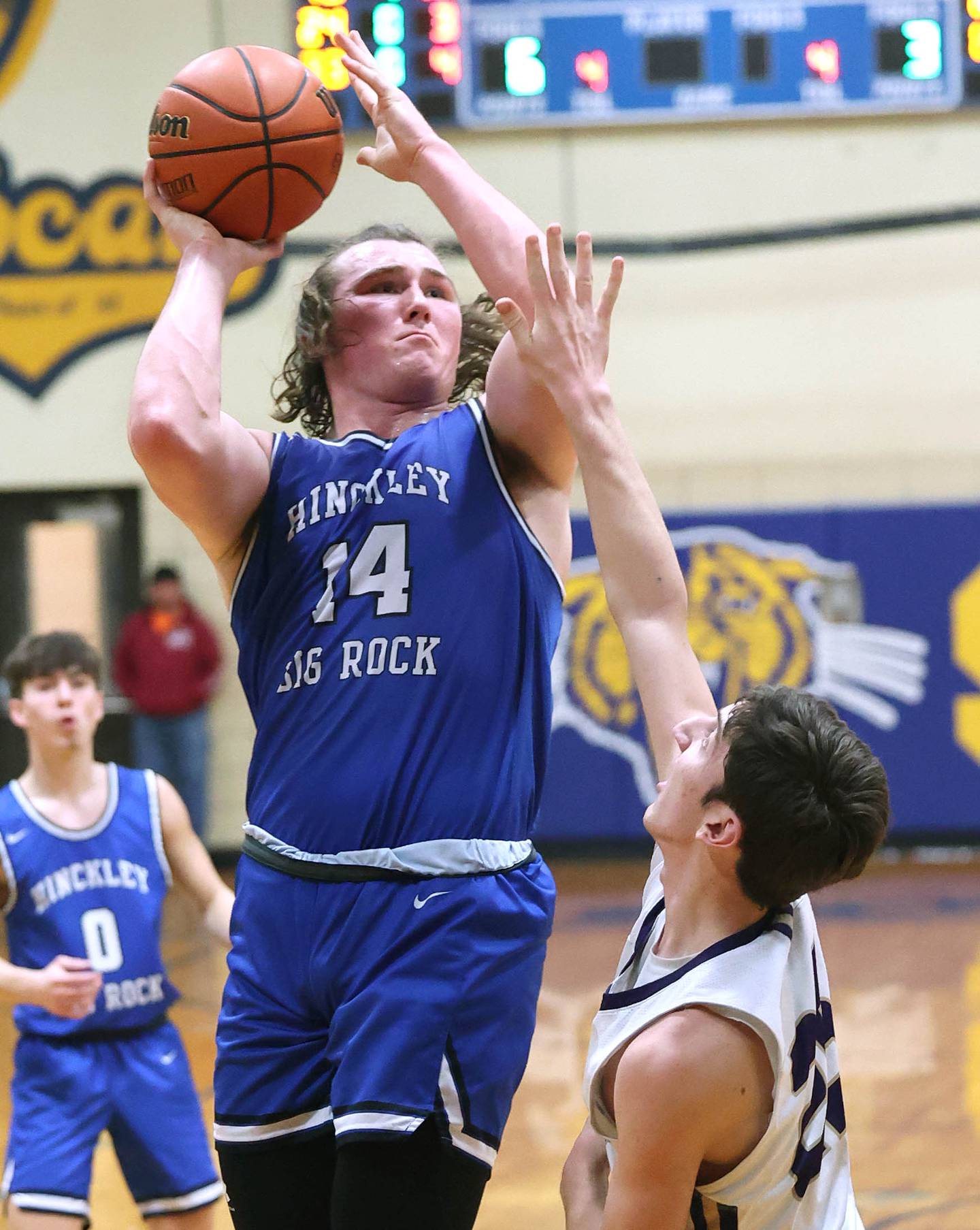 At Somonauk
104th Little Ten Conference Tournament
Championship game
Serena 54, Hinckley-Big Rock 46
HINCKLEY-BIG ROCK (46) — Roop 0-3 5-8 5, Smith 0-3 0-0 0, B. Hintzsche 4-12 2-2 11, M. Hintzsche 4-8 0-2 10, Ledbetter 9-15 2-4 20, Albus 0-0 0-0 0, Fitzpatrick 0-0 0-0 0. Totals 17-41 9-16 46.
SERENA (54) — B. Armour 3-6 2-2 9, Hart 4-6 2-3 10, Faivre 0-1 0-0 0, Figgins 5-10 1-4 11, R. Armour 2-9 0-0 4, Baker 4-7 0-1 10, Staton 4-9 0-0 10. Totals 22-48 5-10 54.
Hinckley-Big Rock (21-7) 15 4 17 10 — 46
Serena (21-6) 15 15 14 10 — 54
3-point goals — Hinckley-Big Rock 3-12 (Smith 0-2, B. Hintzsche 1-6, M. Hintzsche 2-4); Serena 5-11 (B. Armour 1-3, Figgins 0-1, R. Armour 0-1, Baker 2-3, Staton 2-3). Rebounds — Hinckley-Big Rock 31 (Ledbetter 18, B. Hintzsche 6); Serena 27 (R. Armour 7, Hart 5). Assists — Hinckley-Big Rock 10 (M. Hintzsche 5); Serena 12 (Figgins 4, Baker 3). Steals — Hinckley-Big Rock 5 (Roop 2); Serena 7 (Figgins 2). Blocks — Hinckley-Big Rock 5 (Ledbetter 2, B. Hintzsche 2); Serena 3 (B. Armour, R. Armour, Baker). Turnovers — Hinckley-Big Rock 16, Serena 12. Total fouls (none fouled out) — Hinckley-Big Rock 15, Serena 14.