GRANVILLE – For the third time this season, the boys basketball teams from Marquette Academy and Seneca met.
For the third time this season, the Crusaders and Fighting Irish battled down to the wire.
Seneca took the title game of Marquette's Christmas Tournament by three points Dec. 29, but Marquette avenged that defeat with a four-point win Jan. 13 at Seneca.
On Friday night in the championship game of the 96th Tri-County Conference Tournament at Putnam County High School, it was the No. 2-seeded Crusaders taking the rubber match over the top-seeded Irish with a thrilling 59-54 triumph to claim a sixth title.
"The games against Seneca this season have been awesome," said Marquette senior guard Tommy Durdan, who scored eight of his team-high 20 points in the fourth quarter. "Whenever two really good teams play three times, and the biggest point difference is five points, that just shows how competitive our games have been. We've been fortunate to now come out on top the last two."
Durdan, who was a unanimous selection to the all-tournament team, hit 4 of 5 free throws in the final 50 seconds to help keep Seneca at arm's length.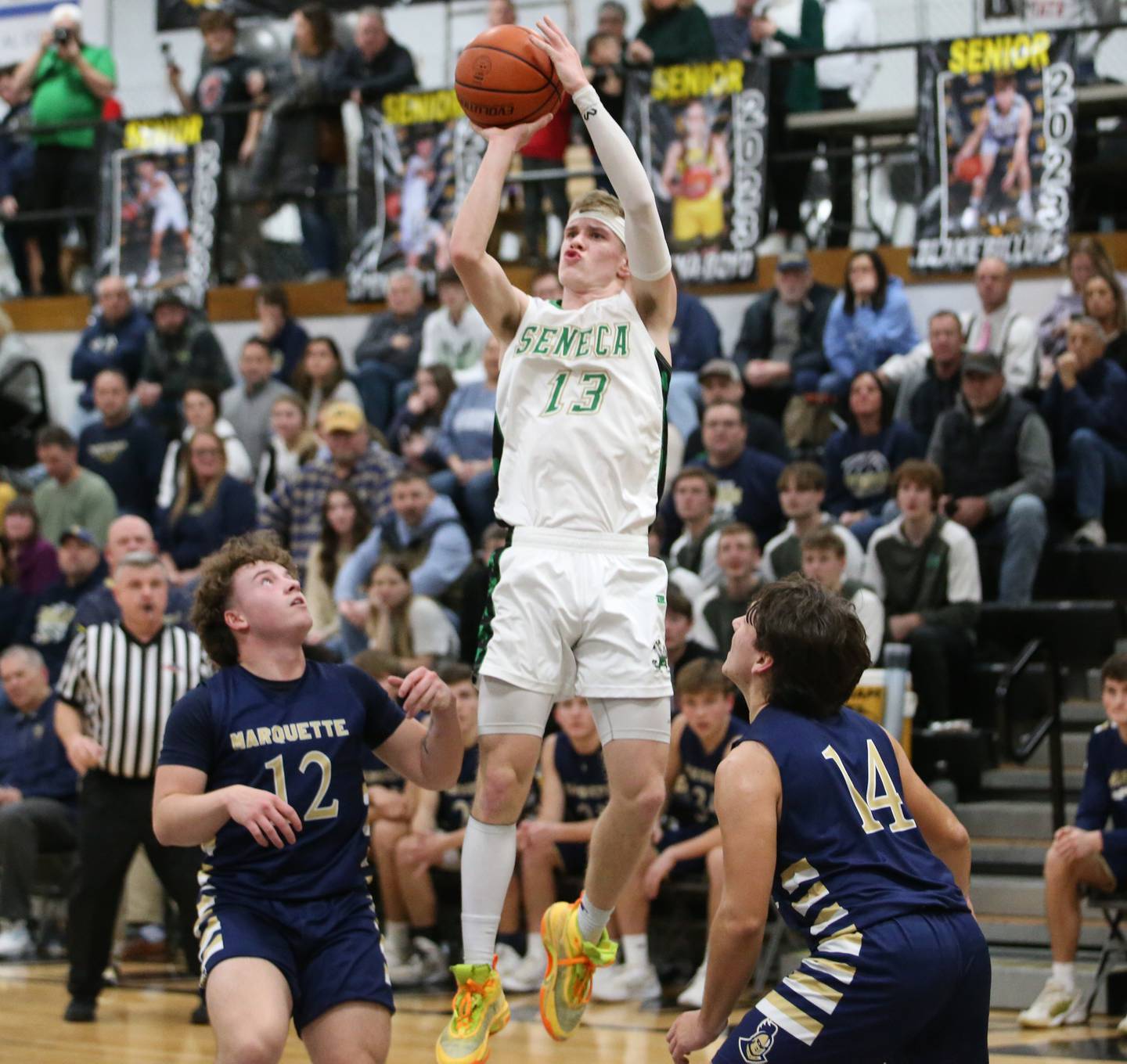 "The first two games were just battles, and tonight, and we knew it would be, was just the same," Durdan said. "There isn't really anything that can be drawn up in practice that is for sure going to work. It's about finding things here and there, making shots when you need to and playing solid defense from start to finish.
"We don't have a star player or a guy whose is going to put up 20 points a night. But what we do have is a bunch of quick guys who share the ball well and work hard for each other. We may not be the biggest, but if we use what we have, I feel like we are a tough team to beat."
All-tournament selection Krew Bond added 12 points for MA (19-5). Logan Nelson netted nine points while grabbing a game-high 14 rebounds. The Crusaders shoot 43% (19 of 44) from the field in the game, while Seneca (20-3) meshed 39% (23 of 59).
The teams were tied 16-all after the opening quarter, and the Crusaders held a 27-25 lead at halftime. Marquette closed out the third quarter on a 11-4 burst to hold a 43-33 advantage heading to the fourth.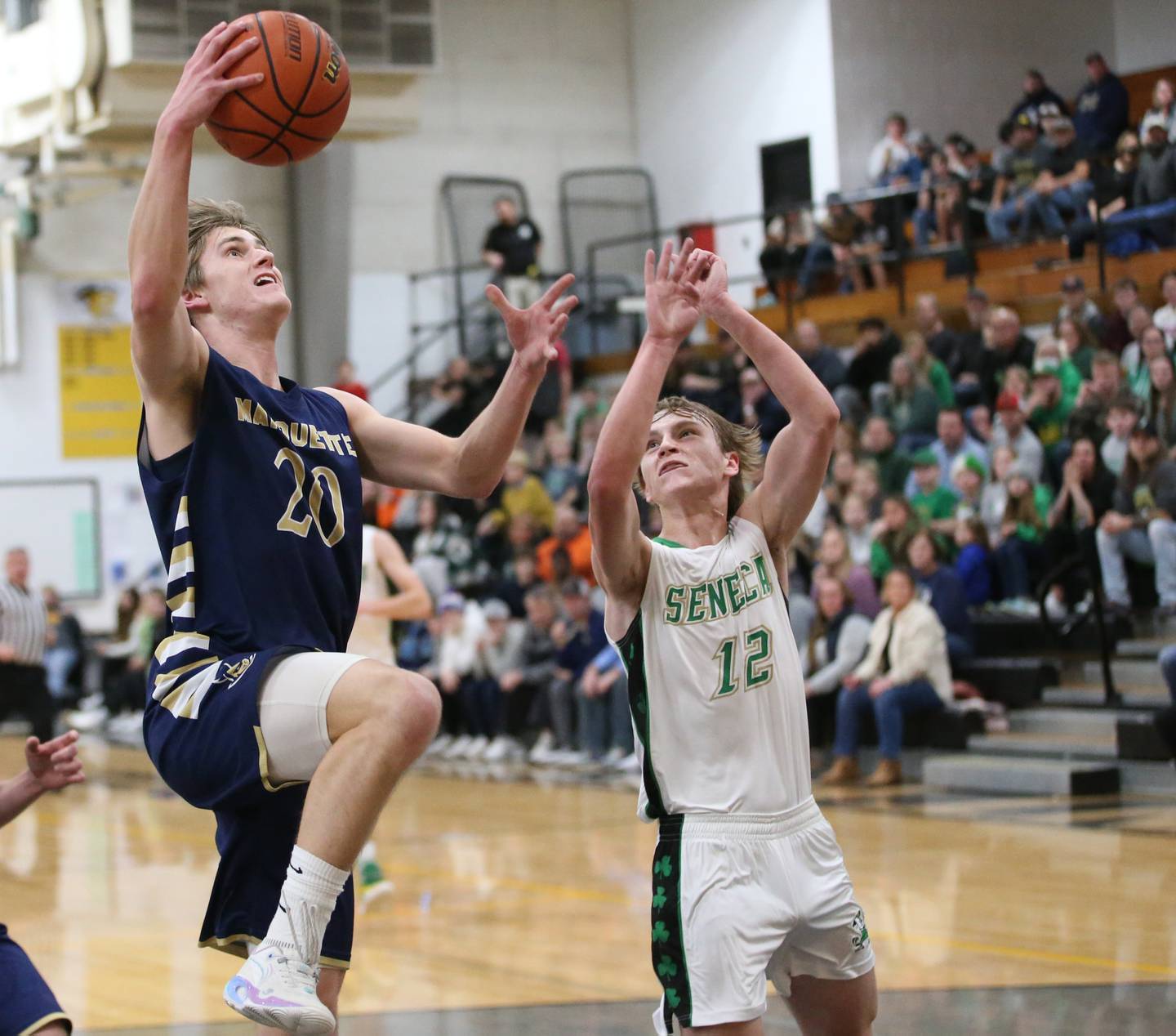 "This was just two really good teams, rivals, just getting after each other," Marquette coach Todd Hopkins said. "Each side wants to knock the other's head off, but at the end of the day we both respect the heck out of each other's programs.
"Both teams did some things different from the first two games. They used a 2-3 zone for a little bit, which we hadn't seen, and we had a couple wrinkles we used in the first to try and get the ball inside. It was a game of adjustments, but in the end I felt like our ability to get the ball to Logan and Alex in the middle was a huge key. They made both made good decisions.
"We cut well, we passed well, and we made free throws when they really counted in the final minute."
Seneca trailed 49-38 with 4:53 to play but used a 9-0 run – two Kysen Klinker rebound baskets, two Paxton Giertz drives and a Calvin Maierhofer three-point play – to slice the lead to 51-49 with two minutes left.
From there, a drive by Nelson and two free throws by Durdan helped keep Marquette in the driver's seat.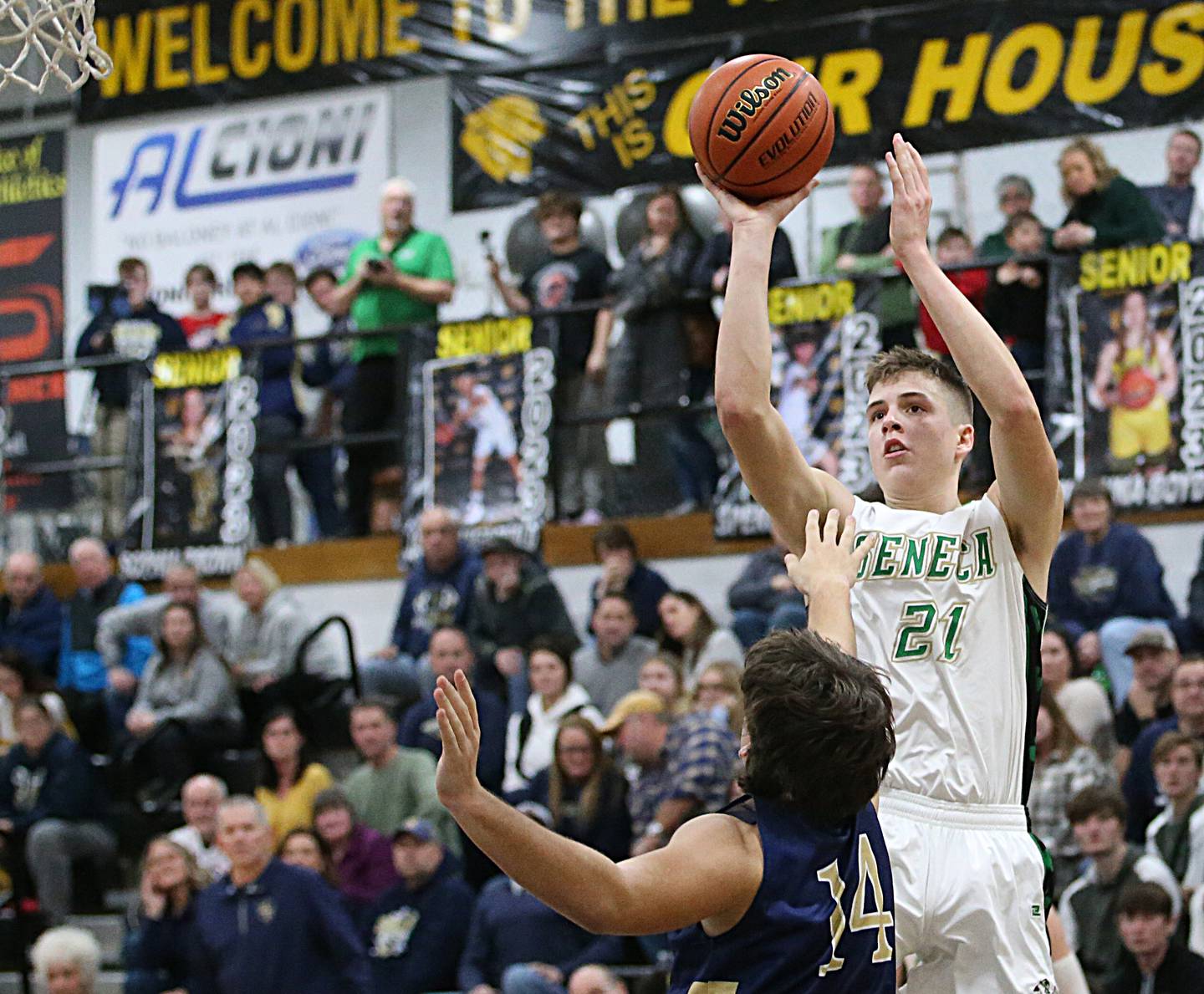 Giertz, a sophomore, poured in a game-high 27 points, while junior Lane Provance posted 10 points and eight rebounds. Both were named all-tournament.
"We had to play some of the first half without four starters, two for an extended amount of time, but were only down two," Seneca coach Russ Witte said. "We weathered the storm. But in the second half, we just didn't make shots, and we had plenty of good looks. It was kind of like the last time we played, when in the fourth quarter we just couldn't find a way to put the ball in the hoop.
"The biggest difference between the two teams tonight was Marquette finished their shots in the paint, and we did not. We had a great run there in the fourth, down 11 with five minutes to go and cutting it to two in the final two minutes, but the two possessions after making it a two-point game we turned the ball over, and they were able to score and push the lead back to six."
—
At Putnam County High School, Granville
96th Tri-County Conference Tournament
Championship game
Marquette Academy 59, Seneca 54
MARQUETTE ACADEMY (59) — Bond 4-9 2-2 12, Walker 1-10 5-6 7, Graham 2-5 0-2 4, Durdan 6-9 8-12 20, Nelson 4-7 0-2 9, Zellers 1-1 0-0 3, Mullen 1-2 0-0 2, P. McGrath 0-1 0-0 0, Waldron 0-0 2-2 2, Trainor 0-0 0-0 0. Totals 19-44 17-26 59.
SENECA (54) — Klinker 2-5 1-2 5, Ellis 1-4 0-2 2, Giertz 12-24 1-1 27, Maierhofer 4-8 1-1 9, Provance 4-13 2-3 10, Farcus 0-3 1-3 1, Lucas 0-0 0-0 0, Siegel 0-1 0-0 0, Sheedy 0-1 0-0 0. Totals 23-59 6-12 54.
Marquette (19-5) 16 11 16 16 — 59
Seneca (20-3) 16 9 8 21 — 54
3-point goals — Marquette Academy 4-16 (Bond 2-4, Walker 0-6, Nelson 1-4, Zellers 1-1, P. McGrath 0-1); Seneca 2-11 (Ellis 0-1, Giertz 2-5, Maierhofer 0-2, Provance 0-2, Siegel 0-1). Rebounds — Marquette Academy 35 (Nelson 14, Graham 4); Seneca 34 (Provance 8, Giertz 6, Farcus 5). Assists — Marquette Academy 9 (Durdan 4, Walker 3); Seneca 10 (Giertz 2, Maierhofer 2). Steals — Marquette Academy 11 (Walker 3, Durdan 3); Seneca 9 (Giertz 4). Blocks — Marquette Academy 0, Seneca 5 (Klinker 3). Turnovers — Marquette Academy 17, Seneca 18. Total fouls (fouled out) — Marquette Academy 15 (none); Seneca 22 (Klinker).