OTTAWA – No deficit is too much to overcome. No lead too large it can't be lost.
On Monday, for the third time in as many meetings this season, Seneca rallied from down double digits to beat Marquette. This time the Fighting Irish trailed by as many as 18 points – as late as the early third quarter – and still came away with a 68-62 overtime victory in Bader Gymnasium.
After a trio of JV starters came off the bench to spark Seneca in the second half, Kennedy Hartwig scored the last five of her game-best 24 points in overtime – including the 3-pointer to put the visitors up for good – and Alyssa Zellers added the final four of her 21 points in the extra session to complete the rally.
Ella Sterling added 13 points and nine rebounds to help lift the Irish (18-8, 9-1) to the Tri-County Conference win.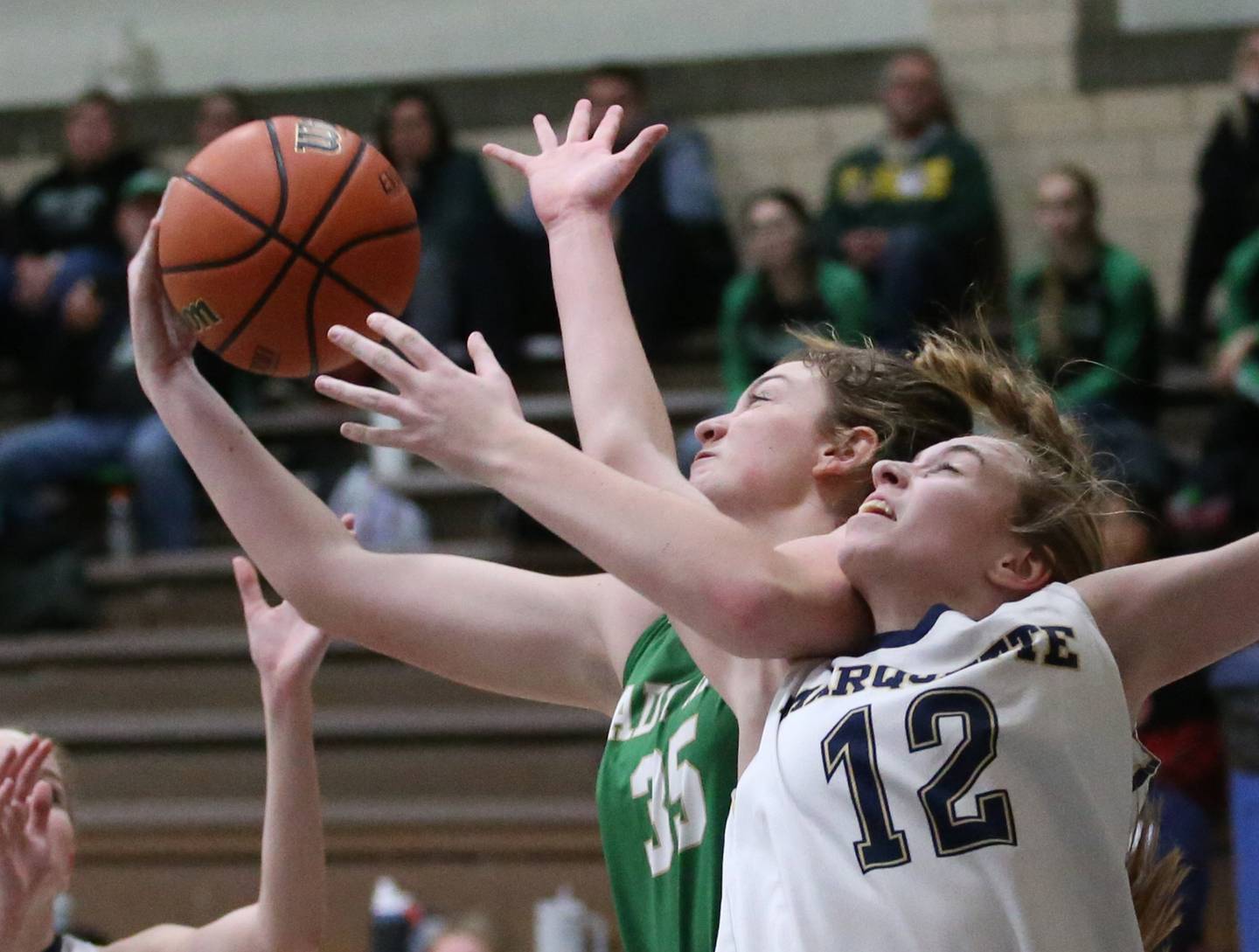 "We just haven't been shooting well, the last five we'd been under 30% and that will put you in a funk," Seneca coach Brian Holman said. "We were playing hard and in the first half, we were getting good looks, we just didn't get them down. In the second (half), a few went in and there's the momentum.
"(Sophomores) Audry McNabb, Tessa Krull and Evelyn O'Connor... they came in and gave us energy in the third quarter, that spark, and the stalwarts Hartwig, Zellers and Sterling took it from there.
"What I'm most proud of is every game we haven't shot well, we've won or had a chance to win. I didn't think we had it tonight, but the big takeaway from this is that we always have it in there somewhere. We just have to find it and tonight we did."
Avery Durdan led the way with 23 points and 11 rebounds for the Cru (11-12, 4-6), while Chloe Larson added 15 points and Lilly Craig 12.
The Irish took the first meeting on Dec. 5 in Seneca, rallying from as many as 10 and down five entering the final quarter to win 52-48, then erased a 13-point deficit to capture a 43-39 win in the semifinals of the Tri-County Tournament in Varna on Jan. 17.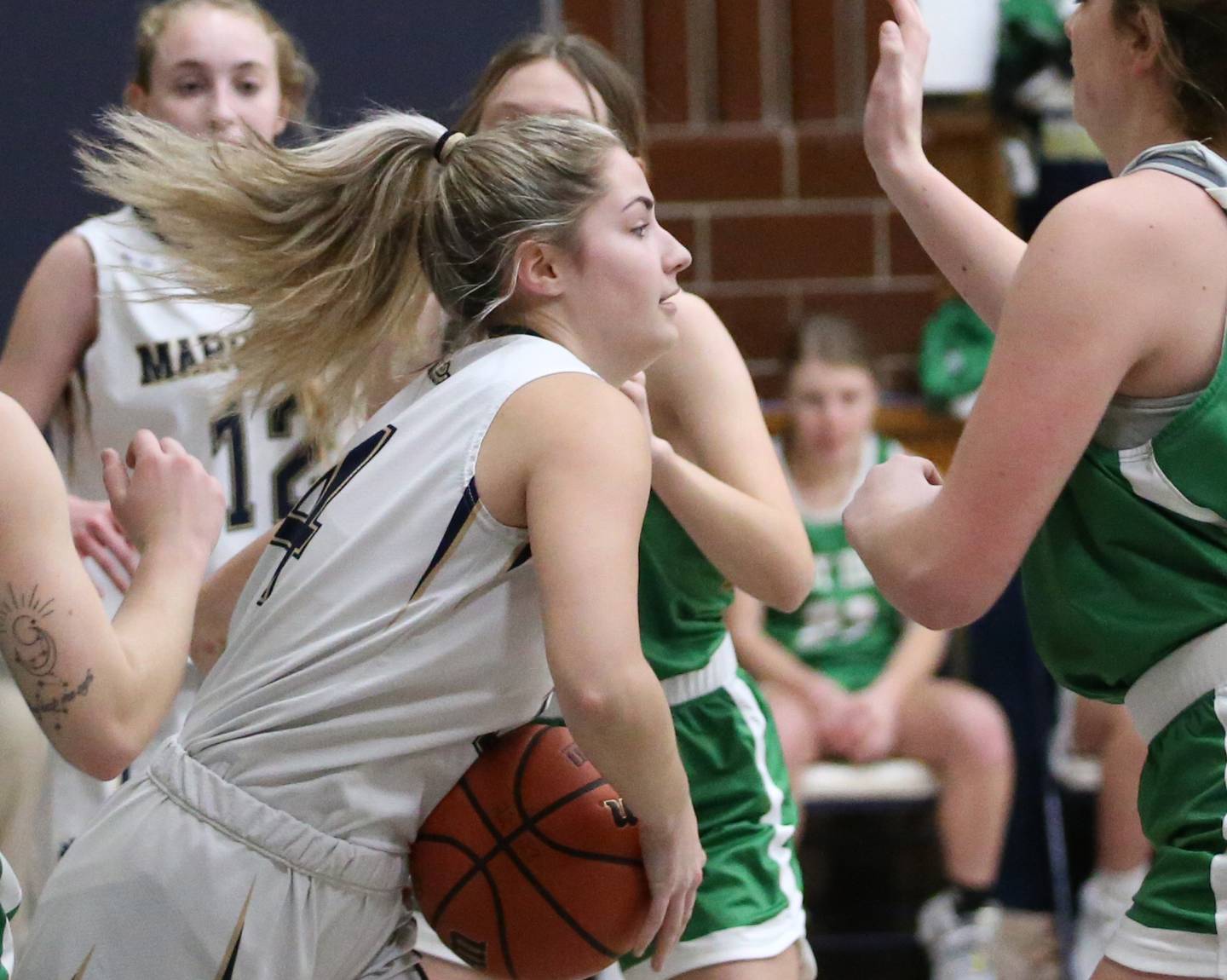 Monday's win was much like the latter of those two clashes. Marquette again started fast, this time behind five points each from Larson and Craig to grab a 14-2 lead before Zellers broke an 0-fo-8 string with a jumper.
A pair of baskets from Durdan and a 15-footer by Eva McCallum widened the margin to 25-7 late in the second quarter before a bucket by Craig to start the third made it 31-13 Cru.
But the reserves gave Seneca energy from that point on and, after it extended its cold shooting to 5 for 30 from the field, Zellers and Hartwig, who was held to just one point in the first two quarters and missed her first 11 shots overall, got hot from the perimeter. Each hit a pair of 3s and netted nine and eight points, respectively, in the third to cut the deficit to just four.
In the fourth, buckets by Lainie Olson and Sterling cut the deficit to one. It was three before consecutive treys by Hartwig and Zellers put the Irish up for the first time since 2-0.
A Durdan three-point play with 37.5 seconds left and a Sterling basket at 21.0 sent the game into OT, where a 3-ball by McCallum gave Marquette its last lead at 59-57. However, the Irish netted the next eight points on an Olson basket and 3s by Hartwig and Zellers.
"This is, I think, the fifth game where we've had a decent lead at halftime ... it's just not being able to close out games," Marquette coach Eric Price said. "We get sped up when we're up and (opponents) press and that causes issues for us, even though it's the same press we've seen. It think we start waiting for the other shoe to drop and we start second guessing ourselves.
"Sure, Hartwig and Zellers hit some big shots for them in the second half, they see good things happen and they get some confidence … but there's no reason to give up an 18-point lead in the second half. You can't be scared to play with a lead."