OTTAWA – There are times in our lives when we just know that something is just the right fit.
At least as far as furthering her education, as well as her softball career goes, Ottawa High School senior McKenzie Oslanzi had that type of moment after a trip to Eastern Illinois University in Charleston during fall 2021.
"I just remember someone from Eastern Illinois saw me pitch with my travel team that summer and they contacted [Ottawa] coach [Adam] Lewis," Oslanzi said. "They contacted me showing interest, and after my first campus visit, I knew right away that Eastern Illinois was 100%, without a doubt, where I wanted to go to school and play softball. A big factor in my decision was [head] coach [Tara] Archibald and [assistant] coach [Rachel] Huggins. I knew right away after meeting and talking to them that they were who I wanted to play for and learn from."
Oslanzi signed her national letter of intent to play for EIU on Wednesday in Love Gym.
"I'm very relieved," Oslanzi said with a huge smile. "I'm finally officially a Panther. It's very exciting for me to know that's where I'll be going, and I'm looking forward to all the experiences that are ahead of me in the future.
"It was special to have all of my family and friends here today to share this time with me. They have all had a huge part of this day being possible, and I can't thank them all enough for the support they have given me throughout the journey to today."
As a junior, Oslanzi, the Pirates' ace pitcher while also seeing time at first base or designated hitter, was named the 2022 Times Softball Player of the Year after helping her team to a 21-9 record.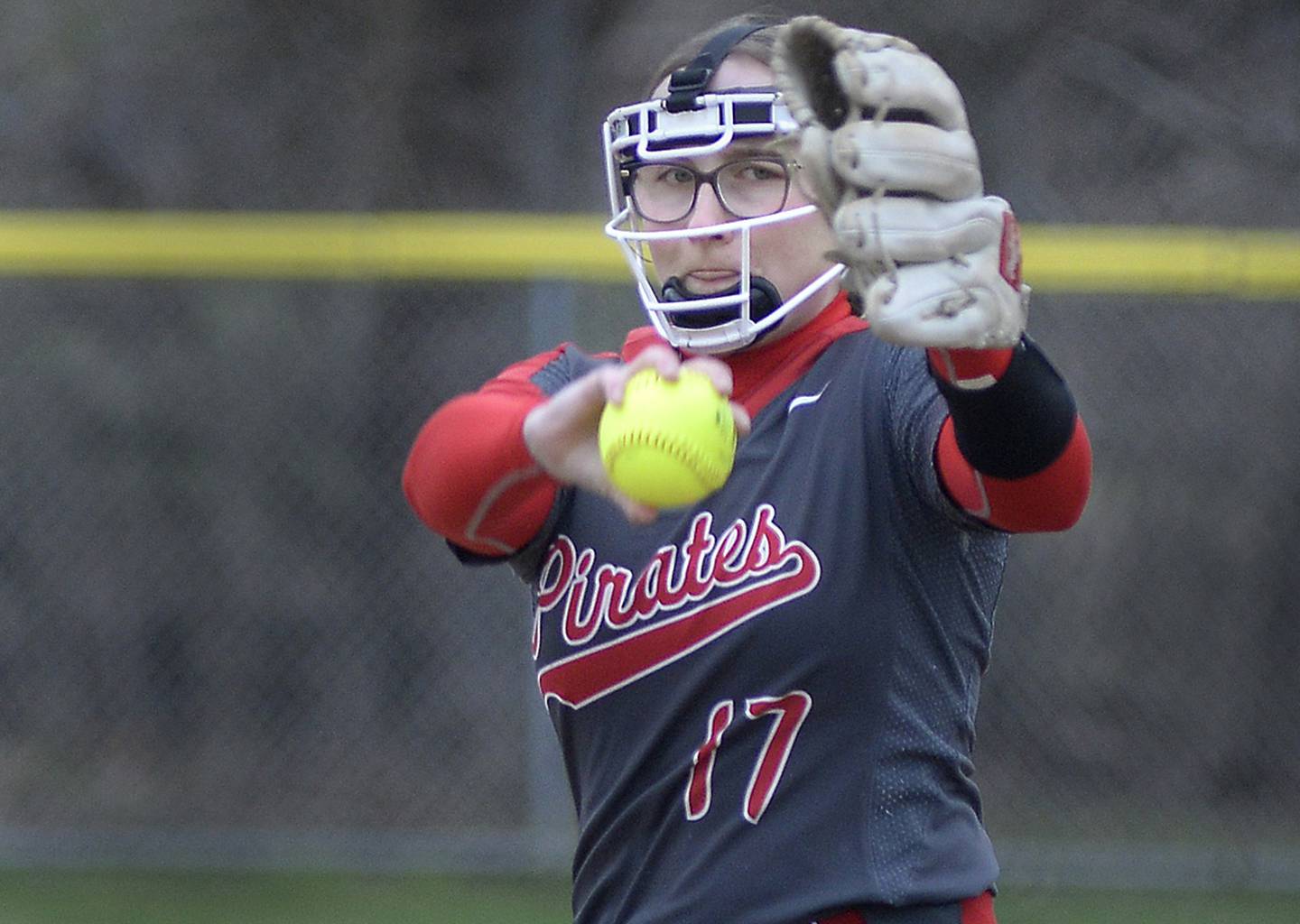 Starting with her performance in the circle, the tall right-hander pitched in 28 games (24 starts), going 18-5 with a pair of saves. In 147 innings, Oslanzi allowed only 101 hits and 21 walks while striking out 225 batters and posting a 0.95 ERA and 0.83 walks plus hits per inning pitched.
At the plate, Oslanzi – who earned Illinois Coaches Association Class 3A All-State and Interstate 8 All-Conference first-team selections – registered a .510 batting average, including 49 hits, 15 doubles, two triples, three home runs, 36 RBIs, 19 runs scored and three stolen bases.
"This is a big day for McKenzie, and I'm very happy for her," Lewis said. "She has put in so much work to become the best player she can be. The recruiting processes can be fun and exciting on one hand, but can be gut-wrenching and nerve-racking as well. There is sometimes that thought of 'Is this the right place for me?' or 'Will I fit in?', but I know McKenzie is 100% committed to EIU, and I know she's going to do a great job for them.
"I'm very excited to see what she can do for us in the spring in her final go-around in a Pirates' uniform, but also looking forward to watching her continue to grow as a player and person with Eastern Illinois."
Under Archibald, in her third season leading the Panthers this past spring, Eastern Illinois went 25-30 overall and 10-17 in Ohio Valley Conference play.
With her future at the college level now set after a couple of strokes of the pen, Oslanzi said her next goal in her final season wearing the Crimson and White is pretty plain and simple.
"My biggest goal in the upcoming season here at Ottawa would be to lead my team to a regional championship," Oslanzi said. "We fell a little short of getting it last year, so that will be the goal that I'll be looking to reach the most next spring.
"There is always something I can be working on to make myself a better player, and that's what I will continue to do in the offseason. I will also have a couple of tournaments in January and February with my travel team to help me get ready for the high school season.
"I just want to do everything in my power to help us get that [regional] plaque."