ELGIN – It's been an all-too-familiar sight for those who follow the Marquette Academy baseball team – Crusaders players forming a dogpile on the infield in the midst of discarded gloves, hats and water bottles after winning a postseason championship.
The latest celebration came Saturday afternoon after the Crusaders' 4-1 victory over rival Putnam County in the Class 1A Harvest Christian Sectional championship at Judson University's Hoffer Field in Elgin. It was Marquette's fourth straight sectional title
Marquette (30-3) got a tremendous performance from starting and winning pitching Aiden Thompson, who allowed only two Panthers hits, a first-inning unearned run and three walks while striking out six in the complete-game effort.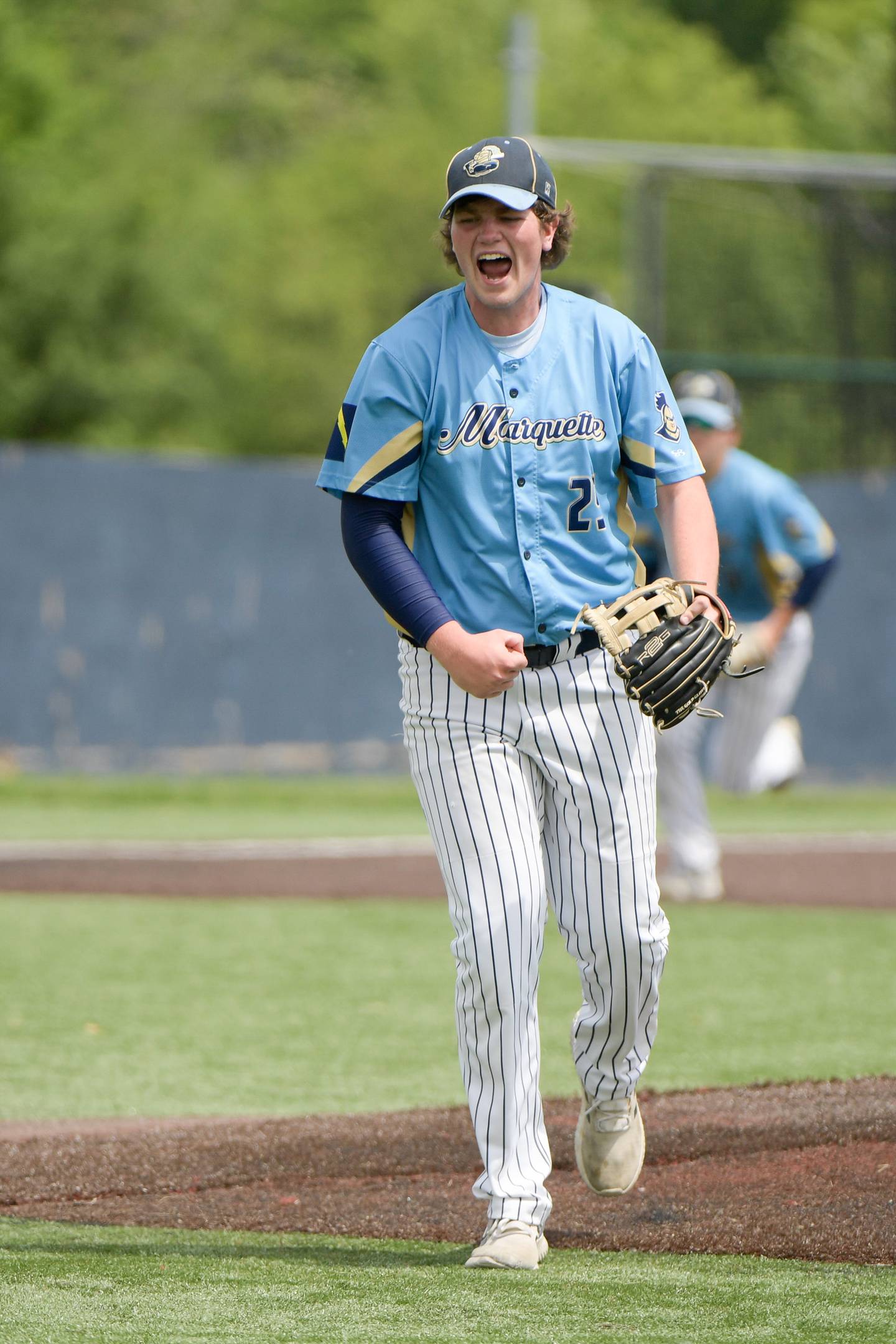 "Aiden was simply outstanding today," Marquette coach Todd Hopkins said. "I thought [pitching coach] Brad [Waldron] also did a great job of calling pitches, mixed it up, and pitched backwards at certain times. For Aiden to only give up two hits to a team like that in seven innings, that's pretty special.
"He took the ball, and all the credit goes to him."
The Crusaders now will head to Monday's 10 a.m. Rockford Supersectional at Rivets Stadium to play Sterling Newman (19-7). The Comets defeated Warren, 12-5, at Lena-Winslow.
Putnam County finishes 27-9.
Putnam County scored quickly in the bottom of the first inning, as leadoff man Andrew Pyszka grounded a double down the third-base line, moved to third on Drake Smith's sacrifice bunt and scored on a passed ball.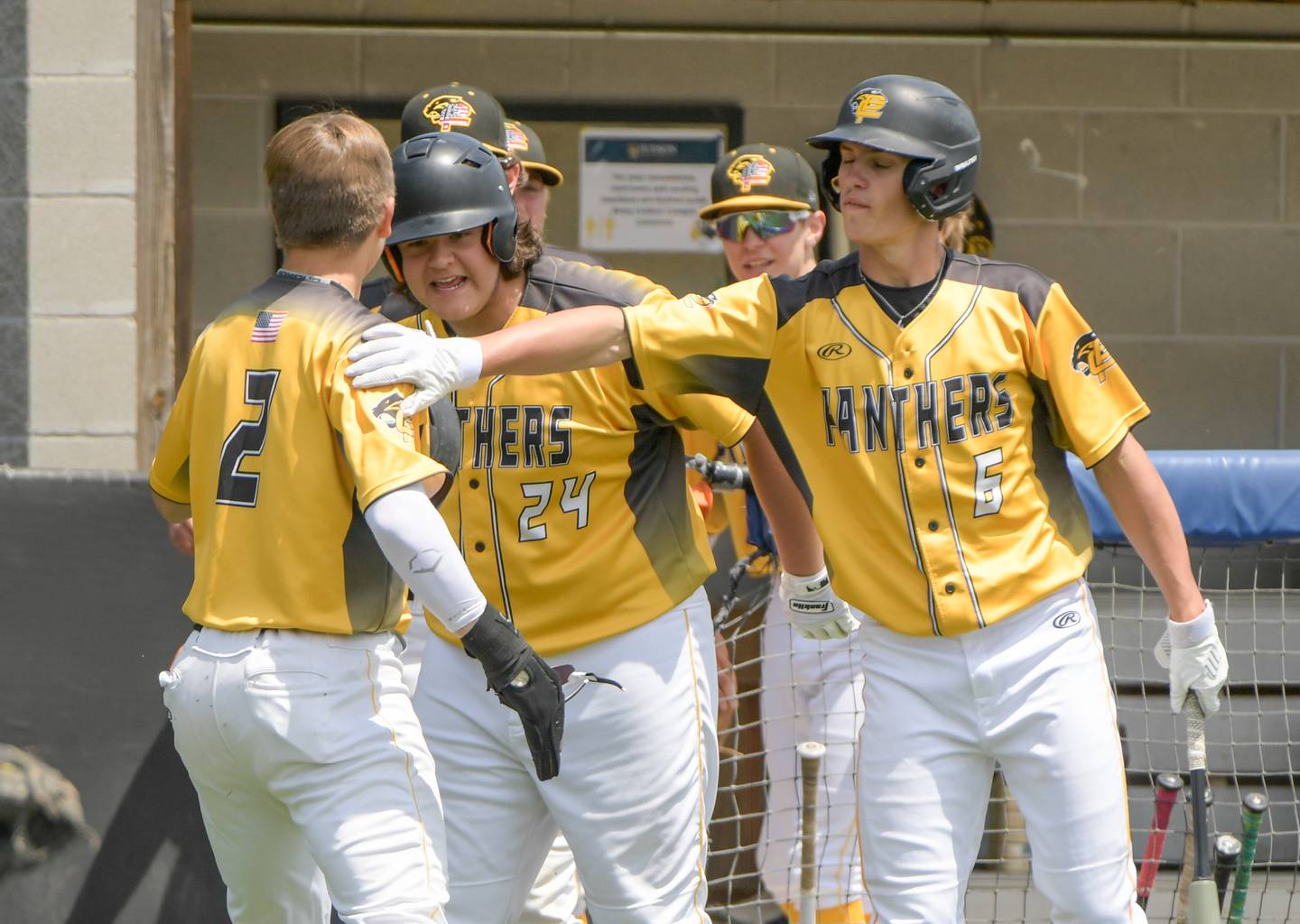 From there, Thompson retired 10 straight batters and allowed only three baserunners.
"I think the first inning, it really made all of us focus a little more knowing that [Putnam County] can put the bat on the ball," said Thompson, who threw 66 of his 110 pitches for strikes. "I mean every single one of their guys are really good hitters.
"I was confident today in throwing my breaking ball on the first pitch or in fastball counts and knowing if they did hit, my guys were going to make the plays. I knew my pitch count was up there [in the last inning], and my heart was racing because I really wanted to finish this one."
Marquette took the lead for good in the second.
Hayden McKenna led off with a single to right off Smith (5 IP, 3 H, 3 R, 0 ER, 2 BB, 6 K), then moved to third after Tommy Durdan's bunt up the first-base line was dropped for an error. An out later, Charlie Mullen's grounder to first was mishandled to allow pinch runner Gabe Almeda to score before Carson Zellers recorded an RBI on a fielder's choice. Zellers stole second, went to third on a bad throw, and a pitch later came across on a passed ball.
The Crusaders added a fourth run in the sixth off reliever Jackson McDonald (2 IP, 1 H, 1 R, 0 ER, 0 BB, 1 K). Mullen singled, went to second on a Zellers sac bunt and scored after a pair of passed balls.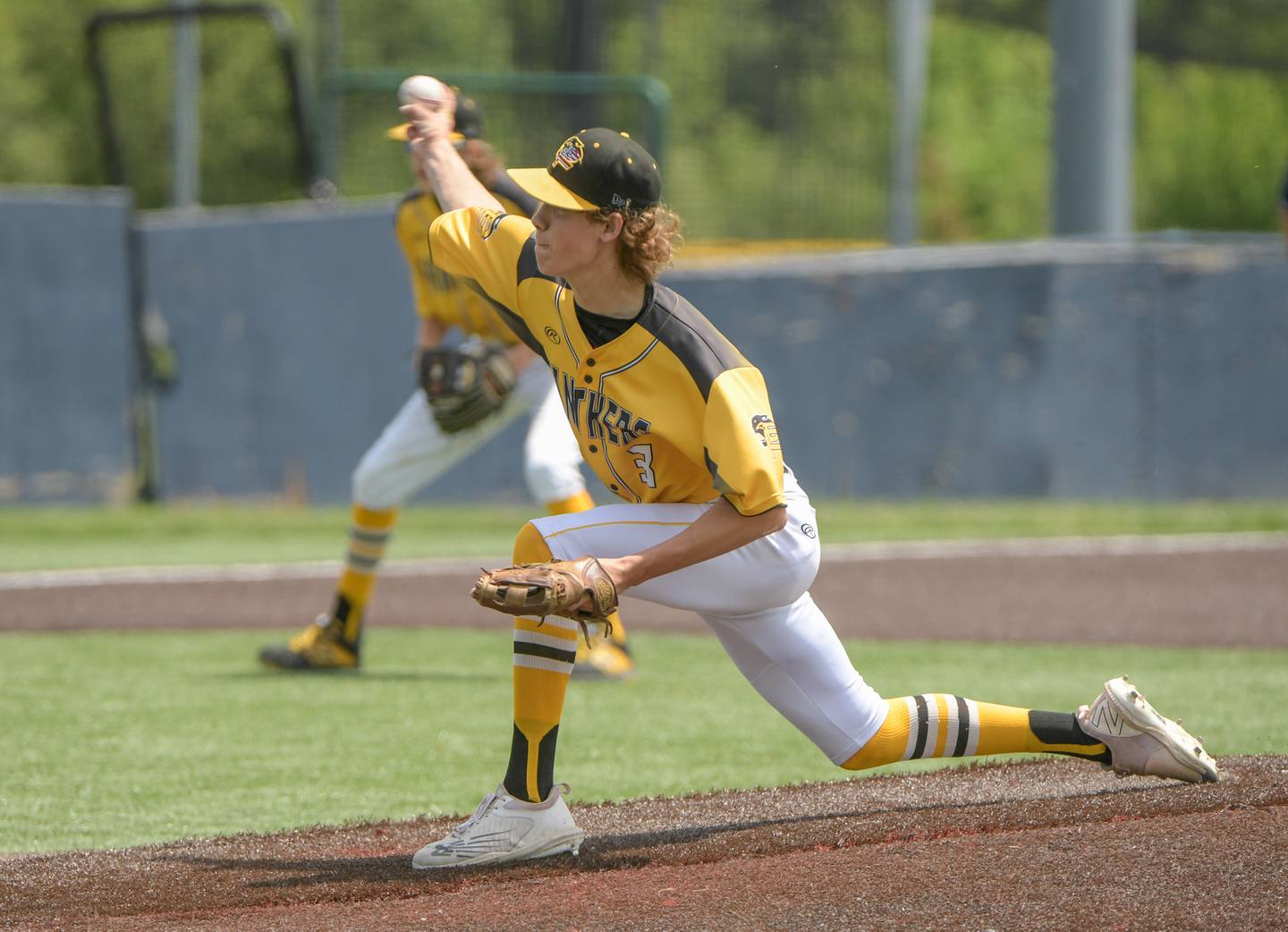 "Smith and McDonald are two really good pitchers as well," Hopkins said. "We didn't knock the cover off the ball, but we were able to get some guys on and made some things happen. This is the type of game where you have to put pressure on the defense, because you never know how kids are going to react.
"This was two really evenly matched teams. After the second inning we left a few runners in scoring position, granted with two outs, but I thought that might come back to hurt us. Luckily it didn't."
Putnam County coach Chris Newsome felt his team hit the ball pretty well, but that defense was the key in the outcome.
"We expected a back-and-forth battle today, especially with how our prior two games went this season," he said. "Marquette is a really good, well-coached team. I thought we put some really good swings on some balls, hit some balls hard, but they were either right at them or they made some really solid defensive plays. They made the plays when they needed them, and we had a couple of errors and untimely wild pitches, but that's baseball sometimes.
"This was a good game. It just sucks that one of us has to stop playing right now."