OGLESBY – After racing out to an 11-2 start to the season, many of those wins of the thrilling variety, close games down the stretch developed into something of a bugaboo for the Ottawa Pirates baseball team.
That unfortunate trend played out one final time Wednesday in the Pirates' Class 3A La Salle-Peru semifinal against Rock Island.
Locked in a 1-1 tie with the Rocks heading into the penultimate inning, Ottawa surrendered two unorthodox runs in the bottom of the sixth – a walked batter coming in on an errant pickoff throw and a batter bunting his way on and scoring on back-to-back sacrifices – then went down in order in the seventh to fall, 3-1, at Dickinson Park.
Rock Island (21-12) advances on to face Morris on Saturday for the regional championship. Morris upset top-seeded La Salle-Peru, 8-2, in Wednesday's early semifinal.
Ottawa's season closes with another close defeat – its seventh by two runs or fewer since that hot start – and a record of 13-16. Those close losses, although tough to stomach for Ottawa's young first-year coach, also could be viewed as an encouraging sign for a young Ottawa ballclub.
"Trust me, I hate moral victories," Pirates coach Tyler Wargo said, "but we start seven juniors. This is kind of a good learning and growing year for a potential senior-dominated team next year.
"We had good senior leadership. It would be nice to win some of these, but we know we're doing the right things and capable of doing it. It's kind of a good way to transition into next year."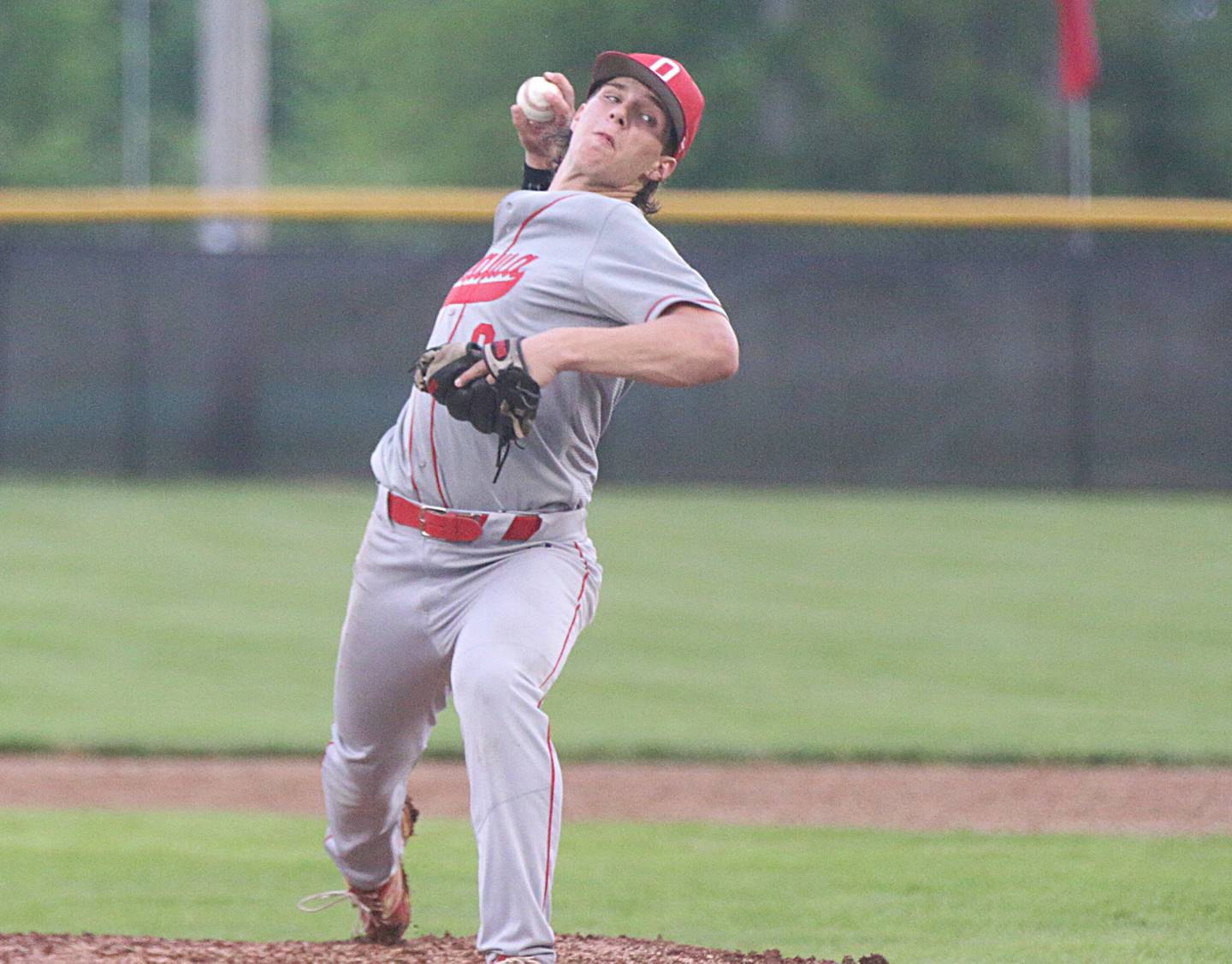 The Pirates struck first Wednesday. In a game filled with few hits where the few runs runs were scored in unusual ways, that's exactly how Ottawa got the scoring going in the top of the fourth.
No. 3 hitter Luke Cushing drew a walk from Rock Island left-hander Conner Dilulio, then took second with heads-up baserunning on a pitch in the dirt. Cushing advanced the final 180 feet on a pair of fly balls to center field: the first not technically a sacrifice fly by Rylan Dorsey; the second officially a sac fly off the bat of Ryan Chamberlain, with Cushing sliding headfirst into home.
But that one run and only one hit – a second-inning, opposite-field single by Payton Knoll – was all the offense the Pirates could manage against Dilulio (7 IP, 1 ER, 1 H, 3 BB, 3 K), who worked the complete-game victory on only 86 pitches.
Dilulio's offense, meanwhile, didn't provide him a lot of help, but the Rocks did manage enough even in an effective, gutsy effort from Dorsey (6 IP, 1 ER, 3 H, 3 BB, 4 K).
"He's been that way all year, keeping us in games. He's been spectacular," Wargo said of Dorsey.
Rock Island scored its first run in the home fourth, with Zach DeMarlie drawing a two-out walk, stealing second and scoring on a play where a slow grounder to Cushing got past the Ottawa shortstop when DeMarlie effectively screened Cushing from seeing the ball until it was too late to field it.
It was the Rocks' two runs in the sixth, however, that proved decisive, the result of a walk, a bunt single, an error on a pickoff throw, a sacrifice bunt and a sacrifice fly nicely run down by OHS left fielder Daniel Bruner, but too deep to stop the insurance run from scoring.
"It was a tough day to hit, wind blowing in, but down the stretch we got a few bunts down, forced [Ottawa] to make a couple plays on the infield and found a way to squeak through a couple runs and get out of here with a win," Rock Island coach Jake Scudder said.
"[Dilulio] came out and did what he's done all year. He's only a sophomore, but he fills it up, throws a lot of first-pitch strikes, and lets our defense play."
First pitch of Saturday's regional championship game is scheduled for 10 a.m.