MORRIS — If this is how McKenzie Oslanzi pitches when she's "a little bit off," as she called it, pity the team she faces when she's right on the money.
Oslanzi breezed through seven innings of outstanding softball in Ottawa's 3A Morris Regional opener against Plano on Tuesday, as the Pirates came away with a 7-0 victory and berth in the championship game at 10 a.m. Saturday.
The senior right-hander struck out 17, walked just three and allowed only one hit, that on a comebacker in the sixth inning that she said she should have fielded cleanly, but instead had it glance off her glove. In fact, that was one of only five pitches put in play off the Pirates ace, and not a single fielding chance was registered by an outfielder throughout.
That's the kind of "off" showing other pitchers would die for.
"I felt like I needed to hit my spots better and more often in this game than I did," Oslanzi said. "Other than that, I just felt OK today.
"I was frustrated that I didn't get that [comebacker off the bat of Plano leadoff hitter Lindsey Cocks with one out in the sixth]. I thought I had it, but it hit off my glove, and it rolled out where our second baseman couldn't get it in time. … I really didn't know how many strikeouts I had. It was 17? That's good, I guess.
"I don't worry about what the score is or how many hits they have or how many strikeouts I have. I just worry about hitting spots and being in the moment, getting things done in the moment. Right now, I'm just excited about Saturday."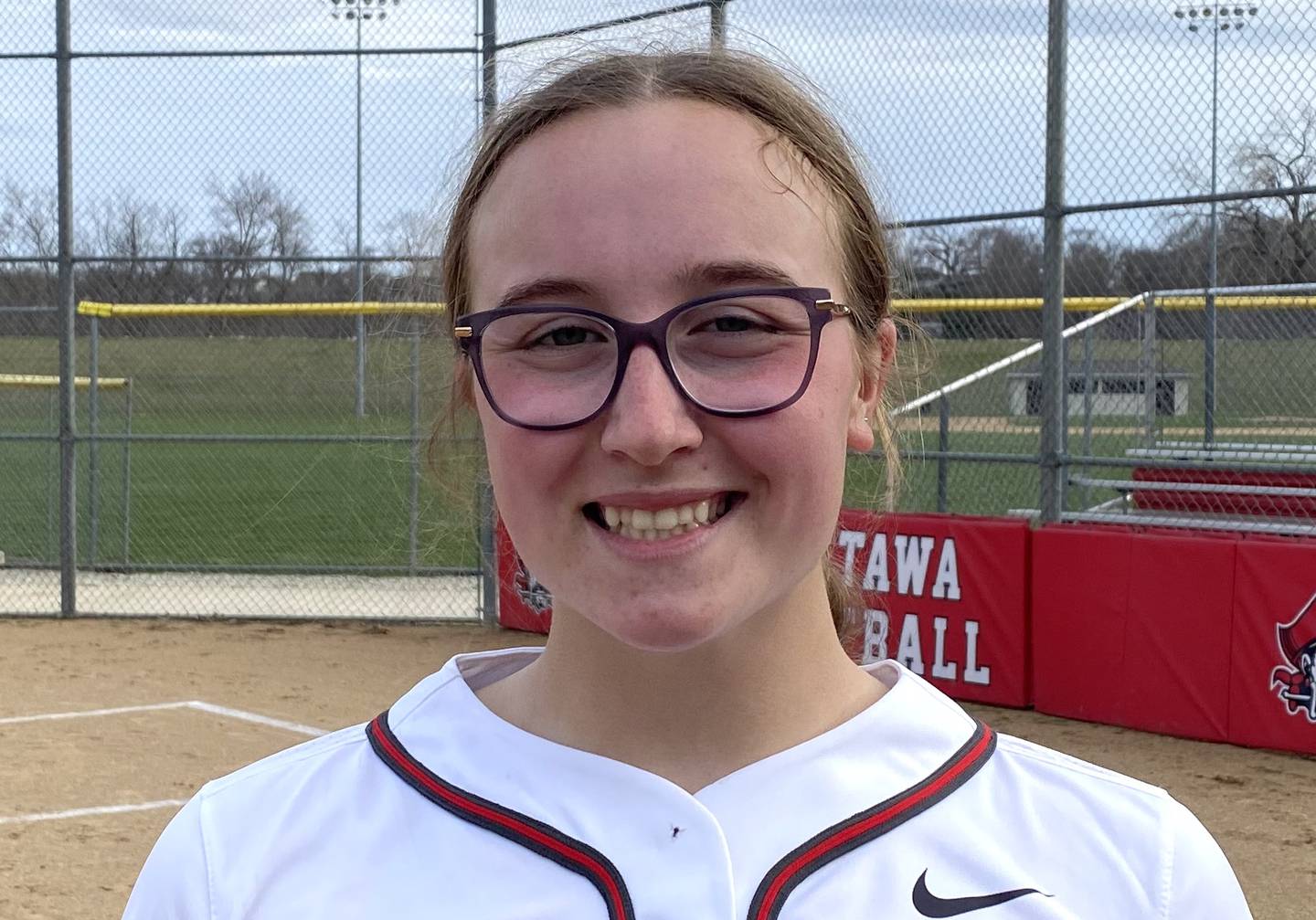 That is the day that No. 2-seeded Ottawa (21-8) will take on the hosts for the regional championship. No. 3-seeded Morris edged Kankakee, 2-1, in Tuesday's second game.
The Pirates gave Oslanzi all the support she needed at the plate in the second inning. Lily Nanouski singled off PHS hurler Alyssa Thomas, Brynne Sember walked, and Makenna Chiaventone's fielder's choice grounder was thrown too late to third to get Nanouski, loading the bases.
With two outs, Hailey Larsen lifted a mile-high popup into short left field, and it dropped in. With the runners off with contact, all three scored, and Larsen made it to second for a 3-0 OHS lead.
It went to 4-0 when Ryleigh Stehl followed with a double.
"If we make the play on that, maybe we're looking at a 3-0 game," Plano coach Dwayne Love said. "Alyssa [Thomas] was tough on the mound today, and I was happy with that, but their pitcher is tough too. She's a good pitcher with a lot of movement on her ball, and we were not able to catch up to her today."
It went to 7-0 in the fourth, starting when Marlie Orlandi reached second base on an error, went to third on a wild pitch as Larsen walked, and Stehl laid down a perfect squeeze bunt. An Oslanzi RBI grounder added another run before Zoe Harris singled and then scored on a Nanouski two-bagger for the final tally.
All the while, Oslanzi was cruising in the circle. The only contact she allowed was Alyssa Dubinski's liner to second base in the second, back-to-back soft popups to third by Kayla Birdsong and Lainey Lemke in the third, Cocks' infield hit in the sixth and a Dubinski dribbler down the first-base line in the seventh.
"McKenzie's not happy with herself today," Ottawa coach Adam Lewis said. "She didn't feel like she had her best stuff, but she was throwing hard, her ball was moving, and she was tough to hit.
"I give a lot of credit to Plano, because they've significantly improved from the times we've played them, and you could tell they didn't give up on the season. Their pitcher did well. We didn't have a lot of solid contact against her, a lot of mis-hits, because hitting-wise we were expanding our zone.
"But we got it done. Now we have to show up with energy and intensity on Saturday."