DWIGHT – It's odd to compare the Woodland/Flanagan-Cornell softball team to a turtle, especially right after a postseason win led by speedy leadoff hitter Olivia Chismarick and pitcher Shae Simons, who brings some pretty good velocity.
In the Warriors' Class 1A Dwight Sectional semifinal win over Crete Illinois Lutheran on Tuesday, however, slow and steady did in fact win the race.
WFC was methodical, consistent and quite simply too much inning after inning for the Chargers to handle, the Warriors scoring in five of their six turns at bat en route to a 10-3 triumph. WFC (23-6) moves on to face the winner of Wednesday's scheduled – although looking at the weather forecast, questionable – semifinal pitting Newark against Walther Christian.
"Flying high from Friday['s regional championship win over Serena], and our biggest thing was to make sure we carried that over to today, no letdown," Warriors coach Jordan Farris said. "We came out, and we came out focused. I thought we did a good job today, maybe lost a little focus in the seventh inning, but overall a good job."
Through 5 1/2 innings Tuesday, the pattern was evident. Simons and the Warriors defense set down the Chargers' lineup without much fuss in the top halves, and in the bottom halves WFC consistently found a way to scratch across a run or two even though the big inning eluded the team.
WFC scored one run in the first (Ella Derossett RBI single), one in the second (Emma Highland RBI groundout), one in the third (Kortney Harms RBI groundout) and two in the fourth (Olivia Chismarick sacrifice fly, Ella Sibert RBI single) to craft a 5-0 advantage. Each of those scoring half innings followed a scoreless one recorded by Simons (7 IP, 2 ER, 8 H, 2 BB, 10 K).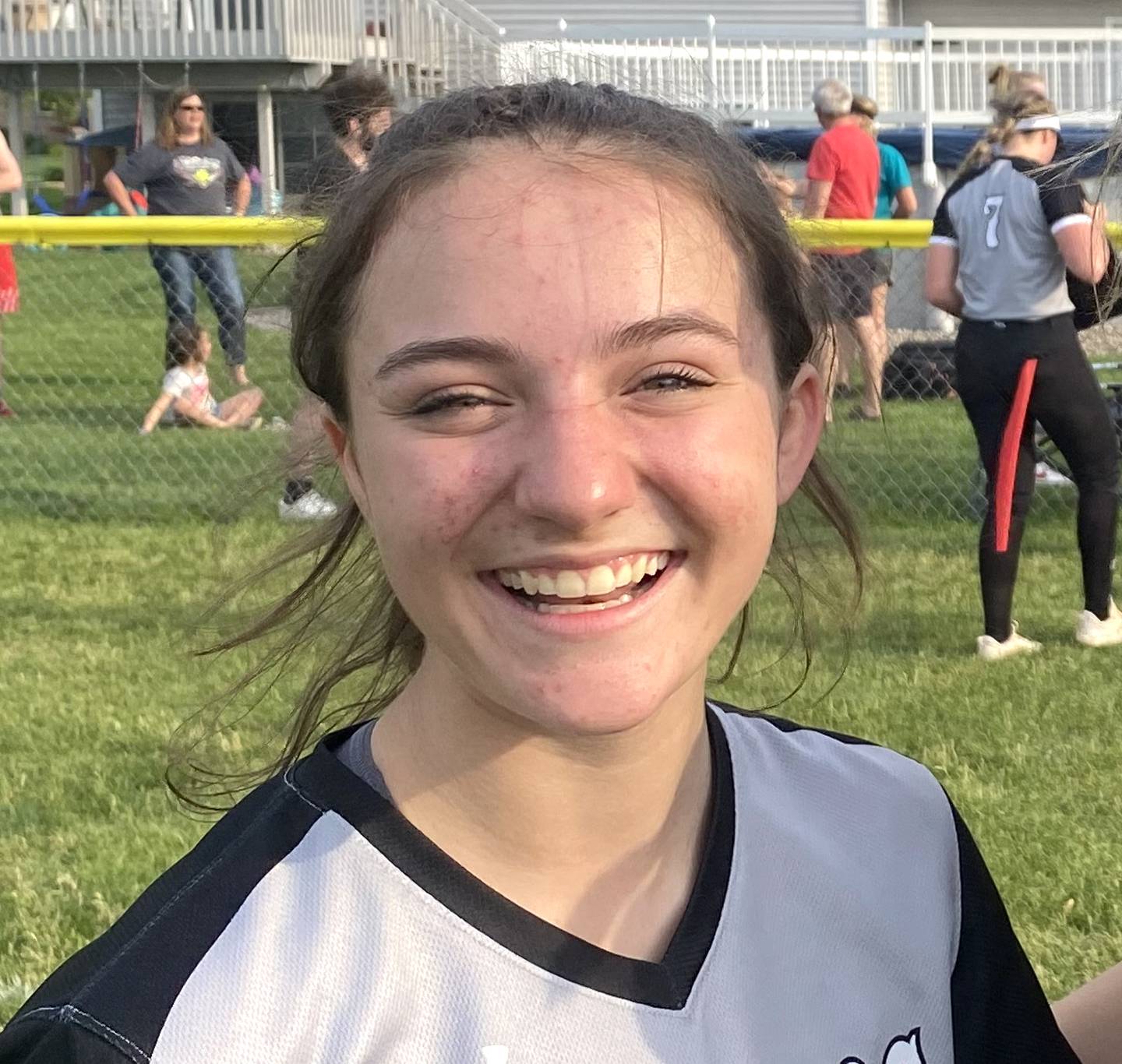 The third time through the order the Chargers started to find some success, plating a run in the sixth (Karley Van Es RBI single) and two in the seventh (on WFC's lone error of the ballgame), but the Warriors' five runs of insurance in the sixth (Chismarick two-run single, Cloee Johnston RBI single, Kortney Harms RBI double) kept things from getting overly tense.
"We were able to [have better success hitting as the game went on] a number of times this year, just trying to catch the speed the first time through, and then we start to hit the ball harder the second and third time," said Illinois Lutheran coach David Kenyon, whose team's season ended with an 18-8 record. "[WFC] made a lot of good defensive plays and didn't gift us anything out there, so a really nice job by them, but I'm proud of what we did today.
"This was a very good team that we played today, and there's nothing else I thought that we should have been able to do that we weren't doing. We had a really nice effort from the girls."
Chismarick – WFC's freshman shortstop and leadoff hitter – was stellar in the field and the game's top performer at the plate/on the basepaths, going 3 for 3 with three RBIs and three stolen bases.
"We definitely came out confident," Chismarick said. "It's a good attitude [to have] coming into the game, and it helped a lot. ... My job [as a leadoff hitter] is getting on base and positive thoughts when I'm up to bat."
Sibert (single, double), Derossett (single, triple) and Johnston (two singles) provided two hits and an RBI apiece, with Harms driving in two against three relatively slow-throwing Illinois Lutheran pitchers – starter Zoe Biesterfield (3 1/3 IP, 2 ER, 5 H, 1 BB, 1 K) the most effective of the trio.
The Warriors – six-time regional champions º will take the field at Dwight looking for the program's first sectional championship at 11 a.m. Saturday.
"We've got to get back to work, get back in the batting cage and dial [the speed] back up," Farris said. "We've got to do the things we can do, control the things we can control to put ourselves in a good position for Saturday.
"The goal coming into today was to get to Saturday. Now we're there, and we can start working on winning Saturday."