OTTAWA – The term instant classic is overused in this era of high-profile, media-monitored sports, but one would be hard-pressed to find a player, coach or fan who could walk away from Wednesday's Class 1A Marquette Regional semifinal without shaking their head and saying, "What a great game."
Marquette and St. Bede academies battled tooth and nail through 10 innings, each making several game-changing or game-saving plays in the field and at the plate before the final inning.
That's when – with the bases loaded – the Crusaders' Hayden McKenna slapped a hard grounder up the middle that Bruins' shortstop Brendan Pillion fielded, but slipped on the damp grass and was unable to throw home to prevent Logan Nelson from scoring the winning run for a wild 6-5 MA victory at Masinelli Field.
"I was hitting the ball well all game but was just not finding the right spots," McKenna said. "I was still making solid contact, so I was thinking, 'What's gonna stop me from getting that last run in?'
"Those [St. Bede] kids were tough outs every time, so we had to keep playing defense, and we did until we finally got the run across."
The play made a winning pitcher of Aiden Thompson (5 IP, 1 ER, 5 H, 6 K, 0 BB) and handed a tough loss to Auggie Weisbrock, who followed starter Seth Ferrari, Alex Ankiewicz, Brendan Pillion and Jake Delaney to the mound for SBA.
It also sends No. 1 seed Marquette (27-3) to the championship game at 11 a.m. Saturday against the winner of Thursday's other semifinal between No. 3 seeded Newark and No. 7 Serena. No. 8 seed St. Bede finishes 7-19.
"Credit St. Bede. We knew they were going to be improved. We threw our best two guys available today, and both threw awesome, but everything [St. Bede] got today, they earned," MA coach Todd Hopkins said. "But give our guys credit, too. They didn't bury their heads even when they went up 4-2. We kept getting guys on and tied it, and even though some opportunities didn't work out, they kept fighting.
"All of us coaches can talk about tournament time, but what these kids went through today, they earned their degree in tournament high school baseball. You can't teach that. You have to play under pressure, and we did a heckuva job with that. So did St. Bede."
The Bruins, which had lost 22-4 to Marquette in their season opener at Masinelli on March 15, jumped on top in the first against Cru starter Nelson (5 IP, 3 ER, 6H, 1 K, 2 BB) on Pullian's RBI groundout. The Cru tied it in the second when Tommy Durdan singled and later scored on a wild pitch, but the Bedans went up again on a Jayce Ladzinski bouncer in the top of the third. Again, MA tied it when Julian Alexander stole home.
The Bruins took a 4-2 edge on Ladzinski's two run single in the fifth. However, Marquette answered when Sam Mitre drove in a run and later scored on an error, then in the sixth saw center fielder Alexander throw to McKenna to nail Colin Nave at the plate to keep it that way.
The tie went to 5-all on Alexander's RBI single in the sixth and a run-scoring single by SBA's Logan Humpage off Thompson. However, Thompson shut the visitors down in order in each of the next three innings.
With one out in the MA 10th, Nelson singled, Mitre got his third hit of the day, and Brady Ewers walked to load the bases. McKenna then slammed his grounder up the middle that Pillion grabbed, but slipped as he turned toward home, scoring Nelson.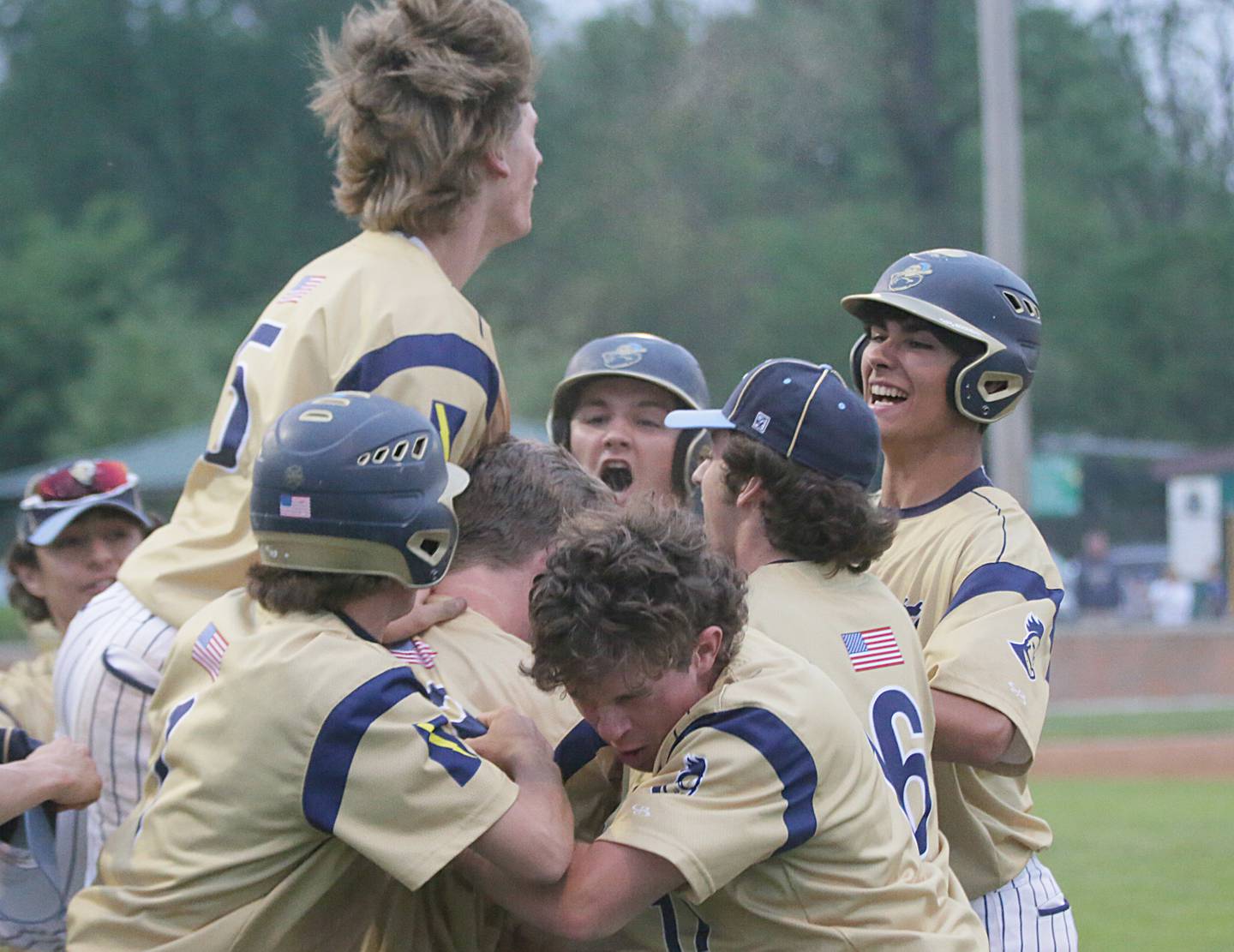 "We're ham-and-eggers that just played our butts off today," St. Bede coach Bill Booker said. "We told the kids we believed in them when nobody else did, and we went 10 innings with a pretty darn good team. This was a great game for both sets of fans. Our kids are gonna suffer a little from this, our seniors especially, but we have nothing to be ashamed of.
"The kids showed tremendous heart today. If we had to go out with a loss, I can live with it playing this way against a program I respect immensely. I am so very proud of them."