OTTAWA - Stephen Rogers, of Lombard, with a chip time of 1 hour, 26 minutes, 16.9 seconds and Emily Keip, of Oak Park, with a chip time of 1:36:21.5 were the top male and female finishers Saturday at the Starved Rock Country Half Marathon presented by Dogfish Head Brewing.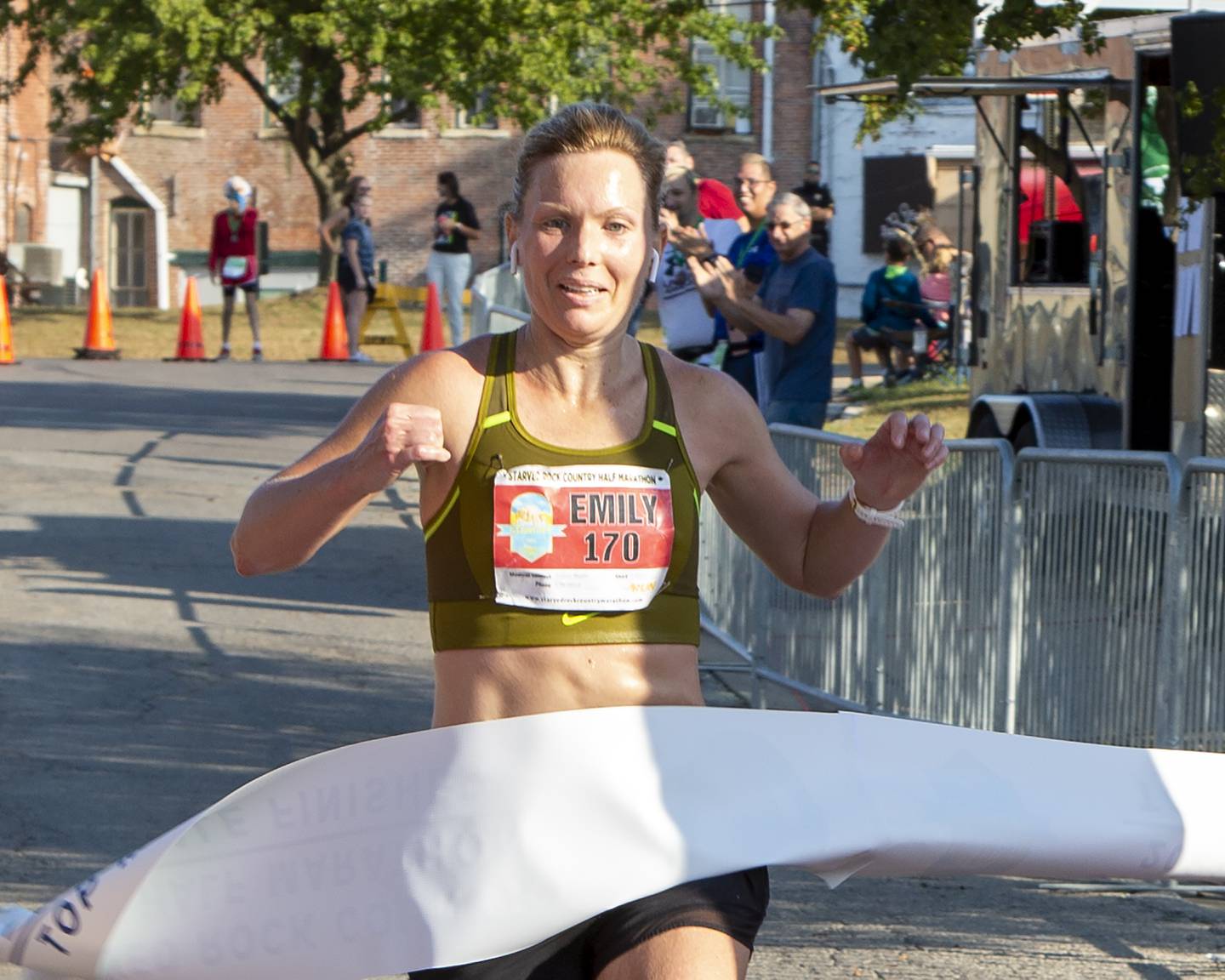 Seatonville's Jordan Rick (1:28:20.5) and Oak Park's Tim Keip (1:34:54.7) rounded out the top three male finishers Saturday in the event run from Starved Rock State Park to downtown Ottawa. Naperville's Hope James (1:37:19.2) and Benttendorf, Iowa's Donna Carlson (1:46:41.8) completed the female top three.
Additional local runners finishing the 13.1-mile course in under two hours included Streator's Camden Dodge (7th, 1:37:19.9), Ottawa's Sean Manley (9th, 1:40:49.4), Tonica's Troy Johnson (13th, 1:46:22.0), La Salle's John Domtancich (15th, 1:47:05.9), Ottawa's Rachel Martin (16th, 1:47:05.9), Streator's Brad Bliss (18th, 1:48:58.1), Marseilles' Rochelle Claire (19th, 1:49:15.1), Ottawa's Chelsea Koscelny (21st, 1:50:18.8), Ottawa's Scott Thompson (24th, 1:53:48.7), Ottawa's Brian Reeder (25th, 1:53:53.0), Ottawa's Chad Provost (32nd, 1:57:15.0), Ottawa's Ashley Culjan (33rd, 1:57:16.1), Ottawa's Matt Gross (35th, 1:57:28.5), La Salle's Peter Faletti (37th, 1:57:45.7), Streator's Kimberly Broyles (39th, 1:58:42.6), Grand Ridge's John Thomas (42nd, 1:59:19.3) and Ottawa's Gina Petty (44th, 1:59:58.5).
The Run Starved Rock Country 5K was won by Ottawa's Lucas Farabaugh (1st, 20:14.7) just ahead of Marseilles' Chad Kovash (2nd, 20:31.9), Ottawa's Nate Nelson (3rd, 20:46.5) and La Salle's Joe Bornac (4th, 20:51.9).
Top female 5K finishers included Ottawa's Holly Hall (1st, 28:12.6), Princeton's Mandi Moore (2nd, 29:01.1), Emily Moran (3rd, 29:12.5) and Peru's Rebecca Amble (4th, 29:34.0).
The full marathon was not contested this year.