When Miss Hovious' third grade class at McKinley Elementary School in Ottawa was dismissed Tuesday morning from their in-district field trip at the one-room schoolhouse on the Central School campus, educator Karen Roth asked the girls to line up on one side and the boys the other.
Teaching the history of what it was like to attend class at the schoolhouse in the late 1800s is important to Roth.
The girls then curtsied and the boys bowed, before departing.
The little red schoolhouse, known formally as the Edgar J. Bundy Memorial School, is one of the district's gems, Roth said.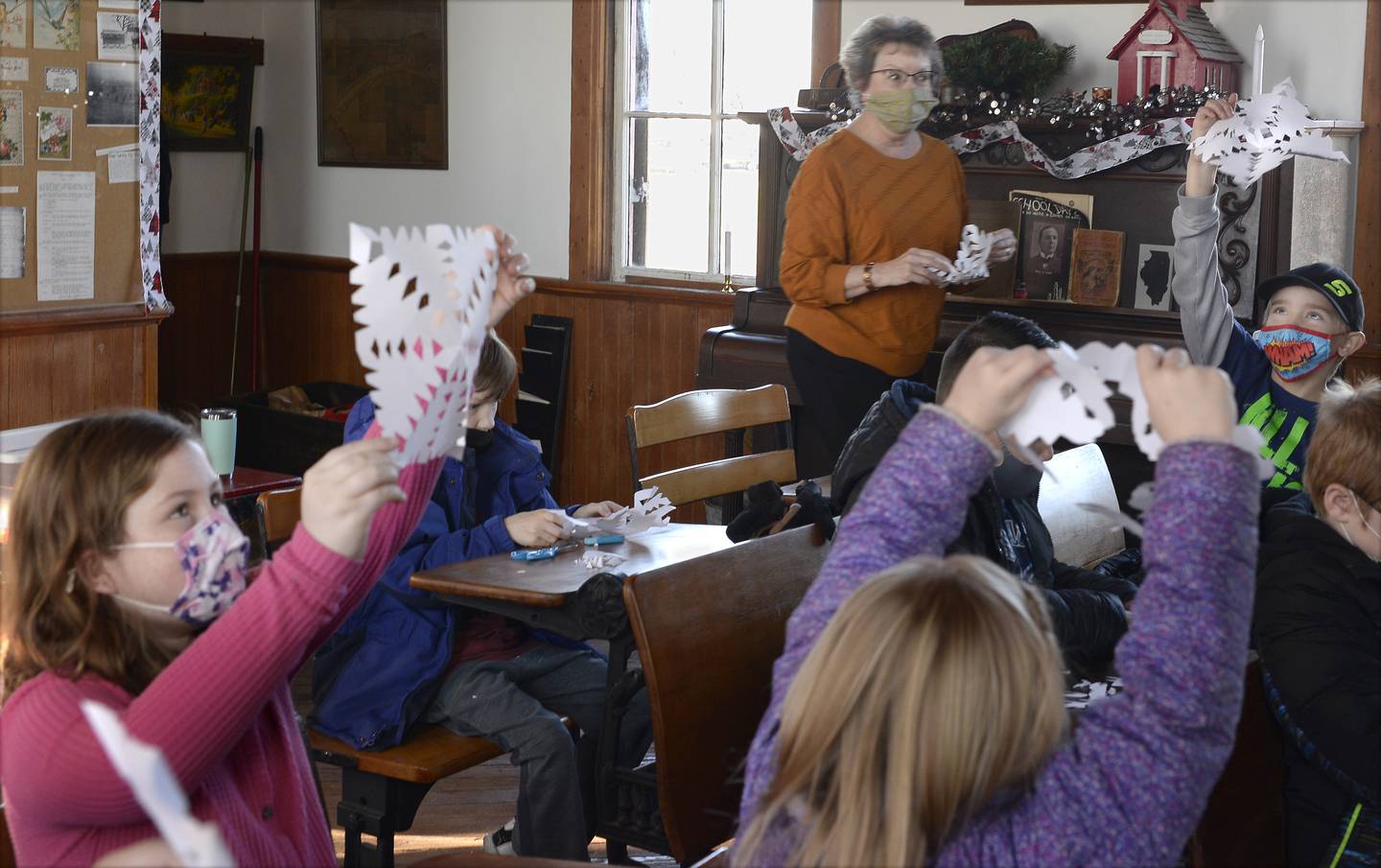 The school, originally known as Lincoln Lane School, was built in 1855 and stood 1 1/2 miles north of Ransom and just east of where Route 170 curves when it meets Richards Road.
After it closed, it was bought by Streator banker Edgar J. Bundy in the 1950s. It was passed on to Bundy's sister, Ethel Shay, after Bundy's death. Shay then donated the school to the Ottawa Elementary District in the 1990s.
Roth, a retired librarian in the district, welcomes second and third graders to the schoolhouse around Christmas time for a lesson on what it was like to celebrate the holiday in the 1880s.
"Houses were smaller back then," she told Miss Hovious' third grade class on Tuesday morning. "There were no Christmas trees yet."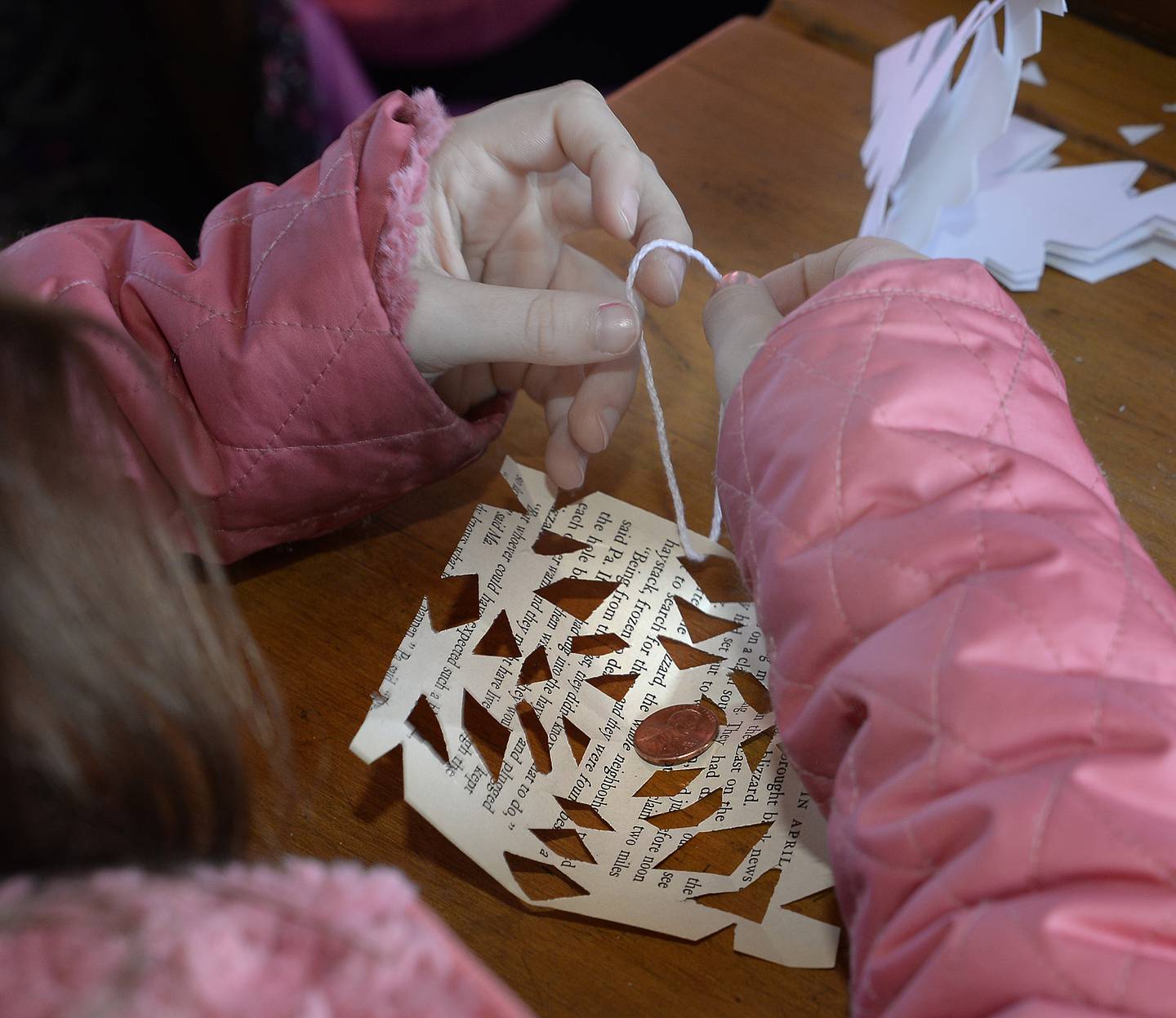 Christmas trees originated in Germany where the ornaments were made of glass, she taught them. The first ornaments on American trees were made from items mostly found in nature, she said.
One of the children's hands raised during her lesson: He used to live in Germany, he told his classmates, and he concurred most of the ornaments on trees are made of glass.
The students learned how to make snowflake ornaments by folding an old book page into triangles and cutting the edges with scissors. Roth said the second grade classes make Christmas tree shaped ornaments.
While Roth said she teaches students about what was different in education more than 100 years ago when one room schoolhouses were prevalent, she also likes to emphasize the lessons that haven't changed, such as the ABCs, math, spelling and simple art projects.
"They were so excited to make their snowflakes and hold them up and look at how they came out when they were finished," Roth said. "It's such a simple thing for them to do, but they were still so excited."
Roth read "A Visit from St. Nicholas," known also as "The Night Before Christmas" by Clement C. Moore, first published in 1823 and the children sang "Jingle Bells" and "We Wish You a Merry Christmas."
Roth said she feeds off the excitement the students bring when they enter the one room schoolhouse. The classroom still contains the original wooden floor. Students sit at wooden desks bolted down, some of them featuring ink wells. Arithmetic and grammar lessons are written in chalk on chalkboards — one of them an original chalkboard of the school. Antique oil lanterns hang from the ceiling, and a bulletin board display of U.S. presidents stops at William McKinley, who was president until 1901.
"The children are interested in hearing what it was like before cellphones and computers," Roth said. "The one that always gets them is that students of all grades would attend the same classroom, meaning you'd be in the same class as your older brother or older sister."
From Nov. 16 to Dec. 2, Roth will lead 18 different classes in Christmas-themed lessons at the one-room schoolhouse. With rotating visits in the fall, winter and spring, students kindergarten through sixth grade will each have at least one opportunity to get a lesson at the old school.
"Having this school just brings the lesson to life for them."