Some of Streator High's eldest living graduates were featured during the school's annual homecoming celebration last week.
Kathryn (Kitty) Solon from the Class of 1941 served at the honorary grand marshal of the parade. She rode at the front of the parade following a banner announcing her designation. She and Ray Harcharik, who was unable to attend the festivities, were both recognized during halftime at the homecoming football game.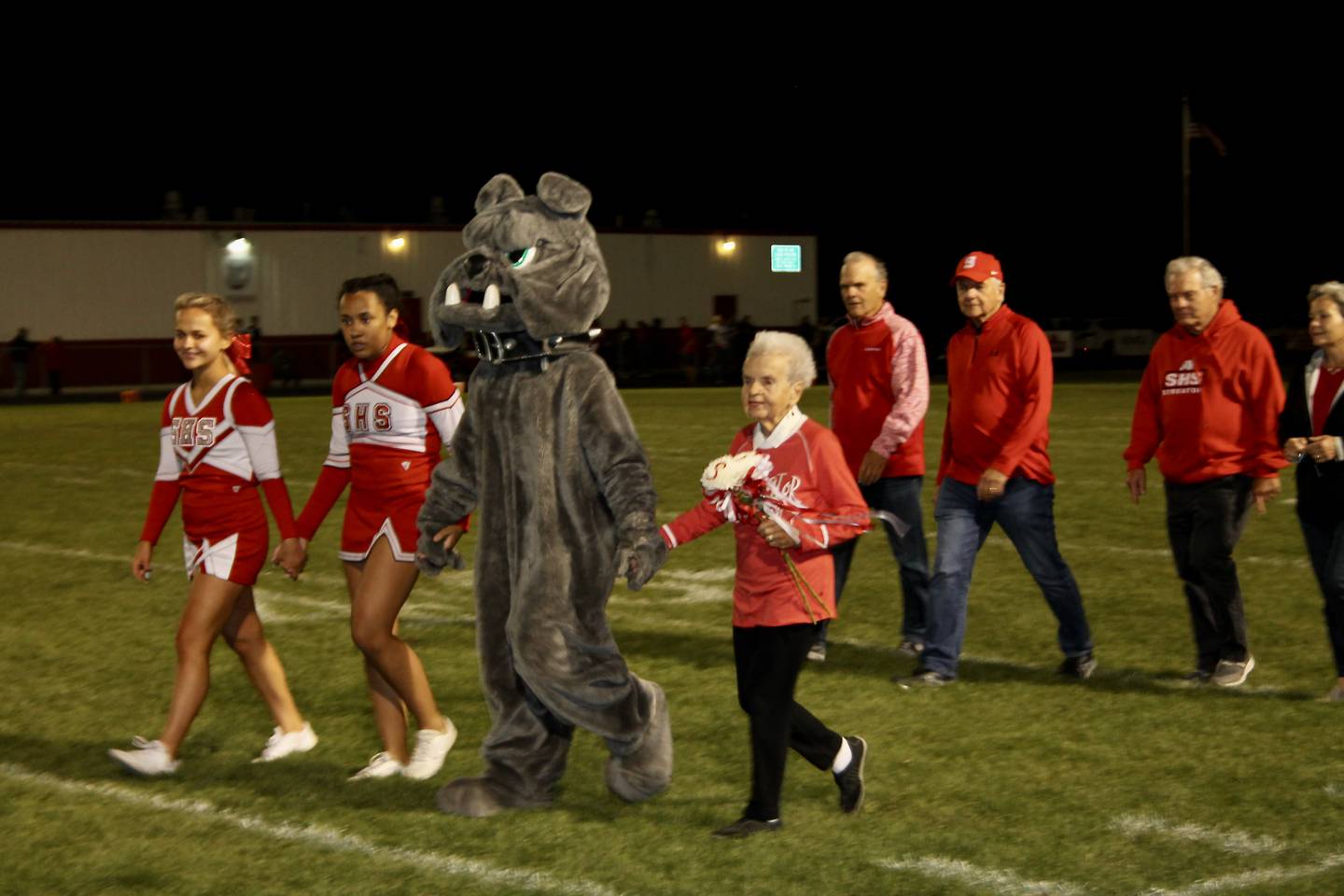 Solon and Harcharik graduated from Streator High 80 years ago and homecoming organizers believed they deserved to be recognized for being the oldest Streator High graduates still living in Streator.
During her high school years Solon was involved in class dances, junior prom, National Honor Society, Review Staff (school paper), Student Activity Board, Latin and French clubs, Tri-Hi-Y, Little Brown Jug and G.A.A. (Girls Athletic Association). After graduation she worked at Public Service in Joliet for six years until she married the love of her life, John Solon, who graduated from SHS in 1938. Together they raised 10 children on their farm six miles west of Streator.
Solon made sure her children were actively involved in school and community endeavors. That meant quite a few trips every day between town and the farm. She was often referred to at the "shuttle bus driver" as she would rack up between 15 to 18,000 miles a year getting her children where they needed to be. Kitty also kept busy volunteering at her church, St. Stephen School, Streator High School, St. Mary's Hospital and other community organizations. She has been known for her baking, especially her cookies and pies. When the weather is nice she likes to walk about a mile a day. Along with her 10 children, she has been blessed with 29 grandchildren, 29 great-grandchildren and a great-great grandchild, who all receive a call and a card for their birthdays.
Ray Harcharik is the seventh of eight children in his family. Although he did not participate in sports in high school, he said he did chase foul balls for Streator baseball coach Louis Magerski. Following high school Harcharik served in the Army in Europe during World War II from 1943-1946. Upon returning from the war, Ray worked for Thatcher's Bottle Manufacturing Company for 40 years and retired in 1985. He was once selected as the Streator Men's Bowler of the Year and was an avid golfer and a member of Anderson Fields Golf Course until recently.
During his lifetime he has donated 21 gallons of blood to The American Red Cross. His relatives shared he has a very quick wit and is a most loving and caring person. He is a die-hard White Sox fan who loves to trade barbs with Cubs fans in his family. He has a very strong faith.