As Illinois continues to face an agricultural education teacher shortage, one group is tackling the issue through a grant program for beginning teachers.
This week, Cally Diss, was selected as one of four new agriculture teachers in Illinois to receive a teacher grant. Diss applied for the grant program and was selected based on efforts in the classroom as well as short- and long-term personal and agriculture program goals.
Representatives from La Salle Farm Bureau and the Facilitating Coordination in Agricultural Education were on-hand to announce the award to Diss and their students.
"It was so rewarding to see one of our past La Salle County Farm Bureau Foundation Scholarship recipients receive this grant," said Kayla Kiefer, La Salle County Farm Bureau manager. "Cally is a dedicated ag teacher and her enthusiasm for her profession is evident with the respect and pride on the faces of her students when she received the grant. As a new teacher building a new ag program at Marquette Academy every dollar counts so this grant will allow her to continue expanding the ag program."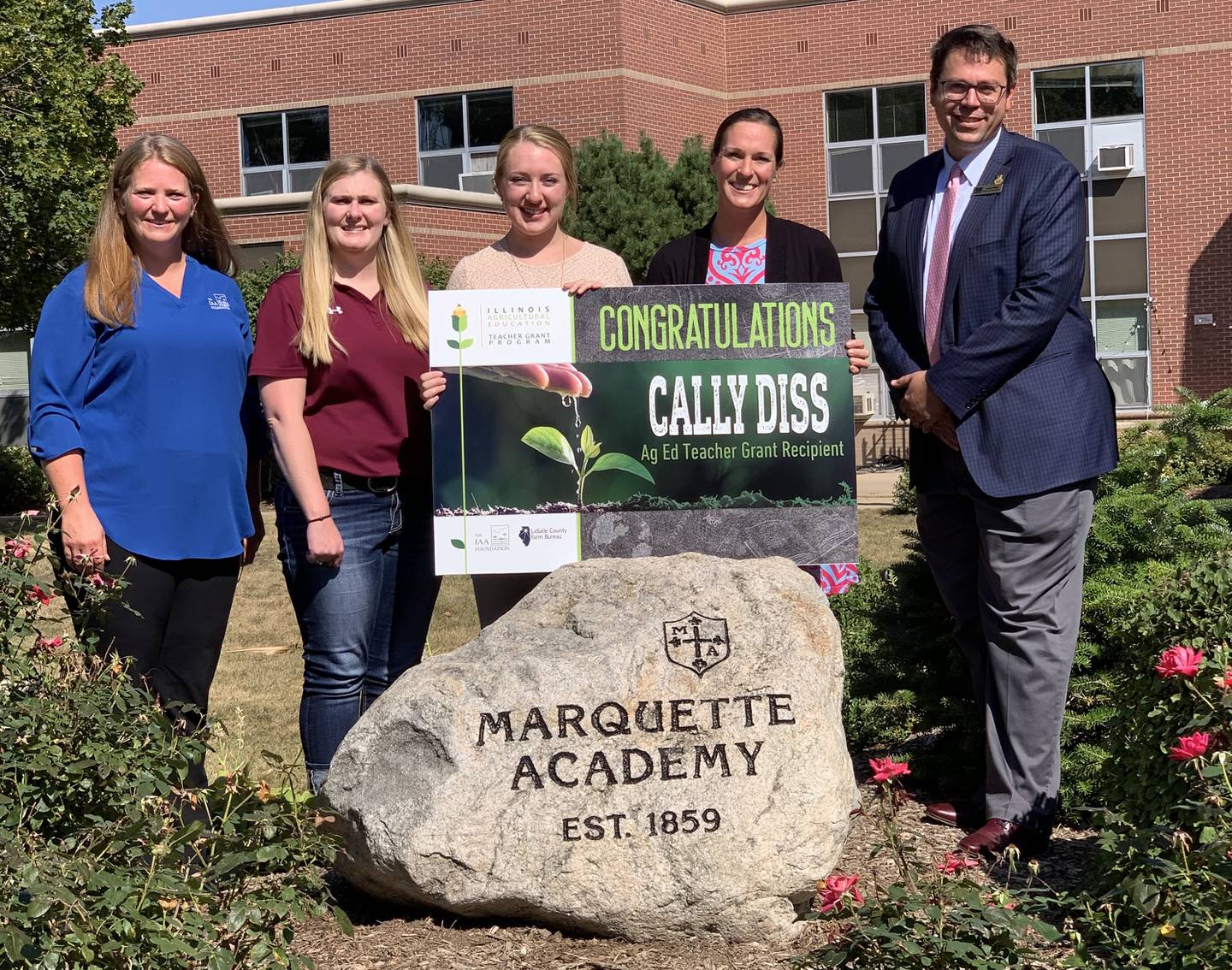 Diss was surprised to receive the award.
"As they announced it, I had to try so hard to hold back happy tears," she said. "I pour my heart into teaching our kids, so I felt very honored and grateful to be recognized for it. I've been passionate about this career since my sophomore year of high school when I first made the decision to become an agricultural teacher and FFA advisor. It is truly my dream career and I will be doing it until the day I retire."
Illinois agricultural education teachers completing their first year in the classroom are eligible to apply for this grant. The amount of the grant payment will increase over the course of the teacher's first five years in the classroom, up to $10,000 total, if they meet the re-application process confirming they remain active as an agricultural education teacher in Illinois
The Illinois Farm Bureau, through its charitable arm, the IAA Foundation, created the Illinois Agricultural Education Teacher Grant Program. Illinois Farm Bureau provided seed money to begin the program, and the IAA Foundation seeks additional funding partners to continue adding new first year teachers into the grant program, with a goal of funding 32 teachers in a 12-year timeframe.
More program information can be found online at www.iaafoundation.org under "Our Mission at Work."