Amid the aging buildings and storefronts on the edge of downtown Plano, there's a portal that takes you into sleek tiling, classy corner tables and colorful Mediterranean views. The food is authentic, the wine crisp. Frank Sinatra music plays at just the right volume.
A Mystery Diner well worth the wait for us, Monte Carlo Steakhouse and Bar, 209 W. South St. in Plano, delivers not only with cuisine, but ambience and aesthetics, giving restaurant lovers a spot for a relaxed meal at the bar or the chance to wine and dine a party.
Our enjoyment at Monte Carlo is bittersweet, however. Founder Steve Kapas, who spoke with us earlier this year, passed away mere weeks after the opening of his lifelong dream. His family, originally from Greece, came to the area in the 1940s, and operated a roadside snack shop until the widening of Route 34 in the early 2000s.
Kapas' family still manages the new steakhouse, giving the spot a familial cred you might find in the neighborhoods of Chicago rather than the often corporate suburban restaurant scene.
And unlike many formulaic contemporary restaurants, Monte Carlo has a striking interior. Past the entrance, you're welcomed by white, Mediterranean arches and a vibrant mural of Greek ocean-side cities. The bar, dimly lit and lounge-like, is made from dark marble, offering a quiet seat away from the white tablecloths and Campari signs.
Now onto the food. The Mystery Diner started out with a glass of California red zinfandel and saganaki, a Greek fried cheese flamed with brandy and finished with lemon. The cheese was both stringy and crunchy, and I ate this stellar appetizer with pita bread.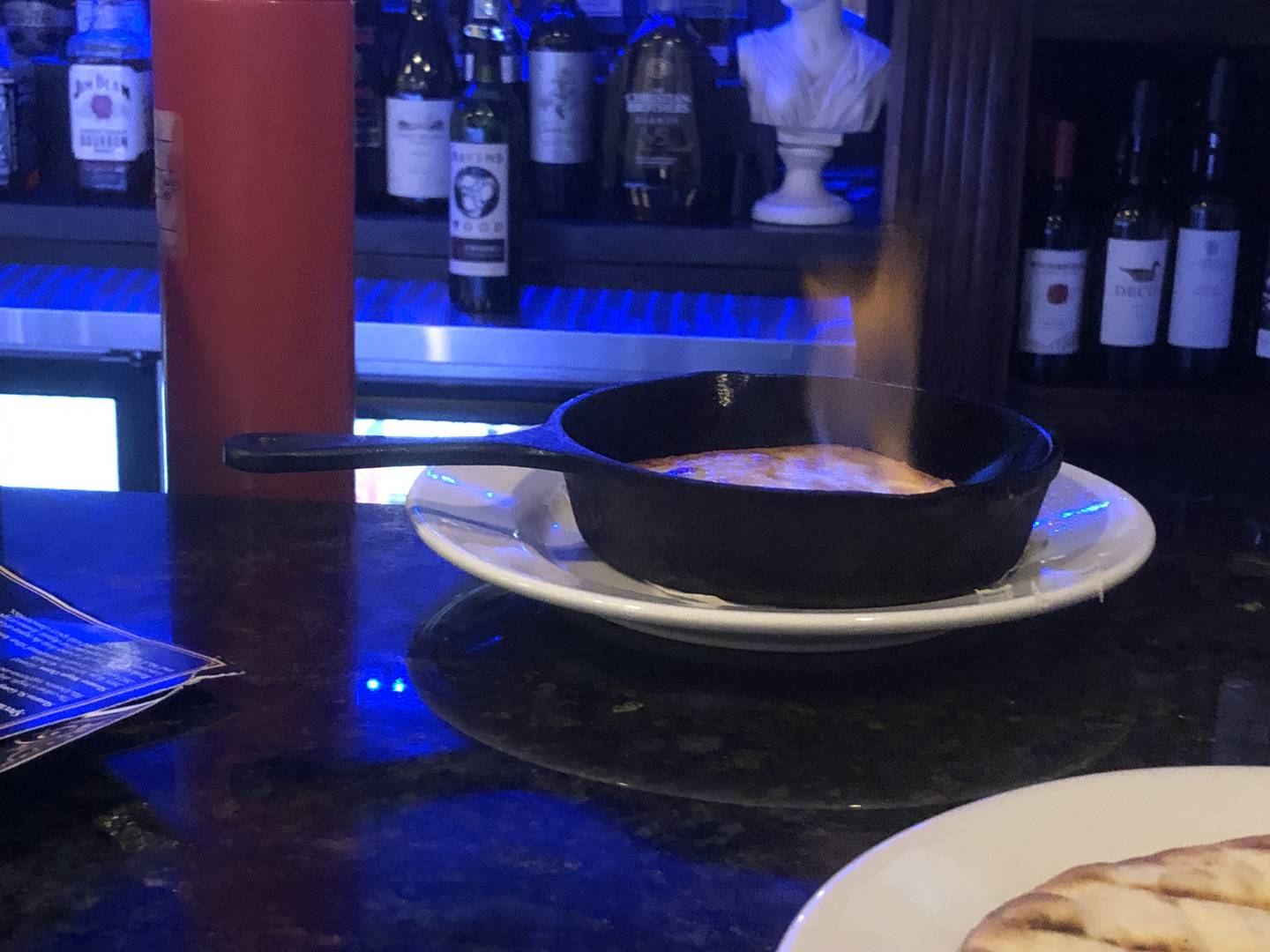 For an entree, I chose a pork chop special (very reasonably priced). For my side soup, I had clam chowder, which was well-portioned with carrots mixed in.
The meat, well-charred and juicy with a hearty broth, came smothered with garlic-seasoned peppers and onions. As a side, Monte Carlo offers potatoes baked, mashed or as Greek wedges. To maintain authenticity, I went with Greek style, which was a first, that did not leave me disappointed.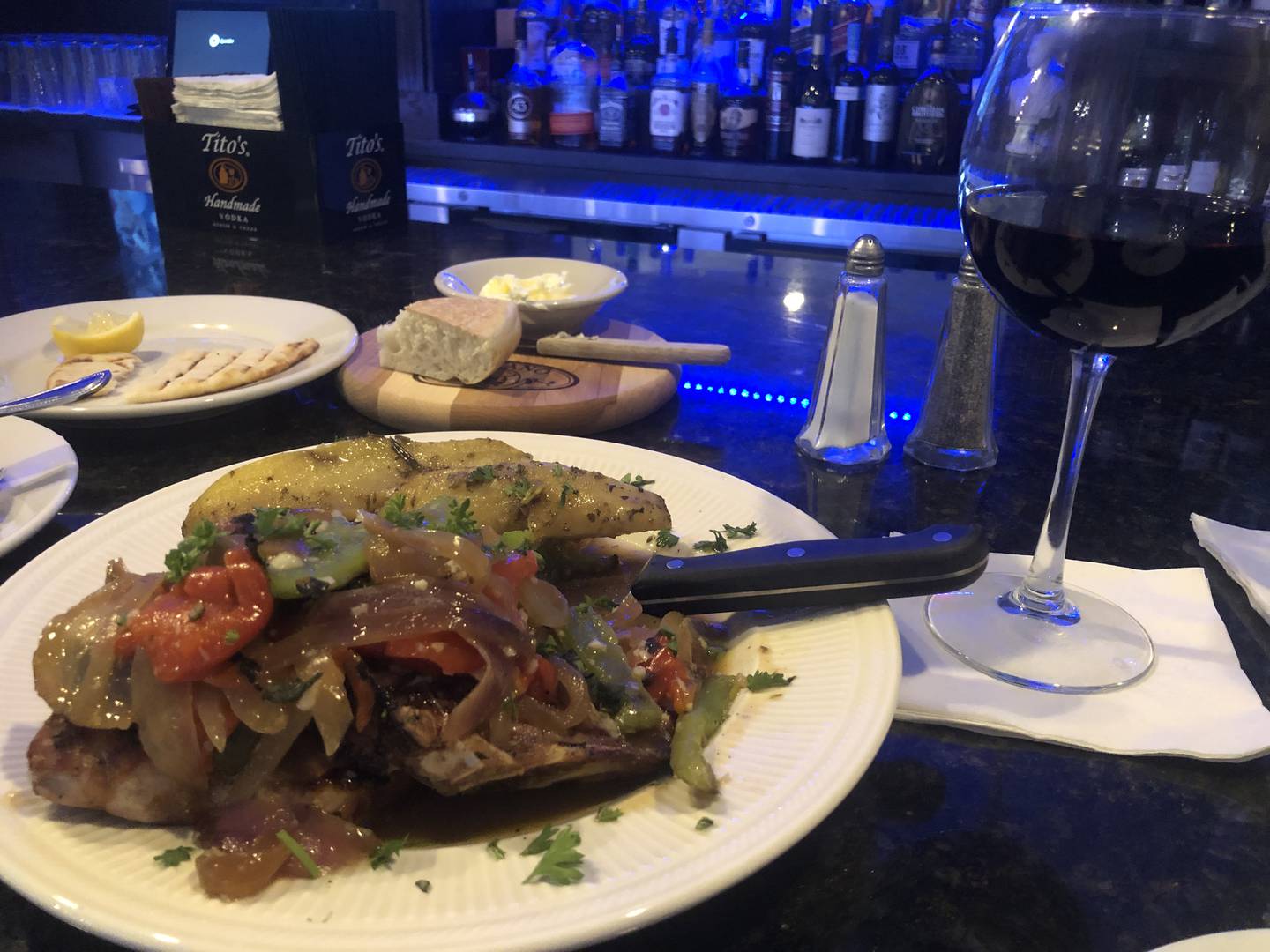 Although I had to stop myself from gnawing the last morsels of meat off the bone, I left Monte Carlo beyond satisfied, with a bill far more reasonable than a lot of suburban steakhouses.
Kapas, the late owner, wanted to bring his family back into the restaurant business. The final product certainly stacks up to Kapas' promise of a fine dining experience that blends quality meat with his family's heritage.
• The Mystery Diner is an employee of Shaw Media. The diner's identity is not revealed to the restaurant staff before or during the meal. The Mystery Diner visits a restaurant and then reports on the experience. If the Mystery Diner cannot recommend the establishment, we will not publish a story.
IF YOU GO
WHAT: Monte Carlo Steakhouse and Bar
WHERE: 209 W. South St. (U.S. 34), Plano
PHONE: 630-332-7700
INFORMATION: m.facebook.com/Montecarlosteaks