Harding Grade School's front entrance is now graced with the memory of Trina Becker, a young girl who passed away at the age of 11 in 1990 because of an inoperable brain tumor.
The Harding PTO held fundraisers for a new flagpole and dedicated it with a plaque in her memory, which Harding Grade School Principal Angie Merboth said is that of a spunky, respectful 11-year-old girl who enjoyed coming to school and living selflessly even in her darkest days.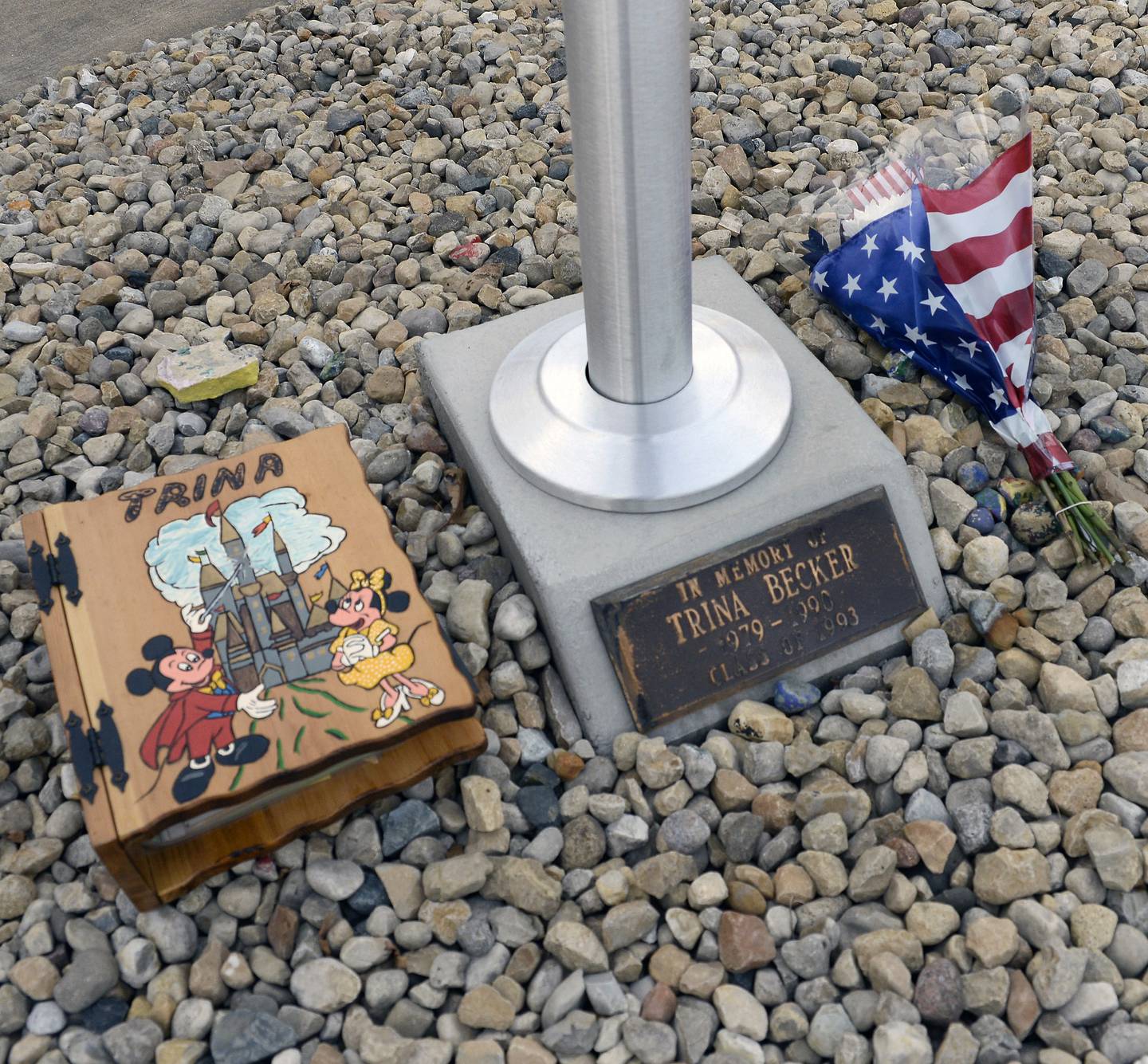 Trina went to school as long as she could, Merboth said, until her health wouldn't allow her to as she underwent special radiation treatments at St. Francis Medical Center in Peoria. Trina spent 10 hours away from home every day between treatments.
"She did not complain or expect sympathy," Merboth said. "She treated everyone with respect and was respected and treated warmly by her classmates, and she wanted to be treated like everyone else."
Trina did make it to Disney before she passed away Dec. 18, 1990.
Harding student and family of Trina Becker, Carson Bentley, was joined by Navy veteran and Harding custodian Joseph Roberts to raise the American flag onto the new flag pole. Roberts said as a student, his school's custodian made it his duty to show the kids how to raise the flag and it's a tradition he wanted to continue.
"As an Eagle Scout and a U.S. Navy veteran, I knew that I wanted to carry on that tradition and help instill an understanding of our national sign in the students I have the honor of serving at Harding Grade School," Roberts said. "Shortly after my hire, I approached Principal Merboth and together we created a program where I work with fourth grade students, teaching them to properly raise, lower, care for and display the colors of our nation."
Roberts said the old flag pole was worn and was dangerously close to breaking off at the base because of dry rot, and the pulley system broke beyond repair.
The PTO was able to raise money for a new flag pole and now students can raise the flag can again every day.
Third graders Olivia Sterchi and Deegan Kelly, along with fourth graders Brayden Backos and Isabella Meyer, were selected to read pieces they wrote about the flag and why it's important.
Sterchi said the flag reminds her of the sacrifices made by the Army, Navy, Coast Guard, Air Force and Marines and it reminds her of all 50 states with all the stars on the flag while Kelly said the flag, to him, represents freedom and sacrifice.
Backos said the flag reminds him of his grandfather and all the veterans who fought for the stars and stripes. Meyer said the flag reminds her of justice, peace, freedom and liberty.