It may not have been JR Welsh or Kelsey Adams goes to Washington.
Instead, Washington — in the form of U.S. Rep. Adam Kinzinger — visited them and their students at Seneca High School on Tuesday.
Students in Welsh's U.S. history and Adams' current issues classes took the opportunity to ask the Channahon Republican about his views on a number of gun issues, such as open carry and limits on high-capacity magazines, during a wide-ranging talk.
Kinzinger said he's in favor of concealed carry but against the open carry of guns. He said that while he's found himself in situations before where he wished he had a gun on him rather than having to fight an assailant off with a knife, he doesn't see open carry necessary and thinks it's usually an intimidation tactic.
Kinzinger, who has talked previously about having his gun with him in his Capitol Hill office during the Jan. 6 riots that interrupted Congress' consideration of the Electoral College presidential vote count, said that he's pro Second Amendment. But, Kinzinger said he's not the kind of person that believes in the gun fixation many have.
"I believe that you should have the right to own a weapon, but we have to be responsible gun owners," Kinzinger said. "There are a couple things that I think you have to keep in mind that with all the guns out there. There's a ton of gun violence, but the vast majority of gun owners are responsible. I think ensuring we put people through background checks and things like red flag laws help if you're somebody showing a propensity toward violence."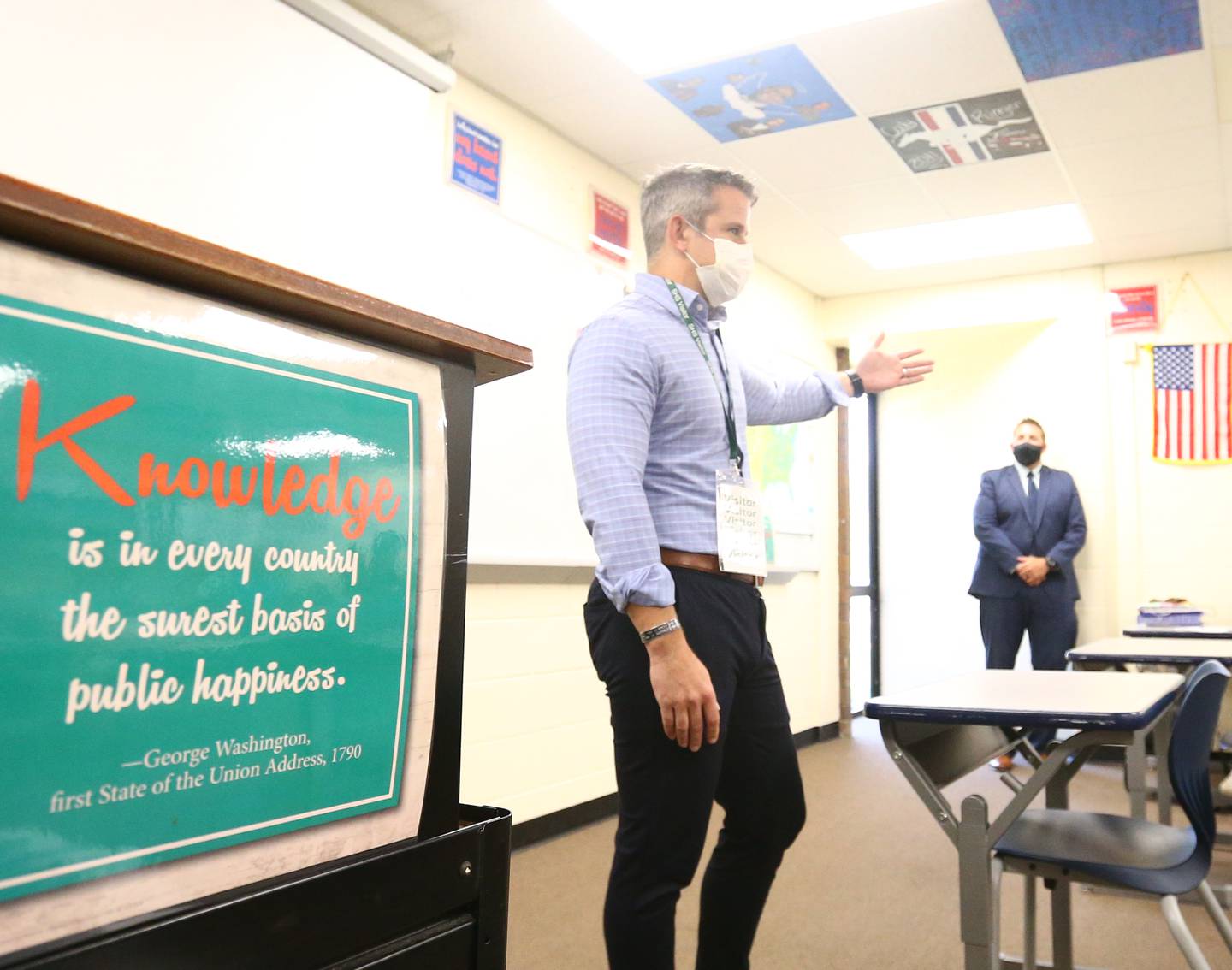 Seneca High School was one of three district stops Tuesday for the congressman, who also visited Sigan America, LLC Plant in Ottawa and participated in a roundtable discussion with community leaders on the future of Dresden Generating Station.
He told students that their generation can improve the political climate and bring back an America where people can disagree on things without holding hate for each other.
Adding to the gun debate, Kinzinger also said investment counseling and mental health is important because people feel lonely and isolated and he's not sure those are topics best left to the government to fix.
Kinzinger also discussed with Welsh's U.S. history class his duties as a member of Congress.
"Technically, your only responsibility is to show up and vote, but the interesting thing is even if a person doesn't show up and vote, they can't really be kicked out because they're elected," Kinizinger said. "My job is to represent the district, and the Constitution only mandates that I have to be a certain age, and then you know, go to D.C. and vote. But in reality, the job's pretty complicated."
When he's home on break, Kinzinger travels the 16th District, which has more than 700,000 people.
"I get to hear what's on people's minds today, so earlier I was at a factory and now I get to come in and see all of you, and later I'm going to see where the battery fire incident happened in Morris," Kinzinger said. "A trip home is never the same."
Kinzinger said that when he's in Washington, most bills he sees are procedural votes.
"We'll look at the parts of the bills we need to but if somebody tells you they read every bill all the time, they're not being honest with you because some of these come in at over 1,000 pages and you deal with up to four of them per day," Kinzinger said. "That's what you have a staff for. They help you go through that. That's the routine."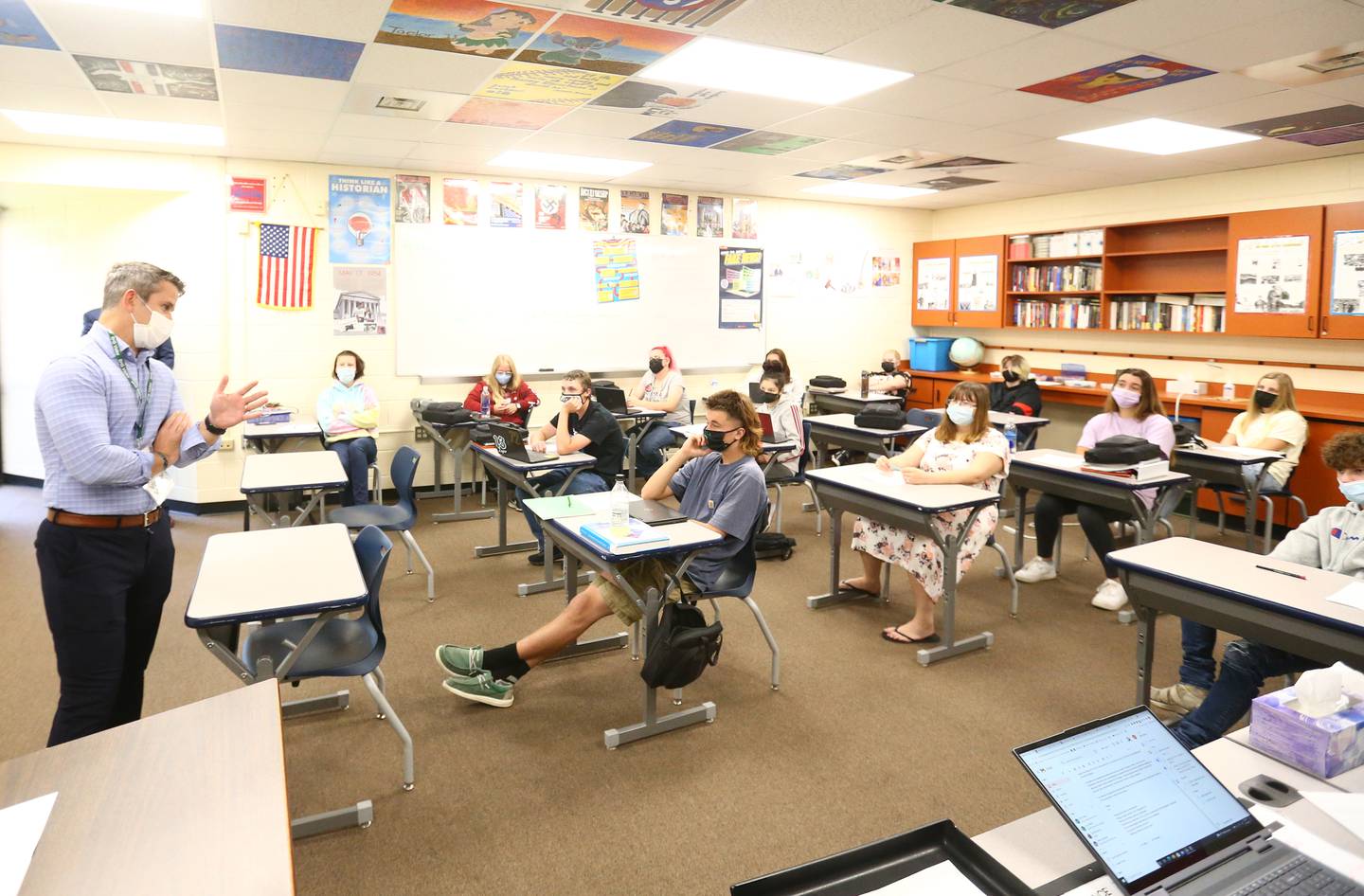 'The vaccine is the key,' Kinzinger answers questions about pandemic
Speaking with reporters after his visit with students, Kinzinger urged people to get the COVID-19 vaccine.
"The vaccine is the key," Kinzinger said. "I don't get too spun up over mask mandates. For me, do I like wearing them? No. But I also recognize the public health importance of it so it's not something I can go against."
Kinzinger said he thinks that if everyone gets vaccinated and gets their booster shots, the country will push through the pandemic.
"We don't have to have a culture war about everything," Kinziner said.
Kinzinger also commented on the job shortage faced nationally, and in his district, which he thinks can be solved by getting workers trained in the right areas.
"The extended unemployment benefits go away soon so that'll put people back in the workforce, but that's not a real solution," Kinzinger said. "The solution is getting a labor pool with people trained in the right areas. On one hand, I have people that say they want to restrict immigration and on the other the population isn't growing. Then they say they still want to compete with China, so you have to take your pick."