GRANVILLE – In a championship of any tournament, there are always going to be runs of points and momentum.
The keys are how long can the team extend that burst, and how does the other team respond to it?
During Friday's championship of the 95th Tri-County Conference Boys Basketball Tournament, top-seeded Midland used one of those stretches midway into the second quarter to grab an eight-point lead over No. 2-seeded Seneca. The Irish used an 8-0 run midway through the third to get within three, but from there the Timberwolves – ranked a spot out of the top 10 in the latest Associated Press Class 1A poll – were able to keep Fighting Irish at arm's length and eventually capture their first title since 2010 with a 49-40 victory at R.M. Germano Gym.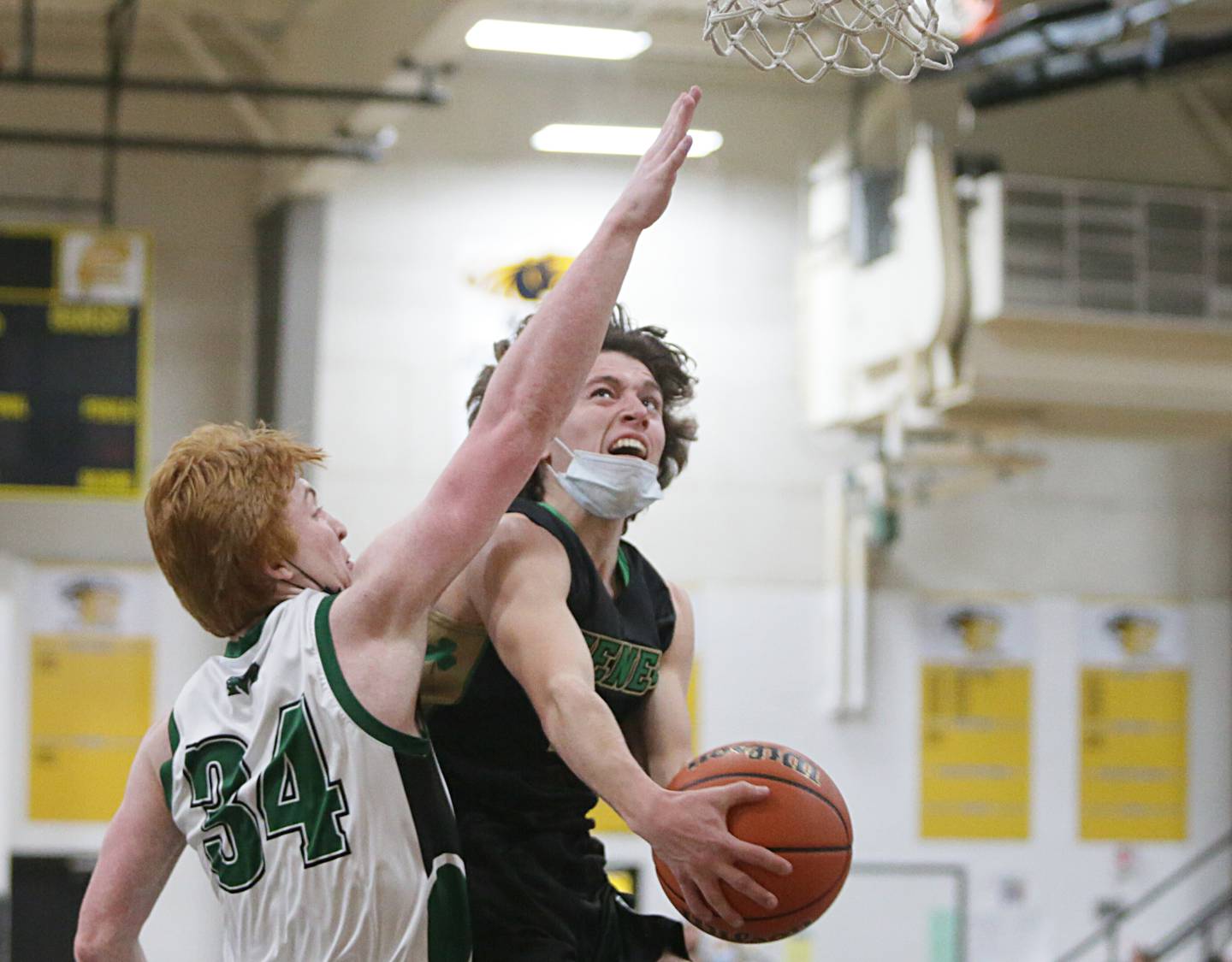 "We seemed like we were playing offense at a different pace, not the fast pace that we are accustomed to," said Seneca coach Russ Witte, his club falling to 16-6 on the season. "We had a little bit of nerves, and granted this is the third championship game we've been in this season, but we still have a freshman and a couple of sophomores in the starting lineup. We played at a very timid pace tonight. I thought if we could hold them to 50 points, we'd win the game.
"Every time we'd make a run at them, we'd end up shooting ourselves in the foot. A team like Midland, if you get in a spot where you have to send them to the line, they are an excellent free-throw shooting team."
The squads were knotted at 12-12 two minutes into the second quarter before a free-throw line jumper by Midland's Ryan Riddell was sandwiched between 3s from Brett Smith and Keagan Faulkner. The T-Wolves, which held Seneca to 26% shooting in the first half and 33% for the game, maintained the eight-point cushion heading into halftime, up 24-16.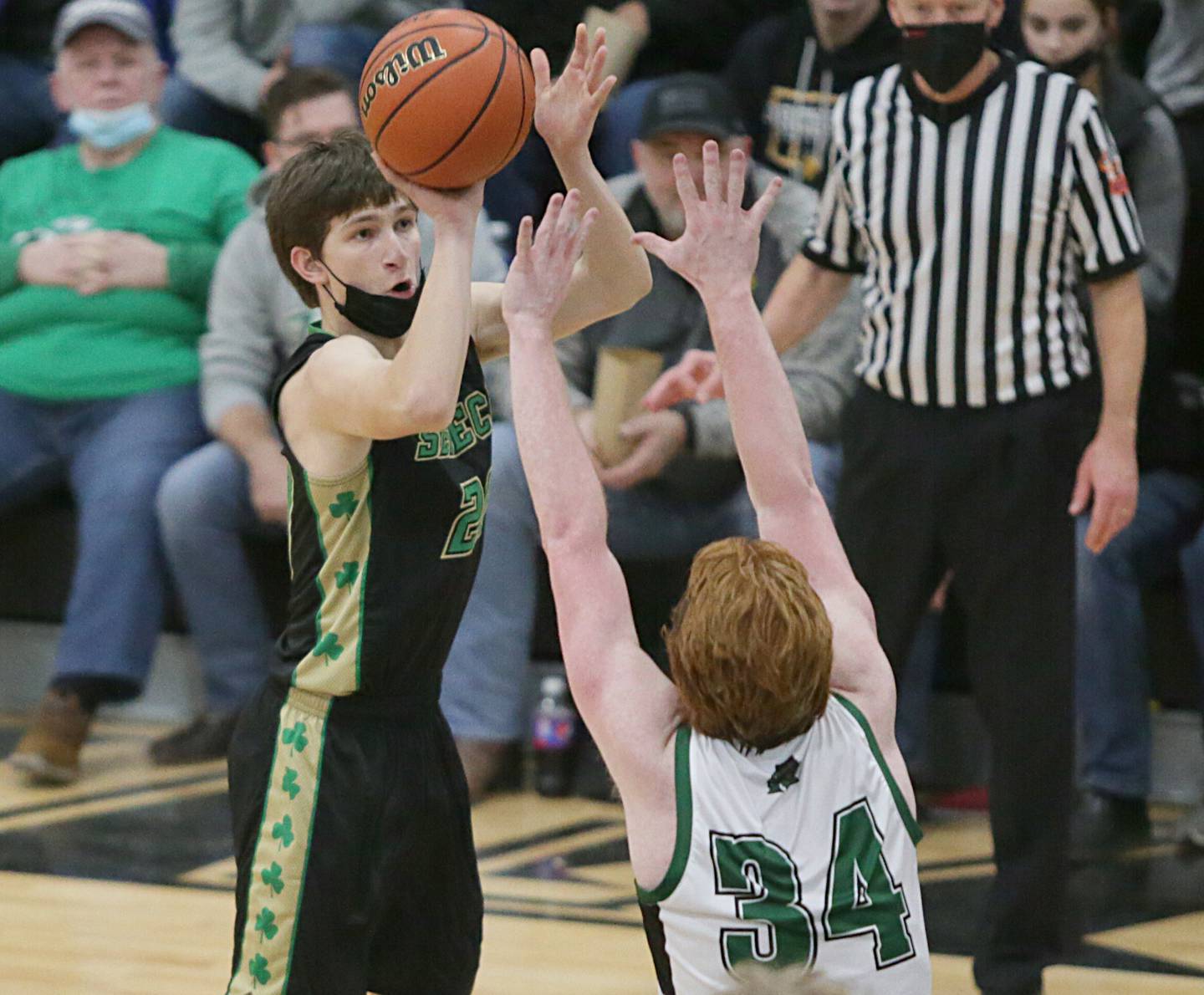 "We usually like to push the tempo and keep the game moving fast," said Midland coach Allen Hatten. "But coming in here tonight, that maybe wasn't what we needed to do against Seneca with all the shooters they have. We wanted to get back on defense, and move their shooters off the line and make them take it to the basket.
"I thought the kids stuck to the plan really well. [Zach] Pfiefer got loose there a couple of times in the fourth quarter, and he's going to, but I thought we did a great job of getting a hand up on perimeter shots."
Smith opened the second half with a 3-pointer from the left corner two and a half minutes in. Seneca responded with two free throws each from Paxton Giertz and Calvin Maierhofer, a Giertz pull-up jumper from 15-feet and a Pfiefer steal-turned-layup with 3:20 on the clock to cut it to 27-24. A layup and 3 from Ryan Bella in the final two minutes put Midland (22-2) back up 32-26 heading to the fourth.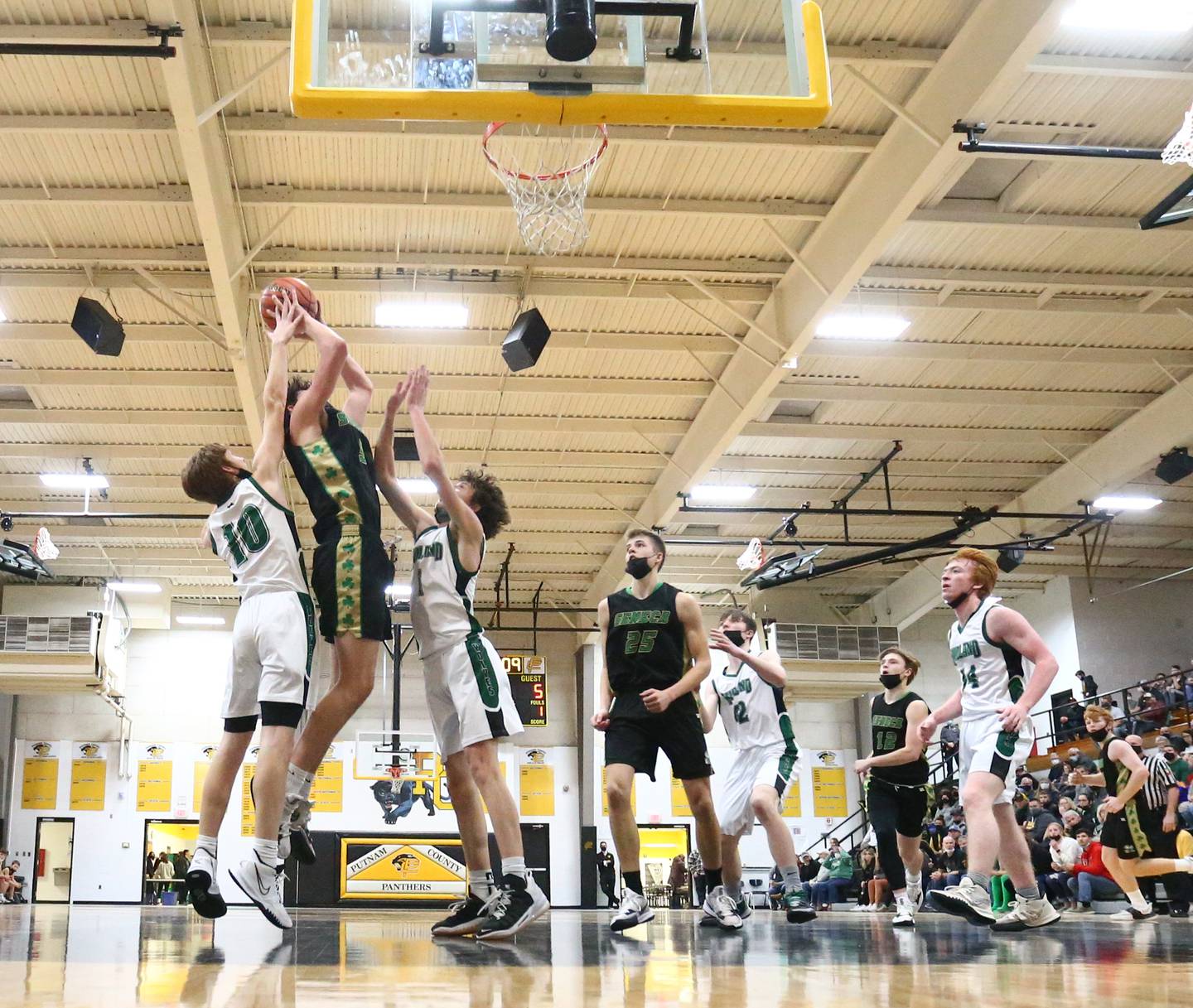 "We didn't play well offensively, and made big mistakes in key situations," Witte said.
A hoop from Seneca's Lane Provance opened the final period, but the Timberwolves netted the next six points – four by TJ Guthman – to push the advantage back to 10 at 38-28 with just under five minutes left.
Seneca cut it to six on a Pfiefer trey at the four-minute mark, but Midland was able to cash in at the line, making 6 of 7 in the final two minutes to finish out the contest.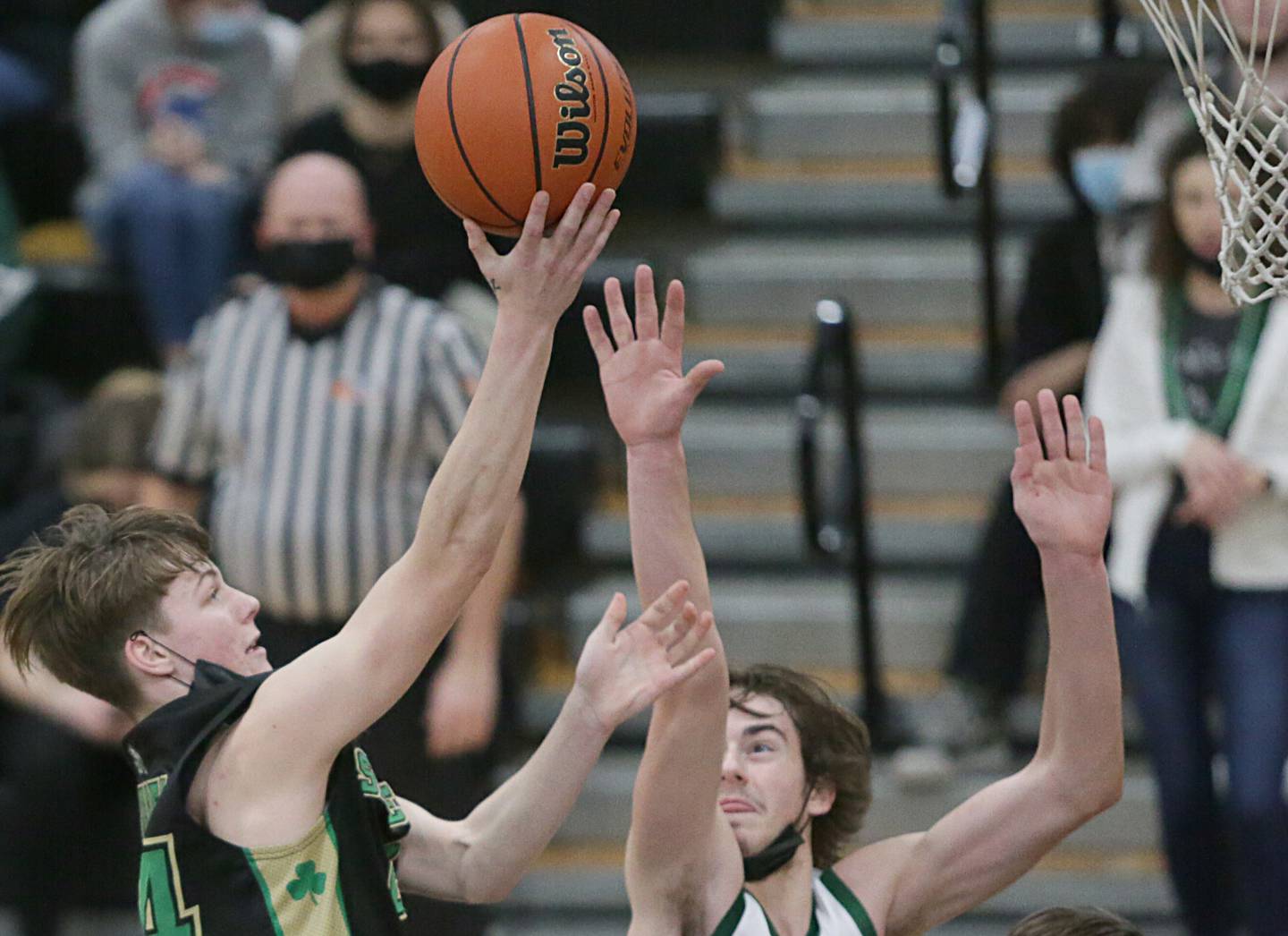 "We stressed in practice on Thursday that Seneca is really going to try to use their trap to keep our outside shooting in check, so the free-throw line area is going to be open," Hatten said. "We wanted to get it there, suck them in and either look to kick or for backdoor cuts. We did an excellent job of getting the ball there as the game went along."
Pfiefer, an all-tournament selection along with Giertz and Noah Quigley, led Seneca with 20 points, with Giertz adding seven points and a team-best six rebounds.
Midland was paced by all-tourney picks Smith with 15 points and Guthman (six rebounds) and Bella with nine each, with Riddell chipping in 10.
—
At Putnam County High School, Granville
Tri-County Conference Tournament
Championship game
Midland 49, Seneca 40
SENECA (40) — Giertz 2-9 2-2 7, Pfiefer 7-18 4-4 20, Klinker 1-4 0-3 2, N. Quigley 0-4 0-0 0, Provance 1-2 1-3 2, Siegel 2-3 0-0 4, Ellis 1-1 0-0 2, O. Quigley 0-0 0-0 0, Maierhofer 0-1 2-4 2. Totals 14-42 9-16 40.
MIDLAND (49) — Hattan 0-8 3-4 3, Smith 5-9 2-2 15, Guthman 4-7 0-0 9, Bella 3-3 2-3 9, Riddell 3-4 4-4 10, Poignant 0-1 0-0 0, McFadden 0-0 0-0 0, Faulkner 1-2 0-2 3. Totals 16-34 11-15 49.
Seneca (16-6) 10 6 10 14 — 40
Midland (22-2) 10 14 8 17 — 49
3-point goals — Seneca 3-16 (Giertz 1-5, Pfiefer 2-7, N. Quigley 0-2, Sigel 0-1, Maierhofer 0-1); Midland 6-16 (Hattan 0-5, Smith 3-7, Guthman 1-2, Bella 1-1, Faulkner 1-1). Rebounds — Seneca 23 (Giertz 6); Midland 29 (Hattan 8, Bella 6). Assists — Seneca 5 (Giertz 2, Ellis 2); Midland 12 (Guthman 5). Steals — Seneca 8 (Giertz 2, Pfiefer 2, Klinker 2); Midland 7 (Hattan 2, Guthman 2, Riddell 2). Blocks — Seneca 1 (Provance 1); Midland 5 (Riddell 2). Turnovers — Seneca 17, Midland 25. Total fouls (none fouled out) — Seneca 17, Midland 17.