OTTAWA – The outcome of Friday night's Tri-County Conference showdown between Marquette and Seneca might not have been a fitting birthday present for Crusaders coach Todd Hopkins, but it went a long way toward exorcising some Bader Gym demons for Irish coach Russ Witte.
The Fighting Irish, whose four seniors were sophomores when MA's Jack Snook tossed in a stunning half-court buzzer-beater to top Seneca and win the TCC regular-season title, put together one of their best overall performances of this season.
Seneca got six points each from senior Noah Quigley and freshman Paxton Giertz as the Irish raced out to a 17-5 lead, and from that point on matched every Marquette surge and then some to come away with an 82-59 victory.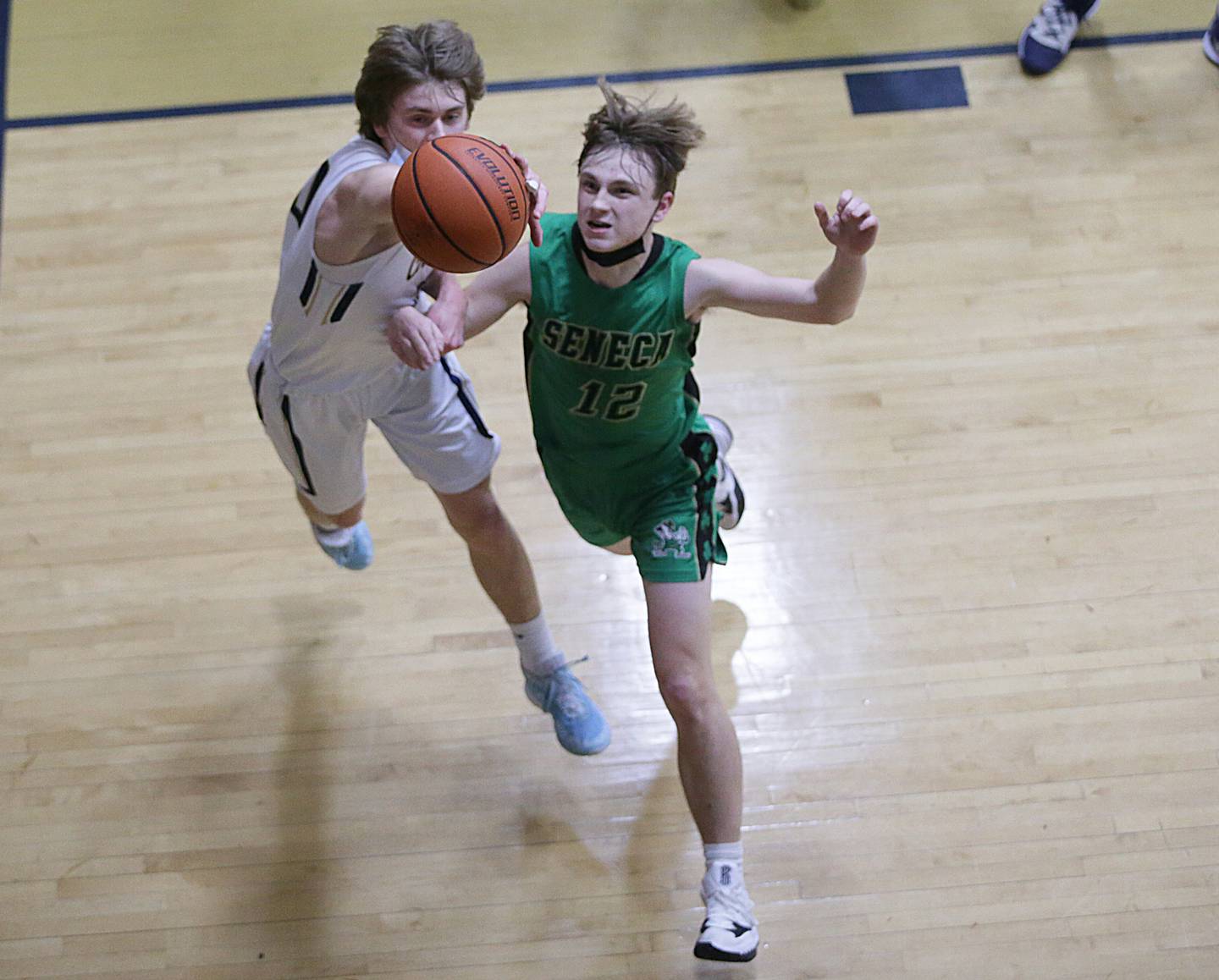 Giertz netted eight of his game-high 17 points, and classmate Given Siegel five of his 15 as the Irish (12-5, 3-1 TCC) pulled away in the fourth quarter with 75% shooting (9 of 12) from the field, leaving them at a sizzling 59.1% (29 of 49) for the game. That figure includes 58.8% (10 of 17) from 3-point range.
Marquette, which came alive in the third period but got only as close as 12 points, was led by 15 points and 10 rebounds from Brady Ewers and 10 points and five boards from Beau Ewers in dropping to 12-4 overall, 1-1 in the league.
"I don't know if this will ever exorcise what happened here two years ago, because I still have nightmares over Snook burying that [darn] thing," Witte said with a laugh, "but I'm really proud of the way our kids played tonight, staying even-keel, and proud of our school, the student body. I just loved the atmosphere here tonight.
"Our kids played really well offensively right away, and in that second quarter really well defensively. They got in foul trouble, and having one of the Ewers boys off the floor really helped us, because they're both good kids, highly competitive and can impose their will in the paint, and it showed in the third quarter when we had a hard time stopping them.
"But finally we hit some shots going to the rim, and when you can string together two, three stops in a row with the way we're playing offensively right now, we'll get some separation."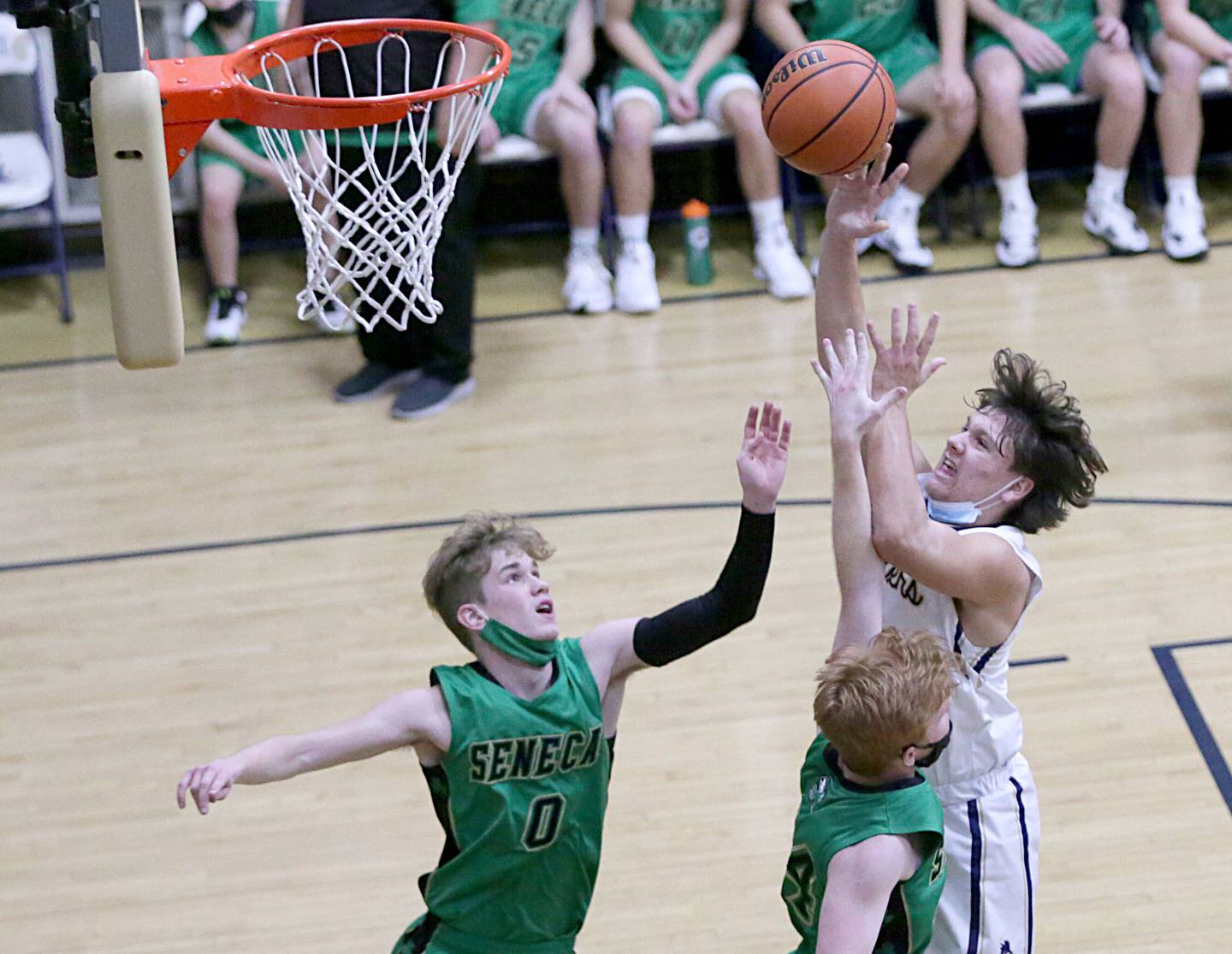 A pair of 3s by Quigley helped the manic Irish pulled out to a 12-2 edge over the comparatively slow-moving Cru, and a 15-footer by Giertz with 2:30 showing made it 19-7.
But it was in the second quarter that Seneca's defense really kicked in, forcing 10 MA turnovers while the offense made 6 of 9 shots to take a 41-23 advantage at intermission. Zach Pfiefer had six in the period, but Siegel, Calvin Maierhofer, Braden Ellis and Owen Quigley combined for 13 of the team's 20 points off the bench.
In the third quarter, the Crusaders had more luck getting the ball inside to the Ewers, Brady getting six points and Beau five, with two of the latter's getting the hosts within 47-35 with 3:13 showing. But two Siegel shots in the lane, one from Ellis and one from Kysen Klinker quickly widened the gap.
Seneca then went on an 11-2 burst to start the final period – including three-point plays by Siegel and Giertz – to take the visitors' lead out to a comfortable 69-47.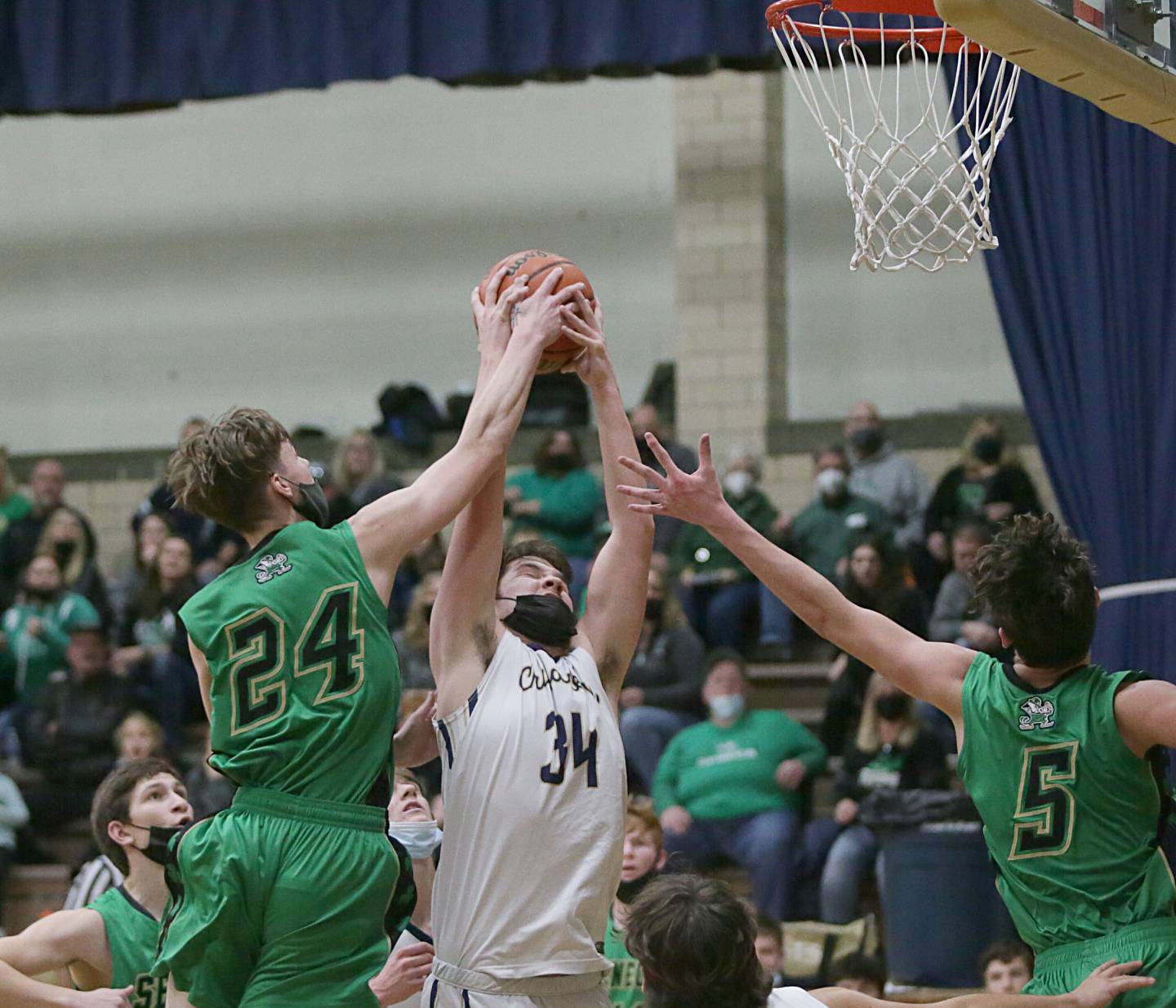 "Maybe we were a little tentative early, maybe a little shell-shocked at how well they were shooting," Hopkins said. "They came out and shot well, so credit them. They knocked the shots down, while we were happy just playing catch out front instead of getting to it.
"We did a better job in the second half, playing more downhill with the kind of energy we have to play with. The Ewers played well, [Charlie] Mullen gave us some good minutes and so did [Caden] Eller and [Gabe] Almeda and [Carson] Zellers, so maybe we can go a little deeper going forward.
"But this is just one game. We have a solid team, and we just have to get better and more experienced. … Tonight Seneca played really well and deserved to win this one. They were the better team tonight."