Here is a look at the girls track and field season ahead for Ottawa, Sandwich, Streator, Marquette, Seneca, Fieldcrest, Earlville and Newark:
Streator
Coach: Doug Harris
Top returners: Abby Pierce, sprints/hurdles, sr.; Marissa Vickers, jumps, sr.; Mia Granados, sprints/vault, sr.; Kristi Hoang, sprints, sr.; Rylee Talty, sprints/discus, jr.; Mina James, sprints/jumps, jr.; Lexy Jensen, throws, jr.; Kiley Rhodes, jumps, jr.; Claire Durdan, distance, so.; Breanna Perrotta, sprints/jumps, so.
Top newcomers: Charlee Bourell, distance, sr.; Tessa Armstrong, throws, so.; Maddie Martin, throws, so.; Kylee Simpson, sprints, so.; Brooklyn Stillwell, sprints/discus so.; Ella Chalkey, throws, fr.; Isabelle Dean, distance, fr.; Michelle Hendrix, sprints, fr.; Sonia Proksa, sprints/jumps, fr.
Worth noting: The Bulldogs this spring are a nice combination of experience – led by Vickers, Durdan and Pierce – and young talent. Pierce, an indoor and outdoor state qualifier in the hurdles, will be joined in the sprints by Hoang, Talty, Proksa, Simpson and Hendrix, while the versatile Proksa, Perrotta and Rhodes team with all-conference Vickers and James in the jumps. Durdan, an All-Illinois Central Eight pick a year ago, will be pressed by Bourell and Dean in the distances/long relays. Talty and Stillwell should get some help in the throws from Jensen and Chalkey. "Abby is expecting to qualify for outdoor state again and is eyeing the possibility of setting multiple school records this season," Harris said. "This team will have a successful season and be a contender for the conference championship. The whole coaching staff can't wait for this season to unfold."
Ottawa
Coach: Emma Schoonover
Top returners: Ava Downey, sr.; Molly Etscheid, sr.; Michaela Froisland, sr.; Hannah Galletti, sr.; Eva Heimsoth, sr.; Emma Heiser, sr.; Bri Morris, sr.; Leah Majcen, sr.; Abby Morris, sr.; Jenna Smithmeyer, sr.; Emily Swanson, sr.; Emma Walker, sr.; Maggy Buscher, jr.; Krisee Clark, jr.; Rylee Davis, jr.; Layne Krug, jr.; Kylie Mundt, jr.; Kate Passwater, jr.; Cecelia Stafford, jr.
Top newcomers: Cameryn Beals, so.; Arlette Cruz, so.; Ella Damron, so.; Chloe Iler, so.; Paige Janke, so.; Ainsley Leonard, so.; Charley Maierhofer, so.; Jacy Miller, so.; Shaylen Quinn, so.; Isabella Ruiz, so.; Sam Ruiz, so.; Emmalea Snyder, so.; Rachael Stewart, so.; Madison Towne, so.; Jordyn Allen, fr.; McKenzie Blazys, fr.; Olivia Carter, fr.; Finley Gross, fr.; Perla Gutierrez, fr.; Laila Henning, fr.; Gianna Jacobs, fr.; Hallie Kiper, fr.; Basla Lambert, fr.; Isabella Markey, fr.; Riley Thrush, fr.; Ava Weatherford, fr.
Worth noting: Heimsoth is off to a good start in the 1,600 meters, and Clark is doing well in the shot put. The Pirates should bring a good mix of younger and more experienced competitors to the track this season and have a large roster making for good competition in practice.
Seneca
Coach: Terry Maxwell
Top returners: Caitlyn O'Boyle, distance/relays, sr.; Anna Bruno, jumps/sprints, sr.; Ashley Alsvig, distance, sr.; Fallon Hamilton, throws, sr.; Riley Sanburg, sprints, sr.; Keeli Pumphrey, sprints/hurdles, sr.; Evelyn O'Connor, distance/relays, jr.; Teagan Johnson, pole vault/jumps, jr.; Faith Baker, throws, jr.; Lauren Cronkrite, sprints, jr.; Gracie Steffes, distance, jr.; Addison Stiegler, jumps/sprints, jr.; Cassidy Fosen, sprints/throws, jr.; Gabi Maxwell, throws, jr.; Claire Bruno, distance, so.
Top newcomers: Aubrie Jackson, jumps/sprints, so.; Kamryn Kastler, pole vault/sprints, so.; Mylee Meyers, throws, so.; Natalie Misener, distance, so.; Lainie Olson, jumps/sprints, so.; Ambrey Terry, sprints, so.; Lila Coleman, sprints/relays, fr.; Mary Lou Acosta, sprints, fr.; Shan Balandang, throws, fr.; Abigail Churchill, sprints, fr.
Worth noting: With 10 straight sectional championships, the Irish appear a lock for No. 11. Anna Bruno, back from the hamstring injury that plagued her a year ago, is in the 4x400 with Clara Bruno, O'Connor and possibly Coleman, a threat to repeat their state championship from 2022. Also, the 4x800 of O'Connor, Alsvig, Steffes and Clara Bruno as well as Johnson in the pole vault appear state-bound again. There's plenty of depth to add to O'Boyle for a strong 4x100 relay, an event the Irish took fifth place in at state. "Our girls are very deep across the board and should be right back where we were last year. Returning state medalists and state qualifiers are all over the roster," Maxwell said. "We also add some quality freshmen and first-year track athletes who are going to fit nicely into the group. Our first indoor meet this group competed very well against 2A/3A competition. It's exciting to see what this group can do."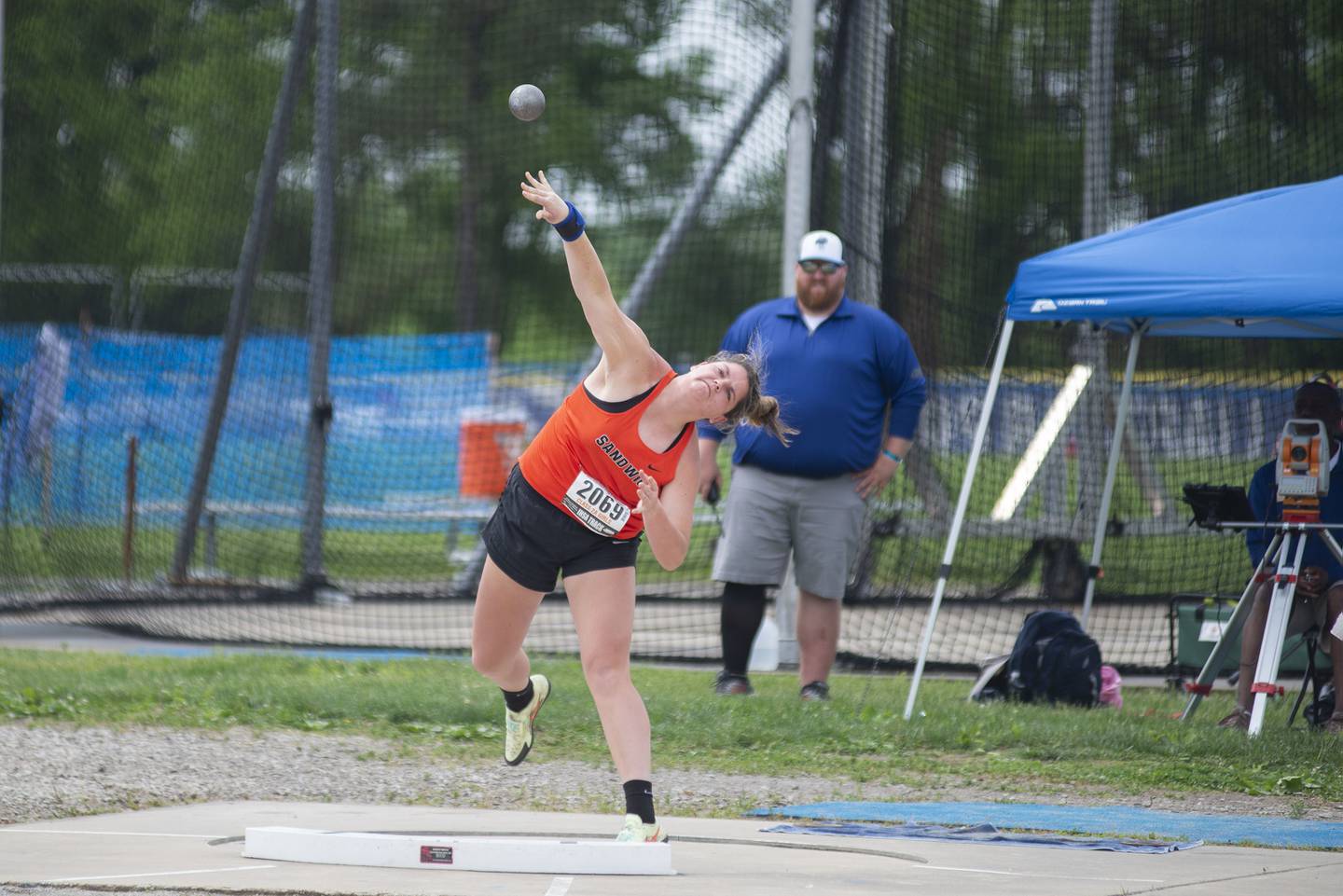 Sandwich
Coach: Elizabeth Vick
Top returners: Claire Allen, throws, sr.; Jimena Benitez, sprints, sr.; Yanitza Morquecho, sprints, sr.; Jodi Pahle, sprints, sr.; Alexandra Lopez, sprints/jumps, sr.; Alana Stahl, distance, sr., Georgia Vehe, sprints/jumps, sr.; Joanna Rivera, distance/relays, so.; Erin Lissman, distance/relays, so.;
Top newcomers: Sunny Weber, distance, fr.; Emily Urbanski, distance, fr.;
Worth noting: The numbers in the program are up, and they boast an interesting mix of talent, both experienced and incoming. That veteran presence starts with Allen, who placed sixth in the 2A shot put last spring and leads an impressive group of throwers, and the trio of Stahl, Rivera and Lissman, back from the state-qualifying 4x800 relay. Weber, already a star after placing second in 1A state cross country and earning The Times Runner of the Year in the fall, also has set school records for indoor 1,600 and 3,200 and appears a natural to be its fourth leg. Her classmate, Urbanski, also is shining in the distances so far. "We have had a great start to the 2023 track and field season," Vick said. "We have many returning athletes as well as newcomers that have already shown potential. … Going into the outdoor season, this girls group is eager to prove themselves. We had a short indoor season with some setbacks due to injuries and illness. Throughout this, the girls have done a great just adjusting to new situations and filling in where we have had gaps. This has only made the girls more eager to get healthy and come out strong for the outdoor season."
Fieldcrest
Coach: Carol Bauer
Top returners: Carolyn Megow, hurdles/throws, sr.; Aaralyn McCullough, distances, sr.; Cheylee Reed, sprints/relays, sr.; Kalia Burns, sprints, jr.; Kyra Cunningham, jr; Clare Phillips, distances, jr.; Tatiana Serna, distance/relays, jr.; Angel Serna, sprints/relays, so.
Top newcomers: Macy Gochanour, sprints/hurdles, fr. Hannah Schumacher, distance/relays, so; Ava Gott, distance/relays fr.; Prudence Mangan, distance/relays, fr; Emma Martyn, distance/relays, fr.
Worth noting: Phillips hopes to carry over her success in cross country to the track distances, the mile, 2-mile and longer relays. Megow, a member of the successful volleyball and basketball teams, is adding the shot put to her substantial skill in the hurdles and may be part of a 4x100 relay. Gochanour, another basketball standout, joins Megow in the hurdles, while Phillips, McCollough, Reed and Tatiana Serna could make a 4x800 with plenty of potential. "Clare had an outstanding cross country season, and hopefully she can bring that to the track this spring, maybe even get to state," Bauer said. "Carolyn did a great job in the hurdles for us last year, but she wanted to expand her horizons into the shot put and discus, she's such an amazing athlete. … We're still working on recruiting for both boys and girls, so we're aiming for success at smaller meets and at conference."
Earlville
Coach: Jill Harp
Top returners: Marissa Congdon, throws, sr.; Natalie Barton, throws, sr.; Mickenzie Hoaglund, throws, sr.
Worth noting: There may be only three Red Raiders available, but they are quality and should provide points in the throws. "Our roster is considerably shrunk down this year," Harp said. "We are a small team, but we have a lot of heart, and the kids certainly give it their all. I am looking forward to this season and expecting some great things from all of our athletes."
Newark
Coach: Abbey Akre
Top returners: Kiara Wesseh, sprints/jumps, jr.; Brooklyn Hatteberg, sprints/relays, sr.; Madison Sitler, mid-distance, jr.; Addison Ness, sprints/relays, sr.; Bella Kreps, mid-distance, so.; Tess Carlson, pole vault, so.
Top newcomers: Laura Reuda, mid-distance, sr.; Rylee Morel, mid-distance, sr.; Adrianna Larsen, distance, so.
Worth noting: From the girls squad that was bumped from a state championship on the last event of the day and placed second in Charleston, gone is The Times 2022 Girls Track Athlete of the Year, Megan Williams, and the 38 points she posted with two championships, a second place and a third. But back is Wesseh, who was right behind her with 31 points at state on two seconds, a third and a sixth. Also returning are Hatteberg and Ness from the 4x200 relays that, with Williams, took second place at state. Those returnees are providing solid leadership for the newcomers. "Our girls team is coming off a great season last year, and those returners have a taste of what that feels like and want more of it," Akre said. "They have goals to improve marks and times throughout the season and give it their best shot."
Marquette
Coach: Wyatt Hettel
Top returners: Norah Bullock, sr.; Dani Lyons, sr.; Darby Morganflash, sprints/hurdles, sr.; Jaida Pitts, sr.; Emma Reynolds, sr.; Nadia Robles, sr.; Jaylyn Clairmont, jr.; Mary Jo Lechtenberg, jumps/sprints, jr.; Maggie Jewett, distance, so.
Top newcomers: Isabella Morris, so.; Olivia Tamblyn, so.; Hailey Abbott, fr.; Hayley Ewers, fr.; Olivia Fiesel, fr.; Nell Stawiarski, fr.
Worth noting: Volleyball standout Lechtenberg is a potential state qualifier in the jumps, the high jump being her specialty, while Morganflash was a solid fourth in the 60 hurdles indoors at the Reed-Custer Indoor Invite. Also there, Jewett, a state qualifier in cross country last fall, claimed third in the 800. The freshman Fiesel is a talented sprinter, while classmate Abbott is strong in the middle distances in her first year in the sport. "Mary Jo was a half-inch away from the school record in the high jump last year. ..." Hettel said. "As far as relays go, we're trying to piece together a 4x100 and maybe a 4x400. There's some talent there, so we'll see if we can get the right combinations together."