SENECA – There is little better for future reminiscing than a team having a successful senior night.
Even with visiting Marquette Academy only having a roster of three and guest St. Bede coming in less than full strength, the Seneca Fighting Irish wrestling team put together a memorable night, one in which their seniors were honored, rolling to a 77-0 win over the Crusaders and a 75-0 victory over the Bruins during Wednesday night's triangular.
"We talked before we came out here tonight about how Marquette only has three kids and St. Bede is missing some of their keys guys, but we still wanted to come out and wrestle as well as we can in the matches available, and we did that, I thought," said Seneca coach Todd Yegge, whose team improved to 15-9.
"We were able to win all 11 contested matches, including eight by pinfall, and the other three by technical fall or major decision, and you'll take results like that anytime you can get them. We worked a lot with techniques tonight, and we talked about wanting to score a lot of points while looking for falls. We did a great job with all of that
"Our three seniors that were able to wrestle tonight – Jaden Casey (126 pounds), Owen Feiner (145) and Kyle Hamby (170) – all did a fantastic job tonight."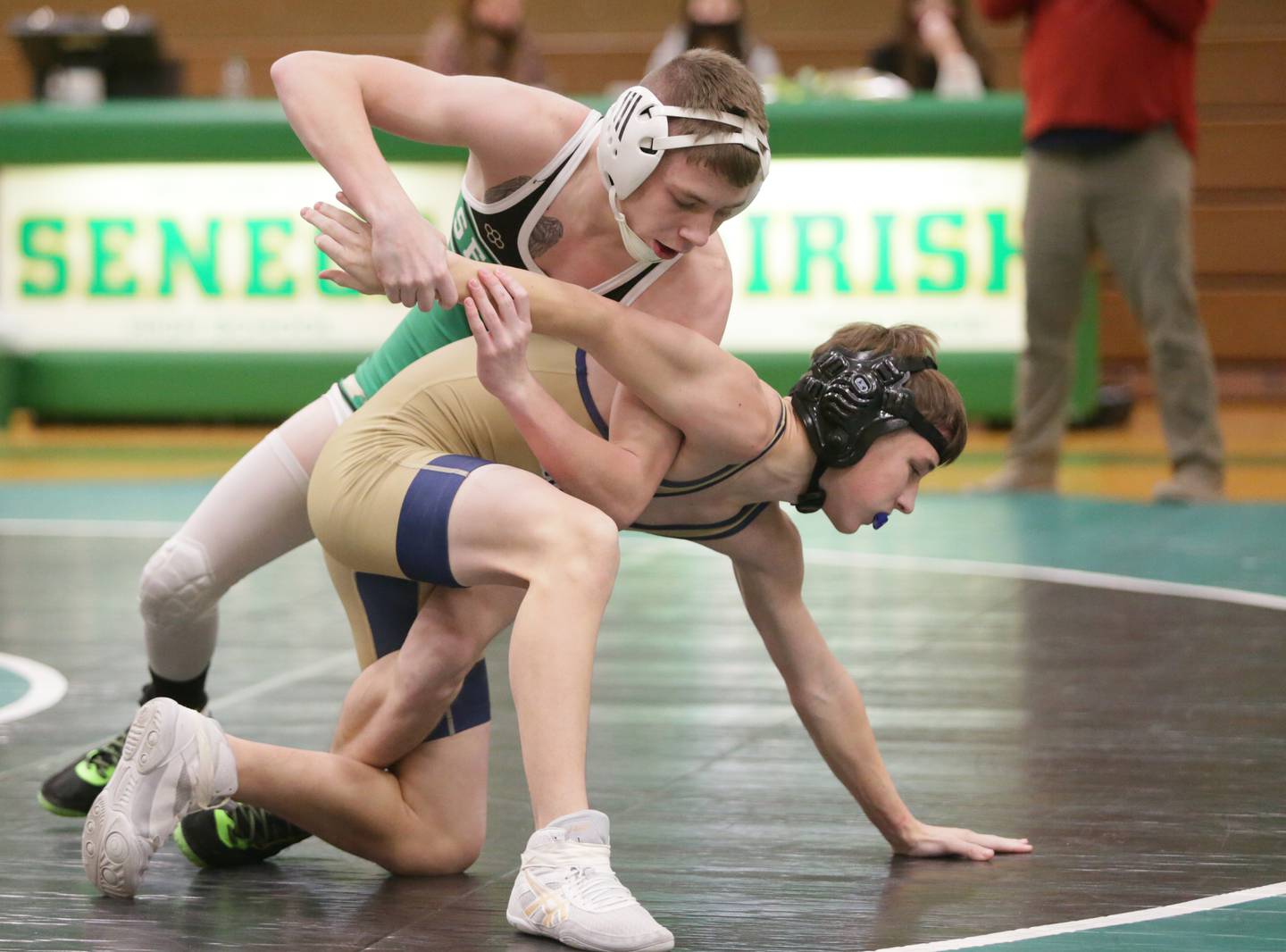 The evening began with Seneca's Bill Farcus posting a 23-7 technical fall win over Marquette freshman Kaden Englert at 120 pounds. Casey followed with a pin of freshman Nolan Demink in 2:16, with Fighting Irish 138-pounder Nate Othon earning a pinfall triumph over senior Maclean Rinearson in 1:40.
The Bruins then defeated the Crusaders, 77-0, with Hunter Savage (120, pin over Englert in 14 seconds), Henry Orteza (126, pin over Demink in 57 seconds) and Garrett Connelly (138, pin over Rinearson in 1:31) all picking up victories.
"Our two freshmen had never wrestled before this year, and our senior didn't start until he started high school. It has been hard to schedule meets with only having three wrestlers, so tonight was a great opportunity for my three guys to have a chance to get a couple matches under their belts," Marquette coach Kyle Lowman said. "I'm hoping with nights like tonight they can gain a little more experience and take what they learned here tonight into practice and their next matches."
The night concluded with Seneca taking on St. Bede.
The hosts began the match with Tommy Milton earning a pinfall win in 3:55 over Savage at 113, while Robby Nelson secured a pin of Orteza in 1:58 at 132.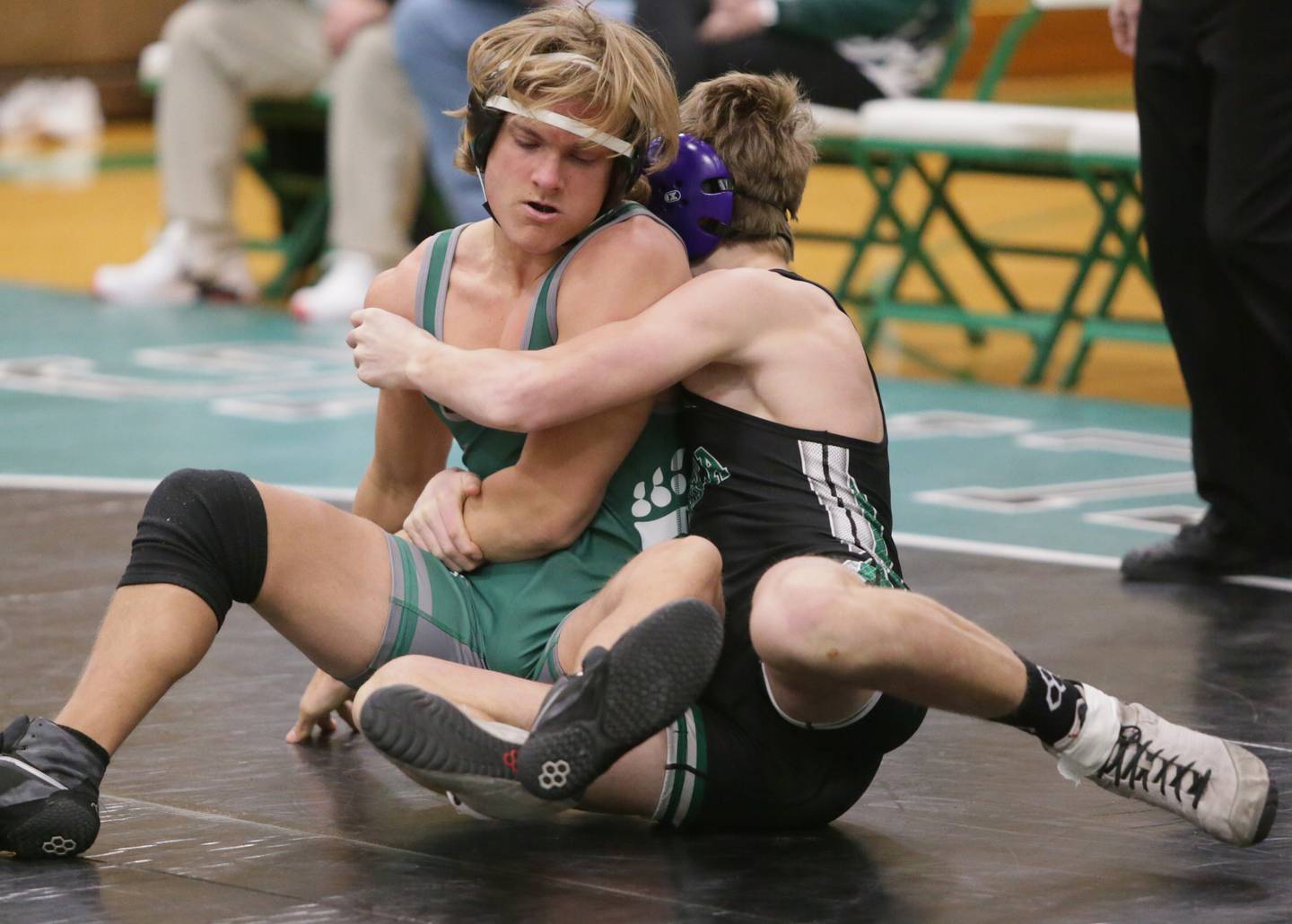 "In my match against the Marquette kid, he just gave me one of my favorite moves, the hip toss," Orteza said. "Coach [Sam Allen] had told me to maybe work on some new moves, but the opening to use the hip toss happened, and I took advantage of it. Then against Seneca, I tried my best, but he was able to put just too much pressure on my bad shoulder.
"I'm just glad we are still able to wrestle even with half our team missing due to quarantines. It stinks we still have to wear masks [in the gym when not competing], but I'm grateful for nights like tonight, especially this being my senior year where I can go out and compete."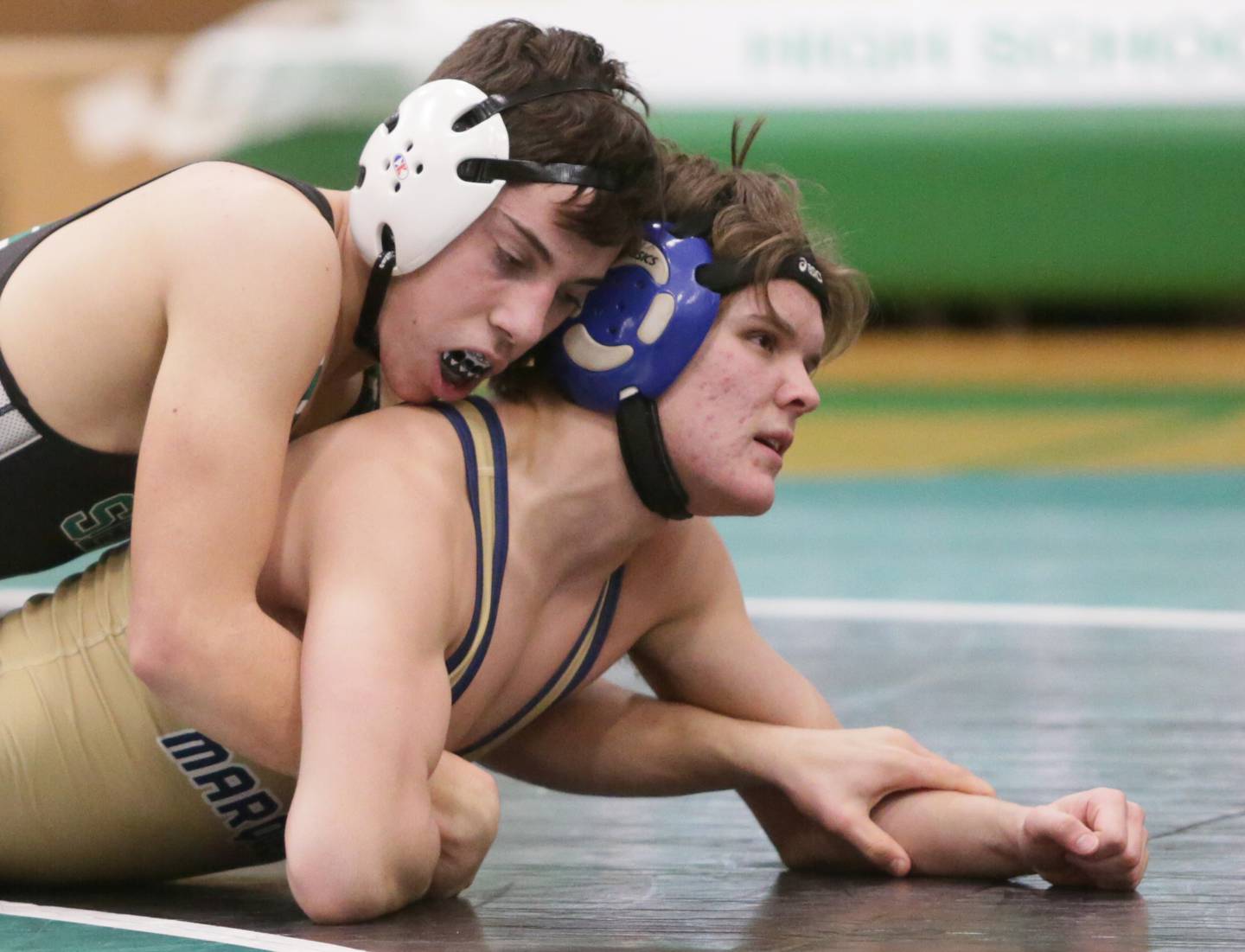 Seneca finished off the night with wins from Nate Othon (138, pinfall over Garrett Connelly in 1:31), 145 Owen Feiner (145, pinfall over Jack Machmann in 1:33), Asher Hamby (152, pinfall over Ben Koyak in 1:14), Kyle Hamby (170, 18-1 technical fall over Jake Migliorini), Chris Peura (195, 13-5 major decision over Ryan Migliorini) and 220 Alex Bogner (220, pinfall over Gavin Hahn in :37).
"We started this season really strong, but then other teams started having issues with COVID, and then unfortunately we have since Christmas as well," said Allen. "We are starting to get out of that and are getting kids back, but tonight, like any night we can wrestle, we are thankful to have the chance.
"It's been tough for many of the kids to get into a good rhythm with all the cancellations, but hopefully we can stay healthy heading into the postseason."