OTTAWA – Winning just never gets old.
Behind singles players Ella Marvel and Sara Meyer, who squared off against each other in the singles championship match, the Pirates collected their fifth girls tennis sectional title plaque in a row by besting the 10-team field at their own Class 1A postseason opener on Saturday at the King Field courts.
Ottawa earned 28 points to 21 for runner-up La Salle-Peru and 18 for third place Morris. Coal City was fourth with 13, followed by Mendota with 8, Streator 6, St. Bede and Pontiac 4 each and Kankakee 2. Kankakee McNamara did not score.
More importantly, everyone who took part in Saturday's action had already earned a spot in the IHSA State Finals, which begin Thursday in the Chicago suburbs. For OHS, that includes Marvel and Meyer in singles, and Kyleigh Olszewski and Jenna Smithmeyer, who placed fourth in doubles.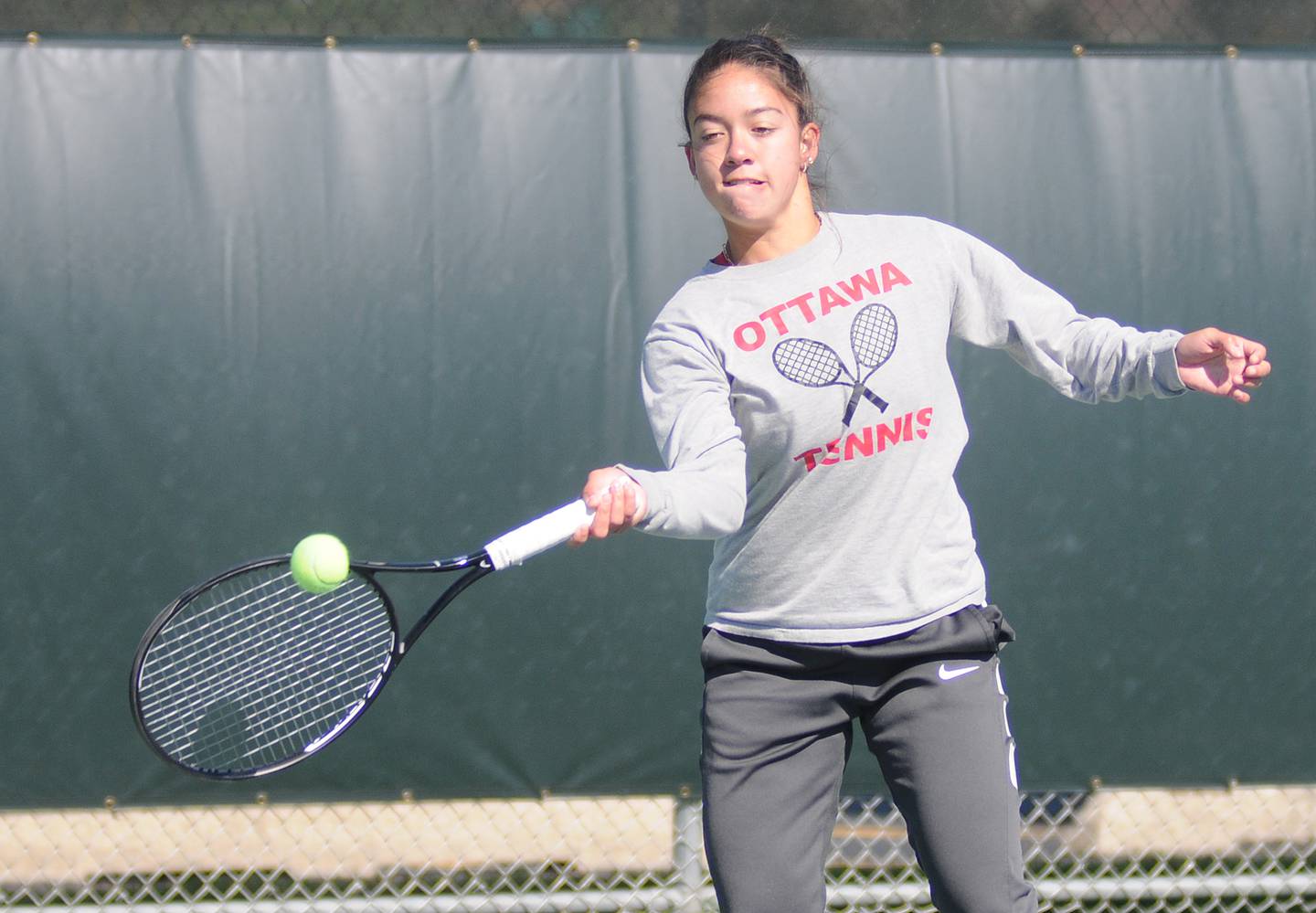 "We're kinda pumped about five in a row," said Ottawa coach Steve Johnson, whose club earned the 11th sectional title in the last 12 seasons. "The 1A/2A thing first took place six years ago, and we finished second, but since moving to 1A we've got one every year since. We knew coming into this that Morris, L-P and Coal City were going to be tough … but we challenged the girls, and they came through.
"Now it's on to state and see what we can do there."
The challenge at state can't be any more difficult than playing the person you face in practice every day and are so familiar with, which was the case for Marvel and Meyer. Facing each other for the first time this season in competition, Meyer took the first game of the first set, but Marvel swept through the rest of that set and handled her teammate in the second for a 6-1, 6-2 victory and her third sectional title, having won singles as a freshman and doubles as a sophomore.
"It is always nice to get two wins, especially on the second day when everyone is more relaxed and playing better," said Marvel, who downed Grace Lines of Morris 6-0, 6-3 in the semis to make the final. "It wasn't a plus or a minus to know each other so well, really, we know each other's game so well. We knew what to do out there against each other, but knowing we were going to state no matter what, it was all in good fun. …
"Now I'm going to work on being more consistent and see what I can do at state."
Meyer had a tougher time in her semifinal, earning a 6-4, 7-6 (7-0) win over L-P's Carlie Miller before running into her red-hot practice foe.
"It was really competitive, but really fun though," said Meyer, who was also a state singles qualifier as a sophomore. "Knowing her so well actually made it tougher for me, because Ella is like a top-level competitor. She's our No. 1 singles player for a reason, but it was exciting to get to play her when it counted. … I did well getting the ball back more often, more consistently today in both matches.
"It was a good day for me and for us."
Also moving on to state will be the doubles team of Olszewski and Smithmeyer, which dropped a tough 6-2, 6-4 match in the semis to the Morris duo of Liz Kenney and Gretchen Zarbock.
Finally, in the third-place match-up, the Pirate twosome started fast, but ultimately suffered a 7-5, 6-1 decision to Coal City's Abby Stiles and Molly Stiles to place fourth.
L-P was not without its highlight on the day, specifically when the doubles team of Catherine Engels and Ava Lannen placed second.
Having locked up its top-four finish with a 6-1, 6-1 win over Mendota's Kaylee Barkman and Alexis Finley, the Cavaliers pair battled through a tough 3-6, 6-1, 6-3 victory over the Coalers' Stiles sisters to advance to the title match. However, there they ran into the Morris tandem of Kenney and Zarbock and dropped a 6-4, 6-4 verdict.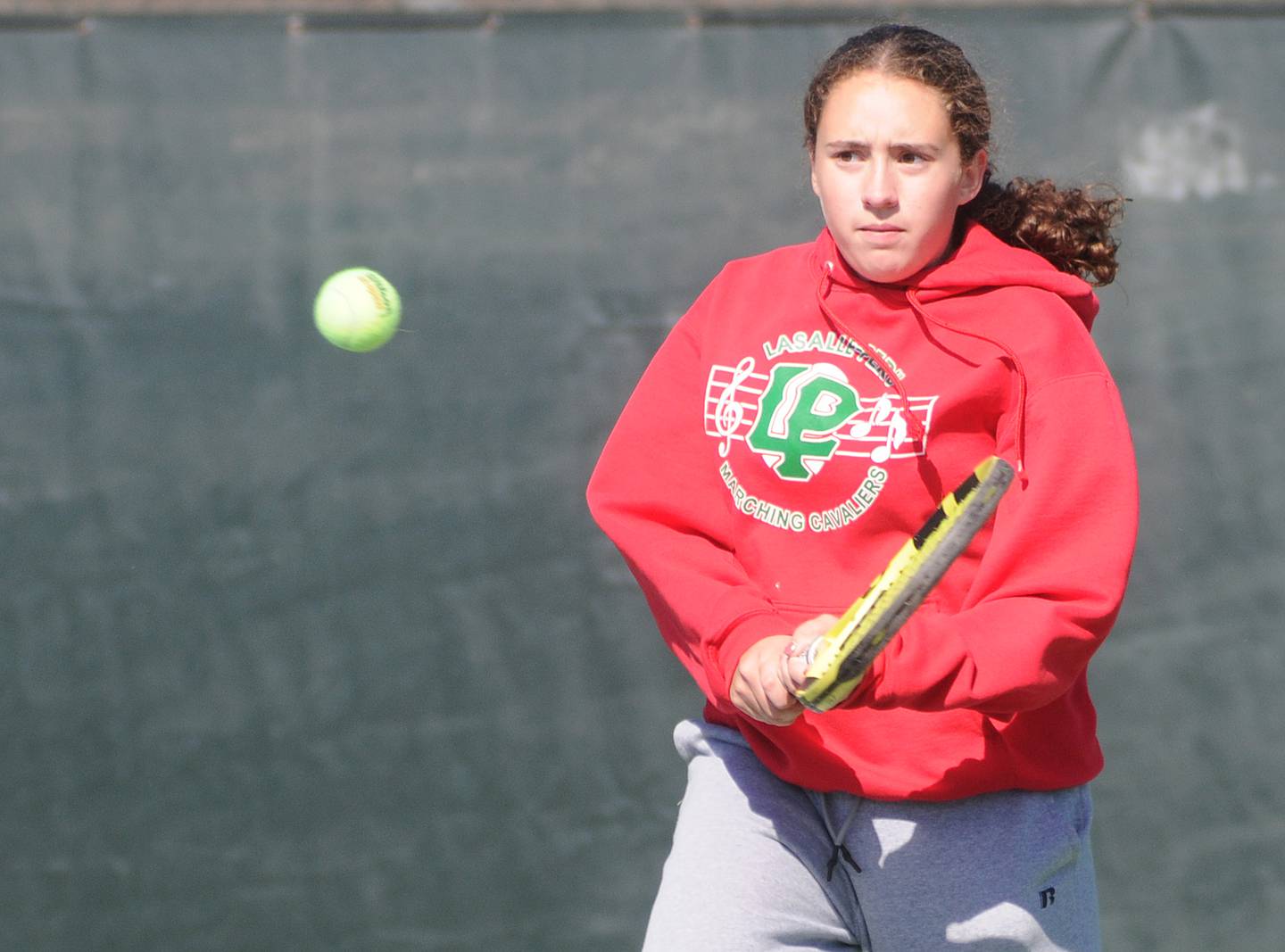 "It started out pretty cold today, and we were nervous at first, but we got warmed up, got our energy and played really well today," said Engels. "In the final, we had beaten them before, so we had confidence that we could do it again, but they played really well too, and they deserved to win. … It took the pressure off us to know that we were going to state no matter what. That feels pretty cool. Worth all the work we've put in."
"I'm really excited,' said Lannen. "I'm not surprised at all. I knew we could make it to state, and now it feels so nice. There will be a lot of pressure, because everyone there is so good."
After her loss to Ottawa's Meyer in the singles semifinals, Miller bounced back and claimed a 6-3, 6-1 victory over Morris' Lines to place third.
Morris was tough all day, including that Lines finished fourth, but were at its best in doubles where Kenney and Zarbock followed up their semifinal win over Ottawa with the victory over L-P's Engels and Lannen to the crown.
"I felt like this was a pretty decent day for us, that we were both strong and on our game today," said Zarbock. "The wind was a problem today, more than the cold. We don't lob all that often unless it's necessary, but we were able to adjust to it and worked with what we have. … We knew we were going to state already, but we came in today wanting to win it all. We didn't want to let up. We stayed strong, both mentally and physically."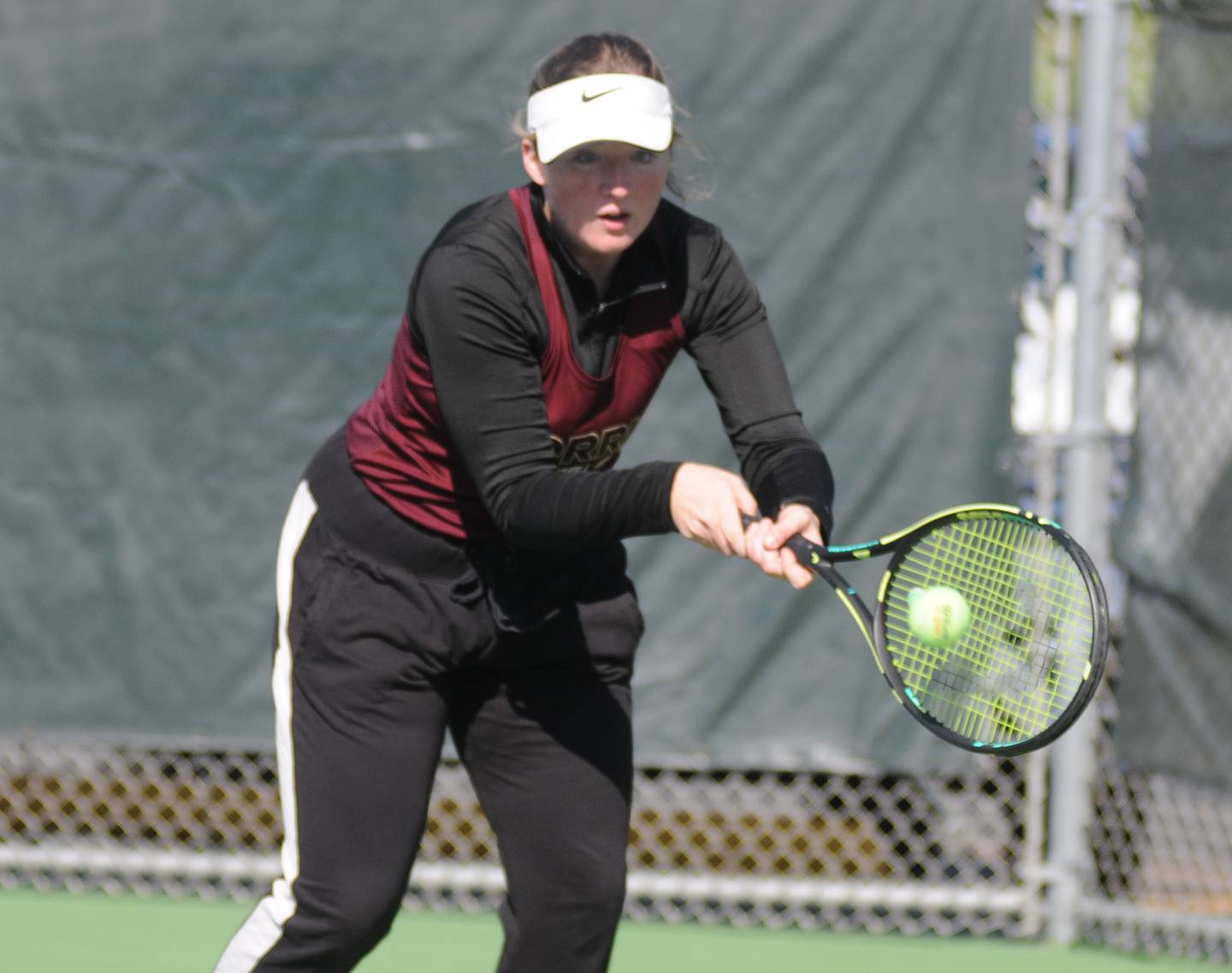 "I'm really happy with the way we played today," said Kenney. "Our styles complement each other so well, and that's why we're so successful, I think. … We lost to (Engels/Lannen) before, and that's why they were the No. 1 seed, but it was competitive, so we knew we could win it. Even though we didn't have the top seed, we wanted to shake up the bracket and we did."