OTTAWA – The reason rivalries are so well-anticipated and exciting is because they usually bring out the best in a team, and the more heated the rivalry, the better the level of play.
That most certainly was the case Tuesday at Ottawa's King Field tennis courts.
While the home team swept through the two singles events in straight sets, visiting La Salle-Peru used a mix-and-match approach to get the best doubles lineup possible, and it paid off with three close, extra-play victories over the Pirates for a thrilling 3-2 win over its previously unbeaten Interstate 8 rival.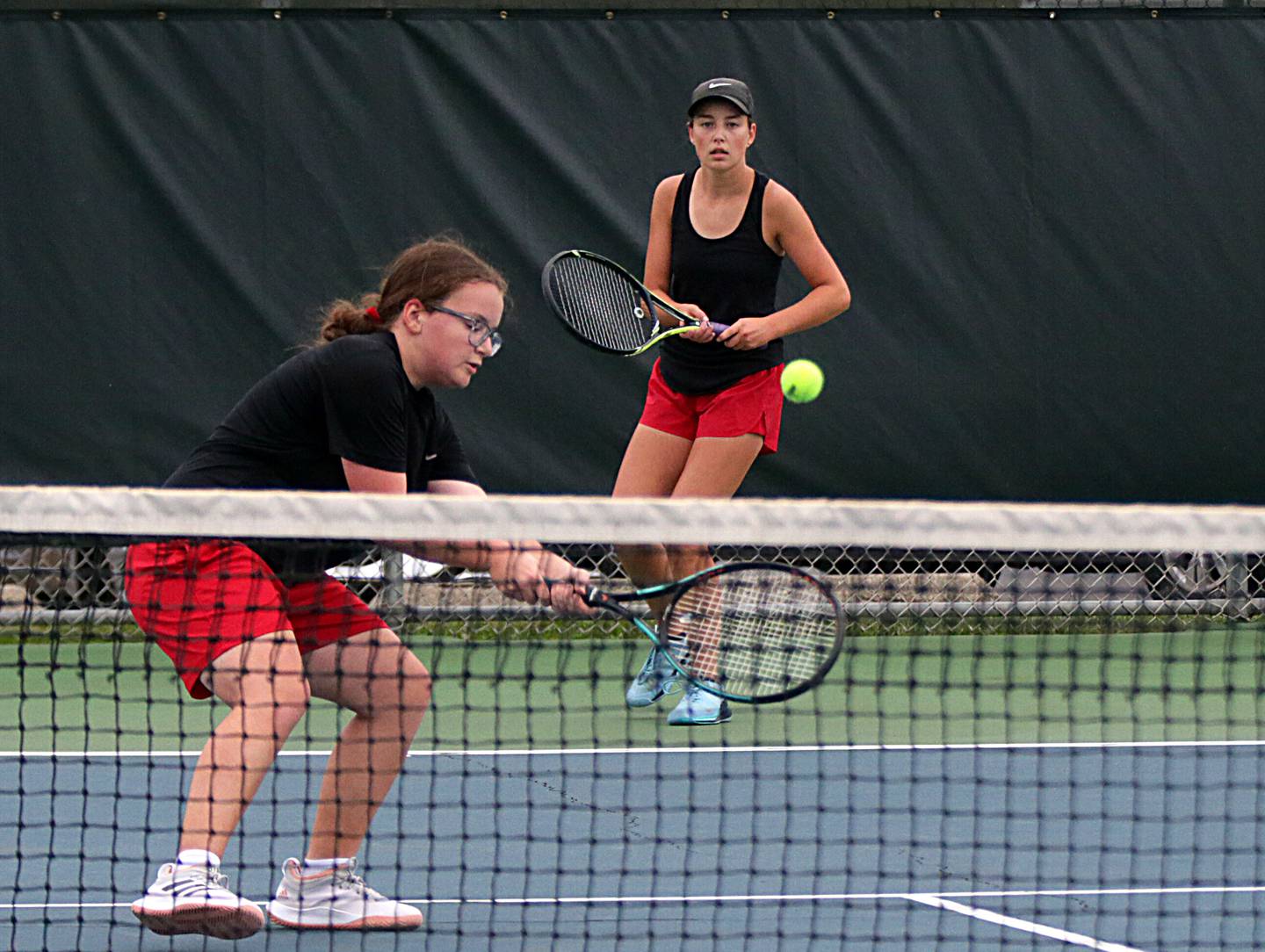 "These girls, they're tough," L-P coach Aaron Guenther said. "They fight from start to finish, so it was really cool to see that manifest itself in a match where their backs were up against the wall. They weren't afraid to keep swinging.
"These are the kind of matches where you get the mental reps, tough matches and high-pressure situations, so it's great to get those with the postseason coming up soon."
Ottawa's Ella Marvel captured No. 1 singles, 6-0, 6-0, over the Cavs' Avery Brovelli, and the Pirates' Sara Meyer claimed a similar 6-0, 6-0 decision against L-P's Angela Smudzinski.
"Right now, after a long weekend of playing eight matches in two days, I feel I'm right where I want to be at this point in the season," said Marvel, who bounced back from a long Saturday of eight matches and the sunburn and leg cramps that went with them to take the victory. "We had a good practice yesterday, and we're ready to try and get the win against our rivals tonight. But that's yet to be determined."
Singles had finished, but the thrills that ran through all the doubles matches were just getting started. The No. 1 tandem match saw L-P's Ava Lannen and Catherine Engels, perhaps a little too keyed up for the rivalry, playing cautiously in the opening set and dropping a 6-3 verdict to the Pirates' Jenna Smithmeyer and Kyleigh Olszewski.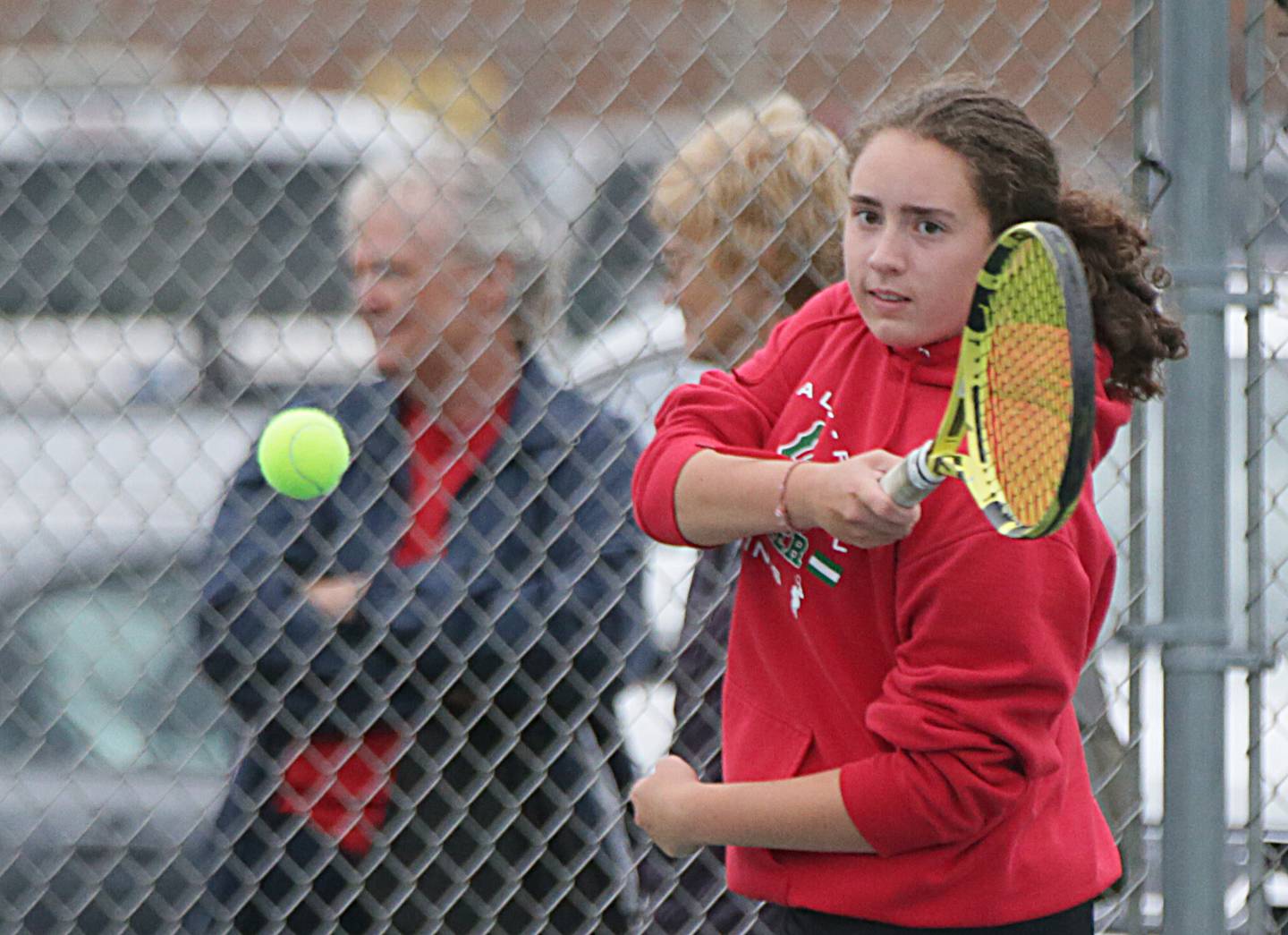 "In the first set, we were kind of sluggish, but we got better," Lannen said. "It was really stressful, playing a rivalry match like this. It gets in my head a little bit, and we started out playing timid, I guess, not wanting to make a mistake. But after the first set, we got up more and played more aggressively at the net, and it worked out for us."
The Cavaliers duo loosened up in the second set, registering three consecutive service breaks to win, 6-1, and force a deciding third set. There the breaks continued, taking a 1-1 tie to a 5-3 advantage before a final break gave the visitors the match.
"At first we were a little scared, a little nervous and were playing easy to make sure we got the ball instead of going for it," Engels said. "Eventually we realized we could do it, and we really got more motivated, and once we got going, we kept going. Before the match, I didn't know, but (winning) this is big. It means a lot to us."
L-P's usual No. 1 singles player, Carlie Miller, teamed with Emmie Hackenberger for the first time in another nail-biter at No. 2 doubles against Ottawa's Rylee O'Fallon and Emma Cushing, needing to win an extra game in the first set to eventually take a 7-5, 6-3 victory.
The last match still playing was the deciding one at No. 3 doubles, where the Cavs' regular No. 2 doubles team of Jenesis Greening and Izzy Pohar dropped a first-set tiebreaker to Ottawa's Madison Lineback and Emma Stumpf. However, they rallied to take the final two for a 5-7 (7-5), 6-2, 6-3 win.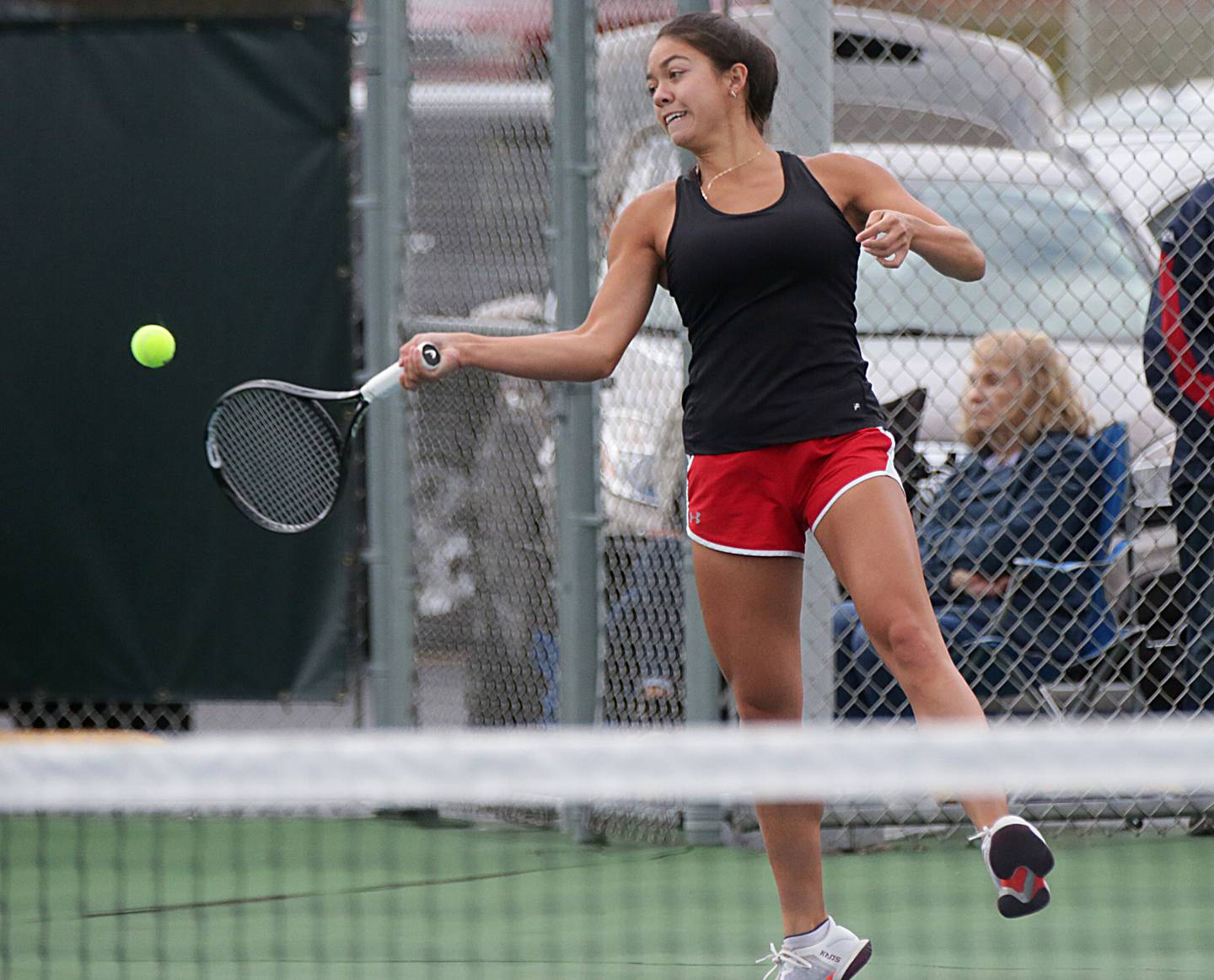 "For the most part, I have to agree that the girls fought well today, because they all had to kind of step up a level," said Ottawa coach Steve Johnson, whose team is 7-1 overall, 2-1 in the I-8. "Our No. 1 doubles was playing their No. 1 plus, and our No. 2 was playing their No. 2 plus, and our No. 3 was playing essentially their normal No. 2. … [L-P] did what you should do to try and win the match, and it worked. I thought we could hang on in some of the doubles spots, but it didn't happen.
"We looked solid except for finishing points. We weren't putting away volleys. We were giving up too many second chances, and they took advantage of them."