PEORIA – After two weeks of living dangerously, after rallying from behind in four of their five postseason victories, after thriving on one clutch at-bat after the next to make their outstanding pitching efforts stand up for wins, the Marquette Crusaders finally came across one deficit they couldn't erase.
And even in that one, it was touch and go.
Junior pitcher Aidan Thompson was excellent on the mound in Friday morning's IHSA Class 1A state semifinal against Brown County, scattering eight hits, allowing two walks, and single runs in the first and third innings to keep the Cru within striking distance.
However, Hornets pitcher Gabe Blakeley was just as stubborn, surrendering only one run through 6 1/3 innings before running into trouble in the top of the seventh when Marquette loaded the bases with only one out.
That's when left-handed reliever Mason Henry came on to shut down yet another Cru late-inning rally and preserve a 2-1 victory and a spot in the championship game for Brown County.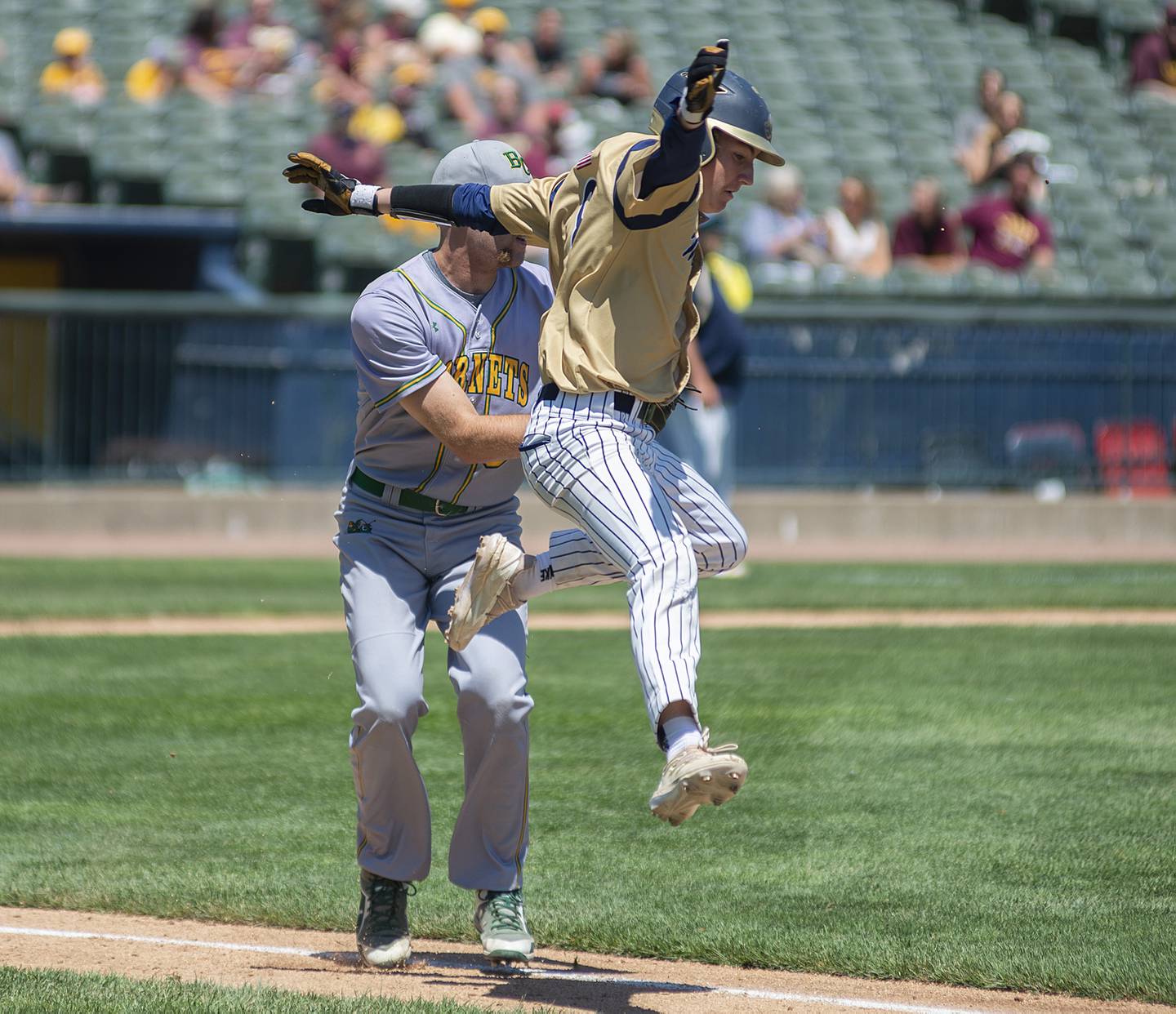 The verdict sends Marquette (31-4) into Saturday's 9 a.m. third-place game against LeRoy (24-10). The Panthers were pounded in Friday's second game, 15-2, in five innings by Louisville North Clay (32-6), which will take on Brown County (28-4) at 11 a.m. for the 1A crown.
"It was a great game. I don't think there was an error by either team, both pitchers were awesome," Marquette coach Todd Hopkins said. "They just got one more hit than we did … It didn't work out for us, but Aidan was awesome. His approach was just like every game he's pitched all season. Nothing special, just breaking ball, work the edges in and out, and he did that pretty well to hold them to two runs.
"I don't know if he could throw any better than that. [Brown County] is a good team, obviously, or they wouldn't be here. … We had chances before the seventh inning, too, but it didn't happen today."
There was not much more the Crusaders could do. The locals played flawless defense, had Thompson throwing well and even managed eight hits of their own, including two each by Sam Mitre, Logan Nelson and Charlie Mullen.
The only thing BC did better was string its hits together, starting in the first inning. Colby Wort led off with a bloop single to right-center and was sacrificed to second by Sam Carr. Thompson got a strikeout, but then Henry singled to left-center to drive in the first run of the game.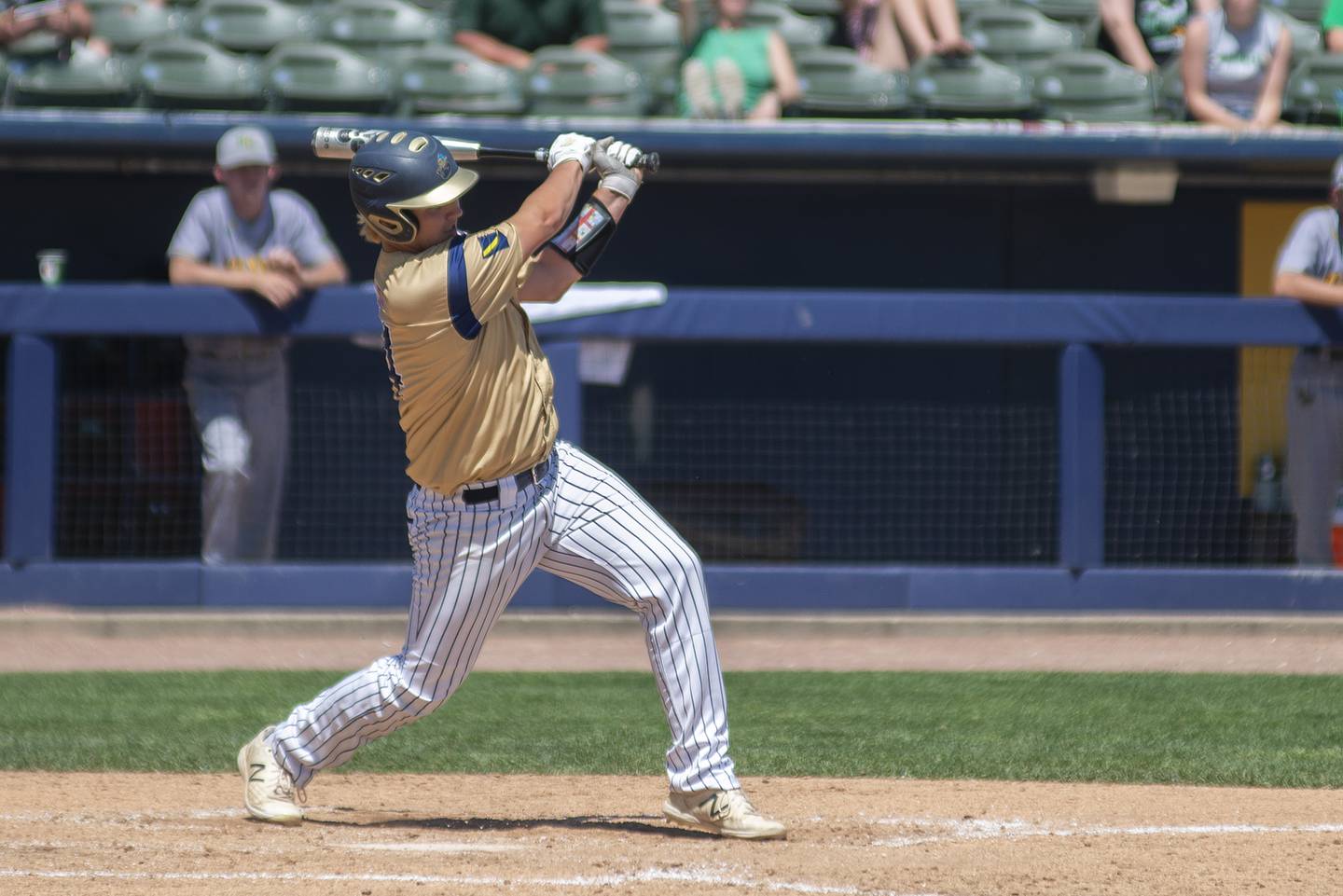 The Hornets made it 2-0 on back-to-back doubles by Blakeley and Henry, which appeared would be enough for the former, who kept working his way out of one jam after another. First it was on two-out doubles by Mitre in the first and Keaton Davis in the second, then again after singles by Mullen and Julian Alexander in the fifth.
Still, the Crusaders – a team that rallied to defeat St. Bede and Newark in their own regional, edge Hope Academy and Putnam County at the Harvest Christian Sectional and trailed Sterling Newman 1-0 before a 12-1 win at the Rockford Supersectional – believed they could do it again.
"We knew we were going to make it a ballgame," Brady Ewers said. "We say stuff [when we're down] to your teammates, but we all just knew it, and we did."
It was in the sixth that MA broke through. Going to a numbered system of takes and swings to slow down and disrupt the fast-working Blakeley, Mitre singled, then a wild pitch moved pinch runner Gabe Almeda to second. From there, he scored on a single to left-center by Ewers.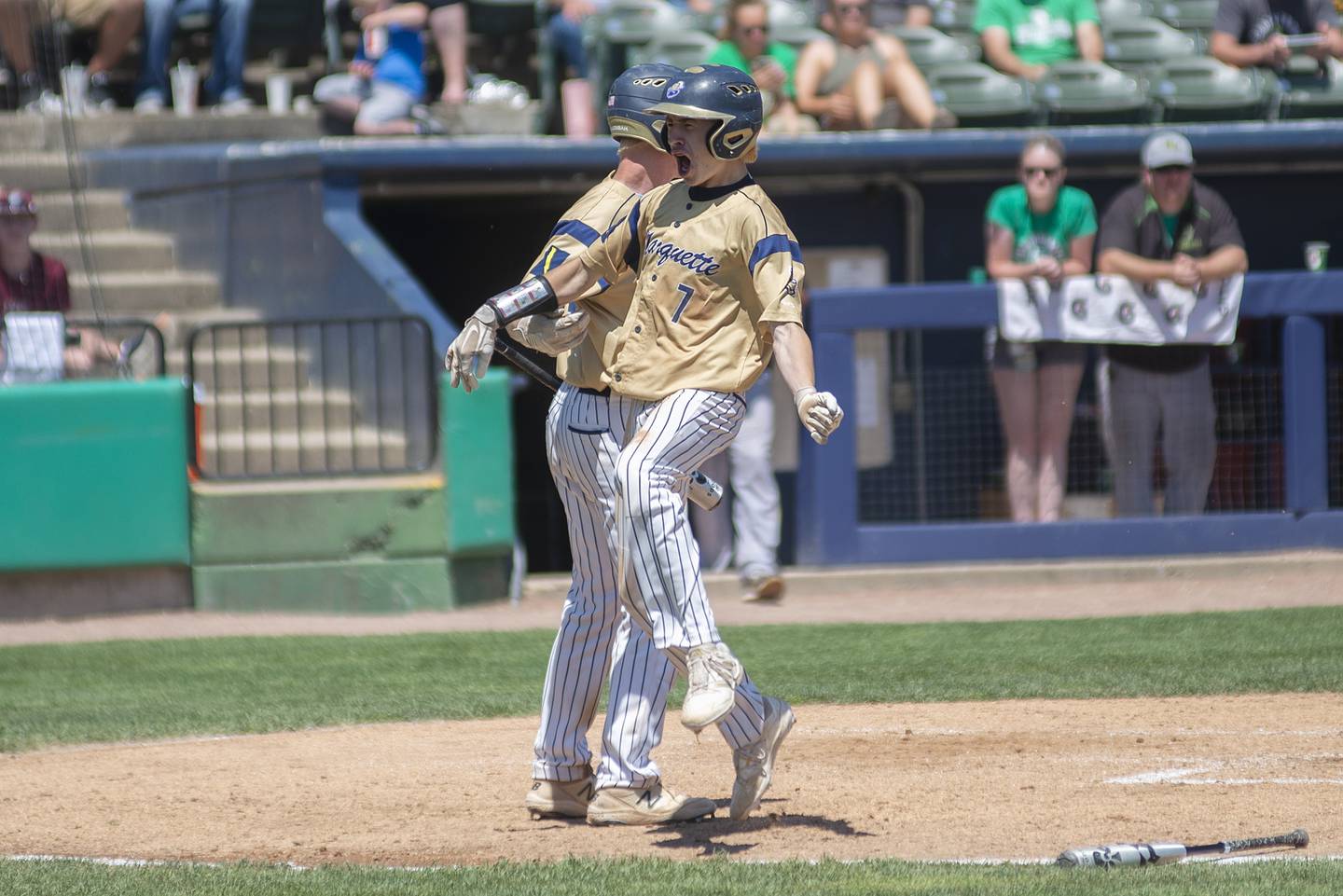 In the fateful seventh, Mullen singled and was sacrificed to second by Carson Zellers. Alexander walked, chasing Blakeley for Henry. It was then that Nelson beat out a perfect bunt to load the bases, still with one out.
Unfortunately, that's where the rally ended. Using a big-breaking curveball to jam the Cru batters, Henry got a strikeout and a flyout to send BC into Saturday's title contest.
"I had faith in my two seniors," BC coach Jared Hoots said. "Gabe pitched a great game, kept a tough lineup in check. One through 9, that's a very, very good small-school lineup he faced there, and he shut them down, did a great job. With the heat, I knew he was probably getting a little fatigued, so I went to Mason, another senior. I have all the confidence in him and the breaking ball that he has. I knew it would be tough for them if that breaking ball was working.
"We've had some close games this year when our defense and our pitchers stepped up in big situations, and this time they acted like the senior leaders they are and carried us through."