A handful of Times-area wrestlers competed at the Illinois Wrestling Coaches and Officials Association Class 1A State Finals at BOS Center in Springfield on Thursday with a pair of Seneca grapplers — senior Nathan Elliott and junior Owen Feiner — bringing home medals.
Elliott, who finished fourth at 285 pounds, began the day with pinfall wins over Manteno's Damian Alsup (3:50) and Normal U-High's Hunter Otto (4:35). He then fell to eventual state undefeated champion Gabe Craig of Benton via pin in 1:18, defeated Canton's Weston Swise by pinfall in 2:34 in the wrestleback semifinals before dropping a 3-1 decision in a rematch with Otto in the third-place bout.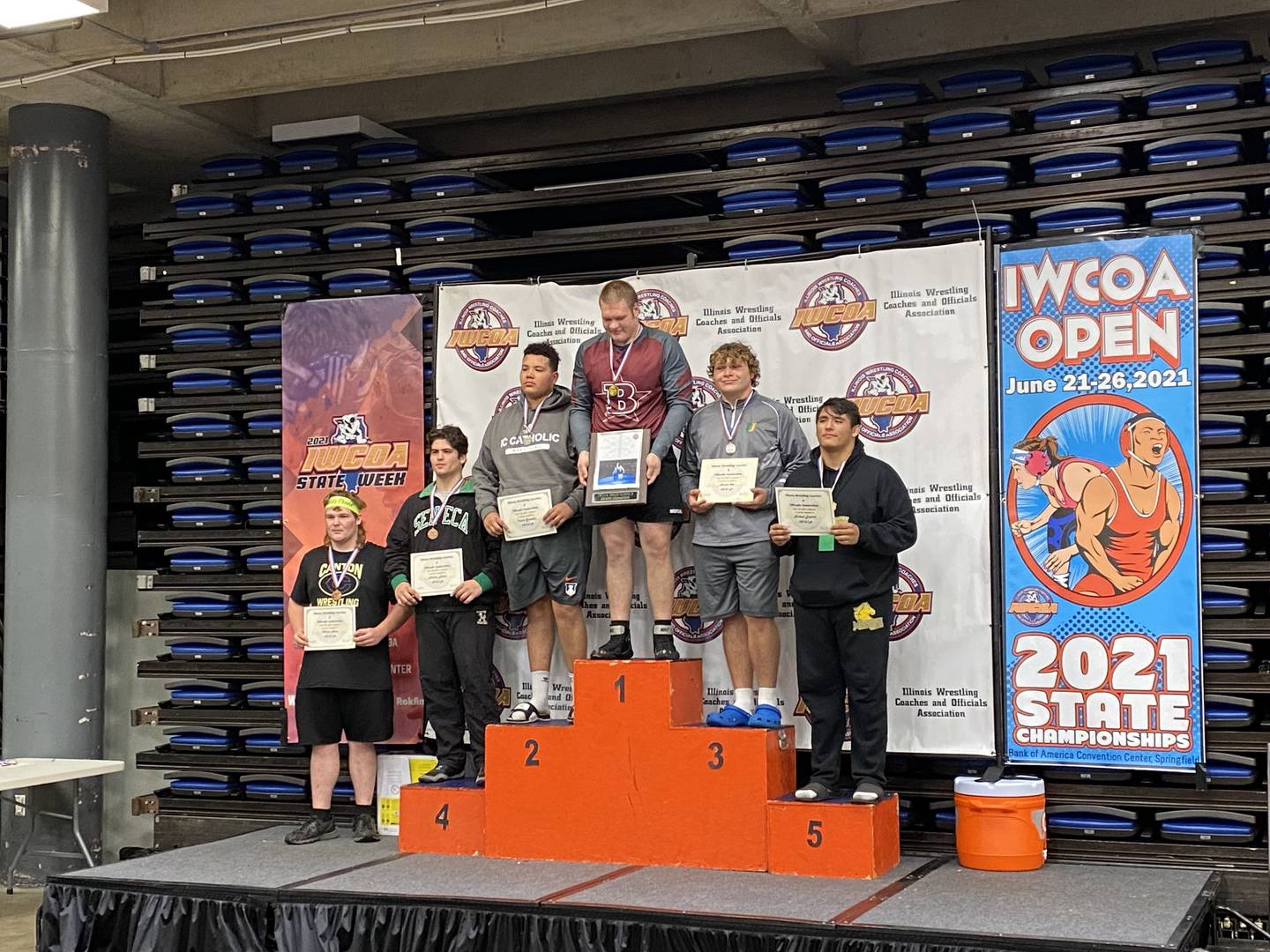 Feiner, who finished fifth at 126, lost his opening bout to DePaul College Prep's Mikekal McClarin 10-3 but rebounded to win three consecutive bouts over Tremont's Mason Mark (pinfall, 4:53), Sandwich junior Evan Reilly (13-7), and Dakota's Jason Bowers (pinfall, 3:52). He then dropped a 3-0 decision to Camp Point Central's Zach Foote before topping Auburn's Dresden Grimm 8-2 in the fifth-place bout.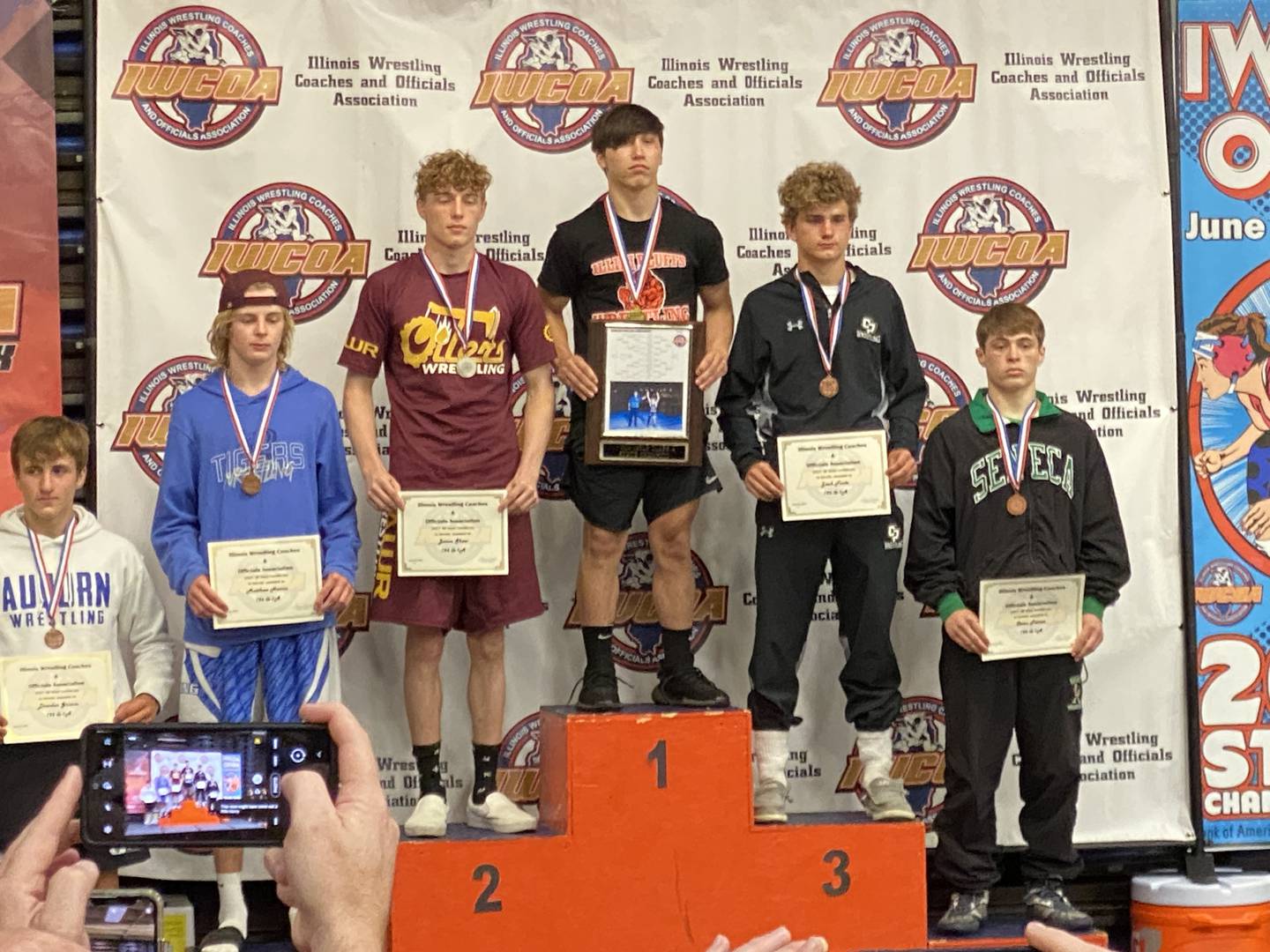 Fellow Fighting Irish senior Gavin Robertson lost his opening bout at 182 to Manteno's Collin Zeppi 8-3, defeated Macomb's Ethan Ladd by pinfall in 3:23, and fell 3-1 to Warrensburg-Latham's Joey Fiore.
Reilly split his opening two bouts, pinning Peotone's Santino Izzi in 18 seconds and losing to eventual champion Paul Ishikawa of Illini Bluffs in a 7-5 sudden victory before falling to Feiner.
Somonauk junior Shea Reisel lost a close 4-3 decision to Canton's Hunter Robbins in her opening bout at 106 before falling via pinfall in 4:53 to Litchfield's Alex Powell.
—
Streator has 18 spring athletes selected to Illinois Central Eight All-Conference teams
The Illinois Central Eight Conference recently released its all-conference teams for spring sports and 18 Bulldogs earned honors.
Boys track and field: Kody Danko (800-meter run, 1600 and 3200), and Cade Stevens (long jump)
Girls track and field: Lily Kupec (800), Abby Seaton (1600 and 3200), Abby Pierce (110 hurdles and 300 hurdles), Lana Krohe (shot put, discus), Madi Mertes (discus), Cassie Simmons (long jump), and Marissa Vickers (triple jump).
Girls soccer: Anna McMullen and Lydia Huey.
Softball: Jaelyn Blakemore, Faith Clift, and Jayden Hansen.
Baseball: Payton Benning, Sean McGurk, Mason Telford, and Logan Williamson
—
Ottawa's Grason Johnson wins the 126-pound title at IWCOA freshman/sophomore state finals
Ottawa freshman Grason Johnson captured six straight wins to capture the 126-pound championship of the Illinois Wrestling Coaches and Officials Association freshman/sophomore state finals on Wednesday.
Johnson picked up victories over Geneseo's Landen Gunnison (9-2), Taylorville's Aiden Seiler (pinfall, :36), Cahokia's Demarius McGrill (pinfall, 1:53), Warren Township's Zachary Piszkiewicz (major decision, 10-1) in the quarterfinals, Belleville East's Warren Zeisset (6-4) in the semifinals, and McHenry's Pedro Jimenez (10-7) in the championship bout.
Also at the event, a trio of Seneca underclass wrestlers — Nate Othon (4) at 126, Collin Wright (1) at 145, and Chris Peura (3) at 170 — earned wins.