BARTLETT – Bobby Durkin made two minor mistakes March 1.
He spent a bit too long in the postgame locker room and he missed his first shot of the game.
After playing three seasons at Hinsdale South, Durkin transferred to Glenbard West for his final year.
So far, Durkin's one-and-done season has been a smashing success.
[ Photos: Glenbard West vs. Naperville North, Class 4A Bartlett Sectional semifinal ]
As they pile up impressive victory after impressive victory, the Hilltoppers' bandwagon has been adding new members on a daily basis.
In a season full of blowouts, No. 1-ranked Glenbard West added another impressive performance, scoring 29 points in the first half to cruise to a 59-30 win over 12th-seeded Naperville North in the Class 4A Bartlett Sectional semifinal.
The Hilltoppers (33-1) advance to Friday's 7 p.m. sectional title game against the winner of Wednesday's Wheaton Warrenville South against Benet game.
Naperville North managed just six points in the first half against Glenbard West, with Zeke Williams, a Northern Illinois football recruit, scoring a team-high 13 points.
Several minutes after the game ended, Durkin and his teammates were surprised when they walked out of the locker room to a big sea of admirers seeking autographs. Durkin was among several players who signed colored pictures of themselves for a young fan, causing even Durkin to smile about seeing his action photo.
"It's definitely a really cool experience," Durkin said, sporting an ear-to-ear smile. "Just seeing so many kids ask for autographs is super cool. I never thought that I would be doing that, but just like every single moment this season, it's all been awesome."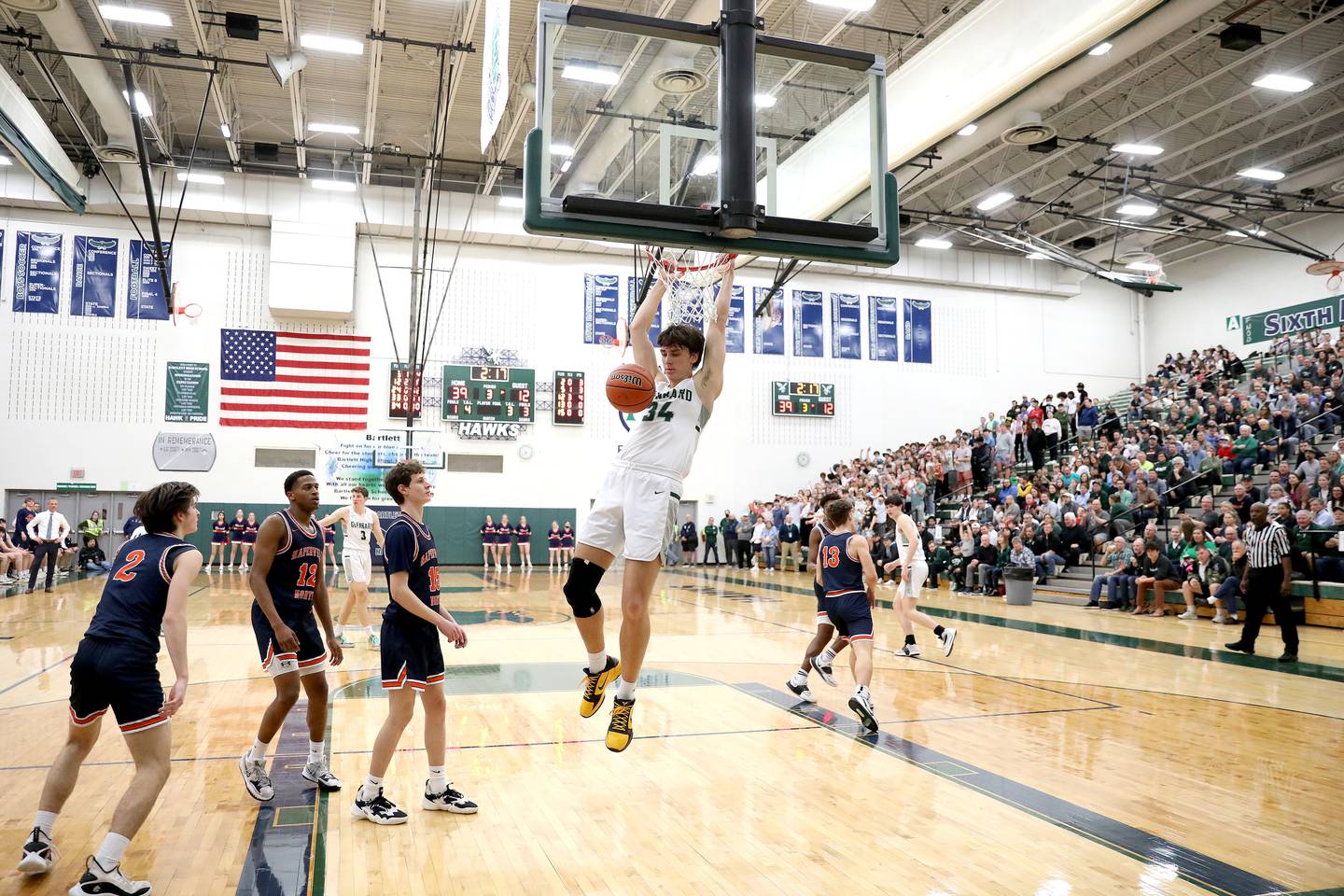 Awesome might be a good way to describe Durkin's first and only season for the Hilltoppers, or to describe the Hilltoppers' 1-3-1 defense or their insane collection of talented, selfless players aiming to win the program's first state championship.
Durkin said it was vastly different from his last sectional experience, when the IHSA canceled Hinsdale South's Class 3A sectional semifinal against Benet on March 12, 2000. Then a sophomore, Durkin watched his older brother, Billy, make national headlines after he sat down at half court, alone in an empty gym, for an extended period of time following the stunning last-minute cancellation.
"We're all definitely grateful for this opportunity, especially after the last two seasons," Durkin said. "We were in a similar position two years ago, getting ready to play in a sectional game but it never happened, so we're all cherishing this moment.
"Two years ago, it was definitely sad not getting a chance to finish out that season because we had big dreams for what we could've done. I knew I would have more opportunities down the road, so that kind of carried me through that time."
The 6-foot-7 Durkin has made a seamless transition to his new team, and kept it rolling March 1, hitting three 3-pointers in the opening minutes to spark the Hilltoppers to an 18-0 lead after the first quarter. He finished with 11 points. Paxton Warden had his customary quiet, but memorable effort with a team-high 26 points. Braden Huff, a Gonzaga recruit, won the award for most autographs signed in the postgame, ending with 14 points along with several highlight-reel two-handed dunks.
Durkin, a one-time Army recruit who remains uncommitted, said he's motivated to play for a state title for his older brother. Billy Durkin, a standout at Hinsdale South for several seasons, is a sophomore guard at Wheaton College.
"Just knowing that he wasn't able to get this experience is definitely motivating me," Durkin said. "It's letting me play for him, and now my family can kind of get that experience they missed two years ago."
Bobby Durkin missed a wide-open 3-pointer in the opening minute against Naperville North, but atoned for his errant shot by drilling his next three 3-pointers to kick-start a deluge of points that overwhelmed the Huskies.
The Hilltoppers pieced together another memorable two-way effort, shocking the Huskies (17-16) with their perimeter shooting, passing and intensity and energy in their 1-3-1 defense.
Forget about scoring points – the key ingredient to beat a highly ranked team – the Huskies gained minor victories simply by getting off clean shots. The Huskies missed all eight of their first-quarter attempts and shot 2 for 18 in the first half and committed nine turnovers.
Glenbard West coach Jason Opoka said Durkin was the final piece of the puzzle that helped lift the Hilltoppers to unprecedented heights.
"Bobby is so skilled," Opoka said. "When he gets going early, we just continue to play with confidence. Bobby is type of kid who is a gym rat. He loves being a part of something special. That's one of the reasons he fits like a glove, so unselfish and skilled and fills that role in our 1-3-1 defense and as a perimeter shooter."