MORRIS – The weather played a big part in Wednesday's Morris Early Bird Invitational cross country race. The meet was moved back an hour because of the predicted heat index, and by the end, the junior varsity racers were competing more against the oncoming thunderstorms than against the clock.
Overall, though, the weather did not seem to bother the Morris varsity girls team, which finished first out of nine full teams.
Morris junior Joy Dudley led the way for the home team, taking first place individually with a time of 20:18.6 on the course she knows best.
"I have run on this course a lot, and I know where I can make a push," Dudley said. "I made my move when we went into the woods. It's shorter in there than people think, and it's shaded and cooler, so you can make a spurt in there.
"I was a little nervous before the race because this was the first big race like this in over a year. Once I got to the starting line, my head cleared and I was able to focus."
The first 25 runners in the varsity girls and boys races received a medal, and all five of Morris' scoring runners in the girls race medaled.
Following Dudley for Morris were freshmen Jadyn Bertram (fifth, 21:09.3), Makensi Martin (sixth, 21:10.9) and Danica Martin (11th, 21:50.5), as well as junior Moriah Mayberry (20th, 23:19.4).
"We have four freshmen coming in from the middle schools, and they are real good," Dudley said. "They push me pretty hard in practice, and that makes us all better. The more experience they get, the better the team is going to be."
Seneca finished third in the girls race with 84 points. Junior Ashley Alsvig led the Lady Irish by finishing second in 20:28.3. She was followed by freshman Evelyn O'Connor (third, 20:40.2), senior Audrey Jenkins (14th, 22:16.6), sophomore Gracie Steffes (26th, 24:38.1) and senior Kaitlyn Ehrler (39th, 28:11.6).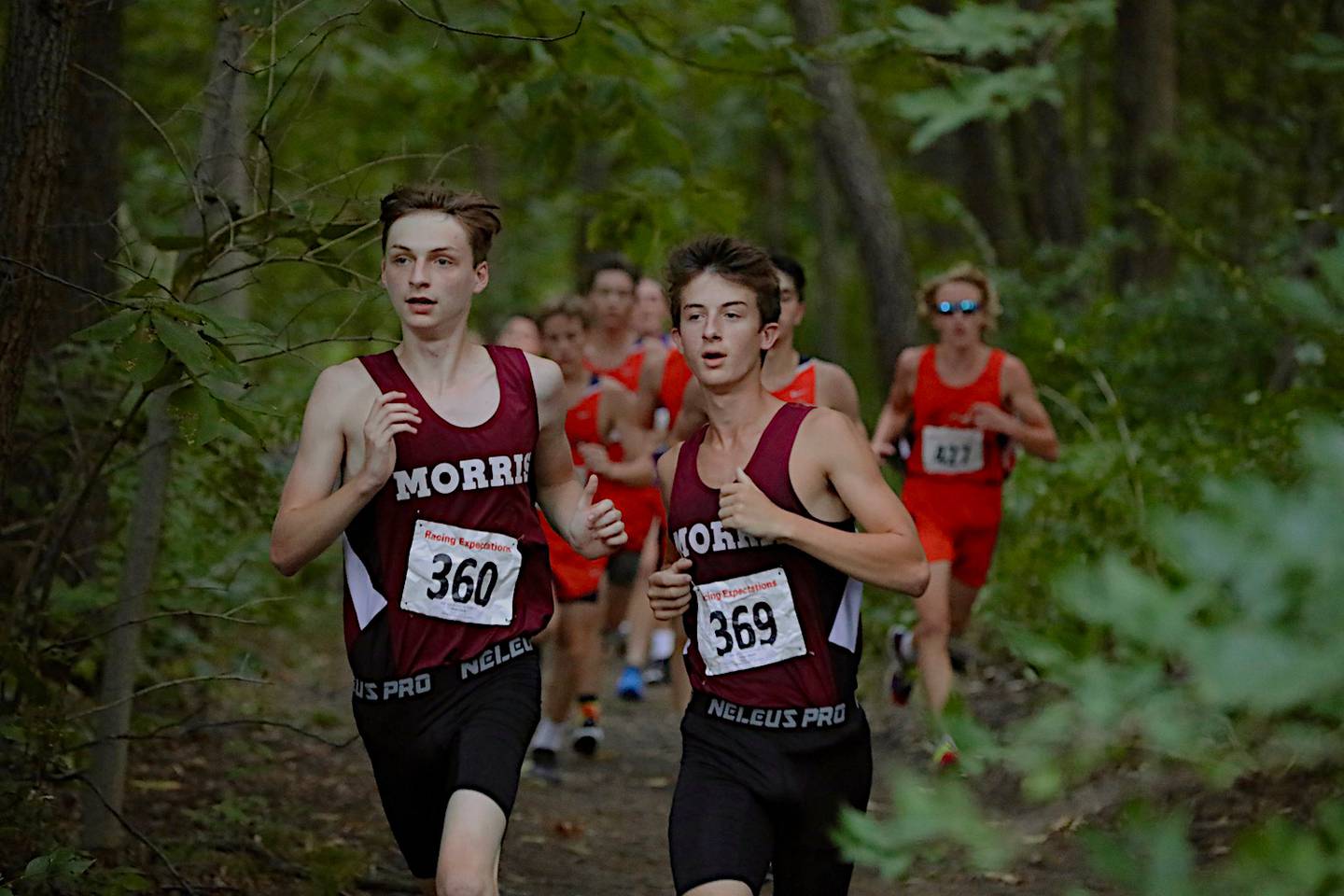 In the boys race, Seneca finished fourth with a total of 107 points, while Morris was sixth with 111. Aurora Central Catholic took the top spot with 59 points.
For Morris, the top runner was junior Kaden Welch, who finished third in 17:03.7. Senior Matt Clark (fifth, 17:27.9) was next for Morris, followed by junior Evan Ramos (30th, 21:00.9), junior Noah Smith (32nd, 21:16.3) and senior Ethan Morrissy (41st, 22:32.0).
Sophomore Austin Aldridge led Seneca by finishing sixth with a time of 17:39. He was followed by junior Chris Poyner (14th, 18:34.3), senior Brady Danek (15th, 18:49.9), junior Calvin Maierhofer (25th, 19:48.5) and sophomore Drew Danek (47th, 24:04).
"Our athletes did a great job of staying positive despite the adversity," Morris coach Joe Blumberg said. "They competed and ran hard tonight."