MORRIS – The five games that the Morris football team played in the spring were enough to give quarterback Zach Romak a taste of varsity football. Romak threw for 917 yards and 13 touchdowns in those five games.
Now, the senior is ready to take another step.
"Last year was enough to get a feel for varsity football," Romak said Tuesday after the Redskins took on Wilmington in a 7-on-7 matchup. "The workouts have been great this summer so far. We have great voices in the weight room, and we're hungry to get started."
During Tuesday's contest, Morris was able to use its team speed and depth to its advantage on both offense and defense. Several players made big plays on both sides of the ball, but Romak knows that the drills are worth more than just the results on a given day.
"The 7 on 7s really help with the timing between me and the receivers," he said. "We have put in a lot of work so far this summer, and we keep getting better.
"There is a lot of quickness on this team, and we don't lose a lot if someone has to come in and give someone a rest. That's one thing that is good about this team. We have enough good players that we can bring guys in and out and always have fresh legs on the field on both offense and defense."
During the competition, senior Cameron Hatcher stood out on both sides of the ball as a receiver and a defensive back, while sophomore A.J. Zweeres was constantly around the ball on defense. They weren't alone, as receivers Myles Johnston and Henry Hansen had big days on offense, and defensive backs Niko Howard, Dmitri Lindemuth and Broc Grogan and linebackers Sam Reddinger and Jorge Loza were active on the defensive side.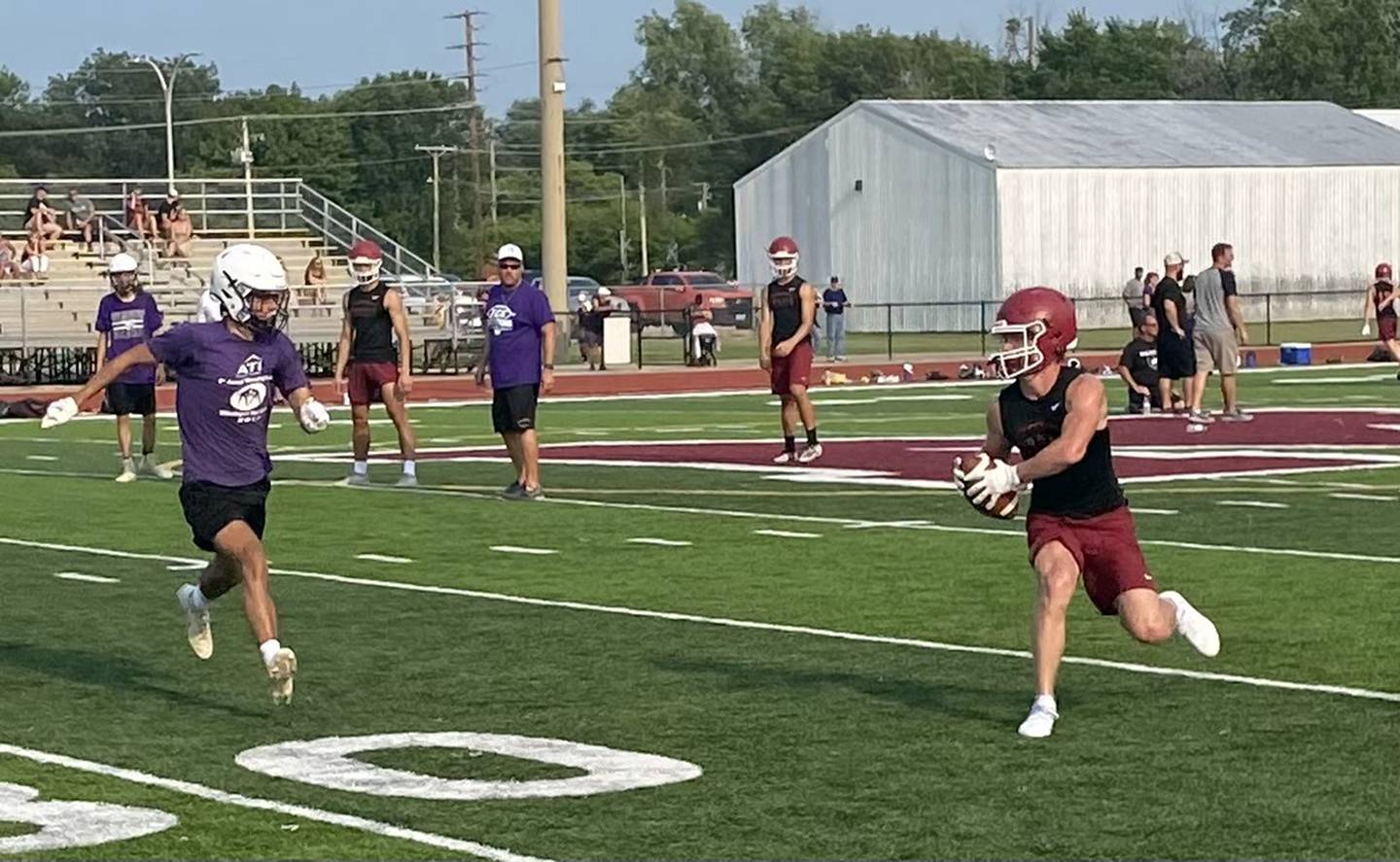 "This year, speedwise, I think we compare to any team we have had," Morris coach Alan Thorson said. "We have a lot of depth at the skill positions and the guys are pushing each other for playing time. That's a good problem to have.
"We like to have [Wilmington coach and Morris graduate] Jeff [Reents] come over. They are a great staff and their teams are always well coached. Playing agains them gives us a different look because we don't see a lot of teams that run the double-wing offense like they do."