GRAYSLAKE – The Blue Moon Gallery announces "It's Not All Black and White," its fourth annual juried exhibition opening March 25 with an artists reception from 6 to 9 p.m.
This year's juried exhibition aims to visually explore not only how black and white as colors dynamically interact with each other, but also the meaning of the phrase itself – "to not be clearly defined or differentiated, to have room for confusion, ambiguity or discrepancy."
The gallery asked artists to explore whether black or white is the color of infinity. One contains all colors, the other the absences. Without light, what do we see?
Additionally, in between black and white, there are a thousand shades of gray. The gallery encouraged artists to visually represent what this means today and to comment in their works on the need for gray.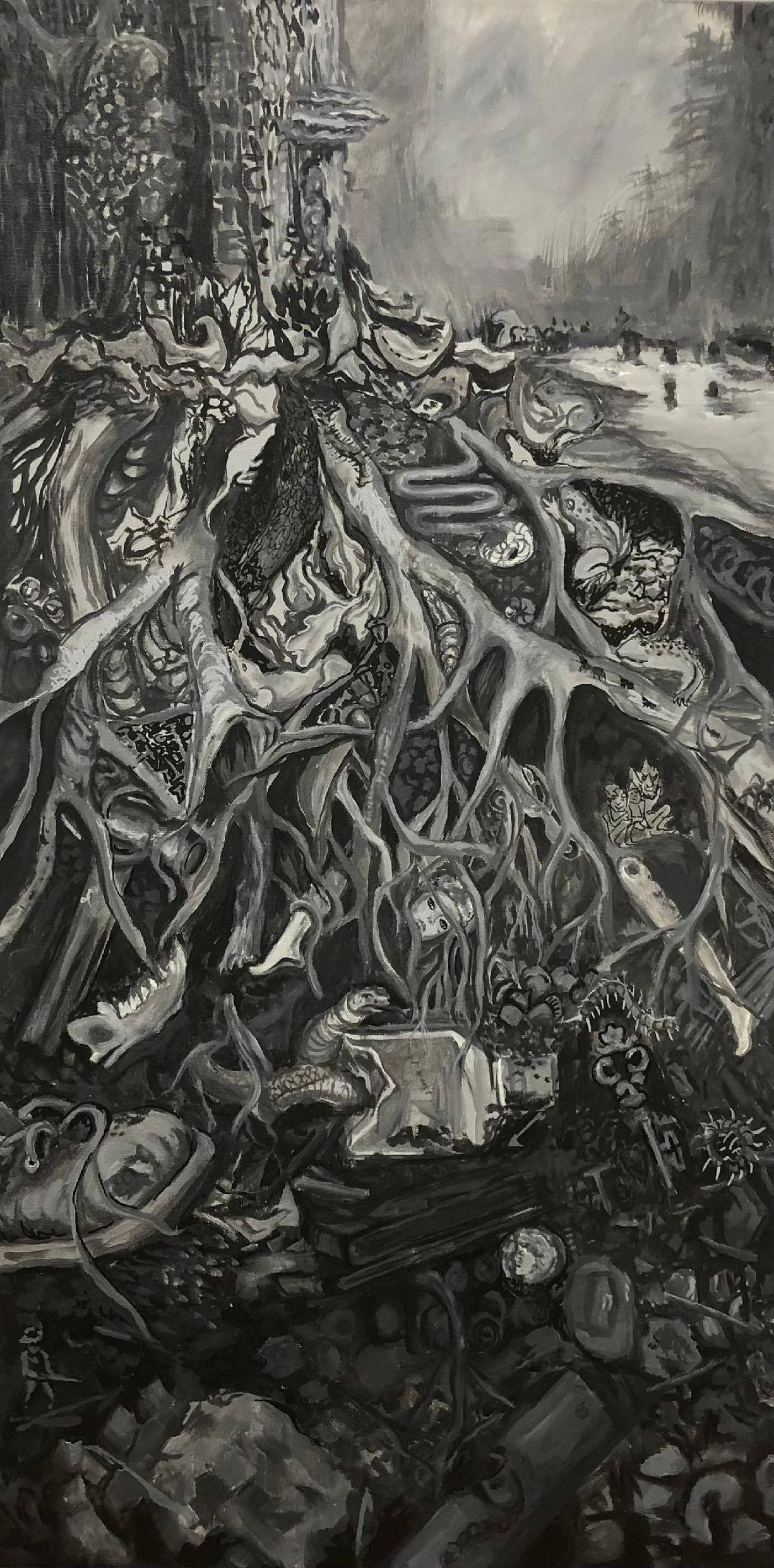 Finally, artists were asked to reflect on the many social connotations of black and white as colors.
More than 80 pieces of art were submitted to the gallery's guest juror for consideration for this unusual show. The competition was strong. After the jurying process was complete, 41 pieces representing 37 artists and 18 artistic mediums were selected. Topics covered in the selected pieces include environmentalism, mental health and well-being, sexual orientation, civil rights, immigration, relationships and empowerment.
Mimi Peterson, this year's guest juror, is a practicing multidisciplinary artist, essayist, poet, curator and advocate for the arts and humanities. She earned her bachelor's degree from the University of Illinois and studied art history, language and culture and painting at the University of Mexico and the University of Madrid. She earned her master's degree in art education from The School of the Art Institute of Chicago. Peterson is the co-founder and creative director of Vital Art Project, based in Racine, Wisconsin, which focuses on community collaboration to create public art projects.
Mediums represented in the show include watercolor, gouache, oil, acrylic, plaster, ink, photography, encaustic, embroidery, woodblock prints, wood, graphite, charcoal, pastel and more. Each piece of artwork is accompanied by an artist statement indicating the work's connection to the show's theme and the colors black and white.
Participating artists are Leslie Armstrong, Kristin Ashley, Sandie Bacon, David Belle, Matt Bellefeuille, Marcia Biasiello, Carole Burval, Jan Elbert, Kathleen Gallo, Jeanne Garrett, Scott Glass, Allison Hausladen, Heather Havlicek, Missy Isely-Poltrock, Joshua Johnson, Shawn Killackey, Ginny Krueger, Cindy Lesperance, Terry Luc, Beth McKenna, George Miller, Kristen Neveu, Laura O'Connor, Clarese Ornstein, Carly Palmer, Regina Roland, Les Scott, Susan Schneider, Roger Shule, Kat Kooi Strack, Ashi Tara, Mindy Tiberi, Sue Turayhi, Kate Uttich, William Weidner, Jeff Wozniak and Debra Zare.
The March 25 artists reception is free and open to the public. The gallery, which is located at 18620 Belvidere Road in Grayslake, also will be open from 1 to 4 p.m. March 26.
For information, call 224-388-7948 or visit http://www.thebluemoongallery.com The gallery is open weekends from 1 to 4 p.m. Parking is free. "It's Not All Black and White" is on view through April 16.