LIBERTYVILLE – Kim and Dan Schlicksup decided during the pandemic to pursue what they love.
"Great food. Cooking with friends and family. Nice things for the kit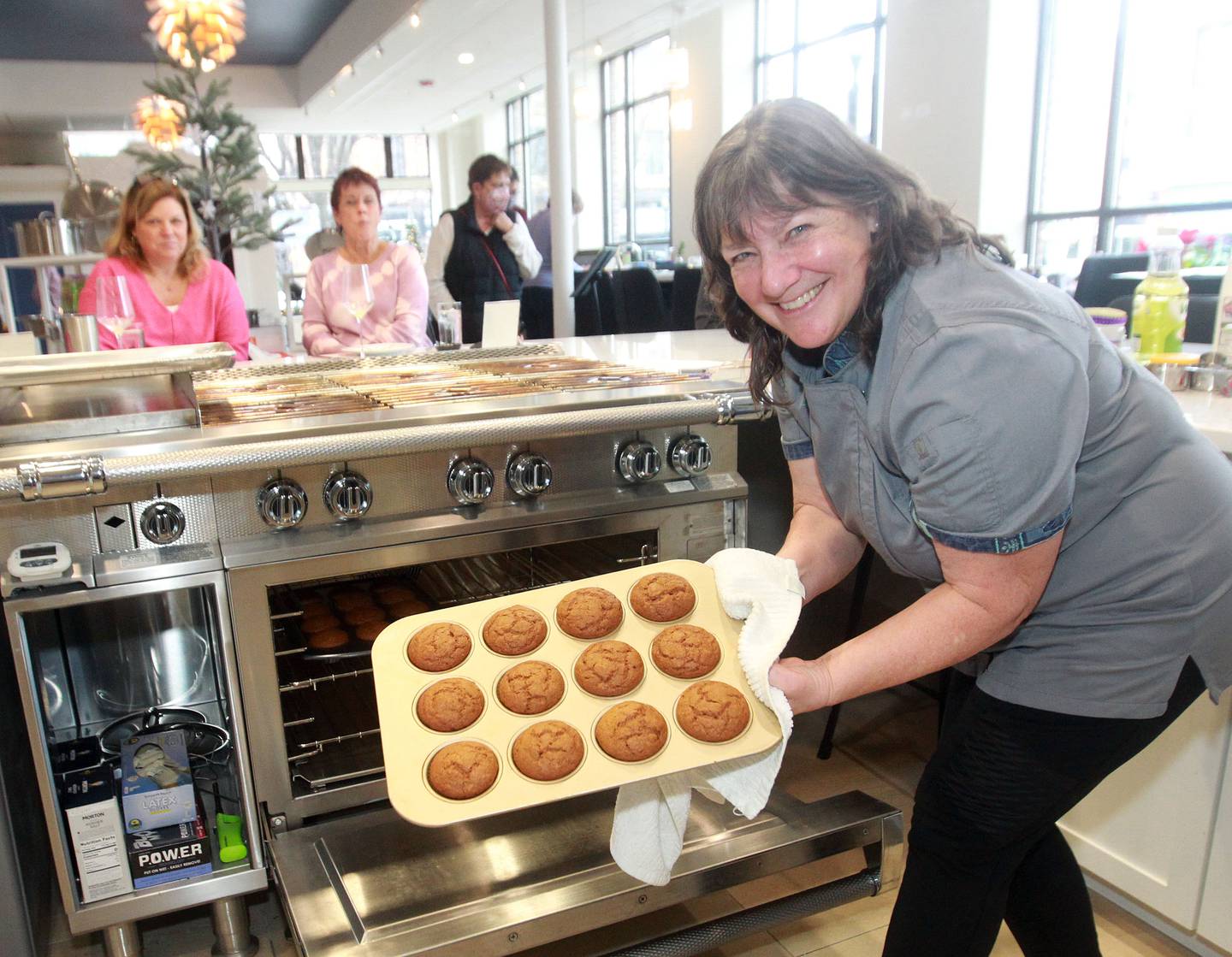 chen. Yeah, and a little wine."
All come together in The Joyful Gourmet. The couple's new business opened in early December in a space formerly occupied by a Starbucks in downtown Libertyville.
"We love to entertain and bring people together through food," Kim Schlicksup said. "It's just a way for people to feel loved."
The Joyful Gourmet combines kitchen retail with a wine bar and a demonstration kitchen, where cooking classes and events take place. All classes are hosted by chefs brought in by the Schlicksups.
Events have included a recent "Breakfast Baking Special" hosted by celebrity chef Gale Gand of Food Network's "Sweet Dreams," as well as a regular "Pasta Night" and other cooking classes.
Some of the class titles are "Whole Chicken Demo – Farm to Table Sustainable Meal," "Pork Chop Perfection," "Date Night – Sushi," "Steak Diane," "Hibachi Night!" and "Healthy Cooking – Eating Right Resolutions!"
Gand will return to The Joyful Gourmet on Jan. 27 to host "All About Vanilla!"
Having taken part in Gand's breakfast demo, Amy Kite of Gurnee intends to return for the chef's next event. As someone who loves to cook at home, Kite had heard of the business and visited soon after it opened.
She had never taken a cooking class before and decided to sign up.
"I loved it," she said. "[Gand] gave a lot of helpful tips on just baking things in general. The recipes were all relatively easy, and I think I can make all of them myself. It was very enjoyable."
Patrons are welcome to come to the classes as individuals or groups. The Joyful Gourmet also hosts private events for friends looking for a night out, birthday or anniversary parties or business outings. For information, visit www.thejoyfulgourmet.com.
The business offers "everything you would want or need for the kitchen," Kim Schlicksup said. She aims to offer items that make cooking easier and more efficient so the chef can spend more time enjoying the meal with family and friends.
The whole idea is simply to bring people together and foster a love of food and cooking.
"Come in and get a glass of wine with friends or get a glass of wine and shop," she said.
Kim Schlicksup and her husband came up with the concept for The Joyful Gourmet while on a long drive from Arizona to their Gurnee home. The couple have three children, ages 23, 17 and 13, who all work at the business.
Before the pandemic, Dan Schlicksup had traveled a lot for his corporate job, while Kim was a stay-at-home mom.
"My husband is a phenomenal cook," Kim Schlicksup said. "I am more of a baker. It's just kind of how we've always connected. We'd open a bottle of wine and fix dinner together."
Since opening The Joyful Gourmet, she said, business has been steady, only dying down a bit with the cold weather and some cancellations due to COVID-19 concerns, but "still good."
"Everybody has been very welcoming," she said. "They love the space."
With a lot of open windows, the business draws looks inside from those passing by.
"It's such a great community," Kim Schlicksup said. "We wanted people to be able to see the cooking classes going on when they're walking by. There's a lot of foot traffic in the area. We've always loved downtown Libertyville."