The high school softball season starts this week. Here are previews of teams from around the Record Newspapers coverage area.
Coach: Tim Schofield (fifth season, 96-22-1).
Last season: 31-5-1 overall. 12-0 Little Ten Conference.
Top returning players: Kaitlyn Schofield, sr., P/2B; Taylor Kruser, sr.,, P/SS; Bre Dixon, sr., OF; Peyton Wohead, sr., C/1B; Kodi Rizzo, jr., P/2B/OF; Ryan Williams, jr., SS/3B; Dani Peshia, jr., C/3B/OF; Dorothy Wood, so., P/2B/OF; Gwen Friestad, so., 3B/OF.
Top new players: Tanner Kempiak, so., P/UT; Sadie Pottinger, fr., C/2B/OF.
Worth noting: Newark set a program record for most wins in a season last year and advanced to the Class 1A state finals where it hoisted a fourth-place trophy. The Norsemen return all but two starters and are loaded with talent hoping to get another shot at a coveted state championship. "Last season, our team set the bar high. … and we aren't going to sneak up on anyone and the girls know that they'll have a target on them," coach Schofield said. "They are going to get every team's best effort. I hope we play our season exactly like last year." Newark has the luxury that most teams in Class 1A don't have boasting three very accomplished pitchers. Kaitlyn Schofield will lead the way after recording an 11-2 record in 2022 with 136 strikeouts and a stingy 1.15 earned run average throughout 85 innings thrown. Rizzo (10-3, 74.2 IP, 130 K, 1.6 ERA) and Kruser (9-0, 64.1 IP, 101 K, 1.9 ERA) will be right behind in the vaunted Norsemen circle.
Offensively, Newark last season produced a whopping 320 runs, 316 hits, 37 home runs and a healthy team battling average of .327. Kaitlyn Schofield paced the group with a team-best .433 average, 52 hits, 38 runs batted in, 10 homers and 56 runs scored. Sweet swinging lefty Williams was next in line producing a .429 average with a club-leading 14 doubles, 45 runs tallied while matching Kaitlyn Schofield with 38 RBIs. Peshia added an impressive 38 hits, 37 RBIs along with eight round trippers.
– Bill Lidinsky
Coach: Paul Netzel.
Last season's record: 18-14, 8-8 Southwest Prairie Conference.
Top returning players: Cori Kennedy, sr., C; Aubriella Garza, so., P/IF; Marissa Moffett, jr., OF; Maddy Smith, jr., IF; Zoe Precup, sr., 1B/P; Maddie Hernandez, jr., IF/C.
Other returning players: Kaylee LaChappell, jr., OF; Kiyah Chavez, so., IF/C.
Top new players: Ella Boling, jr., OF; Bella Lisle, so., OF/IF; Rikka Ludvigson, so., C/IF; Rhiana Martinez, so., IF; Jaelyn Anthony, fr., P/IF.
Worth noting: First-year head coach Netzel has a young team with only two seniors returning, but does have six starters back from last year's team. Both pitchers from last year – Garza and Precup – return with Anthony a freshman expected to see a good share of time in the rotation. Garza at the plate hit .429 as a freshman and set the school record for doubles in a season with 16. Jacksonville State commit Kennedy hit .455 and came one single shy of tying the record of 38 in a season. Illinois State recruit Moffett batted .355, Smith .313 and Precup, who will play collegiately at Wisconsin Lutheran, batted .282. Other newcomers will be joining the team from a JV squad that finished 18-10 and a freshman squad that finished 21-10.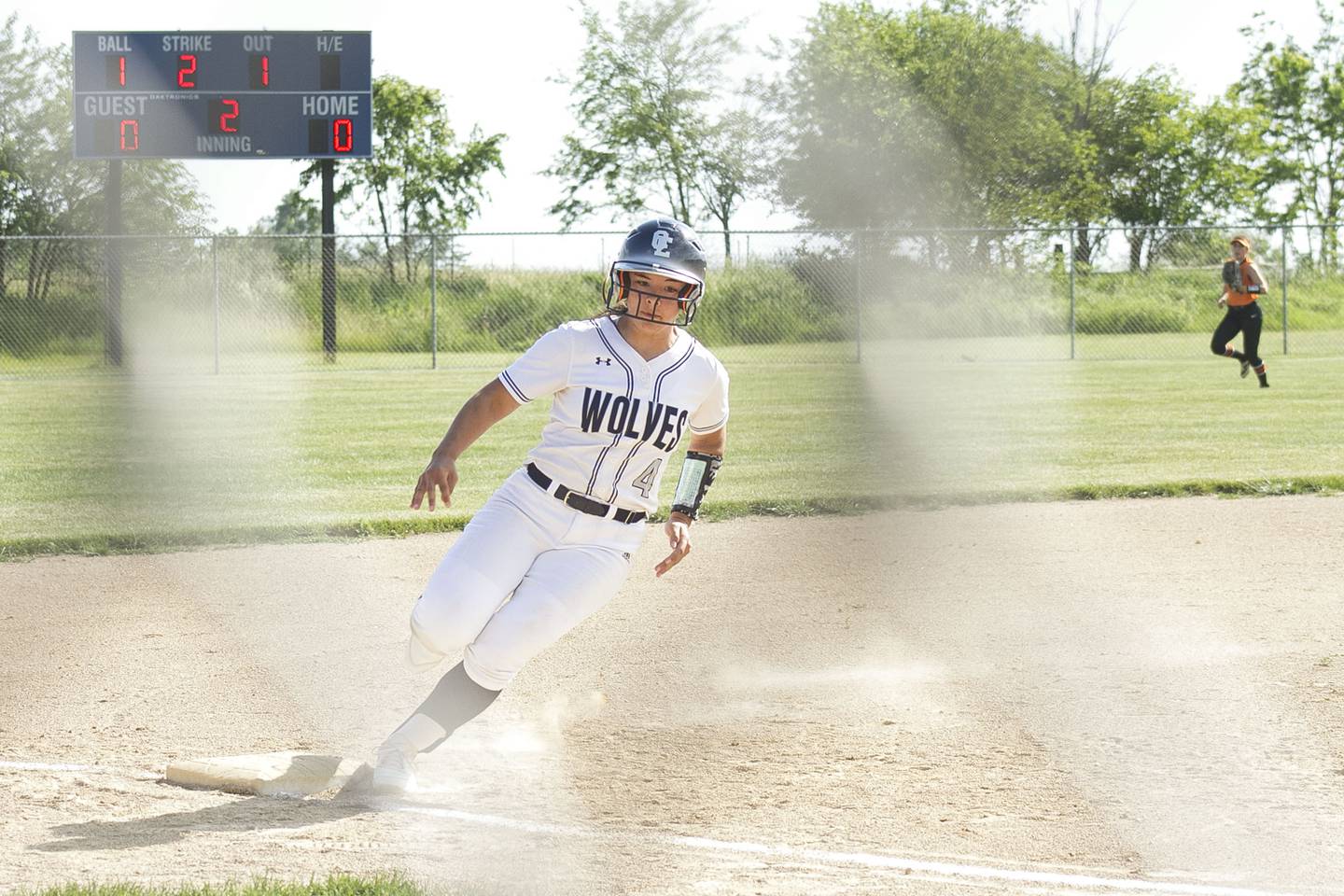 Coach: Sarah Davies (fifth season).
Last season's record: 17-14, 10-7 Southwest Prairie Conference.
Top returning players: Mia Corres, sr., OF; Kenzie Gatz, sr., P/U; May Pasqualini, sr., C/U; Mary Kate Quaid, jr., C/U; Nicole Stone, jr., P/1B; Ronnie Craft, jr., U; Tristin Hyland, jr., P/IF.
Top new players: Finley Anderson, jr., OF/U; Lundin Cornelius, so., OF/U; Jessica Salinas, sr., OF/U.
Worth noting: The Wolves return seven girls from last season, led by the trio of Corres, Gatz and Pasqualini who have been key components to the lineup the last two years. Corres, a third team All-Stater last year and two-time all-conference pick who will play collegiately at Rose State College, batted a team-high .443 as a junior with 10 homers, 33 RBIs, 40 runs scored and 17 stolen bases. St. Mary's commit Gatz broke two school pitching records for single-season WHIP (1.13) and single-season ERA (1.856) last season with 55 strikeouts and will lead a deep pitching staff. She also hit .356 with 32 hits and 20 runs scored last year. Pasqualini, a four-year varsity player, hit .358 as a junior with 34 hits, 27 runs scored and 17 stolen bases. Quaid is looking to receive more opportunities behind the plate after hitting .384 with 22 hits, 11 of them extra bases, 25 runs scored and 21 runs scored last year. Stone posted a 6-2 record last year with 44 strikeouts in 56 innings, and Craft hit .350 with 21 runs scored while Hyland is back in the lineup and the circle after missing last season with an injury.
"We have goals of working to be at the top of our conference and use our pitching depth and strength to get past teams like Yorkville," Davies said.
Coach: Dwayne Love.
Last season: 4-30.
Top returning players: Maddie Cesario, sr., 2B/1B/OF; Maddy Leftridge, sr., CF; Alex Bishop, sr., IF/OF; Alyssa Dubinski, jr., P; Lindsey Cocks, so., SS/C.
Top new players: Taylor Downs, so., 3B/SS/OF; Bri Clark, so., C/3B; Annabelle Solis, fr., C/IF; Gizelle Baltierrez, fr., P/1B.
Worth noting: The Reapers are coming off a challenging season in which Love said they learned how to handle adversity, stay strong and reach personal goals. Leading the returning players is Cocks, who hit .385 with 30 hits last season. Cesario, who hit .229, is committed to Waubonsee Community College. Leftridge hit .234. Baltierrez should provide pitching depth behind Dubinski. Dwayne Love also is excited to bring in Anna Love as an assistant coach with him and Jamie Coit.
"Reapers are excited for the upcoming season," Love said. "The girls are meshing well. The players are willing to learn and step out of their comfort zones. Everyone is working hard. We are looking to be aggressive and competitive. The girls are eager and ready to play."
Coach: Mattie McGuire (eighth season).
Last season: 9-15 overall, 3-11 Interstate Eight Conference.
Top returning players: Alexis Sexton, sr., CF; Breanna Sexton, sr., SS; Lily Geltz, sr., 1B; Allison Olson, sr., C; Aubrey Cyr, so., P; Hailey Hoffman, sr., P.
Top new players: Peyton Dudzik, jr., P; Johanna Freeman, jr., P; Alexis Sinetos, jr., P; Brooklyn Marks, so., P.
Worth noting: The Sexton twins were offensive standouts last season. Alexis batted .412, compiled an on base percentage of .472 and struck out only five times batting leadoff. Breanna Sexton followed closely with a .370 average and a .452 OBP. Olson figures to be the Indians' main power hitter, McGuire said, after she hit .338 last year. Transfer Marks will be one to watch in the circle. "We are so excited for this upcoming season because we have six seniors leaders who have been on varsity since the shortened 2021 season," McGuire said. "We are also excited to see what new talent we have in our junior class that's stepping up to varsity competition taking over spots that were lost to graduation."
– Bill Lidinsky
Coach: Jory Regnier
Last season's record: 28-6, won Southwest Prairie Conference, regional champions.
Top returning players: Madi Reeves, sr., P; Sara Ebner, sr., C/IF; Kaitlyn Roberts, sr., OF; Sam Davidowski, sr., OF; Katlyn Schraeder, sr., C/OF; Abby Pool, sr., IF; Ally Stancel, sr., U; Julia Hupp, sr., P; Jensen Krantz, jr., 1B; MaKenzie Sweeney, sr., IF.
Worth noting: Two-time Record Newspapers Player of the Year Reeves leads a large group of returners from a 28-win conference and regional champion. Reeves, committed to Miami (Ohio), posted an 18-4 record as a junior with a 1.38 ERA and 249 strikeouts and is one of the state's top pitchers. Ebner and Roberts anchor the lineup. Ebner, a Wisconsin-Green Bay commit, hit .365 last year with six homers, 32 RBIs and 21 runs scored. Roberts, who will play collegiately at Wisconsin-Stevens Point, hit .412 with a .491 on-base percentage, two homers, 34 runs scored and 19 RBIs. Benedictine commit Davidowski hit .346 with 11 RBIs and 23 runs scored, and Millikin recruit Schrader scored 14 runs and drove in 18. Sweeney hit .346 in her first varsity season with 10 runs scored and five RBIs, Pool hit .259 with eight runs scored and 10 RBIs, and Hupp hit .333.
"As the varsity team returns almost its entire roster in either a starting or major contributor capacity, expectations are high, but the Foxes know there is nothing more important than the work they put in," Regnier said. "Yorkville is hoping to put it all together to surpass the success this group has already enjoyed."
Yorkville Christian
Coach: Tracey Stoneberg (second season).
Last season's record: 6-5, second place in regionals.
Top returning players: Kaelia Fox, jr., C/3B; Grace Allgood, so., P/SS; Autumn Konzcal, jr., OF; Ali Gajewski, so., U; Emma Reinke, so., OF.
Top new players: Sydney Baze, jr., IF/OF; Bridget Hooper, fr., P/1B; Emma Schleining, fr., P/2B/SS.
Worth noting: Yorkville Christian's softball program enters its second season. Allgood last season tossed a 15-strikeout perfect game, two no-hitters and one other shutout, struck out 114 and hit .500 at the plate. Allgood again will be the Mustangs' ace and will lead the team with battery mate Fox, who hit .423 as a sophomore. Gajewski, who hit .375 as a freshman, Reinke and Konzcal were huge in Yorkville Christian's success last season and Stoneberg is excited to see how their continued development impacts the team.
Yorkville Christian graduated one senior, Felicity Allgood, but Hooper is a strong addition to the lineup not only as a power hitter but bringing depth to the pitching circle. Schleining will also see time as pitcher and brings versatility to the lineup as a switch hitter who puts the ball in play. Baez, back in the game after two years off, is expected to be penciled in the top five in the order. The Mustangs' roster is small again, with 11 girls out.
"With a smaller roster, flexibility is a word our team is coming to know well as several players are having to adapt to playing other positions than they are used to depending on which pitcher is on the mound," Stoneberg said. "We have a few who have never played before so trying to catch them up to speed is a challenge."