HINSDALE – Emerson Eck and his Hinsdale Central teammates lined up as they were handed red, black and white ski caps given to the tournament champions.
Others quickly donned them, but Eck held onto his.
No matter. The way the Hinsdale Central senior was shooting Dec. 29, he had no need for an accessory to stay warm.
Eck hit his first four 3-point attempts and made five of the Red Devils' seven shots from beyond the arc. That hot shooting and his team's collective toughness were the difference as the hosts beat Oswego East 54-41 to win their Hinsdale Central Holiday Classic for the first time.
Eck made only two of his 15 3-point attempts over Hinsdale Central's first three games of the week. But it was a distant memory the way he was cooking Dec. 29 in his home gym, scoring a game-high 16 points.
"Last couple games, I hadn't been shooting that great, but [assistant] coach [Jeff] Powers gave me all the confidence that I needed and it really paid off today," said Eck, who shot 5 of 7 from long distance. "This here, it means everything. Last year, we came in third and that was our highest finish before this. We felt we had a chance to win it."
Hinsdale Central (12-3), playing in its championship game for the first time, led all the way after Eck's first 3-pointer gave the Red Devils a 7-6 lead with 3:14 left in the first quarter and started a 9-0 run. Hinsdale Central led by as many as 16 in avenging a 10-point loss to Oswego East in November. The Red Devils held Oswego East, last year's tournament runner-up, to 36.7% shooting and outrebounded the visitors 34-23.
"I thought we played so much tougher and so much stronger," Eck said. "We are a lot better team than the first time we played them."
And the Red Devils did it despite a relatively modest night from their star, Michigan baseball recruit Ben Oosterbaan.
Oosterbaan, named the tournament MVP, scored a combined 74 points in the tournament's first three games. The tournament MVP award was renamed this year in memory of the late former St. Charles East standout Justin Hardy.
Oosterbaan scored only 11 points on six shot attempts against Oswego East, seven of the points coming in the first half including a fallaway 3-pointer that got Hinsdale Central off to an 18-8 run. Oosterbaan sat the last half of the second quarter with two fouls, but even without him the Red Devils extended the lead to 28-12 at one point.
"My teammates are so good. Everybody on this team has so much talent," said Oosterbaan, who fouled out with just over three minutes left and the game well in hand. "Anybody can have an off night. They'll pick each other up."
Eck, for one, was glad to do it.
"Ben was the best player in this tournament," Eck said. "When he was in foul trouble, all the other guys on this team just had to pick him up."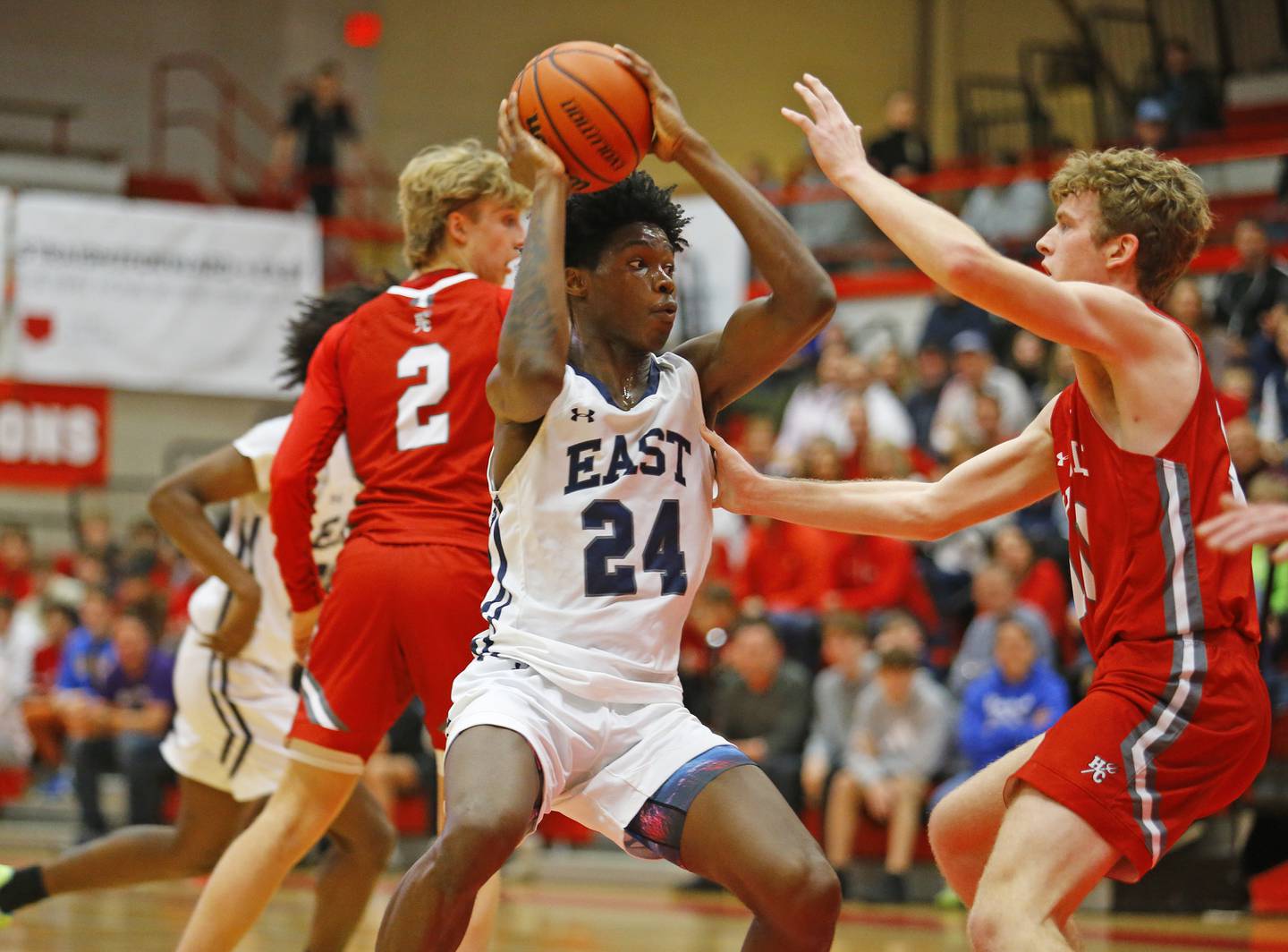 Towson recruit Mekhi Lowery had 14 points, nine rebounds and four assists, and Jehvion Starwood had eight points for Oswego East (13-3).
The top-seeded Wolves rallied from behind to win their first-round game against Lincoln-Way Central, but looked out of sync from the start against Hinsdale Central. Oswego East had two layups roll out in the first half and airballed a 3-point attempt. Lowery had a strong start with a power move at the rim and dunk in transition in the game's first minutes. But it was short-lived.
"We just weren't hitting our shots and they are at home. When they got that momentum, it was hard for us to get it back," Lowery said. "That's not an excuse. We weren't hitting shots, we weren't in those gaps, we didn't play our game. We fought hard, but we didn't play our game all the way through."
While Hinsdale Central was cooking from distance, going 7 of 12, Oswego East was in a deep chill most of the night. The Wolves were only 1 for 13 from 3-point range and 4 for 10 on free throws.
"I'm not sure what it was," Lowery said. "We always emphasize coming out with a punch. Today, we just didn't do it."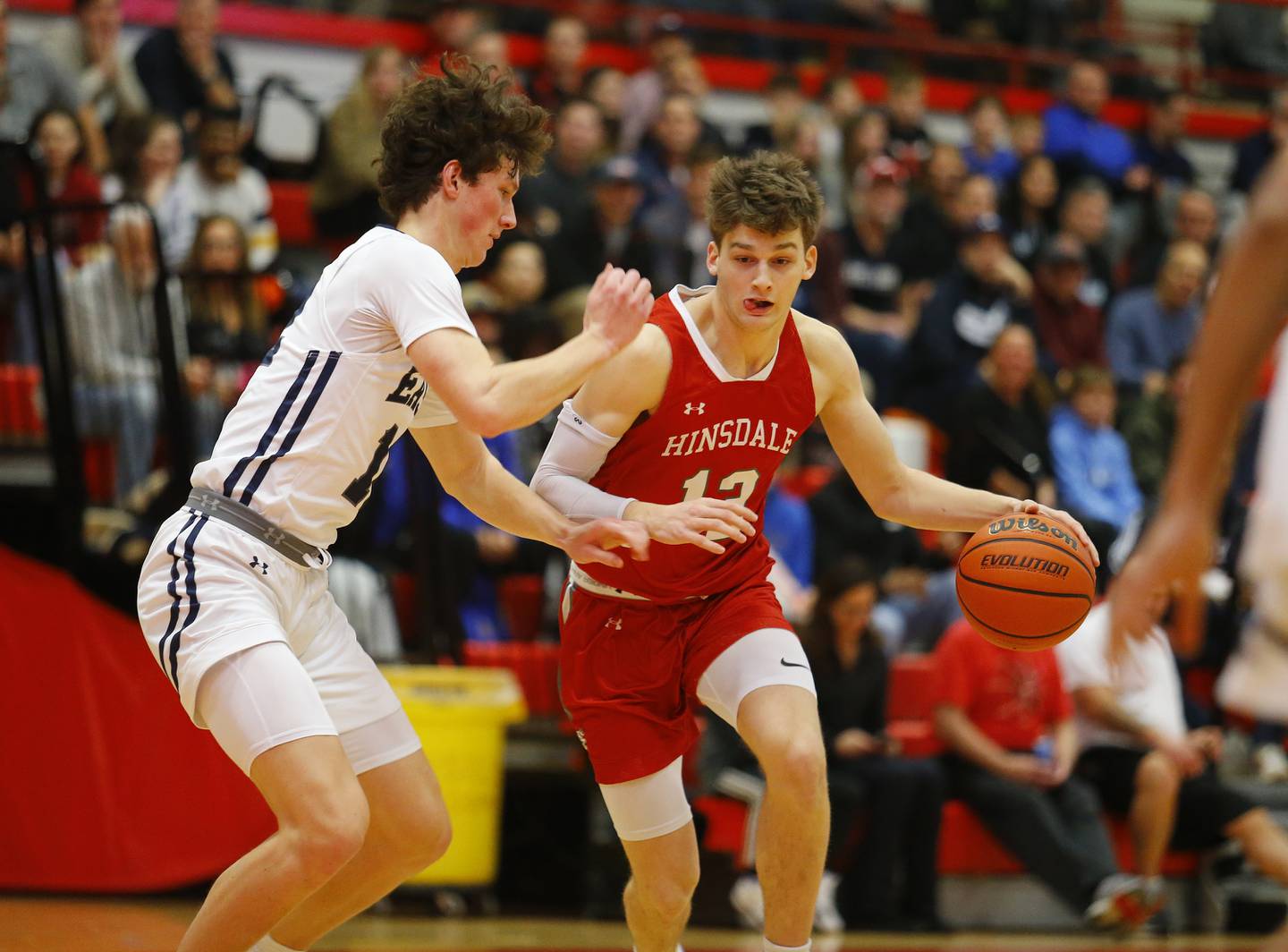 Oswego East scored the last six points of the first half for new life, trailing 28-18. Tyler Jasek's shot coming out of halftime made it an eight-point game. But Eck answered with a corner 3, and Evan Phillips, who scored nine points, hit one when the Wolves again closed to within eight.
Billy Cernugel added 11 points and seven rebounds and Chase Collignon had eight rebounds for Hinsdale Central.
"It means so much to win this," Oosterbaan said. "Watching this tournament, growing up in this town, I went to all the games with all these great teams here. It means a lot to put our names up there along with them."