The season is still young – but Sandwich is well on its way to quite a turnaround.
The Indians, coming off a 1-29 finish last season, have won five games in a row and improved to 5-2 with Tuesday's 49-33 win over Morris.
It is no secret where Sandwich's success has started. The Indians' defense has allowed just 35.4 points per game during the five-game stretch.
"I think we're starting to buy into my way of Sandwich culture. That is defense," third-year Sandwich coach Kevin Kozan said. "We are really getting down and guarding. We struggle on offense sometimes – what team in high school doesn't – but we are getting down and guarding. We are taking the scouting and locking in and the guys really want to win. That Sycamore game, we were flying around, diving on loose balls and that is the way we have to win. It's fun. It's early, we still have a lot of work to do, but we're getting there."
Kozan's goal is to hold opponents to fewer than 41 points.
How does Sandwich do it? Kozan said it starts by forcing contested three-pointers, especially important in today's basketball game.
"A lost art is that one-two dribble pull up. Now it's all layups and threes," Kozan said. "We want to take away all layups. We're happy giving up contested threes and making teams one shot and done, slow the tempo and play at our tempo."
Kozan said he noticed the seeds of Sandwich's success during the summer. He brought the Indians up to the Ridgewood Shootout, where they beat Grayslake North in the first game and lost to Proviso West by just five points.
"We beat a couple 4A teams, we were beating some bigger schools and it kickstarted to now," Kozan said. "We realized we can play with these guys if we can do it our way."
Sandwich starts four seniors and a junior, with the first two off the bench 6-foot-5 sophomore twins Quinn and Dominic Rome.
"They're coming into their own, still only 14 years old," Kozan said.
Junior guard Chance Lange and senior Evan Gottlieb are leading the way, Gottlieb with 30 Tuesday.
"What's great about Chance is he's a shotmaker. Every team needs one of those guys," Kozan said. "He plays hard, takes care of the ball and is a great leader. Evan was averaging 16 points over three games, I think 3-4 assists and playing better defensively, taking charges. They have all learned from last year. Last year was rough, trust me, it was rough for me too."
That's now behind the Indians. Short-term, the schedule stiffens soon with Kaneland up next. Long-term, Kozan has his kids thinking Sandwich's first regional title since 1993. He points to the rafters often to remind them of possible history.
"It's the 30th anniversary of the last regional title," Kozan said. "We want to hang a banner in that gym, leave a mark."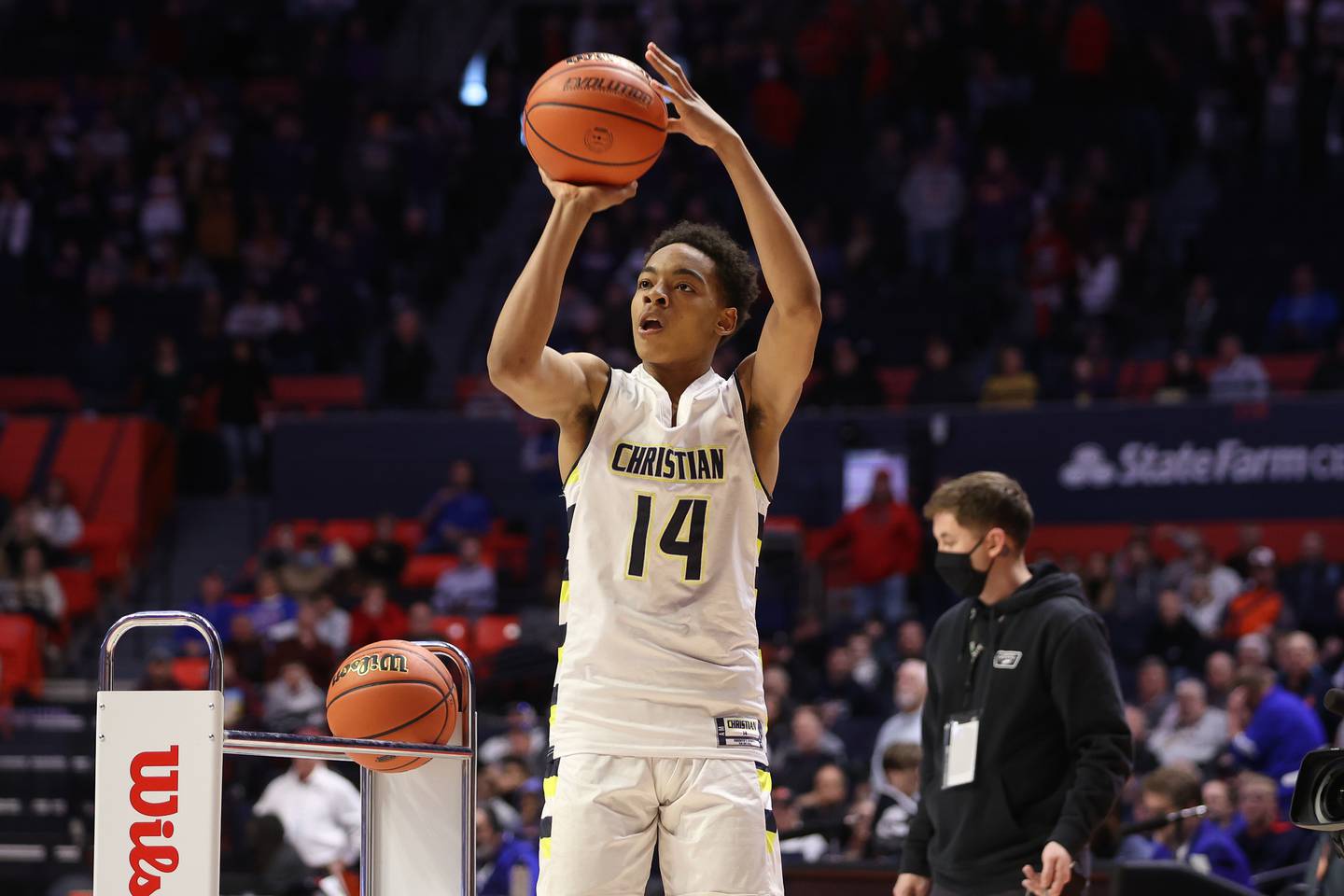 David Douglas' huge week for Yorkville Christian
David Douglas went from the fifth guy on the scouting report for a Yorkville Christian state title team to a kid who is clearly the marked man.
He's embraced it.
The Mustangs' sweet-shooting senior guard put up quite a spectacular two games last week. He scored 37 points in a win over Westmont for Yorkville Christian's first win. Then Douglas matched a school record with 51 points against Lake Forest Academy.
Yorkville Christian coach Aaron Sovern said he was especially impressed with Douglas' showing against Westmont, after the Mustangs started 0-4 against a gauntlet of a slate at Washington's Tournament of Champions.
"We got thrown into the national pool. It was like taking a plastic fork to a gunfight. To have him come out and give the smooth effort he gave pointed our ship in the right direction," Sovern said. "His vocal leadership has developed so much going back to June. He competes like crazy. We've talked about it for 5-6 months, that he was going from the fifth guy on the scouting report to the top guy and he embraced it. He still is learning a new group, who needs the ball where, but that is coming. He does such a good job with the young guys in practice, putting in extra work on the side. His leadership ability is off the charts."
Douglas averaged just over 10 points per game last year, third on Yorkville Christian, and was also third on the team in made threes. He also won the Class 1A 3-point shootout. He's grown since them from 6-foot-3 to pushing 6-5, and his game has grown too as he's worked on his speed and explosiveness.
"I feel like I'm faster, can jump higher, grew a little and I worked on my defense as well," Douglas said. "Some of the offensive skills I already had, but I wasn't put in a position to showcase them playing behind Jaden and K.J. [Vasser]. I feel I always had the playmaking and the ability to score."
Douglas is doing a lot of different things offensively, and Sovern said his rebounding is better. Douglas' most underrated part of his game is perhaps his ability to guard the ball, a skill that might not be showcased as much during the regular season.
"His usage rate is so high that we can't risk foul trouble," Sovern said. "With our lack of depth we have to try some gimmicky defenses."
Yorkville Christian has tough games in the next week, at Peoria Notre Dame Friday followed by home games with Rockford Auburn and Neuqua Valley.
The record might not be pretty going into the Plano Christmas Classic, and the schedule as a whole will be tough but Sovern makes no bones about it – the Mustangs' goal, even after all they lost from last year, is to be competitive in March.
"I truly believe we can with this group," Sovern said. "I feel like we have the tools to do that."
"We're going to lose some games, but that's not going to change our goals. Our goal is to win a state championship," Douglas said. "All that matters is we have to be ready to win when the time comes."