With the boys basketball season set to tip off this week, here are previews of teams from around the Record Newspapers coverage area.
Coach: Kyle Anderson (first year).
Last season's record: 17-16, 9-1 Little Ten.
Top returning players: Zach Carlson (sr., F), Jake Kruser (sr., G), Joe Martin (sr., G), Cole Reibel (sr., G).
Top new players: Blake Adams (jr., G), Clay Friestad (jr., G), Lance Pasakarnis (jr., G), Caden Wheeler (jr., F), Travis Leggett (sr., G), Nathan Kath (jr. G), Blake Wallin (jr., F), Gabin Lumeau (sr., F).
Worth noting: After 16 seasons leading the Newark basketball program, Rick Tollefson retired from coaching. Enter the Norsemen's all-time leading scorer Kyle Anderson (2,280 points) who helped guide Newark to the Class 1A state championship in 2011. Anderson takes over for Tollefson and is anxious to get started. "I'm excited for my first year coaching and to see this great group of kids grow and improve throughout the season." Only one starter returns and that is Carlson (13 points per game), who impressed as a junior. Anderson expects Kruser, Martin, and Reibel to contribute strongly as well as a group of eight new players that will see their first varsity action. The Norsemen will open the season Nov. 21 at the Seneca Turkey Tournament.
– Bill Lidinsky
Coach: Chad Pohlmann.
Last season's record: 9-19, 6-10 Southwest Prairie Conference (ninth).
Top returning players: Max Niesman (sr. G, 6-1), Armani Hunter (sr. G, 5-8), Jeremiah Akin (sr. G/F, 6-2), Josh Nelson (sr. G, 6-3).
Top new players: Jayden Riley (fr.), DaSean Patton (so.), Bryce Woods (jr.), Taiden Thomas (jr.)
Worth noting: The Panthers will feature an all-guard team this season, so shooting and quickness will be huge. Leading the way is returning all-conference guard Niesman, a third-year starter who averaged 12 points, five rebounds and two assists as a junior. "Max has improved his strength and overall game," Pohlmann said. Oswego lost two key starters from last year, as Michigan football recruit Deakon Tonielli opted to not come out for basketball and junior guard Jordan Brooks transferred to West Aurora. Oswego looks for improvement from three seniors – Hunter, Akin and Class 4A 3-point champion and lights-out shooter Nelson – who have improved their overall strength. A freshman to watch is Riley, who Pohlmann expects to log major minutes. "He is a pass first shoot second point guard who understands the game as a freshman better than most," Pohlmann said. Woods is expected to provide depth with his length and skills while the smallish Panthers can use the size and athleticism of 6-foot-5 sophomore DaSean Patton.
Coach: Ryan Velasquez (sixth season).
Last season's record: 33-2, 16-0 Southwest Prairie Conference, first place.
Top returning players: Mekhi Lowery (sr. G, 6-6), Ryan Johnson (sr. G, 6-6), Mason Blanco (sr. G, 6-2), Tyler Jasek (sr. F, 6-6).
Top new players: Bryce Shoto (sr. PG, 5-9), Jehvion Starwood (jr. G, 6-2).
Worth noting: The Wolves come off the best season in program history in which they shattered the program win record and reached Oswego East's second sectional final. Three starters graduated off of that group, but a solid core returns, bolstered by a couple of impact transfers. Leading the way is Lowery, a Towson recruit who averaged 11.5 points, 7.7 rebounds, 2.9 assists and 2.7 steals as a junior and is one of more versatile talents around and an elite defender. Johnson looks like a player poised for a breakout season scoring inside and outside, and Blanco and Jasek were good complementary players last year who should have bigger roles. Big additions to this group are Shoto, a transfer from Plainfield Central, and Starwood, who was a top reserve last year for Yorkville Christian's state championship team. Senior Micah Gatewood will provide depth for a senior-laden Wolves team that has great size. "The Southwest Prairie Conference will be a very competitive conference this season," Velasquez said.
Parkview Christian
Coach: Anthony Mytas (second season).
Last season's record: 6-22, 1-11 Illinois Christian Conference, sixth place.
Top returning players: Luke Laneheart (sr. F, 5-11), Will Light (sr. G, 5-8), Jeremiah Terrell-Bedell (sr. G, 5-4), Alex Bernicky (jr. F, 6-0), Jaden Hill (jr. G, 5-6), Gavin Lambes (jr. G, 5-9).
Top new players: Karter Wilson (so. G, 5-8), Erik Baumet (sr. G, 5-8).
Worth noting: Parkview Christian is positioned to take a giant step forward in its progress, in second-year coach Mytas' estimation. Three starters return, including Laneheart (8.5 points per game, 9.6 rebounds per game last season), Light (9.4 points per game, 2.8 rebounds per game) and Terrell-Bedell (6.9 points per game, 2.1 assists per game). Wilson, a transfer from Yorkville Christian, is among the key additions to this group.
"A year of experience in the system as well as the addition of some talented depth has made practices far more competitive from this time last year," Mytas said. "The Falcons could take advantage of the fact that these players have been together for a long time and have a successful season."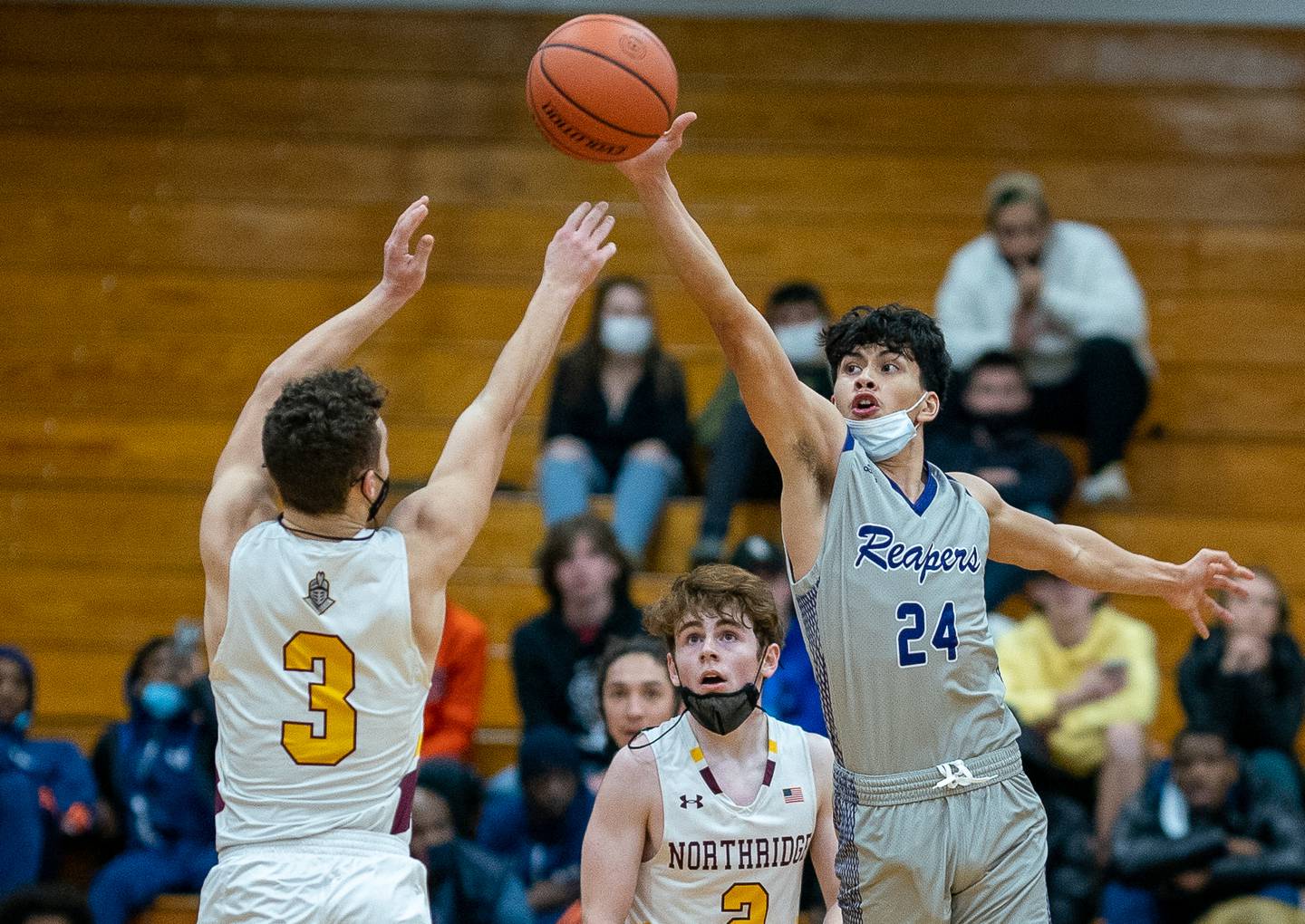 Coach: Kyle Kee (10th season, 159-104).
Last season's record: 17-15, 6-8 Interstate Eight.
Top returning players: Sammy Sifuentes (sr., F), James Pugh (sr., G), Kaleb Videckis (jr., F),Jaylan Barber (sr., F).
Top new players: Christ Keleba (jr., G), Alijah Johnson (jr., G), Davione Stamps (jr., G), Waleed Johnson (jr., G), Eric Cano (jr. G).
Worth noting: The Reapers were hit hard by graduation as Sifuentes (3.8 ppg, 3.8 rpg) is the only returner to a starting lineup that lost 1,000-point scorer Mason Accidentale as well as 10 other seniors. "We are young and inexperienced as we only have one starter back from a 17-15 team," Kee said. "But we should be much quicker and more athletic. A lot of competition at every position should be good." Look for Pugh, Videckis and Barber to pay some dividends despite limited varsity experience along with five strong juniors in Keleba, Alijah Johnson, Stamps, Waleed Johnson and Cano. "I believe we are a team that should be fun to watch and have a chance to have a really good season." Kee said. As far as the Interstate Eight Conference schedule goes, "No real front runner," Kee remarked. "Like every year, it's going to be tough every night." Plano opened its season Nov. 23 at the Oregon Invite against Rockford Christian.
– Bill Lidinsky
Coach: Kevin Kozan (third season).
Last season's record: 1-29, 0-14 Interstate Eight.
Top returning players: Evan Gottlieb (sr., G), Austin Marks (sr., G), Chance Lange (jr., G), Owen Sheley (sr., F), Dylan Young (sr., F), Jack Pakula (sr., G).
Top new players: Dom Rome (so. G), Quinton Rome (so., C), Sammy Leggett (sr., G).
Worth noting: The Indians struggled mightily last year with a young squad but are hoping that some veteran returners can turn the tables. "Last year is behind us and we learned from it and know what to do to get to where we want to be," Kozan said. "We have more experience under our belts this season as we return four starters." Those are Gottlieb (10 ppg, 2 apg), Marks (6 ppg, 2 apg), Lange (6 ppg, 2 apg) and Sheley (6 ppg, 5 rpg) as a big force on the glass at 6-foot-5. Young at 6-3 (4 ppg, 3 rpg) should also help Sandwich's rebounding as well as 6-4 sophomores Dom and Quinton Rome who Kozan believes will shine in their first year on the varsity level. "We are finding our identity and will be a tough and physical team," Kozan said. "We look forward to the challenge ahead this season and to getting started." The Indians will open their pursuit of a new start at the annual Strombom Hoop Classic at Sycamore High School.
– Bill Lidinsky
Coach: John Holakovsky (third season)
Last season's record: 9-21, 3-12 Southwest Prairie Conference
Top returning players: Jason Jakstys(jr. F, 6-9), LeBaron Lee (sr. F, 6-5), Mike Dunn, jr. (PG, 5-11)
Top new players: Josiah Mayes (sr. G, 6-3), Jory Boley ( jr. F, 6-3), Kaevian Johnson (jr. G, 6-1), Jacob Homerding (jr. F, 6-4), Will Eberhart (jr. G, 6-0), Bryce Salek (jr. G, 6-2), Dayvion Johnson (jr. G, 6-0), Caleb Fisher (jr. F, 6-4).
Worth noting: The Foxes return their top two scorers and add quite a few newcomers with six transfers from Yorkville Christian as they look to compete in what shapes up to be a tough Southwest Prairie Conference. Jakstys averaged 15.0 points and 7.4 rebounds as a sophomore and is a potential Division I prospect. With Jakstys and Lee, an Illinois State baseball recruit who averaged 15.3 points and 8.3 rebounds last season, the Foxes once again will be a post-heavy team that plays inside-out more than other teams. Dunn played sparingly last year as Yorkville's backup point guard, but should compete for more playing time. Eberhart was a starter on the sophomore team. Added to that mix are Yorkville Christian transfers Mayes, Boley, Dayvion Johnson, Kaevian Johnson, Salek and Fisher. Of that group, Dayvion Johnson was a top reserve on Yorkville Christian's state title team last year. It's a young group, but a very strong junior class. New to the schedule the Foxes will be playing in the 32-team Jack Tosh Holiday Classic at Christmas at York.
"We should be a team that can play both up tempo and a half court game based on our depth and athleticism," Holakovsky said. "We are looking to grow our program this season into a team that can compete to finish in the top half of a very competitive conference. Our biggest challenge will be putting all the pieces together early and trying to figure out everyone's roles with so many spots up for grabs with just two returning starters/consistent rotation pieces."
Yorkville Christian
Coach: Aaron Sovern (ninth season).
Last season's record: 25-13.
Top returning players: David Douglas Jr. (sr. G, 6-5), Trey Lombardo (sr. F, 6-4).
Top new players: Brady Sovern (so. G, 6-2), Jalen Aalders (sr. G, 6-0), Abram Fields (sr. G, 5-8), Zach Marini (so. G, 5-10).
Worth noting: Yorkville Christian last season made school history, winning the Class 1A state championship in the program's eighth year. The Mustangs will look much different this season. Two-time Record Newspapers Player of the Year Jaden Schutt now is a freshman at Duke, one of three starters who graduated. A fourth starter, Brayden Long, transferred to Bradley-Bourbonnais with two of Yorkville Christian's top reserves also transferring. By far the most experienced returning player is sweet-shooting guard Douglas, who averaged 10 points and four rebounds and won the Class 1A 3-point shootout as a junior and is primed for a huge season with several Division I schools showing interest. Lombardo didn't get a ton of playing time last season, but coach Sovern said he'll bring toughness, rebounding and an ability to stretch the floor with his 3-point shooting. Added to the mix are knockdown shooters in Sovern, Aalders and Marini, with Fields a penetrator and strong on-ball defender. Another challenging schedule includes December games with Peoria Notre Dame and Neuqua Valley.
"The team will look much different from last year," Sovern said. "Won't have the overall depth we have had the past two seasons, but do have skilled players who will make a run in 1A."