AURORA – Mikayla Lambert lifted the regional plaque above her head, and was mobbed by blue-shirted Oswego East teammates.
The mad celebration fit the moment.
Lambert and Hannah Chval scored goals in the first and second half, respectively. Sam McPhee had the Wolves' 11th shutout in goal, as third-seeded Oswego East beat sixth-seeded Oswego 2-0 in the Class 3A East Aurora Regional final for the first regional championship in program history.
[ Photos: Oswego vs. Oswego East girls soccer, Class 4A East Aurora Regional final ]
"Definitely, for our program, it's historic, the first one," Chval said. "As seniors we never want our season to end so to keep going it feels good."
It's been a remarkable two-year run for Oswego East (18-2), which advances to play Naperville North in a sectional semifinal Tuesday at Naperville Central.
Back-to-back Southwest Prairie Conference champions, Oswego East went undefeated during the regular season last spring and was unbeaten in conference this year.
A loss to Neuqua Valley in last year's regional final put the Wolves' bid for their first regional title on hold.
Nothing, not even a spirited game by Oswego and spectacular effort by Panthers' goalkeeper Maggie Leger could deny Oswego East Friday.
"Last year when we lost to Neuqua Valley we were all devastated," Lambert said. "We all wanted to come back this season and make history. And that's what we're doing."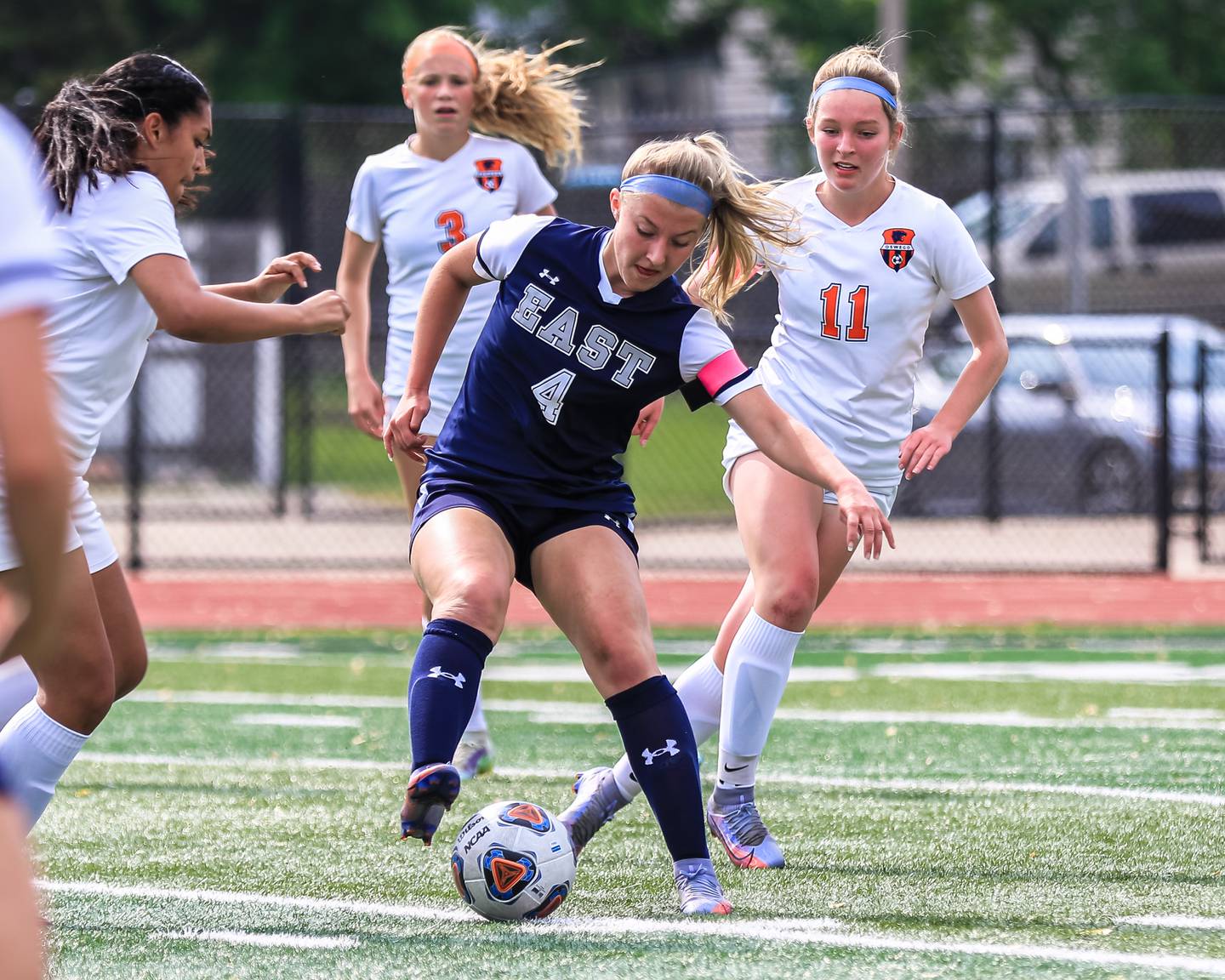 The latest unlucky bounce for Lambert at East Aurora ended up going her way Friday.
She had one of three Oswego East shots bounce off the crossbar in Tuesday's semifinal win over Plainfield South, and had another shot go off the crossbar and miss in the second half Friday.
In the 25th minute, though, Lambert's 15-yard strike from just right of the goal hit the crossbar and after a lengthy delay in which play resumed was ruled a goal, breaking a scoreless tie.
"I shot it and then I got so excited because I thought it went in and they kept playing and I was like 'Oh my god, are you serious, not again, is this part two?'" Lambert said. "But the ref came over and said it went over the line and I got so excited. It gave us momentum."
Indeed, the goal was a momentum-changer.
Oswego (15-10-1), which lost to Oswego East 3-0 during the regular season – all three goals in that game coming in the first half – had played the Wolves fairly even in the run of the play over the game's first 15 minutes Friday. But Oswego East controlled much of possession after that into the second half.
"It was a gritty game," Oswego East coach Juan Leal said. "They came out a different team from what they were the first time. Our girls stepped up to the challenge."
"Unfortunately that goal, I know it didn't go in, but that set the tone for the rest of the game," Oswego coach Gaspar Arias said. "Once they made that goal, our girls put their head down a little bit. It was hard for even us to see it, and we are very honest, if it goes in, it goes in – but that one didn't go in at all. But the girls never gave up."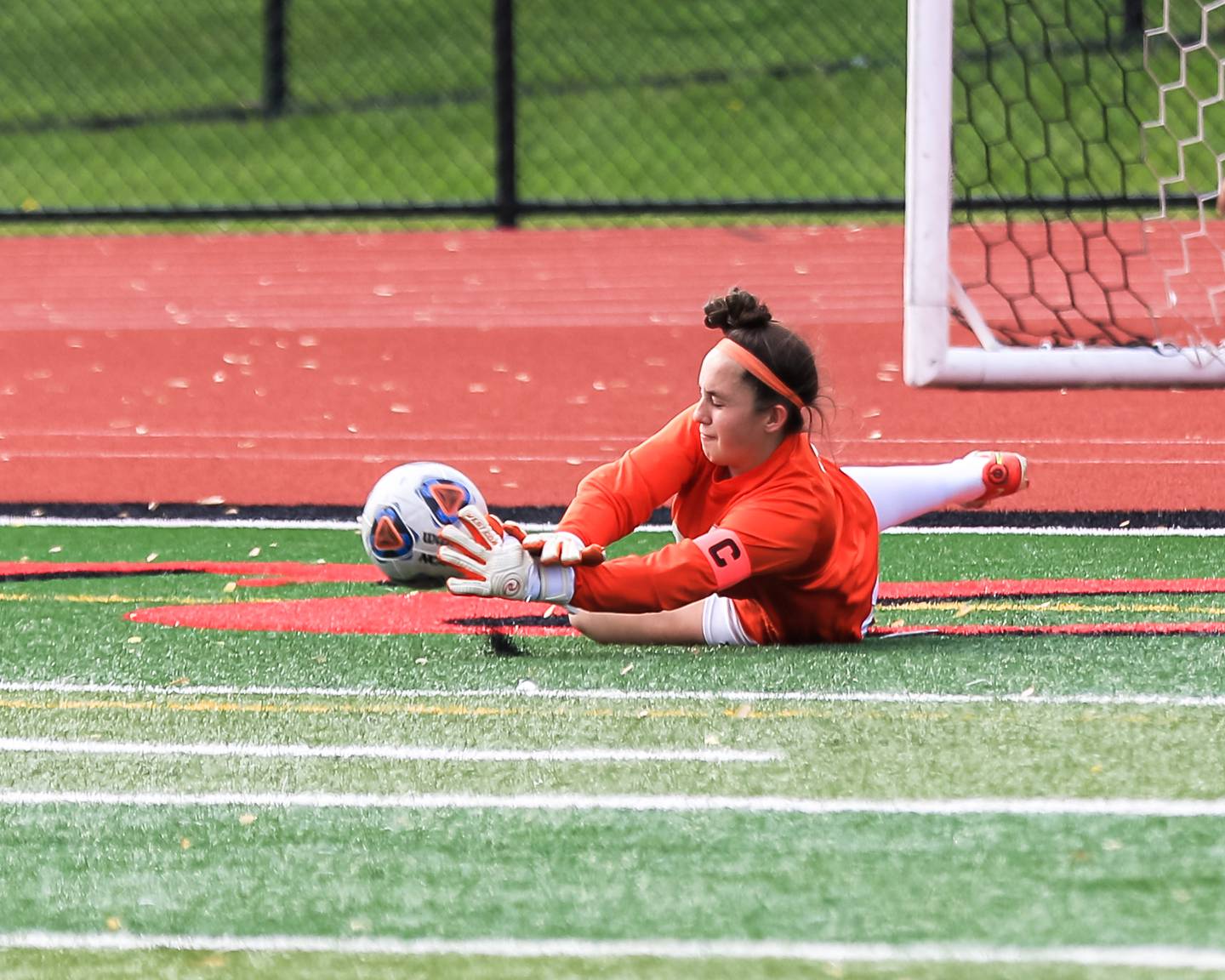 Neither certainly did Leger.
The Piedmont commit knocked away long strikes from Chloe Noon with diving stops in both halves, and also made leaping grabs on great chances from Riley Gumm and Erika Smiley.
"Just part of my job to keep it out of the net," Leger said. "I was excited, a lot of adrenalin going. I was prepared for this game, ready for it."
Finally, Chval gave the Wolves insurance with a score with 28:04 left. Gumm sent a corner kick into the box, and Chval leaped and deflected the ball into the goal for a 2-0 score.
"I was trying to get my head on it, but I knew I had to get some part of my body on it so I put my whole body into the ball," Chval said. "I think it was off the back of my shoulder, but I just put my whole body into it. Whatever it takes."
The Wolves will take it, and will take a matchup with Naperville North, a program that has won five consecutive sectional titles and three state championships in the last decade.
"If we play as a team, we can definitely win," Chval said.