YORKVILLE – Ella Bourque, Saige Avery and their Yorkville teammates gathered in a circle at center court to celebrate an achievement that seemed a pipe dream two months ago.
Conference champions.
The Foxes didn't finish the deal Tuesday, but they took a giant step forward. Yorkville overcame losing a late lead in the first set and erased an eight-point deficit in the second to knock off Plainfield North, 26-24, 25-23, in a matchup of Southwest Prairie Conference leaders.
Yorkville (23-3, 7-1), which won its eighth straight match, handed Plainfield North (22-4, 7-1) its first SPC loss. Each have three league matches remaining.
"We've been thinking about this match in the back of our head for a while because this was to win conference, and we've been working on this match and watching a lot of film," said Bourque, a four-year varsity player and Canisius recruit. "I don't think we've beaten them once since I've been here. To be a leader, six-rotation player and beat them is honestly amazing."
Bourque had six kills, 10 assists and six digs; Janelle Pye-Blacknard eight kills, seven digs and three aces; Avery three kills, 13 assists and four digs; Grace Lindgren six digs and two aces; and Keelyn Muell seven kills and four digs for Yorkville.
The Foxes, who last won a conference title in 2015 while members of the Northern Illinois Big 12, have made quite a leap in their third season in the SPC. Yorkville went 7-7 during the abbreviated spring season.
"Coming off 7-7, people didn't treat us like a team to be reckoned with," Yorkville coach Lisa Molek said. "I just know that from the work that these kids put in during the club season, during the summer, from the mentality that we tried to build this year and the pride and our culture helped the kids buy in more. We had plans for every specific match and tonight, more than any, we executed it 100%."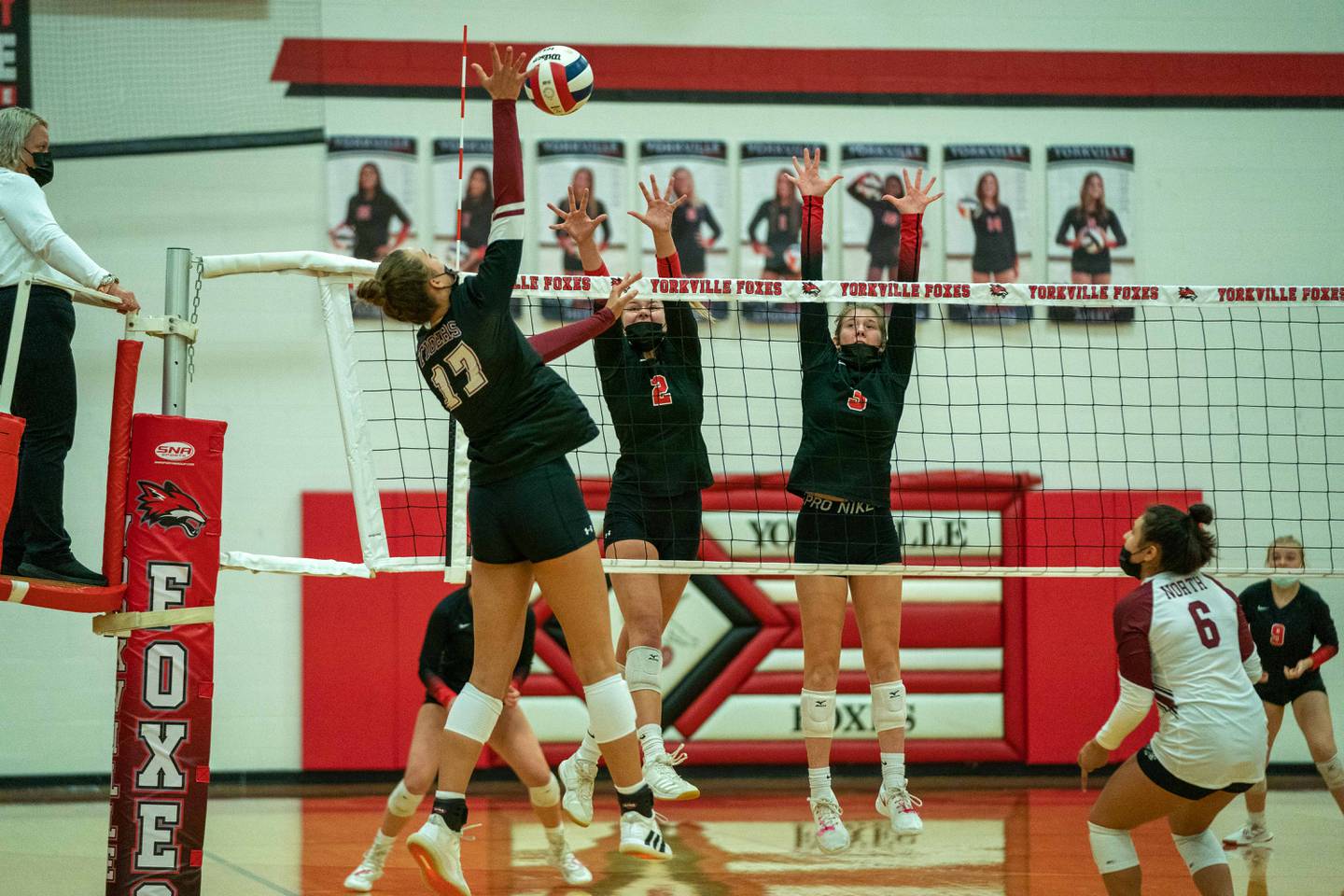 Plainfield North jumped out to an early 10-6 lead in the first set on the strength of 6-foot-4 hitter Ella Wrobel, who hit two monster smashes off Yorkville defenders during the early stretch. Trailing 12-10 Yorkville turned it around with a 6-0 run capped by back-to-back Lindgren aces. The Foxes had the Tigers on their heels with their serve throughout the first set, a stark contrast to their spring meeting.
"Our serving is one area we excel in," Molek said. "Getting them out of system as much as possible, we did not do that against them last year."
The Foxes seemed on the cusp of taking the first set up 24-20, but Plainfield North rallied to tie it 24-24 on a Wrobel service run. A Tigers service error followed, and another Lindgren ace clinched set point.
"That first set was crazy," Avery said. "It felt so good to win that one right off the bat. It gave us a lot of confidence."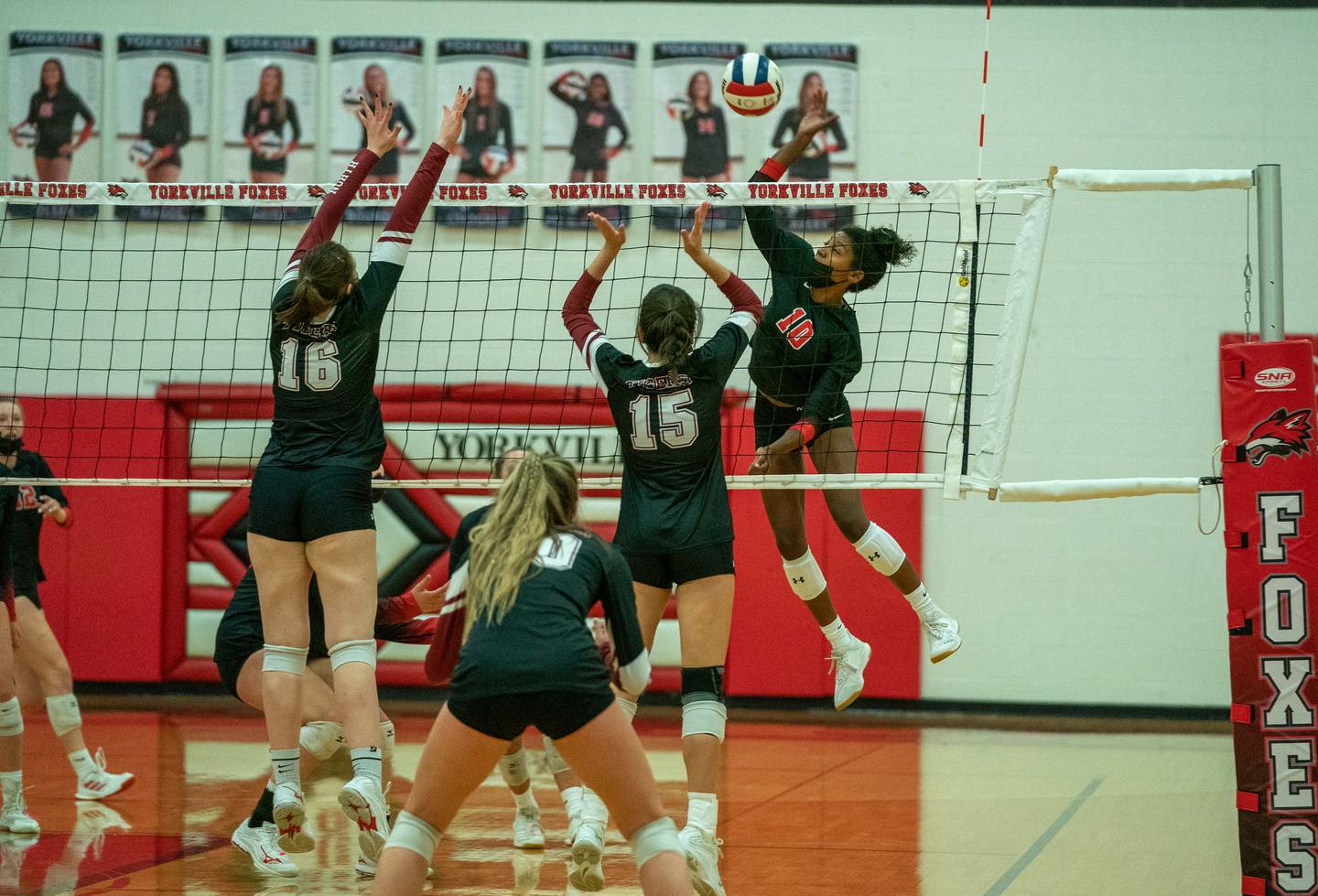 The momentum appeared to swing back Plainfield North's way in the second set, Victoria Bouska's block finishing off a 6-0 run for a 12-7 Tigers lead. The margin ballooned to 17-9 as Ella Strausberger rose up to finish a long rally with a block.
"For us in the past, we have had trouble coming back from a deficit like that. It takes a mentality for something like that to happen," Molek said. "It's not just a skill, it's a mentality."
The Foxes chipped away and tied it, 21-21, Bourque digging out a huge Wrobel hit to keep a point alive to set up a Muell kill. One point later, Lindgren went low to dig out another big Plainfield spike that set up a Pyle-Blacknard kill for a Foxes' lead.
"That just comes from reps in practice," Bourque said. "I was praying that [the dig] would go up, and it did."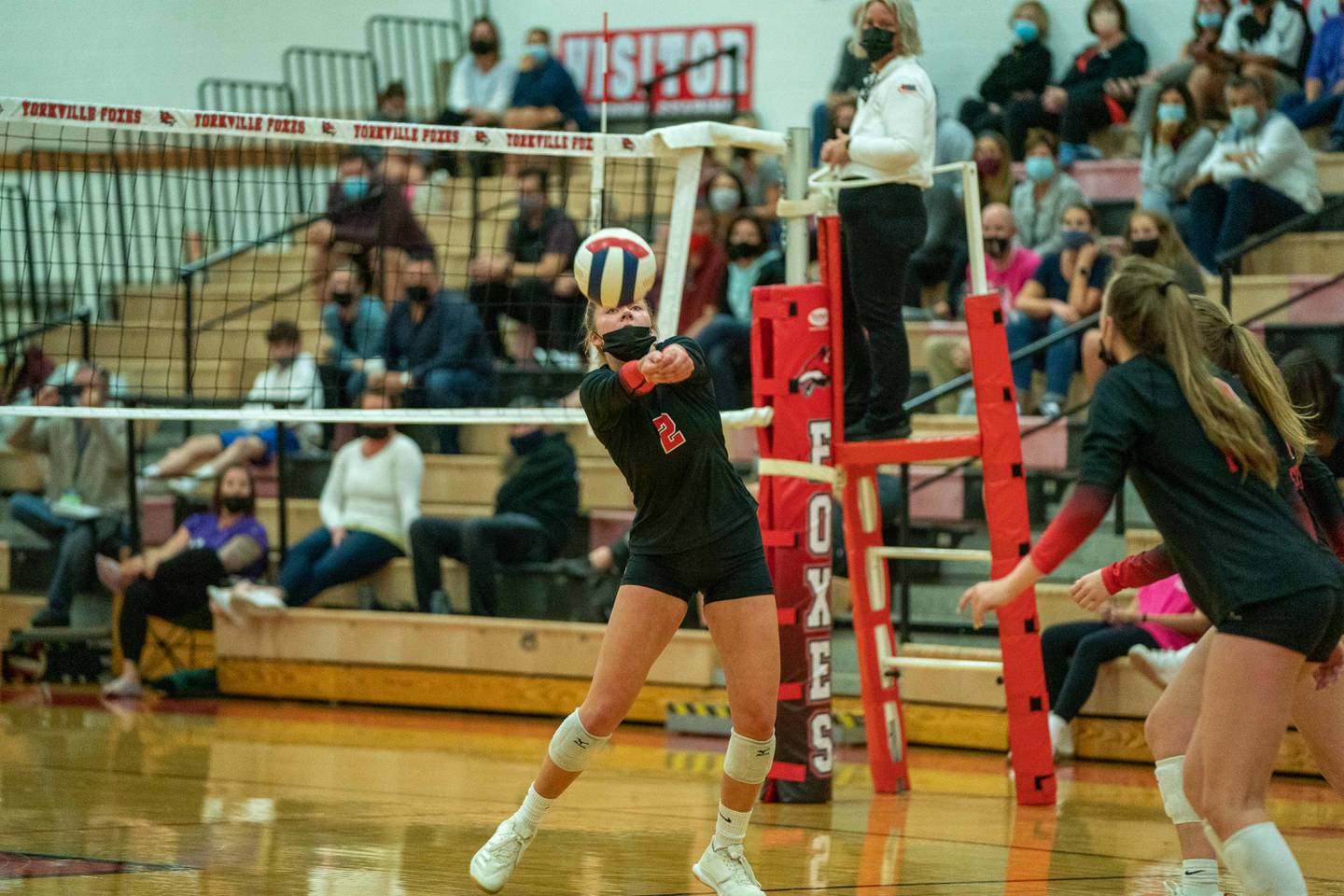 A Lauren Jansen tip kill for Plainfield North tied it, 23-23, but Bourque dropped in a shot for the lead and an off-target Tigers set gave the Foxes match point.
"We knew coming in that Yorkville was going to be a tough match," Plainfield North coach Matt Slechta said. "They're a good team, and it's a tough environment to play in. They served and sided out well, and we didn't. But we will continue to grow from it."