OSWEGO – Volleyball fans may have been squeamish as Oswego East fought tooth and nail with Oswego during Thursday's Southwest Prairie Conference match, but there's no denying that they got their money's worth.
The Panthers almost pulled off the victory in straight-sets and then they almost lost in three sets before they pulled out a thrilling 25-21, 22-25, 28-26 victory.
"They're picking up where they left off last year where last year every game was close like this," Panthers coach Julie Zeck said. "But you know what? We pulled it out and we were able to come together in the end, which was good."
Despite the lengthy match and intensity of a crosstown rivalry, the girls looked prepared physically to battle all night long.
"We went into a huddle during a timeout and coach asked if anyone was tired," Oswego senior Destiny Gray said. "We said we're not tired. We've been running a lot so it feels good because we can work hard on the court all the time."
The Wolves matched the Panthers fitness level.
"We conditioned the heck out of our team for these things because I knew (with them) being young they hadn't experienced this before," Wolves coach Dina Beamon said. "We've been conditioning a lot because I need them to understand that you need it to do great things for that last win. And going to three sets like that was amazing."
Oswego (4-4, 1-2) broke a 16-16 tie in the first set, scoring three straight points to pull ahead for good.
Oswego East (8-6, 2-1) went back and forth with the Panthers again in the second set, but found closing time approaching after going down 20-17 after a kill from senior Marin Ottesen.
Inconsistency with their serves really hurt the Wolves, especially when they sailed out of bounds or were snagged by the net. It's an issue that has plagued the junior-heavy team this fall and once again it really hurt their chances.
"One of the weakest things we've had all season has been serving," Beamon said. "We've been working on it every single day. The other day we ran so many sprints that they were about to pass out, but that is one of the biggest things we're working on. And it's a good thing because it's something that can be fixed in practice so I'm excited about that."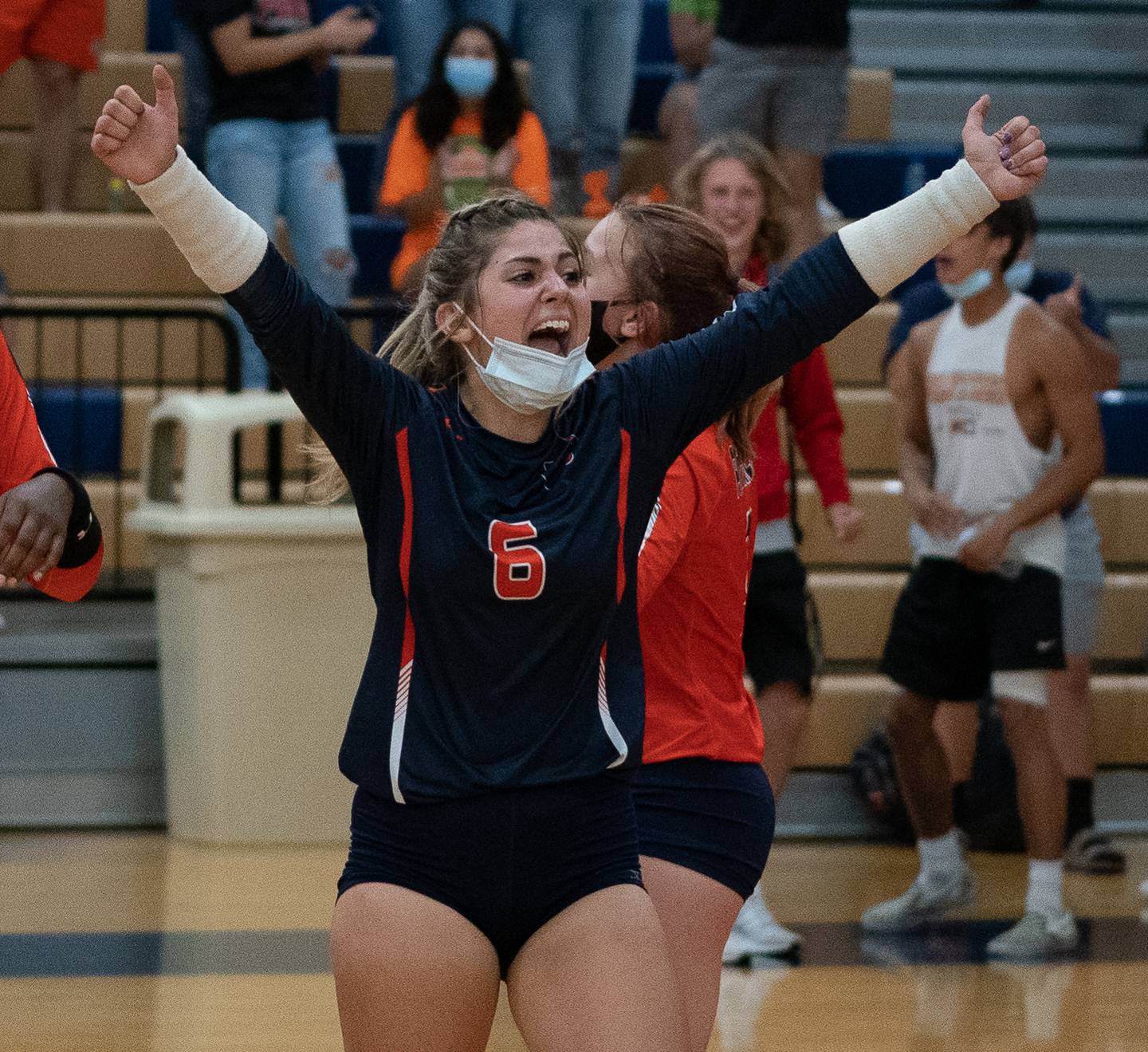 The Wolves broke a 20-20 tie in the second set, closing out the victory on a violation after a Vivian Campbell kill and a nicely placed ball from Megan Meier.
"We weren't expected it to drag on like that; we wanted to take them in two," Gray said. "We talked in the huddle because you could see in the second set we had no energy. We knew if we could pick it up in the third set we were going to take it home and that's what we did."
Both teams took timeouts while trailing late in the deciding set and both responded by scoring the next point. Oswego needed it to stay alive in the match as the Panthers trailed 25-24, closing with a 4-1 run for the victory.
"It was a very tricky night and it really could've gone either way," Panthers junior Kennedy Hugunin said. "Of course, I'm really happy with the way it went. Volleyball really is a whole game of mistakes and it's really who makes the least amount of mistakes that wins. You can't worry about bad plays or the ref's calls. All you can do is just focus on the next play."
There were a lot of next plays on Thursday.
"It was really nerve-wracking being down and then with it so close," Panthers freshman Sidney Hamaker said. "When they were up by one point all they needed was one more and they were going to win so it was really rough."
[ Photos: Oswego vs. Oswego East volleyball ]
Hamaker said the stress didn't get to the Panthers as much as it helped them play better.
"I think when we're really under stress we play well because we can't think about anything else and it's such a fast sport," she said. "It was scary because as a freshman you know the seniors aren't going to be here next time so you don't want to make their season bad."
The teams will meet again in October in a non-conference match.
"For it to be mainly juniors on this court today, although it was a hard loss, they showed me some very good things," Beamon said. "They showed me what they can do and it's only up from here. I'm disappointed with the loss obviously, but proud of them."