OSWEGO – Kyle Zeck is back at full strength.
That's good news for Oswego.
After a strong summer, Oswego's 5-foot-10 senior guard missed a month during the preseason with mononucleosis. He was finally cleared the first day of tryouts, but had lost 15 pounds. Zeck finally started to find his flow in December, hitting four three-pointers against West Aurora.
He was feeling it Friday.
Zeck's personal eight-point run late in the third quarter allowed Oswego to pull free of a persistent Plainfield East. Zeck and Deakon Tonielli, himself playing his second game since returning from injury, each scored a team-high 16 points and each hit three of Oswego's nine threes as the Panthers held off Plainfield East 62-59 in a Southwest Prairie Conference crossover.
[ Photos: Oswego vs. Plainfield East boys basketball ]
"It definitely impacted me," Zeck said of his preseason illness. "Losing that weight, that obviously hurts. I obviously get winded out there, but I'm back to my normal self now, feeling strong."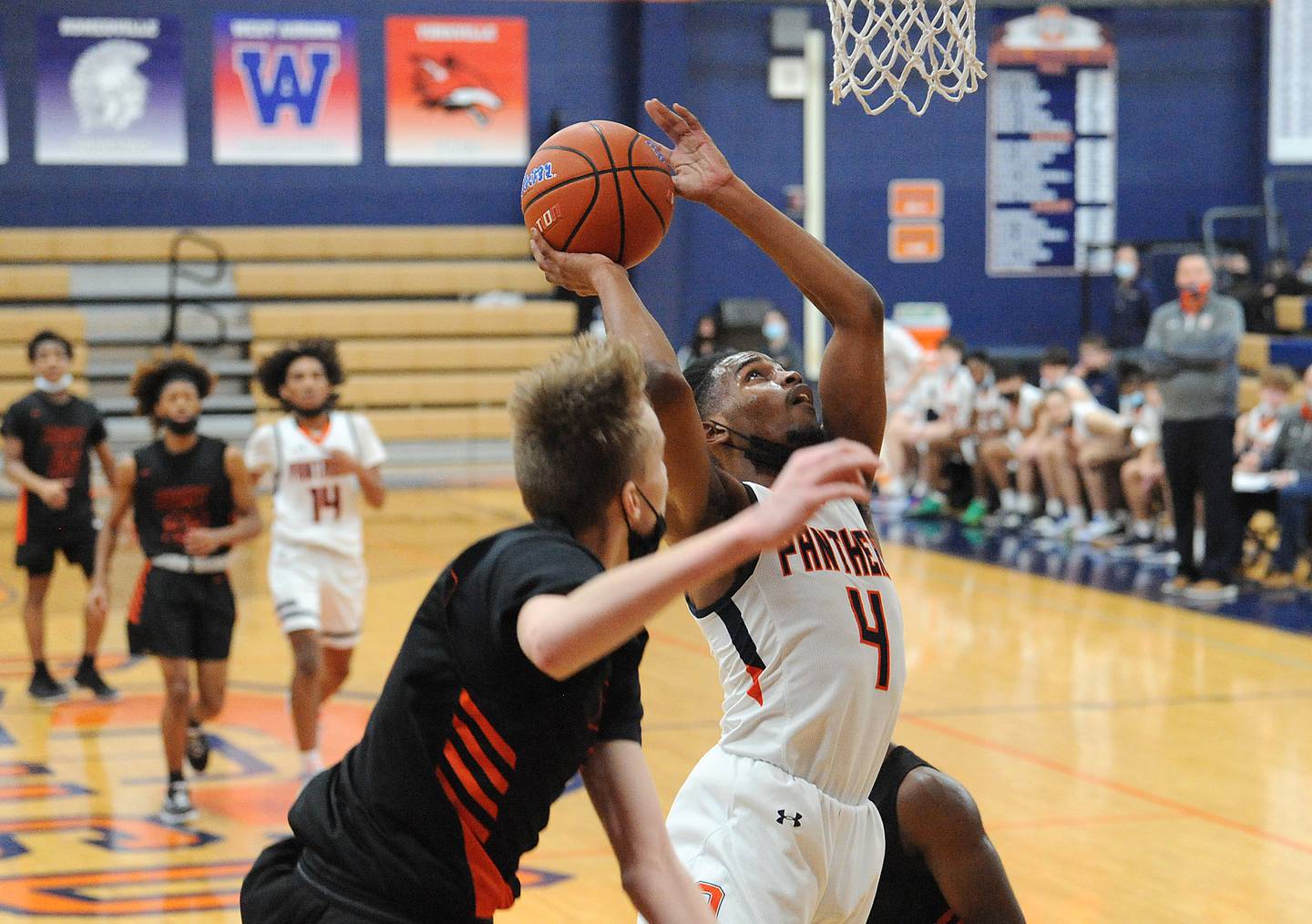 Max Niesman added 13 points, all in the second half after sitting the second quarter with two fouls for Oswego (6-9, 4-5). The Panthers are 3-2 since a 24-day break from action due to COVID protocols, the three wins by a combined 11 points, and have won five of their last seven dating back to December.
Oswego, which led by 11 in the first half and nine in the fourth quarter, survived a Plainfield East 3-point shot for the tie at the buzzer. Oswego shot 15-for-19 from the free throw line to overcome 18 turnovers and uneven defense.
"We keep making it a little bit harder on ourselves at times. I think that's part of our inexperience and lack of games," Oswego coach Chad Pohlmann said. "We have to find a way to not let these teams come back on us. But we made enough plays to get it done."
The two teams were tied 43-43 with 3:44 left in the third quarter after Andrew Soenksen's three-point play for Plainfield East.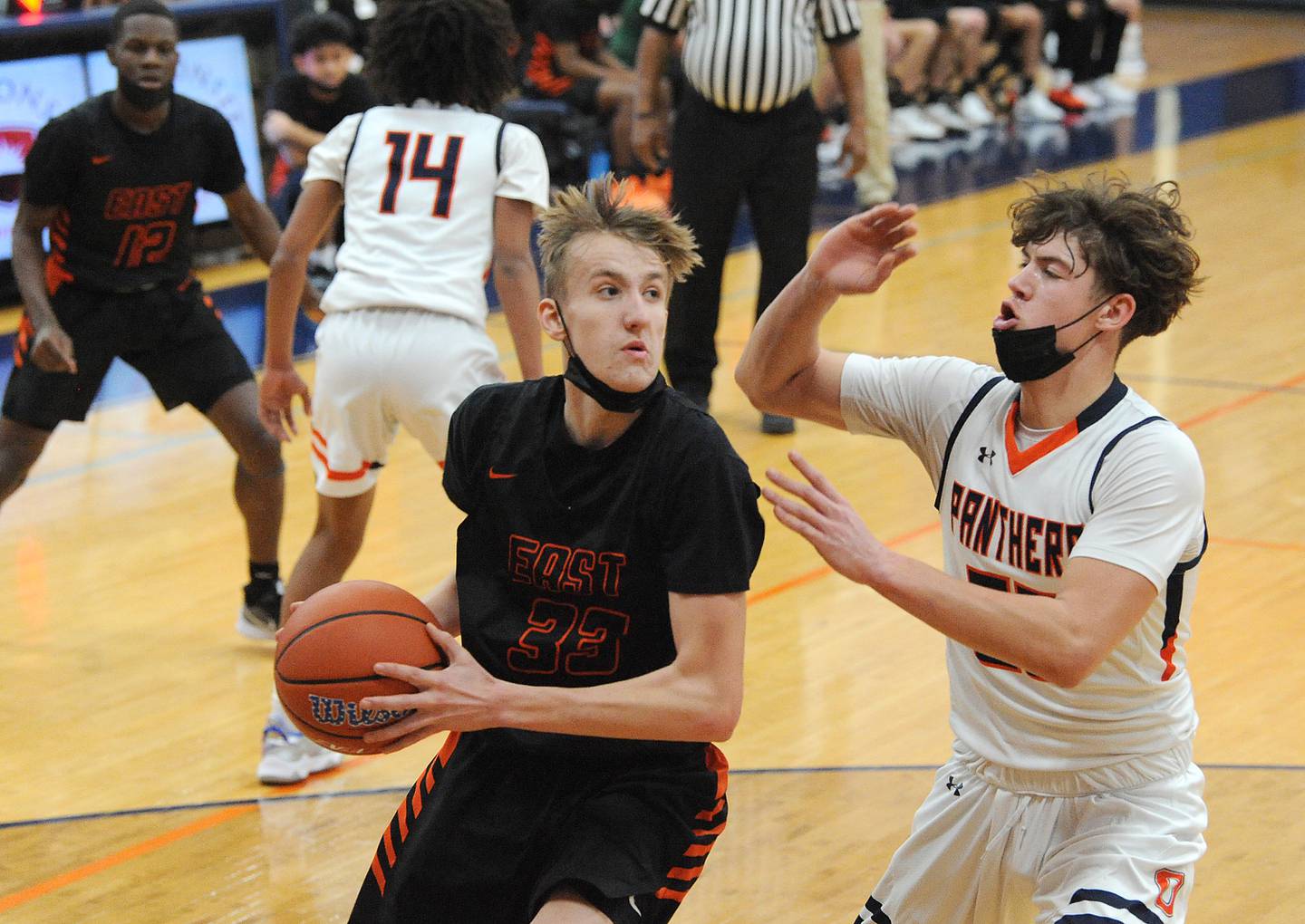 Zeck gave Oswego the lead for good a minute later with a basket in transition, then hit back-to-back threes from the left corner for a 51-43 lead with 1:40 left in the third quarter. Niesman's steal and score followed to cap off the pivotal 10-0 run.
"When the team brings the energy, it fuels yourself too," Zeck said. "When I hit one, everybody goes crazy, and when I get the ball obviously I feel good about myself and I'm going to shoot it. That corner shot is my favorite since I was a kid."
Pohlmann was pleased to see Zeck contribute in such a big way, overcoming his preseason setback.
"He's been playing really well, and he's been playing like a senior," Pohlmann said. "It's so good to see. It's taken him a while to get his wind and his conditioning and his strength back because he really worked hard to get ready for the season. And now he's playing pretty well."
Soenksen, a lanky 6-foot-6 junior, had 22 points and nine rebounds for Plainfield East. He scored eight of his 22 in the second quarter. The Bengals erased an early 17-6 Oswego lead to go ahead 32-31 at halftime on Donovan Byrd's late steal and score.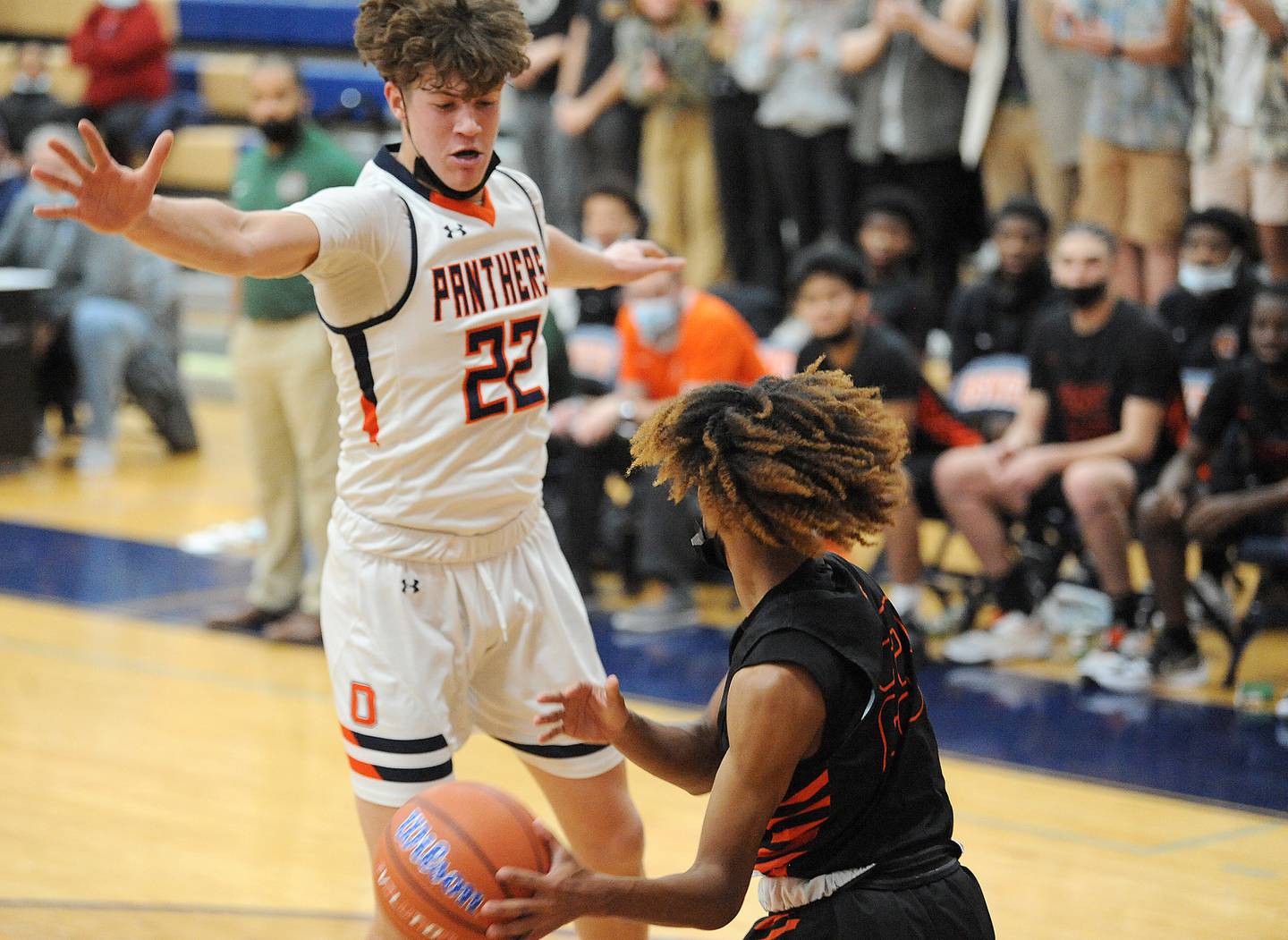 Oswego led by nine, 57-48, with 5:45 left after a Niesman runner, but again Plainfield East clawed back. Bryant Tchoffa scored six of his 12 points for the Bengals in the fourth quarter, his steal and score closing the gap to 57-54.
"I gave them credit in the locker room. I won't knock their intensity and their hustle," Plainfield East coach Mike Fowler said. "We just missed out on opportunities, especially easy opportunities to score."
Plainfield East in fact had ample opportunities to draw closer go by the wayside in the final two minutes. The Bengals missed three straight free throws and had a turnover with a little over a minute left down three.
"I've been stressing to them for months now that we can't allow empty possessions," Fowler said. "We had some down the stretch and Oswego shot the lights out, especially in the first half. We weathered that storm but down the stretch you have to make plays."
Oswego indeed came out hot, led by Tonielli.
The 6-foot-6 junior hit three 3-pointers and assisted two others during a 14-point first half, finding the rhythm after a tough game back Wednesday against Romeoville. Tonielli's deep three from the left wing gave Oswego a 27-20 lead midway through the second quarter.
"I was just feeling it I guess, shots were falling" said Tonielli, who led a 6-for-11 Oswego effort from distance in the first half. "If it ain't broke, don't fix it, just keep shooting."