NAPERVILLE – Oswego East's Mason Lockett had been preparing for Monday's season opener against West Aurora in the Hoops 4 Healing tournament for quite some time.
Playing the point, Lockett led three Wolves scoring in double figures with 15 points as Oswego East pulled away from West Aurora, 68-56 at Naperville North.
"We like what he brings to the table," Wolves coach Ryan Velasquez said. "We like that he's a pretty long point guard and one that can shoot the ball is a plus."
There are plenty of new bodies on the hardwood this year for a Wolves program that went 62-8 the last two seasons. Lockett is one of them who is earning roles vacated by last year's senior departures. One of the few key returning pieces is senior Jehvion Starwood, who had 14 points.
"My guys on the team, nobody has an ego," Starwood said. "It's really easy to pick apart who needs to do what and me being a four-year varsity player I see things that others don't see sometimes so Mason (Lockett) being as young and as smart as he is, he needs to bring the ball up and be the point guard."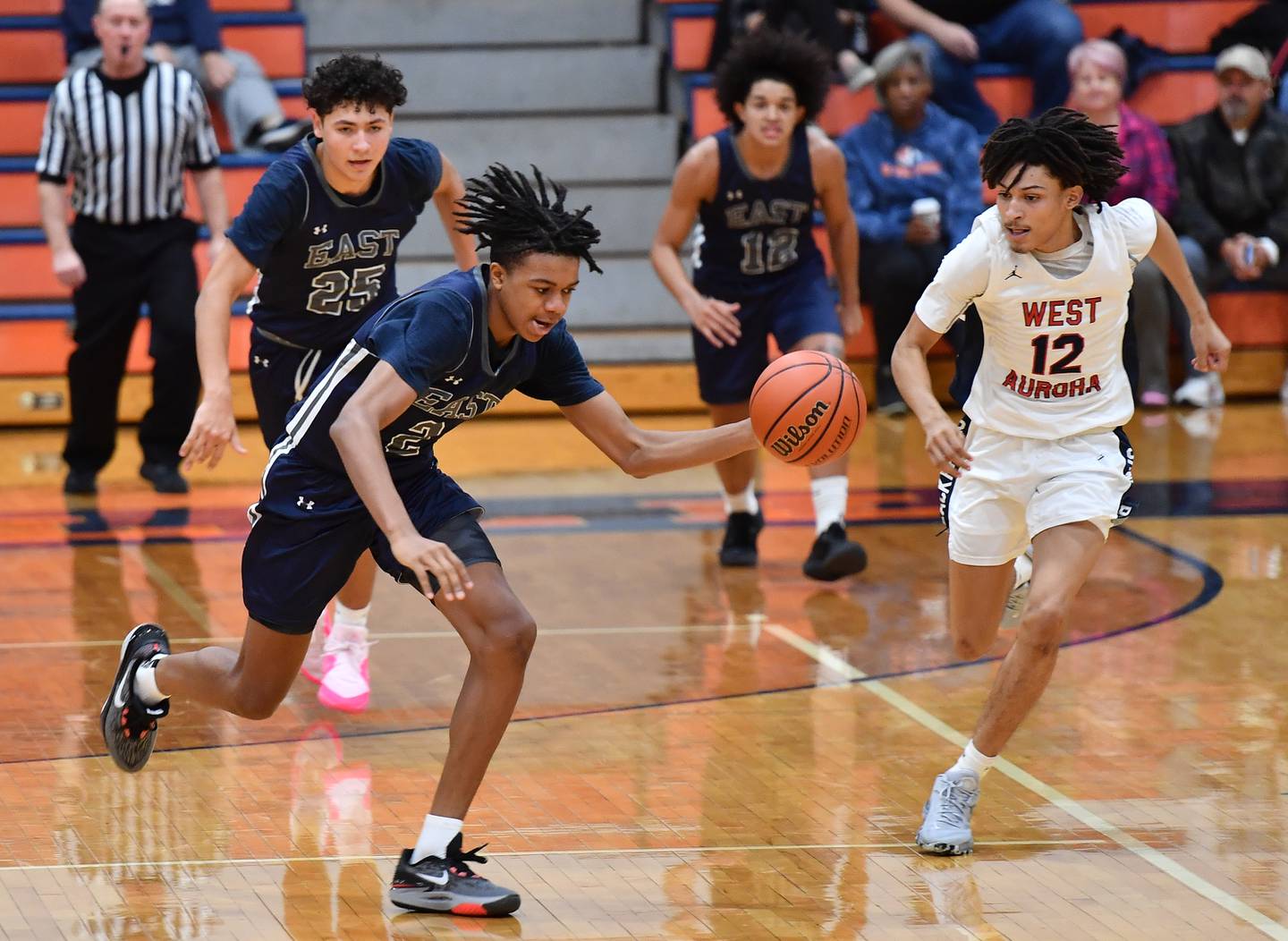 Oswego East led 16-8 after one quarter and 28-24 at halftime. A steal and dunk from Mike Evans pulled the Blackhawks to within 32-31 with 5:25 left in the third quarter, but the Wolves answered with a 6-0 run.
"We started to go back to what we knew in practice," Lockett said. "Once we started doing that we kept making the lead bigger and bigger."
The run ended triumphantly on an alley oop from Drey Wisdom (7 points) to Noah Mason (9 points) to make it 38-31 with 4:20 remaining in the quarter.
"I liked how (Wisdom) attacked and had good vision," Velasquez said. "And that's kind of his game, to get downhill and facilitate, and he did a good job of that, especially in the second half."
Velasquez said that Mason is a player who impressed in the summer.
"We like what he does," he said. "We have pieces, but it's a long season and basketball is funny how it works."
Starwood is expecting big things from Mason, too.
"He's such a good scorer," he said. "He's a tall and lanky guard and he can do a lot for us, playing off the ball and being a good shooter."
Andrew Wiggins added 11 points for the Wolves.
West Aurora (0-1) was stubborn but also its worst enemy. The Blackhawks were aggressive with the ball, which got them to the line when they weren't committing any of their 17 turnovers. They didn't help themselves at the charity stripe either, making 21 of 31.
"I didn't expect it to be pretty, but we just got to come there ready to compete," Blackhawks coach Michael Fowler said. "We had streaks of doing that, but they had more."
Oswego East (1-0) led 48-42 after three quarters and took its first double-digit lead at 57-47 on a putback from Lockett with 5:06 to play. Lockett also got all the way to the hoop for baskets, made a 3-pointer and had a pull-up jumper in transition in his debut.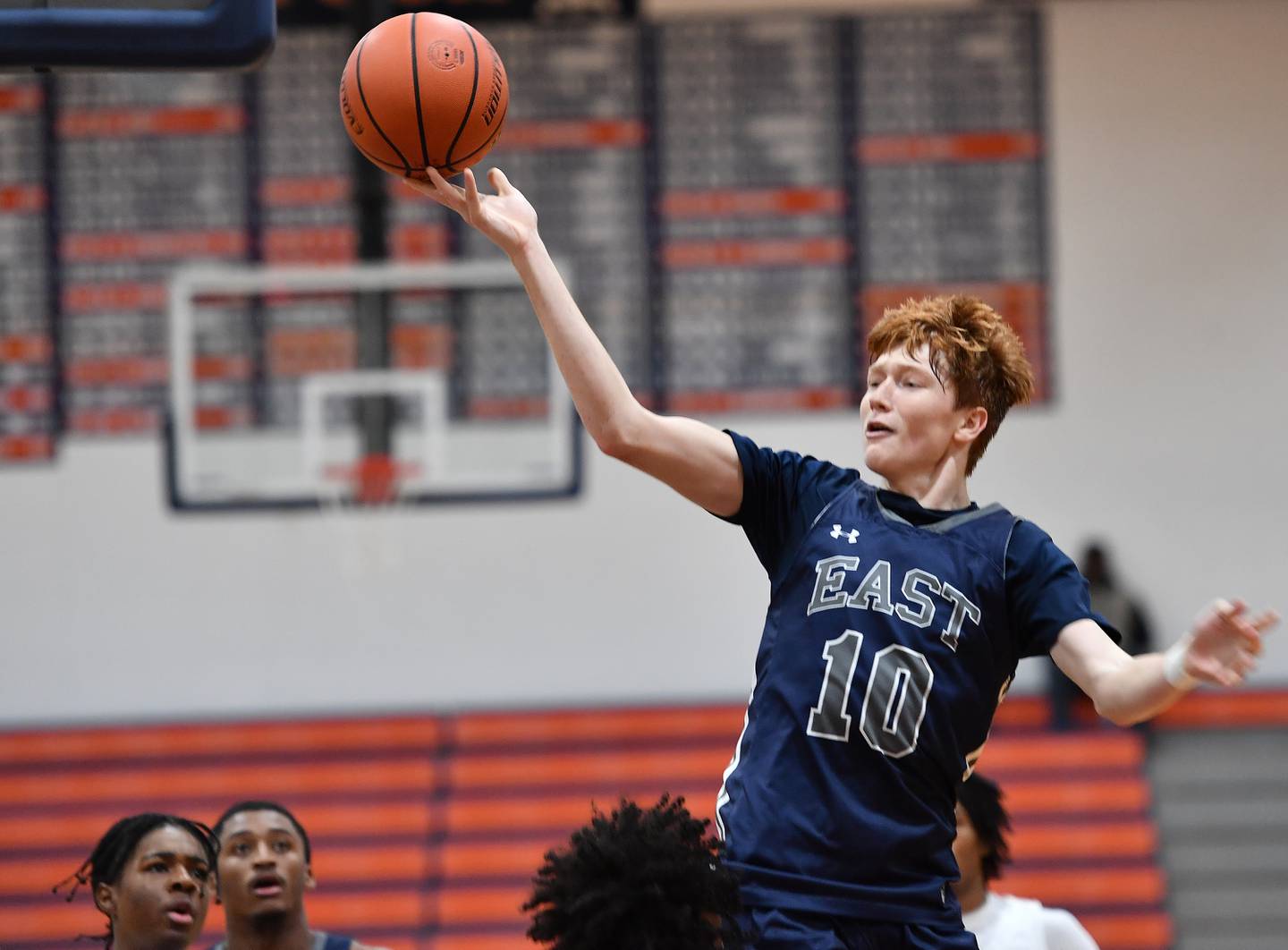 "I've been waiting since AAU season ended and once it did I wanted to work out and get ready for the season," he said. "I've been working on my legs and speed. A few years ago I hurt my knee so I'm building my strength back."
Starwood, who drilled his second 3-pointer as the Wolves pulled away early in the fourth quarter, is ready for his swan song before he takes his skills to the University of Wyoming. So far, so good.
"I'm just here for the leadership, and whenever we need a bucket, I'm here," he said. "Whenever we need to win, I'm here. Whenever we need the little things, I'm here. Most everybody is young on this team, which is scary, but I like it. Nobody knows what they need to do, but it's just basketball. That's all it is."
Senior Calvin Savage led the Blackhawks with 14 points and junior Terrence Smith added 13 points.
Both teams return to Naperville North on Tuesday. The Wolves play Hinsdale Central at 5:30 p.m. and the Blackhawks take on the host Huskies at 7:30 p.m.
https://www.shawlocal.com/kendall-county-now/2023/11/21/boys-basketball-oswego-east-tops-west-aurora-in-season-opener/