The family of Marine Corps Pfc. Charles John Alexander was reunited with his Purple Heart after it was found in a forgotten safe deposit box.
Illinois Treasurer Michael Frerichs announced Monday his office has returned a Purple Heart awarded to the late Will County Marine to his only daughter. It is the 10th medal the treasurer's office has returned as part of an initiative to reunite Purple Heart medals and their rightful owners.
Having my Dad's Purple Heart in my hands means more than words can say."

—  Debbie Ernest, daughter of Pfc. John Alexander
Alexander was an infantryman with the Marines serving in the Pacific Theater during World War II. A bullet ripped through his knee during combat as he advanced with his Browning automatic rifle during the Mariana and Palau Islands campaign, also known as Operation Forager, the treasurer's office said. He walked with a limp for the rest of his life.
"Private First Class Alexander served his country nearly 70 years ago, but it is never too late to honor his sacrifice," Frerichs said.
Debbie Ernest, Alexander's oldest living daughter, accepted the Purple Heart, along with her husband, at a private ceremony near their Will County home.
"Having my Dad's Purple Heart in my hands means more than words can say," Ernest said. "I am very proud of my Father and very happy to have this honor safely back in the hands of our family."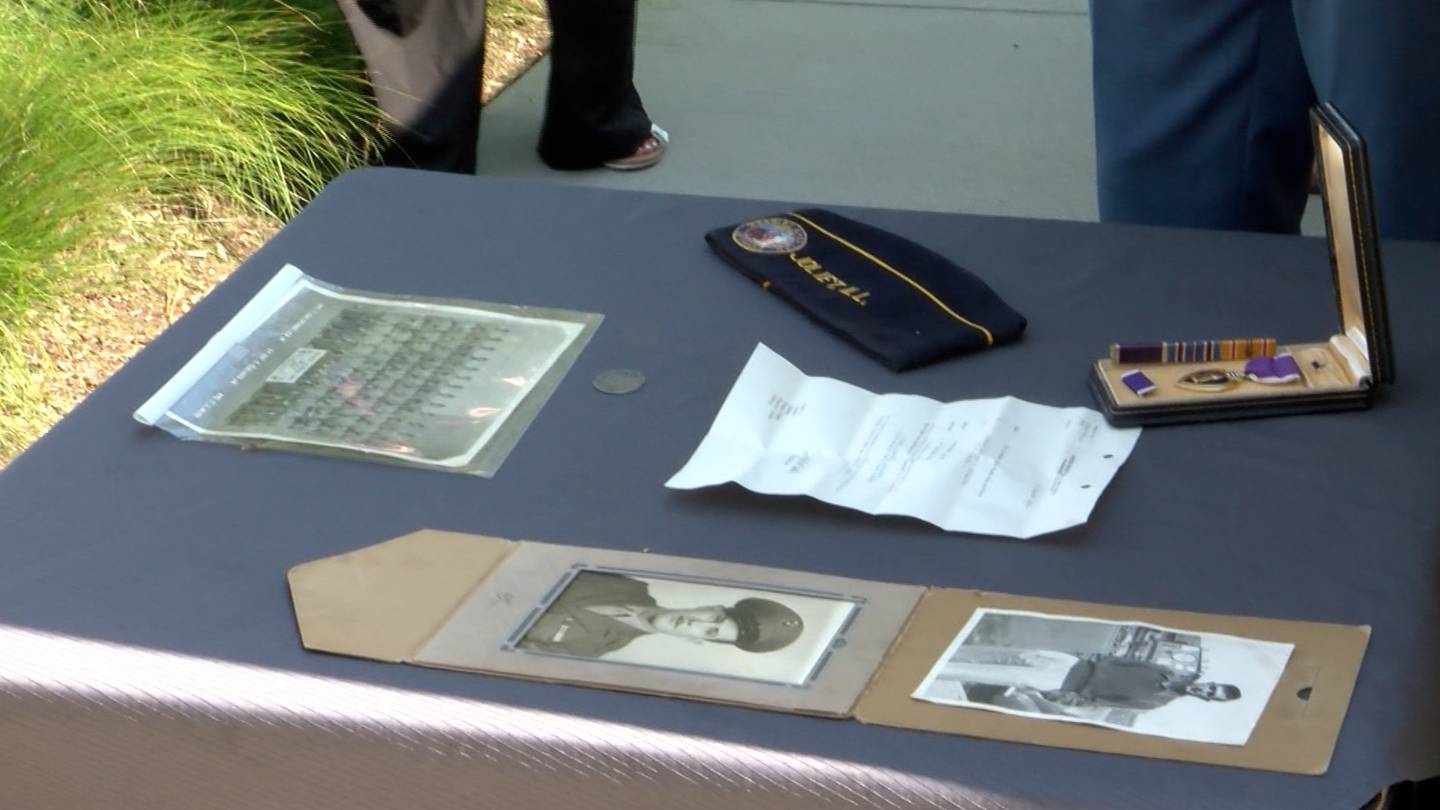 Private Alexander was born in Marseilles on Aug. 20, 1916. He was 27 years old when he entered the service on Jan. 7, 1944. He was wounded on July 30, 1944, and officially discharged that same day.
In 1948, he married Dorothy Johnson. He eventually worked for the Illinois Department of Transportation and retired in 1982. He was a life-long member of the Disabled American Veterans. He died at home, after hospice care, on April 27, 1988, and is interred at the columbarium at the Abraham Lincoln National Cemetery in Elwood.
Like many combat veterans, Alexander rarely spoke about his service and the battle in which he was wounded, the treasurer's office said.
Alexander's Purple Heart was among items in a forgotten safe deposit box in a Shorewood bank. The contents likely were not touched since at least 2013 and were submitted to the state treasurer's office in 2018 as part of the unclaimed property program. Safeguarding unclaimed property until it can be returned to its owners or heirs – no matter how long it takes - is a core function of the state treasurer's office, the agency said.
"Military medals personify honor, sacrifice, and duty," Frerichs said. "I am grateful we returned this Purple Heart to Private Alexander's daughter, and we continue to seek the assistance of Illinois residents to help us return these medals to the loving care of their families."
Ernest contacted the Illinois State Treasurer's Office after media coverage of Operation Purple Heart, Frerichs' objective to return Purple Heart medals to their rightful owners.
Military medals are among the most difficult items to return because neither the Armed Forces nor the federal government maintain a comprehensive list of awardees.
Of the 10 soldiers whose medals were returned, seven served in the Army, two in the Marines and one in the Air Force. Four Purple Hearts were earned for service in World War II, one in Korea and five in Vietnam. One soldier, a Vietnam veteran, was alive to accept the honor; survivors accepted the other nine. Two soldiers were killed in action: a Marine in Vietnam and a pilot in World War II.