OTTAWA – Following some rainouts and entering the home stretch of the season, the visiting La Salle-Peru Cavaliers and Ottawa Pirates girls tennis teams avoided Tuesday's early evening scattered storms.
Ottawa also avoided suffering a second Interstate 8 Conference defeat. The Pirates swept the No. 1 slots, L-P swept the No. 2 spots, and Ottawa's Zulee Moreland and Peyton Bryson picked up the decisive victory at No. 3 doubles for a 3-2 win at the Henderson-Guenther Courts.
"Close match, and just glad we could play with the rain coming through, not coming through, did come through, didn't come through," Pirates coach Steve Johnson said. "Just getting to play and play at home was really nice.
"[Moreland and Bryson] do a good job. They've had a lot of success this year, though weekdays [have been] not as good. On weekends they've been dialed in and won three tournaments, and so to get a win on a weekday is good, getting focused after school, getting your energy up, whatever it was."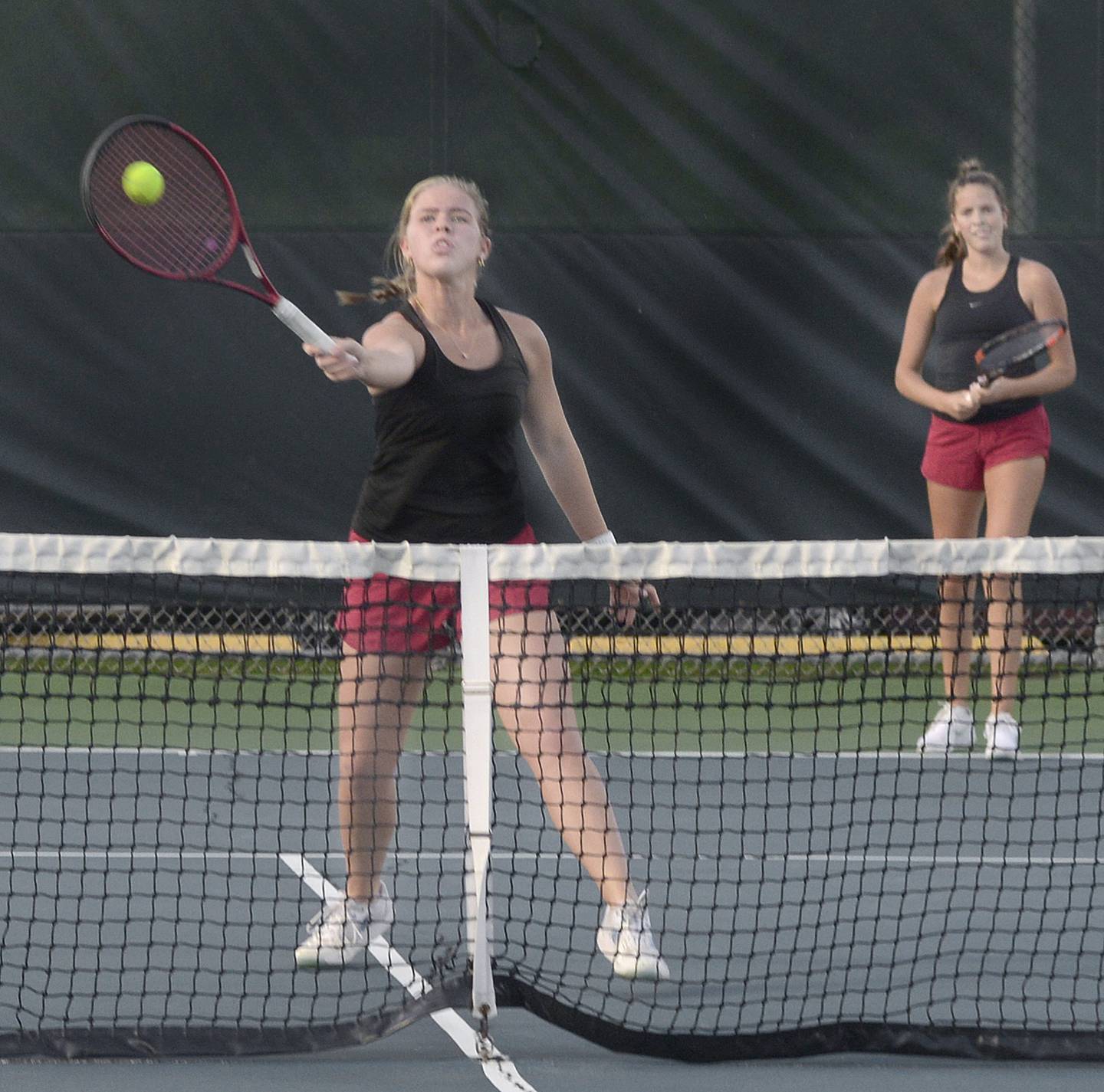 Zulee Moreland and Bryson's 6-2, 6-2 victory over La Salle-Peru's Raleigh Leininger and Ella Kamke at No. 3 doubles was Ottawa's only win that wasn't a 6-0, 6-0 final. That was the score at both No. 1 singles and No. 1 doubles, with Rylee O'Fallon and Emma Cushing blanking Kaylie Reese and Elena Leone in doubles play, while Layne Krug did the same against Grace Pecchio at No. 1 singles.
"I felt pretty good, and I got to think about how I'm playing and strategize more today, just because of where we are in the season and the practice we've had," Krug said. "I felt like I did a good job hitting to corners and manipulating the ball instead of just hitting it back.
"I feel like I'm in a pretty good spot [heading into the final weeks of the season], and I think the team is, too."
"I feel like I'm in a pretty good spot [heading into the final weeks of the season], and I think the team is too."

—  Layne Krug, Ottawa girls tennis
La Salle-Peru picked up a couple of two-set victories of its own.
At No. 2 doubles, it was Cali Mickley and Kylee Halm recording a 6-4, 7-6 (3) win over their Ottawa counterparts, Maura Condon and MaKenzie Eichelkraut. At No. 2 singles, Eva Cervantes outplayed Ottawa's Mika Moreland for a 6-4, 6-2 win – a big one for L-P's rapidly improving and impressive junior.
"It's always fun to go up against Ottawa," said Cavaliers coach Aaron Guenther, himself a multiple-time state qualifier for the Pirates. "You know the history of the program, and coach Johnson and coach [Tracey] O'Fallon do such a great job, so it's nice to see the barometer of, 'OK, this is where we are at this point of the season,' especially with conference and sectionals coming up.
"So it was good to see where we are and where we need to be to beat them, because, yeah, they beat us here today, but I think we're right there with them, and Eva has just been playing so well here lately. She's improved so much this season."
"I was getting to every ball today." Cervantes said, "And I just kept hitting it to [Moreland's] backhand, eventually making her mess up. I think I beat Ottawa last year [at the JV level], but I'm definitely glad I beat them this year, because it's varsity.
"I feel like I could be doing better, but I definitely have seen a lot of improvement in the way I've been playing over the course of the season."
Tuesday's meet lifts Ottawa to 7-2 overall and 3-1 in the I-8.
La Salle-Peru slips to 2-3 in the Interstate Eight, which has its conference tournament Oct. 7 in Ottawa.