MAPLE PARK – Freddy Hassan set the tone early for the Kaneland boys basketball team, scoring the first six points of the game off offensive rebounds as Kaneland built a 15-point first-half lead en route to a 72-52 win over Sycamore on Friday.
"I think that was a big thing for us," Hassan said of the domination on the boards. "We knew it was going to be a tough game for us, but Coach just wanted us to be aggressive from the start."
The Knights (15-3, 7-0 Interstate 8) finished with 13 offensive rebounds and a 36-27 rebounding edge over the Spartans (7-11, 2-5). Hassan, a 6-foot, 6-inch sophomore, was at the center of that. He finished with 13 rebounds to go with 14 points.
No one else in the game had more than five rebounds.
"It was a huge emphasis in the practices we had leading up to today," said Kaneland assistant coach Dom Bruno, who was filling in for absent head coach Ernie Colombe. "We knew they had height across the board. We've seen some really big, big men in our past few games at the Plano tournament. It's not necessarily what Sycamore has, but they have 6-5, 6-4, 6-4 and are really athletic and aggressive on the board."
After Hassan scored the first six points, the Spartans eventually took their first and only lead at 9-8 after a 3-pointer by Burke Gautcher. But the Knights scored the next 15, and while Sycamore made a couple of runs late in the second and early in the third, Kaneland answered both times.
Lucas Winbrun hit back-to-back 3s to cut the lead to 28-20 in the second after it grew to as much as 13, but a 3-pointer by Johnny Spallasso and a steal and a layup by Galon Grant got it back to 13 at halftime.
After Sycamore shrank it to 10 in the third quarter on a putback by Gautcher, the Knights rolled off 10 straight, including seven for Spallasso.
"That's the luxury of having go-to scorers like we have," Bruno said. "We're lucky to have guys like Troyer and Gevon, veteran guys who have been around. Johnny Spallasso. When the other team goes on a run, we know we can look to them to help us calm down."
Carlson scored 20 to lead the Knights, with Spallasso and Hassan adding 14 each. Grant and Jack Wituk scored eight each for Kaneland.
Winburn had 20 for the Spartans, Aidan Wyzard added eight, and Gautcher had seven. Gautcher and Teague Hallahan each had a team-best five rebounds.
"I just felt like, in the first half especially, they wanted it more than we did," Sycamore coach Ethan Franklin said of the rebound disparity, which was 23-10 at halftime. "They were really aggressive on the boards, and we didn't secure them with two hands how we're trained to, and they were able to capitalize on that."
The Spartans are off for a week, next playing against a Rochelle team they've lost to twice, by nine and 11 points. Franklin said he's going to give his team a couple of days off to get right before returning to practice to prepare for Rochelle and the rest of the season, which includes a Feb. 10 home rematch with the Knights.
"It's more of a mental game at this point," Franklin said. "We're just trying to keep getting better on our scheme and everything we do. And I hope they remember this when we play them at Sycamore."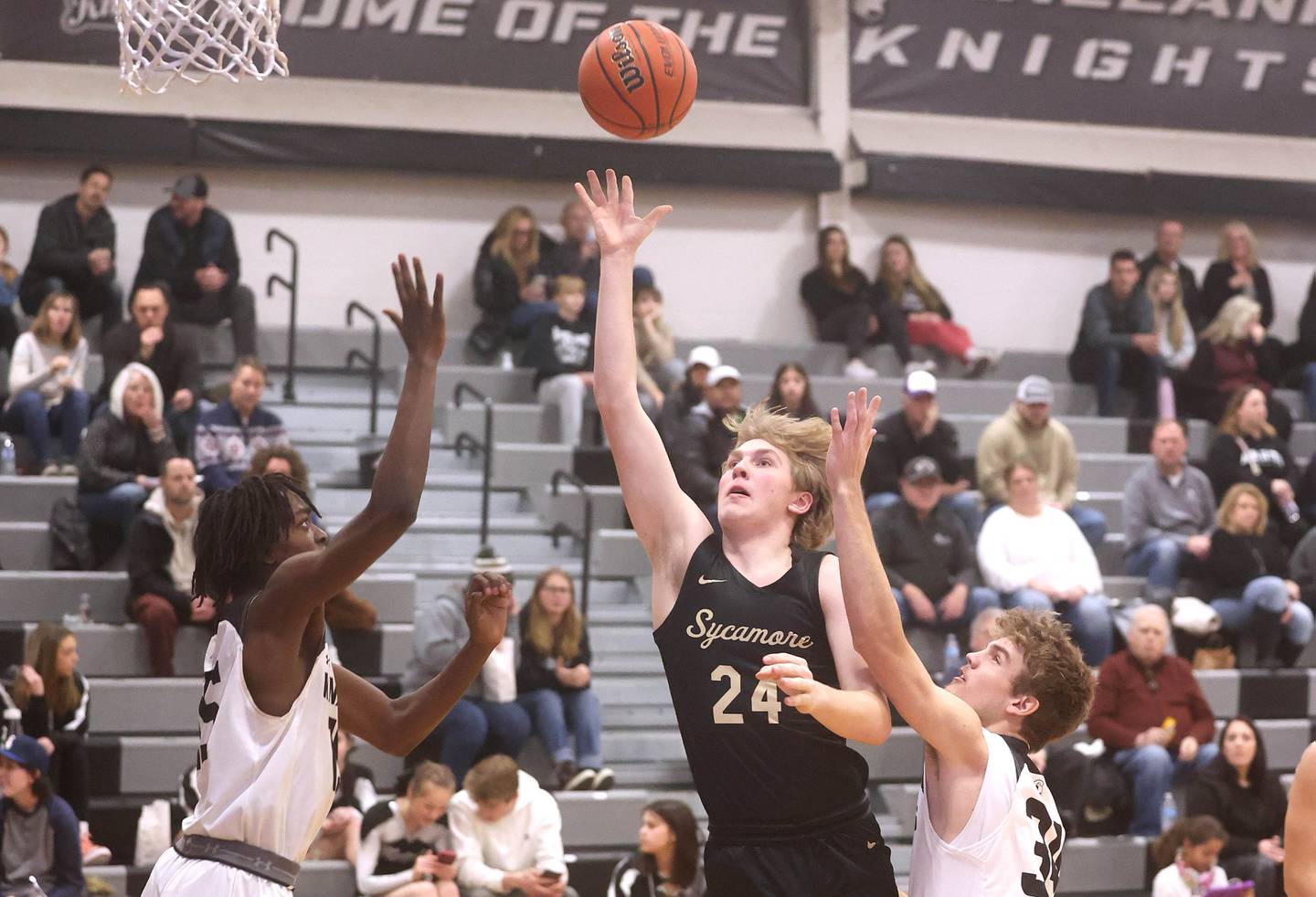 https://www.shawlocal.com/daily-chronicle/sports/2023/01/07/boys-basketball-freddy-hassan-kaneland-dominate-the-boards-in-win-over-sycamore/