NIU men's basketball coach Mark Montgomery has been let go, the school announced on Sunday morning.
Associate head coach Lamar Chapman will lead the team on an interim basis for the remainder of the 2021 season.
"Thank you for NIU for 10 years," Montgomery said in a text to the Daily Chronicle. "I will always be a Huskie."
Montgomery declined further comment.
In a news release, the school said it "will separate" from the coach, effective immediately.
"We thank Coach Montgomery for his commitment to NIU and his efforts to advance NIU men's basketball over the last 10 seasons," athletic director Sean Frazier said in a statement. "We wish him the best in the future."
Montgomery did not respond to requests for comment. School officials said Frazier will not be available for comment.
| Year | Overall | Conference |
| --- | --- | --- |
| 2011-12 | 5-26 | 3-13 |
| 2012-13 | 5-25 | 3-13 |
| 2013-14 | 15-17 | 8-10 |
| 2014-15 | 14-16 | 8-10 |
| 2015-16 | 21-13 | 9-9 |
| 2016-17 | 15-17 | 7-11 |
| 2017-18 | 13-18 | 6-12 |
| 2018-19 | 17-17 | 8-10 |
| 2019-20 | 18-13 | 11-7 |
| 2020-21 | 1-7 | 0-3 |
Montgomery was in his 10th season as coach of the Huskies. He finished with a 124-170 record after a 64-42 loss to Bowling Green on Saturday, falling to 1-7 on the season. He finished 63-97 in MAC play.
The Huskies finished with a winning record twice in Montgomery's tenure. His only 20-win season came in 2015-16, when the Huskies were 21-13 and earned a spot in the Vegas 16, losing 70-63 to UC Santa Barbara in the first round of the eight-team tournament. It was also his first winning season.
His second winning season came last year as the Huskies tied for the MAC West title, but didn't get a chance to play in the conference tournament as it was canceled due to the novel coronavirus pandemic. The 11-7 mark the Huskies posted in conference play was the first winning record in conference under Montgomery.
Montgomery's contract was set to expire June 30.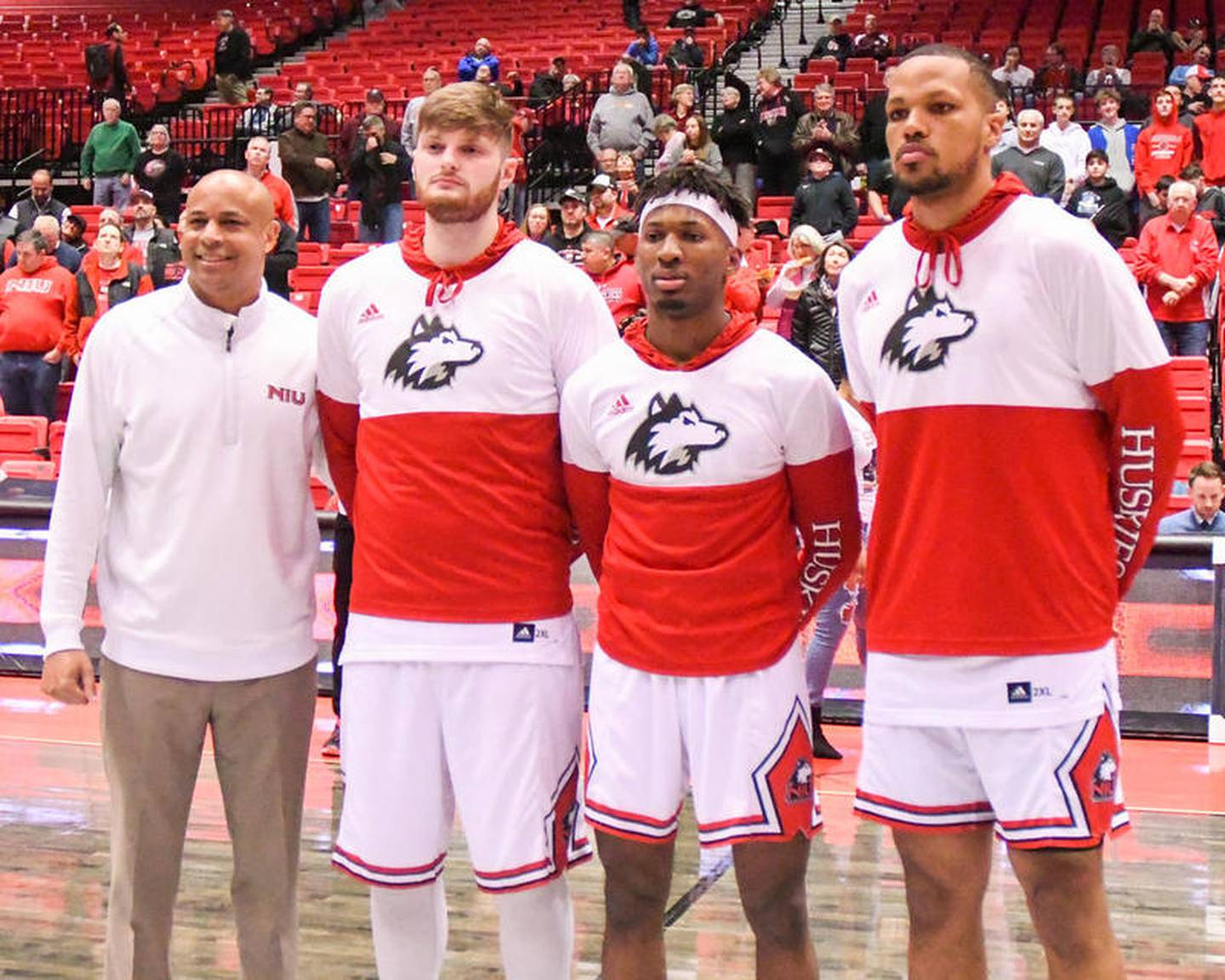 Montgomery took over officially on April 1, 2011, with a five-year contract that was slated to end June 30, 2016 with a base salary of $300,000. In 2014, he signed his first extension through the 2018 season.
He signed a second extension in March of 2016 which raised his salary to $326,000 and was set to expire at the end of this year.
After the loss to the Falcons on Saturday, Montgomery said he felt the team was showing signs of turning a corner in practice and it was a matter of time before it translated to a full game.
"It's tough for a player, you can't lose confidence," Montgomery said. "You have to keep plugging. ... I thought our guys did a lot of things good, we just need to sustain it. And sometimes you need just a couple bounces to go your way. We're going to keep plugging, we're going to get those bounces."
Frazier said NIU will conduct a national search for a new head men's basketball coach
"We will be meticulous and efficient in finding the best person and coach to lead the Huskie men's basketball program going forward," he said.