GENOA – It promises to be a fun-filled weekend in Genoa when the ninth annual Genoa Volks Fest returns to Carroll Memorial Park.
Genoa's Volks Fest is a weekend-long festival featuring Rumble on the River, Lucha Libre wrestling, a 6K and 10K Volksmarch, a Craft Beer & Wine Festival, the Boy Scout burrito breakfast, the Ducky Day's Fun Fair sponsored by the Boy Scouts, and the 20th annual Great Genoa Duck Race.
The three-day event is hosted by the Genoa Area Chamber of Commerce and the Kishwaukee Valley Wanderers.
The festival kicks off at 6 p.m. Friday at the David Carroll Citizens Memorial Park at Park Avenue and Madison Street in Genoa. Events will take place under the Big Top along the Kishwaukee River, organizers said.
Gates open at 6 p.m. Friday for a night of Lucha Libre wrestling and Rumble on the River, an all-age event from 7 to 10 p.m.
Tickets are $15 for adults and $8 for children ages 5 to 12. Children younger than 5 get in free.
Food also will be available to buy from Nina's Taco's, Ralfie's BBQ and Big D's Hotdogs. Tickets can be bought at genoaareachamber.com/chamber-event/lucha-libre-wrestling or at the gate.
"Come out for a night you are sure to not soon forget and have some family fun on the Kish," said organizer Krissy Johnson, executive director of the Genoa Area Chamber of Commerce.
A 6K or 10K Volksmarch will be from 8 to 11 a.m. Saturday. Volksmarch means "people's march" in German. It is a noncompetitive fitness walk. The path winds along the Kishwaukee River and through Genoa. The event is free and friendly for the family, strollers and dogs.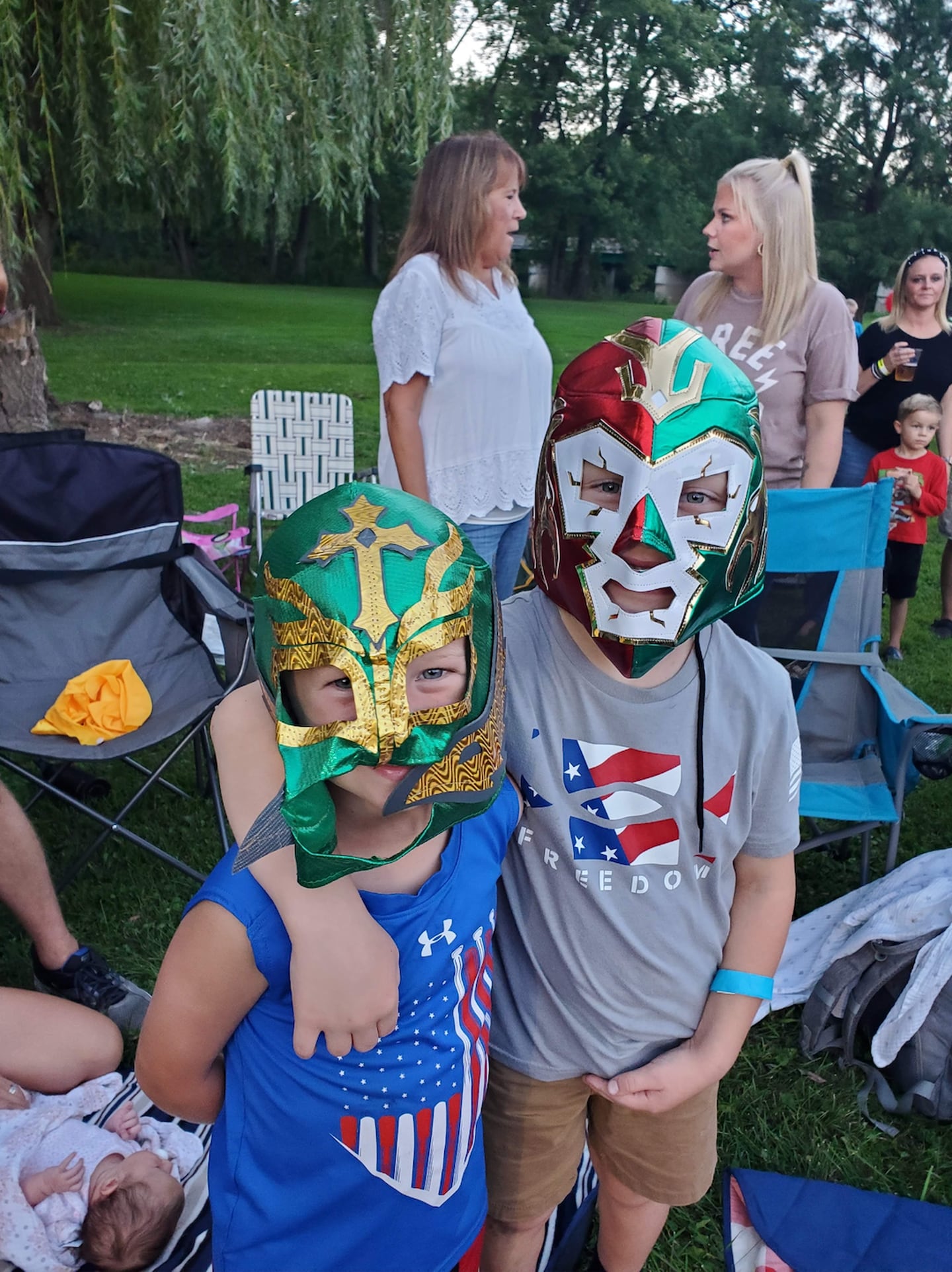 Saturday continues with the Craft Beer and Wine Festival from 3:30 to 7:30 p.m. A $30 general admission ticket provides samples from 20-plus artisan beer and craft wine vendors. Tickets can be bought online at genoa-il-events.yapsody.com or at the gate.
Local bus routes will be available again this year. Check the website for bus routes at genoavolksfest.org.
"Join us once again for the best local festival of the fall season. Craft beer brewers and wineries from within 60 miles of Genoa will be showcasing their best offerings under the Country Financial Insurance Big Top," Johnson said.
To round out VolksFest weekend is the Great Genoa Duck Race and Family Fun Day on Sunday. A Boy Scouts burrito breakfast starts at 8 a.m. The Scouts will be preparing burritos and pastries with milk and juice, all served by local scouting members.
Final events begin at 10 a.m. with the Boy Scouts Ducky Day's Fun Fair and the Great Genoa Duck Race.
"The event is bigger and better than ever this year, and will include music from the G-K Marching," Johnson said. "Also featured will be jump houses, face-painting, paint ball, a hula-hoop contest and touch-a-truck."
The race kicks off at 1 p.m., when more than 2,000 ducks will compete for a chance to win $500. Get your ducks today at the Genoa Area Chamber of Commerce, Tobinson's Ace Hardware, Heartland Bank & Trust, Old National Bank, Resource Bank or the Genoa Veterans Club. Ducks also can be bought until noon on race day at the event site.
For information, call the chamber at 815-784-2212.