SYCAMORE – Parents of Sycamore High School student athletes expressed dismay Tuesday with the district's plans to hold the Class of 2022 graduation the same weekend as a state conference, potentially conflicting with graduating seniors' ability to attend their own commencement.
As a result, the Sycamore District 427 school board could vote to move the May 26 graduation date, pending an October vote.
"We were interested to find out the date because if it falls on Memorial Day weekend the senior track members typically are going to miss the awards night, graduation practice and the senior dinner, which we're used to that," Dave Emmert, a parent of a Sycamore High School senior who participates in track and field, said.
"We never imaged that the senior track members are now going to miss their own graduation," Emmert said.
The Illinois High School Association state final for boys Track and Field is scheduled to take place in Charleston from May 25 through May 28. That event, parents said, would force student athletes to pick between two events that culminate at the very end of their high school careers.
Nicole Crome, a mother of two track and field athletes at Sycamore High School, including a senior, said the older of her two sons is excited to graduate but he's also excited to represent Sycamore High School in the IHSA state finals as a pole vaulter. Meanwhile her younger son has a goal of getting to the state final this year.
"It would be very heart wrenching for these boys, who work so hard, to choose between graduating with their classmates, or seeing siblings and friends graduate or heading to state to compete, to compete for track for SHS," Crome said.
Graduation for Sycamore High School seniors was cemented for May 26 during the Sept. 13 school board meeting without much discussion from board members. Graduation has historically been held on a Sunday. Before that meeting, however, Sycamore High School principal Tim Carlson told Superintendent Steve Wilder the usual date at Northern Illinois University's Convocation Center wasn't available.
Holding graduation at 7 p.m. on May 26 was the closest to the normal date and time the district could come up with, Wilder said. That date however is in conflict with the IHSA boys track and field state finals, according to parents who attended Tuesday's meeting.
Board member Kris Wrenn said she was not aware of overlapping events when she placed her vote for the May 26 date two weeks prior. She said she was instead made aware of the conflict the next morning through phone calls and emails from concerned parents.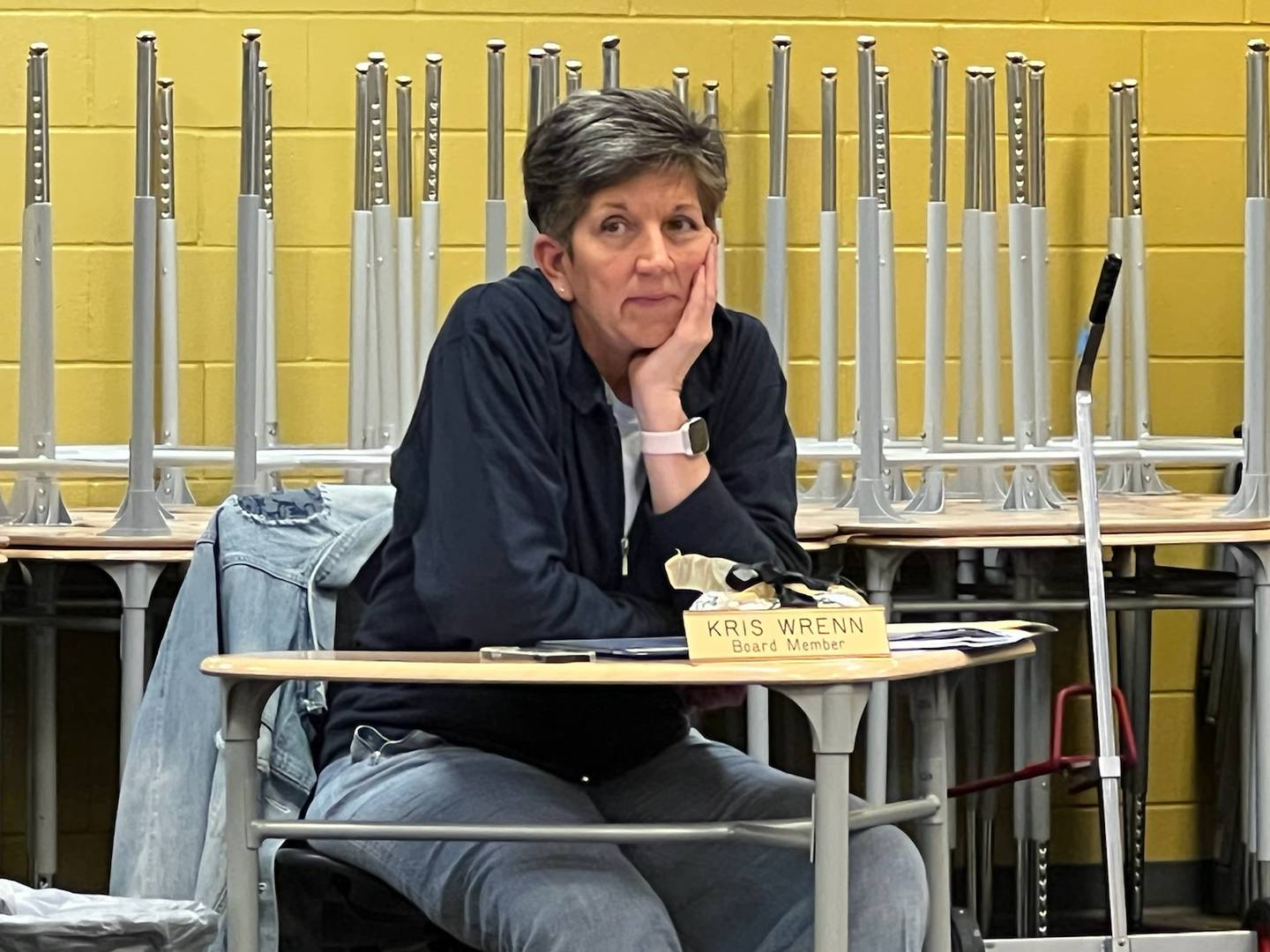 "And an interesting thing happened, I actually found myself defending the vote and the administration for bringing the date forth. And then the more I talked and listened I realized, 'No wait a minute, this is wrong, what happened was wrong,'" Wrenn said. "If I had known about the conflicts I would have asked more questions, I would have – at least tonight – voted differently."
Wrenn said there might always be scheduling conflicts for graduation, even among past dates. But Wrenn said she disapproved of the district asking Sycamore students families to choose between their high school graduation and IHSA state event.
"And to me that's just wrong. We should represent and value our relationship with our student athletes, whether it's one of them or a team of them, and allow them to succeed at both that event as well as be present at graduation, and not ask them to try and juggle both things in basically probably less than a 12-hour timespan," Wrenn said.
Wrenn said she wasn't sure how to proceed but felt that her previous vote wasn't done in good faith because she "didn't have all the details."
Board member Julenne Davey said she "couldn't agree more" with Wrenn. Board member Micheal DeVito II said he also agreed but worried about what choices are left for the high school if the board chooses to back out of its contract with NIU for use of the Convocation Center.
Wilder said he'd already spoke with Carlson about changing the location of graduation to accommodate for a ceremony held on Sunday.
"We believe that we know we can tell NIU that we don't want to use the Convocation Center, which is what it would come down to," Wilder said.
If the graduation date is moved the ceremony will likely be held at the field house at Sycamore High School. A decision to potentially move the graduation's date and location is now on the agenda for the next Board of Education meeting on Oct. 11.
Wilder said Carlson did most of the leg work for the initially proposed date and location but he took responsibility and apologized for not giving the school board more details about potential scheduling conflicts on May 26 prior to the Sept. 13 vote.
"So I apologize to the board and the community members that are here for that," Wilder said.